I don't think it's any secret that we love the AR-15 around here. To be perfectly candid, the AR-15 is the most popular Rifle platform in America, and has been for some time, so it's what pays the bills for a lot of people in the firearms industry…us included.
That said, there are some things the AR-15 just can't do. Namely, the AR-15 can't handle "long-action" cartridges, so there's a limit on the power or distance you can get out of a round fired from an AR-15.
The AR-10, though it's a bit older and actually a precursor to the AR-15, is still one of the most popular rifle platforms around because of this ability to handle larger rounds, and because it can swap a large number of parts with the AR-15.
Today, we're going to go over some of our very favorite AR-10 rifles. These are guns that can chamber some truly hefty rounds, and can handle anything you throw at them, from hunting to competition to combat.
Here are the guns that we'll be looking at:
Aero M5E1 Complete Rifle ($1,400)
DPMS Oracle .308 ($1,099)
Armalite AR-10 ($2,300)

LWRCi REPR MKII 7.62 Rifle ($4,100)

Grey Ghost Precision Specter Heavy .308 Rifle-M-LOK ($3,100)

Daniel Defense DD5V2 ($3,330)
*Note: We're looking at the best complete rifles here. Don't worry, we'll be doing articles on the best AR-10 Uppers and Best AR-10 Lowers for all you builders out there who want something a little more custom.
So let's get to it.
Aero M5E1 Complete Rifle

Aero M5E1 Complete Rifle
1400 at Aero Precision
Prices accurate at time of writing
I want to get this out of the way up front: I'm a big Aero Precision fan. They're known in the industry as one of the biggest quality manufacturers of lowers and uppers for other AR makers. They also offer a wide variety of build kits, including various Cerakote options that are available as limited runs.
How much do I love these guys? Well, I have three rifles built on their lowers, including my favorite hunting rifle and one of my competition guns, and I have two of their upper and lower sets sitting on my bench begging to be turned into something awesome.
And I paid for all of them with my own money.
So, all that out of the way, what about the Aero M5E1? Why does it make it on my list of the best AR-10s? I'm glad you asked, friend.
The Aero Precision M5E1 Complete Rifle is built with Aero's excellent Enhanced Upper and M5E1 Lower, both of which are available for purchase separately, and often available together if you want to get them both for a build.
How Does it Shoot?
Well, it has to be said that the groups that Eric originally got out of the gun when he tested it a couple months ago were less than impressive.
But then he started using better ammo.
These are the rounds recommended by Aero themselves:
Black Hills Match
Remington Premier Match
Hornady Match 168 gr HTHP (top rec) 2.21 MOA
Hornady Match 168 gr ELD (top rec) 1.51, 1.57, 1.73 MOA
As you can see, the top recommendations were the ones tested, and Eric shot between 1.5 and 2 MOA, which is perfectly respectable for a handloads, Eric and I both believe the gun is capable of around 1 MOA to Sub-MOA accuracy.
DPMS Oracle .308

DPMS Oracle .308
Prices accurate at time of writing
If you've done any real research into AR-10s, you've come across the name DPMS.
DPMS has become one of the standards when it comes to AR-10s, to the point where there are two big "types" of AR-10 out there, Armalite (which is a bit proprietary and we'll get to in a minute) and DPMS, which is more or less a scaled up AR-15.
The big split can kind of be looked at like the difference between say, commercial and mil-spec parts. Mostly, you just need to know which parts you have so any new parts you get work with what's already sitting around (or strewn across your workbench).
Fortunately, because of the parts compatibility between the DPMS version of the AR-10 and more common AR-15's, you won't struggle as much to find parts, which is always a plus in my book.
Specs
Action Type:

Direct Impingement

Barrel Length:

16″

Capacity:

10+1-Round

Cartridge:

308 Winchester

Finish:

Black

Front Sight:

None

Length:

36.5″

Magazine Included:

1 x 10-Round

Magazine Type:

Removable

Muzzle:

Flash Suppressor

Rear Sight:

Fixed

Stock Material:

Polymer

Weight:

8.3 lbs
How Does it Shoot?
So, I have a confession. I've only shot a DPMS AR-10 once. HOWEVER, my good friend John Bern who has about 30 years more time on the AR platform than I do owns three of them, and regularly harvests hogs, deer, bighorn sheep, and other larger game with it. Take that for what it's worth.
My own time behind the rifle was spent thinking that it cost about a grand more than it did, and it definitely punched above its weight class accuracy wise, with sub-moa groups at 400 yards with handloads.
Armalite AR-10
Eugene Stoner is known by many as the progenitor of the AR-15/M16/M4 design that has so captivated gun owners and militaries the world over.
Slightly less well-known is his first creation, the Armalite AR-10. Like I said in the beginning, this was the original rifle that competed with what would become the m14 for a spot as the US military's main battle rifle prior to the Vietnam War.
It was this design that Stoner would eventually scale down to the AR-15 we know today, which was bought by the Air Force, and 10 bazillion or so ARs later, would go on to rival Kalashnikov's creations for the title of "most popular rifle ever".
If you will accept no immitations, no pretenders, and want only the purest, most original AR-10, you're in luck.
Armalite still makes the AR-10 that put them on the map, and despite shutting down for a bit in the 80's and being sold and bought out a few times here and there, they still make some awesome guns.
Specs
.308 Win | 7.62×51

HB, Match Grade, Stainless Steel

18″

1:10RH twist

Armalite Tunable Competition Muzzle Brake

2″ MIL-STD 1913 Rail Section

12″ Free-Floating Competition

Key-Mod

MBA-1 Light Weight Precision, Adjustable Stock

Forged Flat-Top Upperwith MIL-STD 1913 Rail, 7075-T6 Aluminum

Forged 7075-T6 Aluminum lower receiver

Ambidextrous safety

Timney 4-lb. Single-Stage Trigger

"Raptor" Ambidextrous charging handle

Hard Anodized Aluminum, Manganese Phosphated Steel

40.3″ Collapsed | 41.5″ Extended Length

8.9lbs

One 25-Round Magpul PMAG, Owner's Manual

Limited Lifetime Warranty
How Does It Shoot?
Well, I shot one of these over a long weekend at a friend's ranch and had no problem hitting Coke cans full of tannerite at well over a quarter of a mile. Granted, that was with a very nice piece of glass (this one, if memory serves) and some handloads worked up by the gun's owner, but still.
I put around one hundred rounds through the gun, and the only failure came from a piece of cheapo ammo that didn't want to go off, even after being run through three different guns that had otherwise not seen any issues.
LWRCi REPR MKII 7.62 Rifle

LWRCi REPR MKII 7.62 Rifle
Prices accurate at time of writing
Okay, first of all, it's pronounced "Reaper" which is either cool, or a little too "edgy teenager with dark eyeliner" depending on your perspective.
For me, the name is whatever. I've carried Kimber 1911's that were named by a marketing committee in the throes of a tense word-association game gone horribly wrong. I've carried the insanely inspirationally named Glock 19. The name has never once caused a gun to perform better or worse.
What matters, as the infomercials will tell you, is one simple question: will it blend?
Well, in this case it will absolutely blend. Or shoot. It's a weird metaphor, just go with it.
LWRCi originally created the first version of the R.E.P.R. for the military's CSASS (Compact Semi-Automatic Sniper System) competition. While they lost that contract to H&K, they certainly didn't do poorly.
The LWRCi R.E.P.R MKII is an updated version of that rifle, and is built to the same exacting standards as the already awesome first version.
The main difference between that version and the MKII is the gas system. The new gas system is adjustable to 20 different positions as opposed to the suppressed and unsuppressed settings of the first R.E.P.R's gas block.
Specs
LWRCI™ Tunable Gas Block

Patented LWRCI™ short-stroke gas piston system offers unparalleled reliability and easy maintenance

Monoforge™ upper receiver with integrated rail-base is stronger than the standard-pattern upper

Black Nitride treated LWRCI™ heavy-profile barrel is precisely torqued in our factory to a consistent torque setting. Cold hammer forged 1:10 twist stabilizes a wide range of bullet types

Fully-ambidextrous lower receiver controls include the bolt catch and release, the magazine release, and the safety selector

LWRCI™ Advanced Trigger Guard is oversized to allow for easy operation with gloves

Geissele® SSA-E 2-Stage Precision Trigger

LWRCI™ Ambidextrous Charging Handle

LWRCI™ Skirmish™ Sights

ULTRA Muzzle Brake

Magpul® MOE+® Grip combines reinforced polymer body construction with comfortable wrap-around rubber overmolding for maximum weapon control in adverse environments

Magpul® PRS Adjustable Stock

Capable of Sub-MOA Accuracy
How Does it Shoot?
Oh my sweet baby Jesus in a manger. This is one of my favorite guns, and heaven help me (and hold me to this guys) I will own one. I was very fortunate in that I got to shoot one at a range day event hosted by a local gun shop.
I was given five rounds of Federal Gold Medal Match 175gr. I put those five rounds into a one inch circle at 200 yards. For those of you playing along at home, that's a half MOA performance out of a gun I'd never shot before.
Honestly, I suspected shenanigans. This was a media gun that had already been shot by others (who ended up doing similar things with it). They wanted me to go away and tell people about this gun, so obviously it was going to be tuned and running like a champ, right?
Well, it turns out that every freaking one of these rifles shot that way. Just ask the guys over at The Firearms Blog, who got very similar results out of the gun they tested.
So, I want this gun, but I don't want you to want this gun because they might be sold out when I finally scrounge up the money for one.
Grey Ghost Precision Specter Heavy .308 Rifle-M-LOK

Grey Ghost Precision Specter Heavy .308 Rifle
Prices accurate at time of writing
We recently told you guys how much we like the Glock slides from Grey Ghost Precision, and I, your humble gun blogger, neglected to tell you about the Grey Ghost Precision Specter Heavy .308 rifle.
This thing is made with all the same love, and care, and incredible engineering precision as Grey Ghost's other offerings, and it shoots like a dream. I got to shoot one, and I was struck by how much the rifle handled and felt like my 3-Gun rifle, which is a much smaller, lighter, softer recoiling 5.56 gun.
It comes with a number of high end features like a nice bull barrel with a sweet target crown on it.
Specs
Extended length (14″) M-Lok hand guard

Grey Ghost Precision 7075-T651 billet upper receiver

True Black Type III Mil Spec hard coat anodize

Mega Arms 16″ .308WIN match grade BBL. 1×10 twist, 11 degree target crown, 5/8-24 threaded muzzle with Gemtech muzzle break, Black Nitride coating in

and out, Mid Length gas.

Phosphate MPI tested .308 BCG

Carbine .308 buffer set

Grey Ghost Precision 7075-T651 billet ambi lower receiver

Mega Arms single stage trigger, 4 1/2 pound pull

Battle Arms Development BAD-CASS safety selector

MAGPUL pistol grip and ACS-L Stock

Scope not included

Made in the USA
How Does it Shoot?
Sub-MOA accuracy is expected out of guns like this, but what I did not expect was the overwhelming reliability that other authors and gun nuts like me have seen from the gun.
In particular, Nathan Murr got to shoot the gun when it was dirty, nasty, and filthy, and it still performed like a champ (he also echoed my impression of the gun shooting softly and handling like a smaller, lighter rifle).
Daniel Defense DD5V2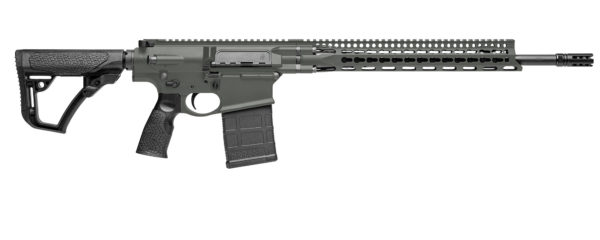 Daniel Defense DD5V2
Prices accurate at time of writing
I saved this one for last for a reason. I know many of you are going to see that price tag and your immediate thought is going to be swearing, probably some variation of "Hellllll no." If you're one of those people just stay with me for a minute.
Daniel Defense makes good stuff, that shouldn't be news to you. They hold a number of military contracts, and with good reason. Their guns shoot, they shoot well, and they shoot every time.
I've been to their Georgia facility before to take a look at the engineering that goes into these guns, and I gained a whole new level of appreciation for the work that goes into building say, a $3000 AR.
Specs
Four-bolt system fastens barrel and handguard attachments
Geissele SSA two-stage precision trigger with 2.5-lb. take-up
Oversized cam pin, enhanced extractor geometry and dual ejectors
Lower receiver provides an oversized trigger guard, flared magazine
How Does it Shoot?
Like a freaking dream. I've killed deer with it. I've rung the gong at 800 meters with it. I've put half a mag in a half inch hole at 100 yards. I've never had a problem with this gun, and I never expect to.
If you're looking to use this gun for competition, hunting, or even home defense, the gun will do its part if you do yours.
One thing I will say, particularly about this gun and the LWRCi one: you get what you pay for. With some guns you don't, and when it comes to expensive guns like this, that price tag gets harder to justify the bigger it gets. All of these guns made this list because they are worth the money.
Parting Shots
All in all, I love the AR-10. Its a sometimes-finicky rifle that, when done well, can be one of the greatest joys to shoot, and one of the most versatile options in your gun safe. These guns are the best of the best in their particular niches and are perfect if you find yourself needing to hit something very far away with a very large bullet.
The post The Very Best AR-10s appeared first on Pew Pew Tactical.