When it comes to drumming up new business, Estate Planning attorneys should take stock of the myriad of options available for marketing their law firms in today's age.
With digital marketing, there are new websites, apps and social media networks constantly emerging – making it challenging at times to know where they should focus and invest their online marketing efforts and hard-earned dollars.
Continue reading to learn about the most mature internet marketing strategies that Estate Planning Attorneys can use to see healthy returns from their hard-earned dollars and the potential to scale as needed.
SEO
Search engine optimization (SEO) is the process of making a website's pages and content rank better for its target keywords and drive more organic traffic through searches performed on Google, Bing and other search engines.
Lawyers that practice estate planning and probate law can greatly benefit from SEO since many people are searching for a lawyer to help with their estate planning and asset protection needs in their area. Unlike other forms of online marketing that require you to pay per click (PPC advertising) or pay per lead, there is no additional cost for the clicks and leads generated as a result of search engine optimization.
SEO is highly scalable for most law firms, so there is virtually no limit to the expansion and growth of organic search that can help your firm attract more clients and new business.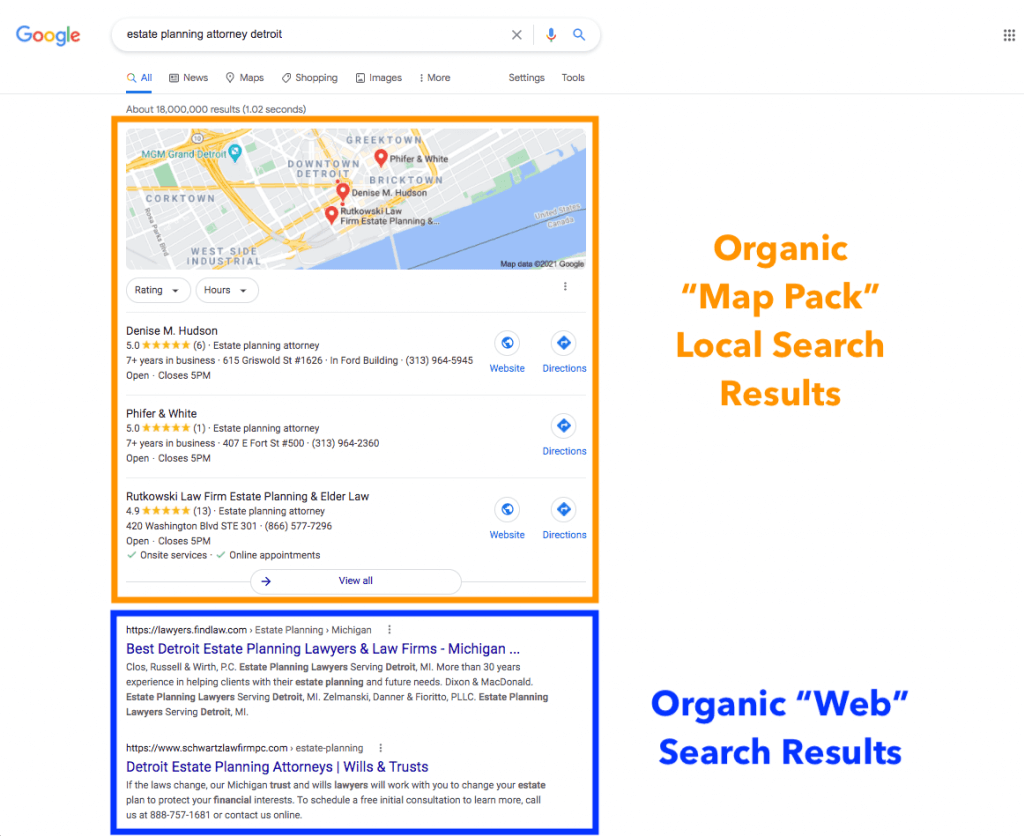 There are two primary types of search engine optimization to be aware of, organic/web and local SEO.
The map listings – commonly known as the "Map Pack" or "Snack Pack" – are a result of local search optimization whereas the normal results below are known as organic web listings.
A solid SEO campaign can help you rank in both parts of the search results, meaning that your firm can show up multiple times on the same page's results. There is overlap in the tactics used to rank in each of these spots, however ranking in the map pack and the organic listings work differently and search engines like Google use different metrics and signals to select which law firms rank in these different parts of the search results, respectively.
Related: Best Keywords for Estate Planning Attorneys
Content Marketing
Content marketing has become an increasingly popularized term and digital marketing strategy for many types of industries and businesses, including law firms.
While it doesn't take on a specific strategy, content marketing is the process of developing and publishing content that drives more traffic and new business.
Estate planning attorneys can benefit from it by using it at the core of their online marketing strategy as content is a central component of many other marketing strategies, including SEO, blogging, social media, newsletter and email marketing to name a few.
One of the great parts of content marketing is its flexibility in implementation. It can be used to assist with search engine optimization, blogging, social networking and many other forms of online marketing.
Content that you promote and share through all of these channels allows you to maximize the return on your investment for producing that content.
As a result, there are many opportunities to generate new estate planning clients from content marketing, through organic searches, social shares and email content. If you're looking for a way to increase your online presence and expand your marketing, producing lots of high-quality content is an excellent way to scale while maximizing returns at controlled costs.
Social Media
In the modern age, almost everyone you know has a social media profile on at least one platform. As a result, social media marketing has become an indispensable tool for many attorneys.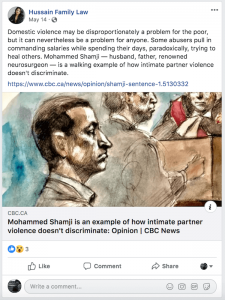 Sharing tips, helpful info, articles and blog content from your website and third party sources are great ways to build a following and engage your prospective clients.
To get the most out of your social media strategy, here are a few things you can do:
focus on sharing information strictly related to wills, estates and probates.
Post from your personal profile rather than your business account
If you are going to post from your business account, make it look like a personal account instead of a company. People want to interact with other people, not companies.
Boost your posts for greater reach and traffic
PPC & Online Advertising
One of the quickest ways to attract estate planning clients for your law firm is to leverage the power of online advertising.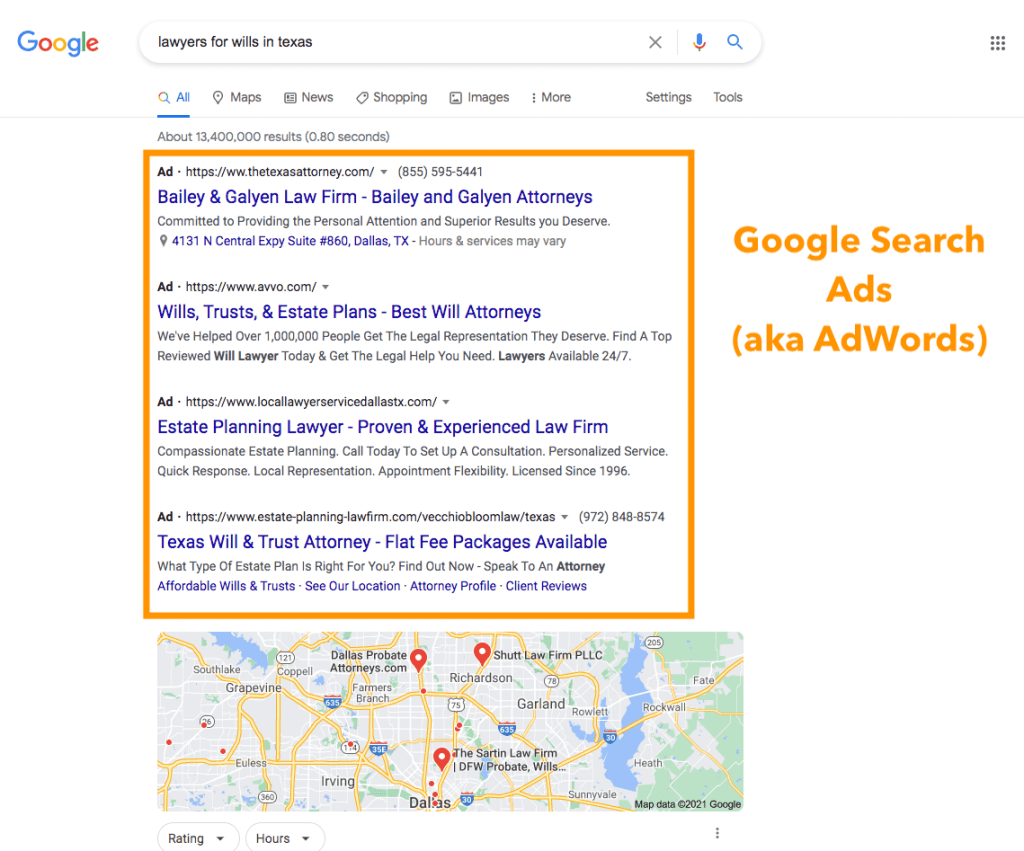 With many platforms and different types of ads available, there's a winning combination of internet advertising to match and meet your objectives.
This includes:
Search ads: ads that appear above and below the organic search results (e.g. Google AdWords and Bing Ads). This is the most common form of PPC (pay-per-click) ads.
Display Ads: the infamous banner ads that are seen on websites all across the web.
Social media ads: ads that appear in the news feed and other places on social networking sites and apps (i.e. Facebook, Instagram, LinkedIn, etc.)
Retargeting ads: ads that appear to specific users that have already visited or taken a specific action on your website or previous advertisement.
Local Services Ads: Google's newest form of advertising, which are replacing their more common search ads. The industries and types of businesses that can use LSA's are limited, but include wills and estate planning lawyers. Instead of paying per click, with LSA's, you pay per lead.
Boosted Posts / Sponsored Content: On social media networks, you can pay to have your posts and content promoted to a larger audience (outside of your followers and connections). On Facebook and Instagram, this is known as "Boosting" a post and known as "Sponsored Content" on LinkedIn.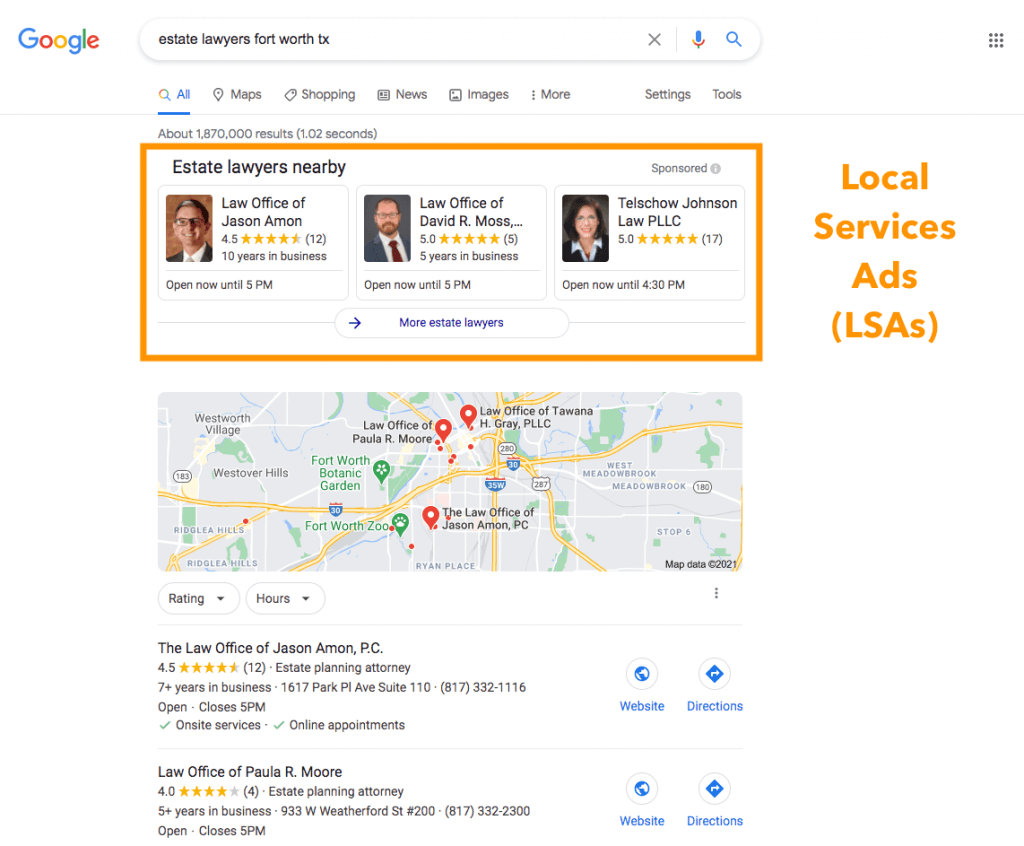 Which types of ads your law firm uses will depend on the type of objective you're looking to accomplish. For new leads and clients, a more traditional approach is to use search and local services ads to generate new calls and inquiries immediately.
When it comes to strictly generating and nurturing leads over the long term, then a combination of social media, display and sponsored content is perfect for promoting a lead magnet and building your email list.
Website Design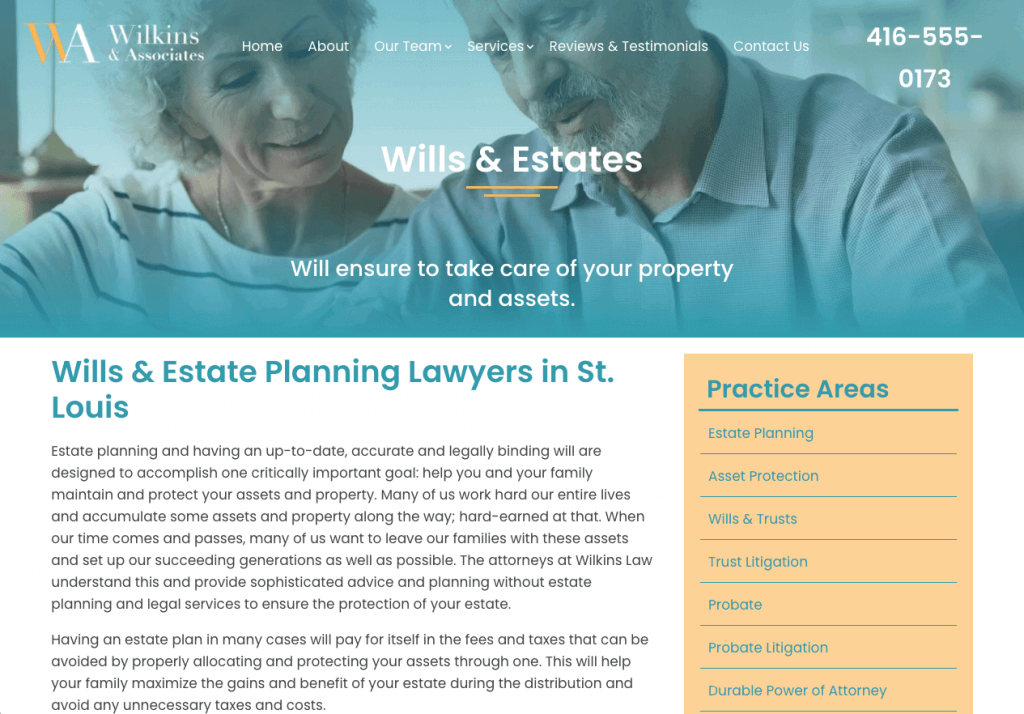 Your website is one of your law firm's most important assets and most likely the most important marketing tool you possess. In terms of both your online and offline marketing strategies, most if not all roads lead back to your website. In other words, all of your ads, most of your social posts and all of the coveted search rankings you occupy in Google and Bing search results, will lead back to your website.
Therefore, having a well-designed, built and optimized website is critical to extracting as much reward as possible from your marketing efforts and investments.
When it comes to your practice's site, there are some key elements you want to ensure are taken care of that the best estate planning law firm websites all focus on. They include:
UI and UX (User Interface and User Experience)
Mobile-first website design and Speed Optimization
Full, Info-packed, rich content
Logical structure, organization and simple to navigate
CRO (Conversion Rate Optimization)
SEO and HTML best practices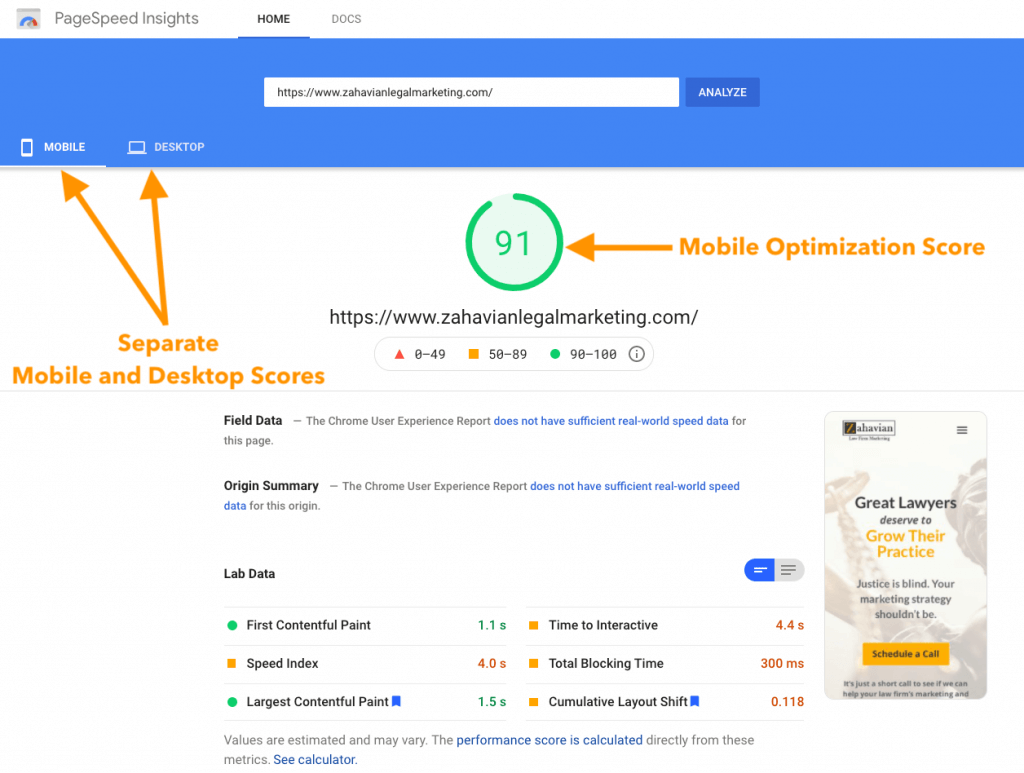 Nailing these elements of your estate planning law firm's website design will set you apart from the attorneys that are only dipping their toes or partially committed to their firm's growth via digital marketing.
It's important to note that all of these components can be built into your site during the initial design and development. However, they also require ongoing work and updates, as best practices change, the web continues to evolve as well as the needs and demands of web browsing experiences.
Turn-Key Marketing Solutions for Estate Planning Attorneys
If you're looking to sign up more clients, grow and transform your law firm into the business you've always wanted, book a call today to get a custom strategy from an expert at Zahavian Legal Marketing for your estate planning firm's marketing needs.
The post Online Marketing for Estate Planning Lawyers appeared first on Zahavian Legal Marketing.