NuPrime Multi-Zone Wireless Audio System
Hi-Res Wireless Audio Adapter stream music simultaneously across as many as 10 different audio zones

Sonic Unity presents theNuPrime WR-100 (MSRP: $99 USD, $119 Euro), an easy to use, multi-zone wireless audio receiver powered byQualcomm AllPlay,thatallows you to streammusicsimultaneously across as many as tendifferent audio zones throughout your home.
[If you need to purchase more than 2 units, contact [email protected] or post comment here and we will provide the Perks if there is sufficient demand]
Demo showing Master Bedroom playing music from local server and Living Room music streaming from Spotify.
The NuPrime WR-100 connects easily to your existing stereo or powered speaker, instantly transforming it to a state-of-the art, high-resolution wireless streaming audio device.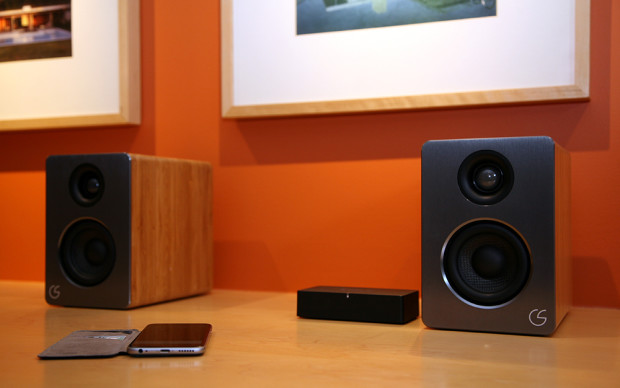 Stream studio master sound files up to24-bit/96kHzthroughout your home. Multi-zone or all zones together in party mode!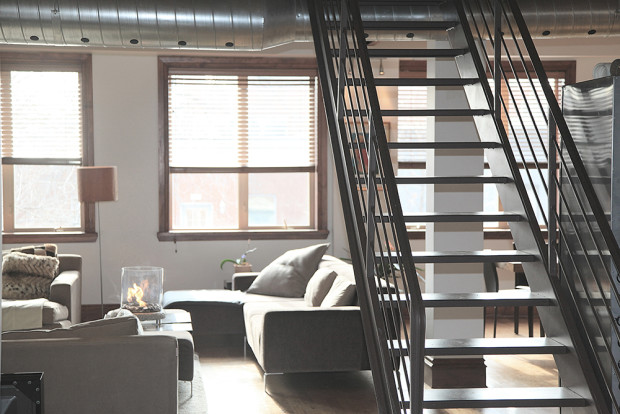 Steam your favorite music to the living room, kitchen,dining room, bedroom – the NuPrime WR-100 can deliver audiophile quality streaming audio to any place in your home.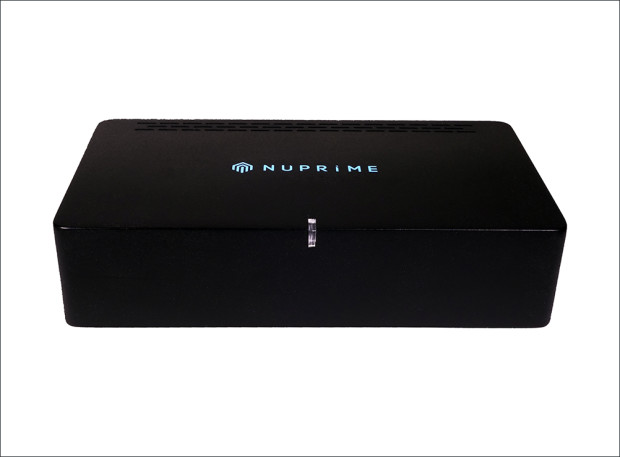 With the WR-100, you can stream high-resolution music from the following sources:
Online music services such as Spotify, Rhapsody, Napster and many others*
Music from local network media server or NAS
Music local to your smart phone or tablet.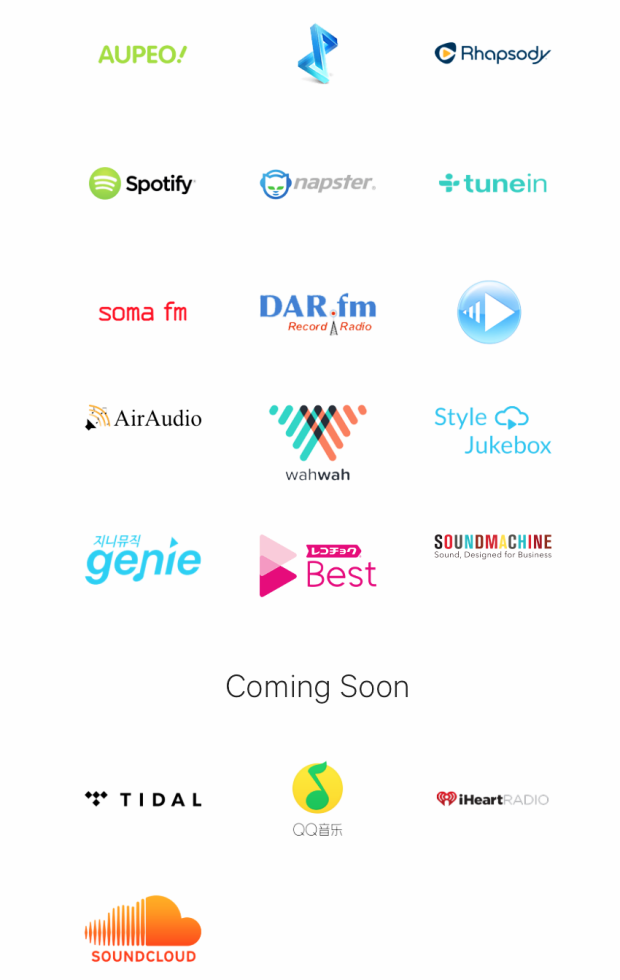 For a complete list of supported online services, refer tohttps://www.qualcomm.com/products/allplay
*Both iOS and Android systems are supported.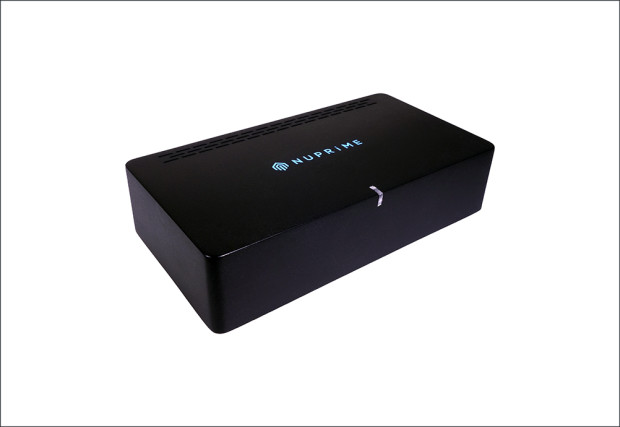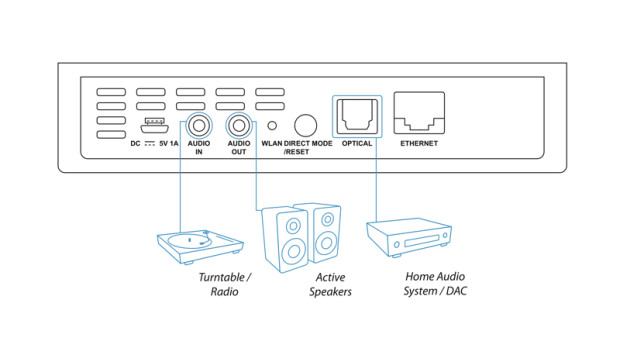 The NuPrime WR-100 is very easy to use with the NuPrime iOS and Android app.
The App will detect the presence of the receivers in the network.
Name the WR-100 receivers, e.g., "Living Room," "Master Bedroom," etc.
Select the music source. In this demo, music is streamed from Spotify to the Living Room and to the Master Bedroom from local server.
Play the music and select the speaker. Local music is played from NuPrime app and online music is played from Spotify app. You select the music and speaker from within Spotify app.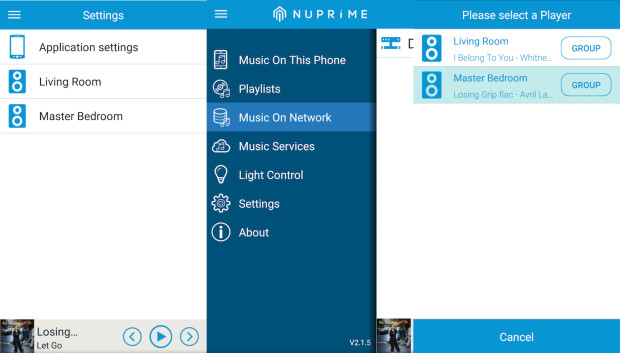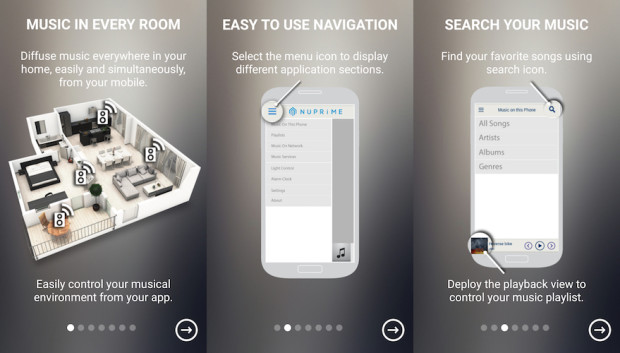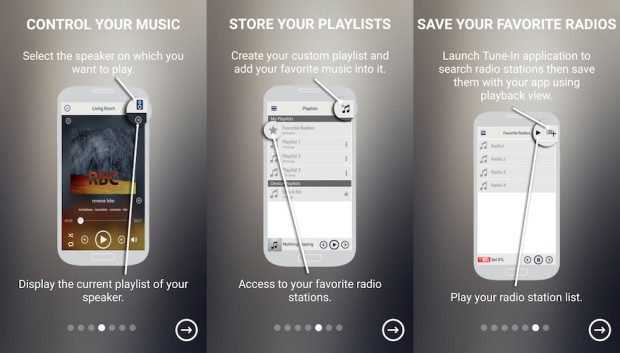 NuPrime WR-100 is compatible with the NuPrime Omnia Audio system (releasing June, 2016) for a complete whole home audio solution. It is expandable!
Why choose the Qualcomm AllPlay compatible system?
Wireless speakers and audio devices that use the Qualcomm AllPlay smart media platform can work together seamlessly regardless of product brand.
AllPlay media streamingsynchronisationtechnology lets you play a song in sync in multiple rooms.
Switch to multi-zone to play different music in every room from a single device.
Use separate volume controls for each zone or one master control for all.

Features
Wi-Fi Audio Adapter
Wi-Fi 802.11 a/b/g/n dual band 2R2
RJ45 port
Decode high resolution music formats 24-bit/96kHz
Multi-zones
Party Mode (sound synchronization)
DLNA compatible
Over-The-Air firmwareupgradesfrominternet
Select betweenWPS and Direct mode / Reset
WPS & Direct Mode (AP mode)
LED Display: One multicolour LED (Yellow: Booting, Flashing White: Connection, Stable White: Connected)
Internet radio service (Tune-in service via companion App)
Accessories: USB-A to micro USB cable 80 cm.
Power requirement: 5V – 1A (via AC adapter not included).Compatible with standard 5V USB charger and NuPrime digital port.
Size: 130 (W) x 80 (D) x 30 (H) mm
Requires usage of Android or iOS tablet/Phone
Bluetooth and Airplay are not supported for this model.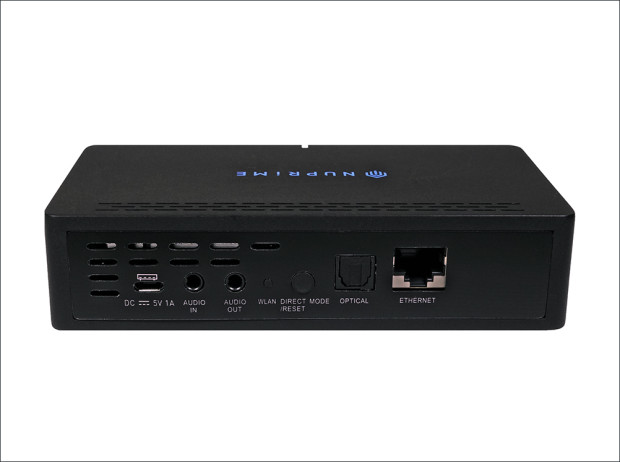 Inputs:
1 X 3.5mm Analog Stereo Line-In with re-streaming capability, controlled by APP.
Outputs:
1 X Optical SPDIF and1 X 3.5mm Analog Stereo Line-Out (OdBm) sharing the same output jack
1 X Coaxial (SPDIF on micro USB connector). Compatible with NuPrime digital port for data and power supply
Comparison with Chromecast Audio ($35)
WR-100 has RJ-45 for wired internet streaming
WR-100 has analog input for re-streaming
WR-100 can operate with its own WiFi network in AP mode.

Add the Celsus Sound SP One (MSRP $649 USD) active speaker system (Bluetooth and Line-In) in natural bamboo and brushed metal finish for incredible sound quality in a compact wireless package.
"Spacious sound stage, commanding bass, exemplary coherence and musicality"
Size notwithstanding, the Celsus SP-One speaker can fill a room with audiophile-quality sound. The SP-Ones expansive soundstage, commanding bass and overall musicality puts it at the forefront of bookshelf speakers.
For more personal applications, the SP-Ones excellent nearfield characteristics, especially at low volume settings, makes it the perfect desktop companion. The SP One's enclosure is made of a dense, premium-quality, naturally finished bamboo. The carbon-fibre woofer, featuring an aluminum waveguide, nicely complements the cabinet's sophisticated styling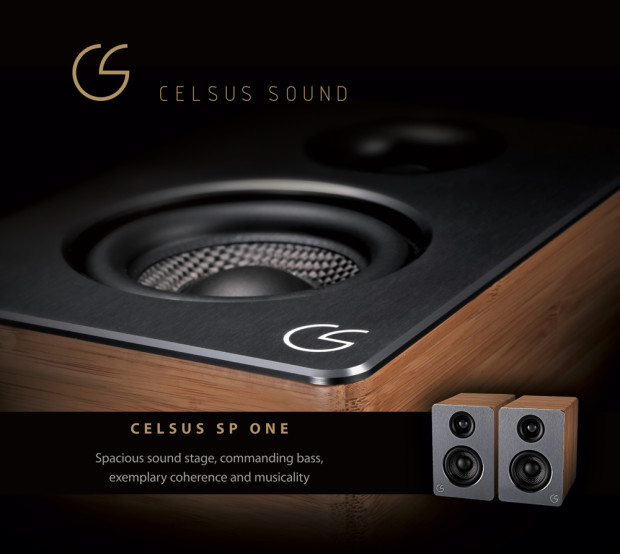 Premium-quality, naturally finished bamboo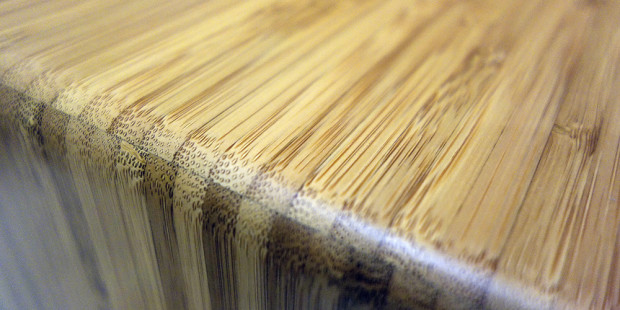 Carbon-Fibre Woofer and Tweeter withAluminumWaveguide plus premium connectors and parts used throughout


Features
Enclosure is made of a dense, premium-quality, naturally finished bamboo
Carbon Fiber Woofer with wave reflection structure and custom-designed magnet together produces 55Hz deep bass and the most coherent sound.
Soft dome, horn-loaded tweeter for a wide dispersion of highs
A single custom capacitor replaces complex crossover for a more detailed and vivid sound.
Double cavity cabinet design allows for deep bass and powerful dynamics.
Optimized active speaker design
Specification
Frequency Response: 55Hz to 22kHz
Impedance: 6 Ohms
Power Rating: 60W
Sensitivity: 88db
Inputs: Bluetooth & Line In
Power Supply: AC adapter (DC19.5V, 3.16A)
5V DC charging Port for external accessory
Dimension (H x W x D): 195 X 130 X 180mm
Weight: 2.3Kg
* AllPlay is built on the AllJoyn framework, hosted by the AllSeen Alliance, to break through limitations of vertical solutions, such as a lack of flexibility and uncertain interoperability. With AllPlay, your favorite speakers can also interact with other connected devices in the larger ecosystem of the Internet of Everything.

The WR-100 has been designed byNuPrime Audio and D-Stream Audio. NuPrime Audio is the designerand manufacturer of some of the best audio products available on the market today. NuPrime has been awarded four, 2015 –Product Of The Year Awardsfrom The Absolute Sound and SoundStage! Network, an unheard-of achievement in high-end audio. D-Stream's CEO Denys Roussel is an expert in wireless technology and wasinstrumentalin developing the world's first digital TV receiver at a telecommunication company in France.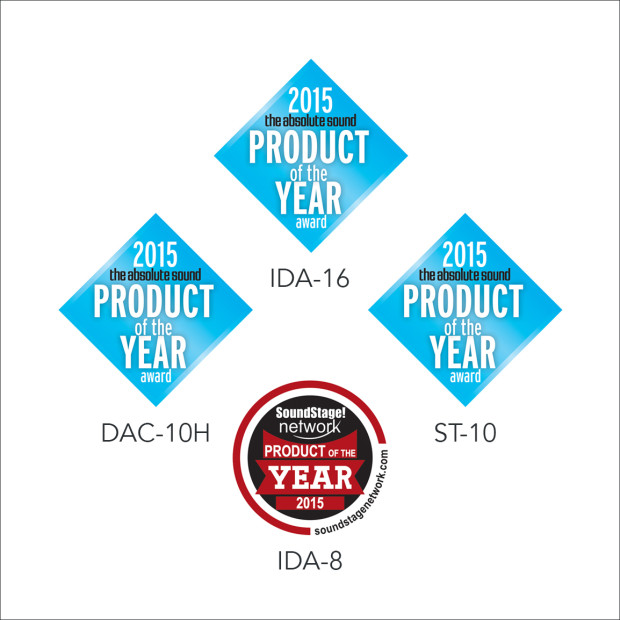 Together with the award winning design team at NuPrime and wireless experts at D-Stream, Sonic Unity is proud to present the NuPrime WR-100. It'sguaranteed to provide you with the very best in sound quality. NuPrime has the accolades to back up this claim.

Sonic Unity was formed in early 2015 as a collaboration between a group of music lovers, audio experts, musicians, andaudiophiles. Our aim was to offer the best possible sound regardless of price — products thatoffer the listener a truehigh-endaudio listening experience.
Together with their manufacturing partners, Sonic Unity CEO Rick Hopkins and development partner Jason Lim have created a worldwide on-line store, dedicated to offering unique high-quality audio products and unique portable audio devices.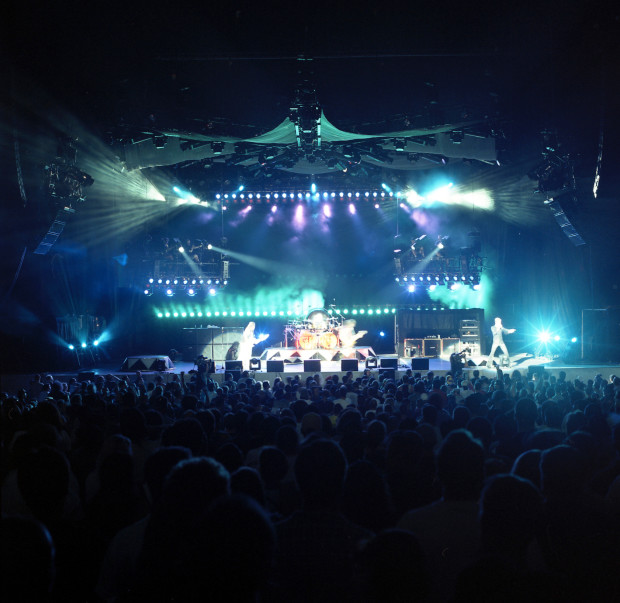 With a background inmusic,concert design, consumer and pro audio, Rick's experience and passion for sound reproduction, is unique.As a designer, Rick has created concert eventsfor Bryan Adams,Rush, Van Halen, Spinal Tap, Rod Stewart and The Rolling Stones. He has provided planning and site management for music festivals such as Lollapalooza featuring acts such as Primus, Alice in Chains, Tool, Rage Against the Machine,The Smashing Pumpkins, and Green Day.Rick has also worked with architect Mark Fisher, designer for U2, Genesis, Pink Floyd, The Rolling Stones and many others.
Jason Lim is an established audio industry leaderwho co-founded NuForce and served as itsCEO from 2004 to 2013. Jason and NuForce have been featured in Forbes magazine as well as Wired, Stereophile, c|net, The New York Times, The Absolute Sound, Hi-Fi+ and Sound and Vision. Serving as CEO of NuPrime Audio, Jason has led the company to four Product Of The Year Awards in 2015, achieving a new record in the high-end audio industry.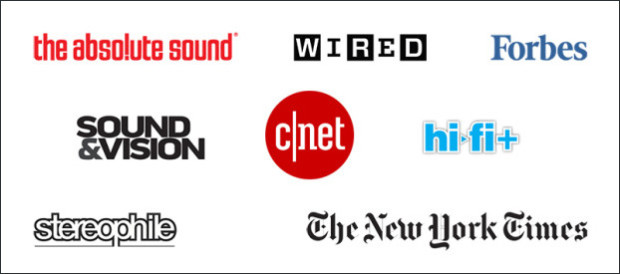 Among the top awards that Jason gathered over the years were:
FourProduct Of The Year Awardsfor 2015 from The Absolute Sound and SoundStage! Network.
TwoEditors Choice Awardsfor earphones by Wired magazine, with one being awarded the "Best Under $50"
TwoPower Amp Of The Year Awardsfrom audiophile magazines in the USA and Japan
With a proven track record developing high-fidelity audio products, Jason Lim has the industry experience to deliver the products as promised.
Sonic Unity, together with our development team, brings new high-performance audio products to market through crowdfunding and social media campaigns. We invite you to share in our goal of providing superior sounding, high quality audio products that perform well above their price point, to a greater number of people.

With our team of audiophiles and our experienced manufacturing partner, we have what it takes to make this happen! Our combined experience designing award winning audio products has resulted in numerous audio awards and industry accolades.
As our third crowdfunding project and fifth audio product introduced through Indiegogo, we have the experience not only to create this exceptional audio product but to deliver your product in a timely fashion.
Production will begin in March with the first units shipping at the middle of April. We are very confident with the production schedule being on time.

The risks and challenges are minimal. We already have several working samples created. Research and development has been completed. All we need now is your support and you can own one of the most high performance, wireless audio solutions available on the market today.

We need your help. Tell your friends about us. Share us onFacebook,Pinterest,Instagram,Twitterand other social media. Post onredditand other audio forums likeHead-FiandHeadphonics. Use the Indiegogo share tools to get the word out and let people know about this great new product.
Visit the Sonic Unity on-line store and sign up for our newsletter. We will keep you informed every step of the way throughout the manufacturing process as well as about new products. You will be among the first to hear about what we have planned next.
Interested? Sign up and tell your friends about us. There is more to come!
What we have to offer is outstanding value but we can't depend on marketing dollars to get us there. Lend us a hand and together we can create a truly remarkable products that anyone can afford.

TheNuPrime WR-100.Whole home, audiophile quality, high-resolution wireless hi-fi audio.
Excellent sound quality. Affordable pricing. That's what we have to offer.
Sonic Unity.We are passionate about music.
www.sonicunity.com
Summary:
Sonic Unity presents the NuPrime WR-100 (MSRP: $99 USD, $119 Euro), an easy to use, multi-zone wireless audio receiver powered by Qualcomm AllPlay, that allows you to stream music simultaneously across as many as ten different audio zones throughout your home.
Youtube:
https://youtu.be/40j7iNM_4VU
See Campaign:
https://www.indiegogo.com/projects/nuprime-multi-zone-wireless-audio-system
Contact Information:
Rick Hopkins
Tags:
Indiegogo, Reward-Donation, United States, News Category, English, North America, Global Regions, Crowdfunding, Language
The post NuPrime Multi-Zone Wireless Audio System: Hi-Res Wireless Audio Adapter stream music simultaneously across as many as 10 different audio zones appeared first on iCrowdNewswire.