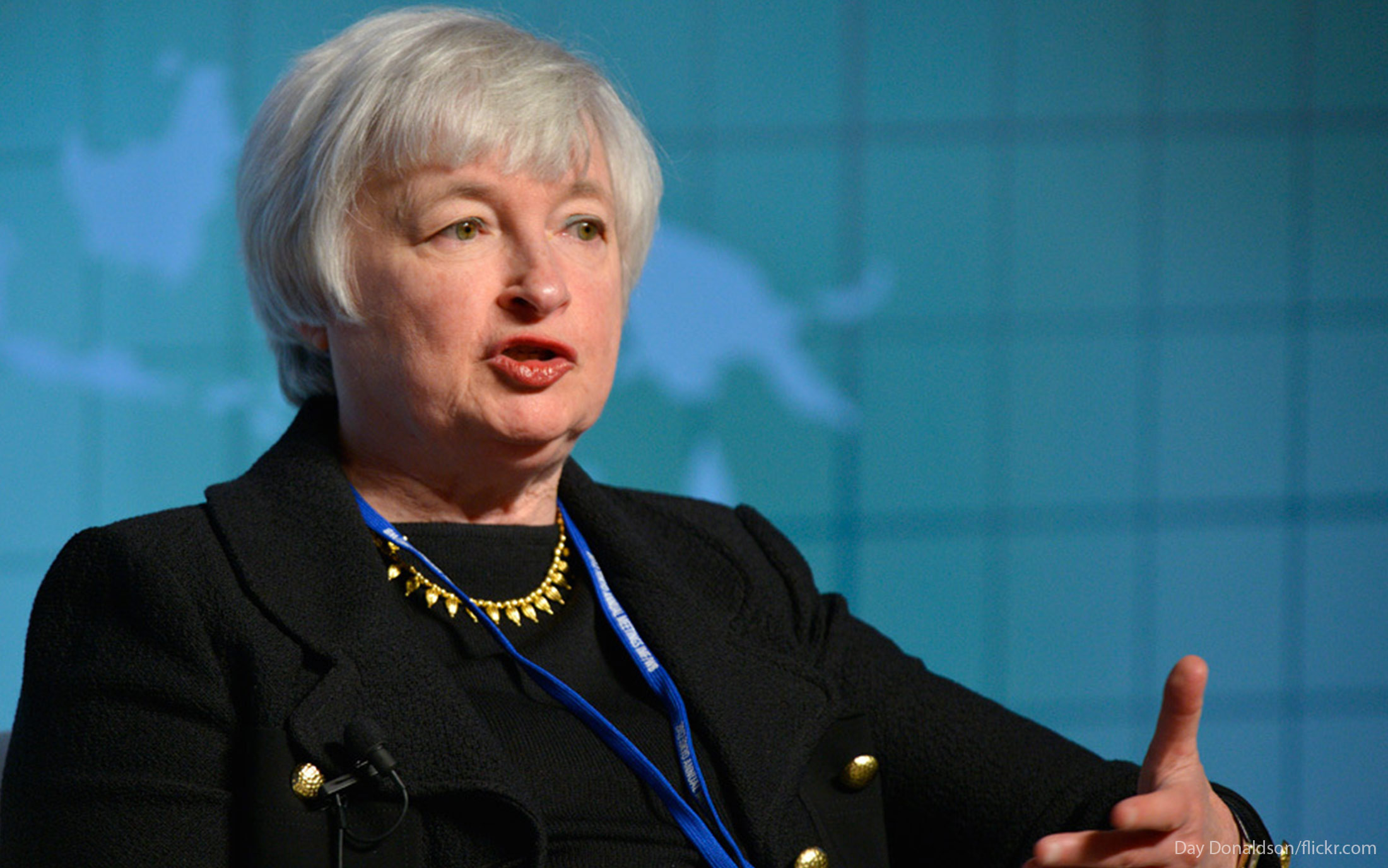 On Wednesday, Federal Reserve Chair Janet Yellen gave her semiannual testimony to Congress, acknowledging that global economic developments could hold back U.S. growth. She said it's too early to know if this will impact Interest Rates, but admitted it will be a topic of discussion at the Fed's next meeting in March.
Despite global turmoil, Yellen expressed confidence in the U.S. economy. She noted that the number of nonfarm payroll jobs increased by 2.7 million in 2015 and another 150,000 in January. She also cited the current 4.9 percent unemployment rate as evidence of improvement.
"Household spending has been supported by steady job gains and solid growth in real disposable income — aided in part by the declines in oil prices," Yellen said. "One area of particular strength has been purchases of cars and light trucks; sales of these vehicles in 2015 reached their highest level ever."
She also said that home building activity has continued to rise, but the level of new construction is still below average levels.
See: 7 Ways the Federal Reserve Rate Hike Will Affect You in 2016
Markets React to Possible Fed Rate Delay
Janet Yellen's Wednesday remarks received a mixed reaction from Wall Street. The S&P 500 opened strong for the day and barely wavered after the speech, but the NASDAQ experienced a small 0.3 percent gain. The Dow Jones Industrial Average took a 100 point (0.6 percent) tumble during the final hour of trading.
On Thursday morning, the S&P 500 was down 1.9 percent, the Dow Jones Industrial Average dropped 2.2 percent and the NASDAQ fell 1.5 percent.
Yellen Unsure About Raising Fed Interest Rates
Despite Janet Yellen's confidence in the U.S. economy, she's not convinced that it's time to raise Fed Interest Rates again:
"Financial conditions in the United States have recently become less supportive of growth, with declines in broad measures of equity prices, higher borrowing rates for riskier borrowers, and a further appreciation of the dollar," Yellen said. "These developments, if they prove persistent, could weigh on the outlook for economic activity and the labor market, although declines in longer-term interest rates and oil prices provide some offset."
Since the first Fed rate hike in nearly 10 years back in December, U.S. financial conditions have slightly fallen. Yellen continues to show no regret about increasing Fed interest rates, but the current market turmoil, paired with slowed U.S. growth at the end of 2015, has caused speculation that the next one will not happen in March.
While a Fed rate increase probably won't happen immediately, officials have indicated they plan to gradually raise rates by around a percentage point in 2016. Raising Fed interest rates in March could hinder further economic growth and hiring, so its likely officials will wait until there is less market turmoil.
Unstable Global Markets Factor Into Fed Rate Hike
On Wednesday, Yellen also acknowledged the uncertainty of the global economy and the impact that could have on the U.S.
"Foreign economic developments, in particular, pose risks to U.S. economic growth," she said. "Most notably, although recent economic indicators do not suggest a sharp slowdown in Chinese growth, declines in the foreign exchange value of the renminbi have intensified uncertainty about China's exchange rate policy and the prospects for its economy. This uncertainty led to increased volatility in global financial markets and, against the background of persistent weakness abroad, exacerbated concerns about the outlook for global growth."
Yellen said these concerns, coupled with strong supply conditions and high levels of inventory contributed to the recent drop in the price of oil and other commodities. She noted that low commodity prices could cause financial duress in many commodity-exporting and commodity-producing countries, which could ultimately lower the demand for U.S. exports and weaken domestic market conditions.
Janet Yellen on U.S. Economic Outlook
Yellen weighed in on U.S. market performance and the viability and legality of a negative rate. See what she had to say here:
This article originally appeared on GOBankingRates.com: Janet Yellen on Why the Fed Will Delay Rate Increases