Interested in exploring the great wide open from an RV? It is easy to get started. Read on for your Complete RV Guide for beginners!
The best way to explore the planet is in a brand new RV. Everyone wants to Travel more but not everyone has the means to do so. Whether it's because of the high cost of airfare, the inability to get time off work, or anything else in between, traveling is tough. That's why RV's are so special.
If you've been thinking of getting one but need a reason to take the plunge, here is the article for you. This is the comprehensive RV guide for those of you that need a little bit more information before buying an RV.
Recreational vehicles are a cost-effective alternative to expensive long-distance travel. You also get to experience more by camping in remote areas while maintaining some of the comforts of the indoors. Don't let a once in a lifetime chance slip away. Find the perfect RV for you and get out there and see the world.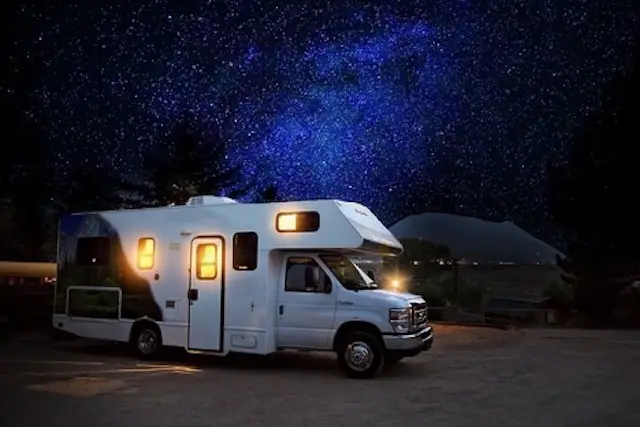 Should I Buy A New or Used RV?
When you're looking for an RV, it might be beneficial to rent one first and find out what you like vs. what you don't like. RV's aren't exactly cheap, so you'll want to ensure that you're getting exactly what you want.
Set a reasonable budget and decide whether new or used is the best option for you. With new ones, you can get exactly what you want, but they're considerably more expensive. When you buy used, there are things you'll want to keep a close eye on.
Check the exterior for dings and dents, then all of the accessories that should be on the exterior.
Make sure there aren't any leaks and that the leveling jacks are all secure and straight.
Then, just take a thorough tour of the interior to make sure everything looks legitimate. It's okay to ask a lot of questions and raise any concerns with the seller. You're making a big purchase here.
One thing a lot of new RV owners fail to consider is RV and travel trailer storage. You need a place to put the thing when it's not in use, so get this sorted before you finalize the sale.
Can I Have Trial Runs on An RV?
Before you buy and even when you're first renting, take the RV out for a test drive to get used to it before you go on a long trip. While your regular license allows you to drive one, an RV is much different than a pickup truck or a van.
You might want to go out to a local campsite to get the lay of the (RV) land before you're away from civilisation.
Packing List for Your RV Travel
Create a packing list before your maiden voyage. You'll learn the nuances of RV travel after a few big trips, but you should try to be as prepared as possible. Food, clothes, cleaning products, and a repair kit are all really important parts of RV travel.
Be thorough. It's better to have too much stuff than not enough.
RV Travel Guide for Where to Go
The beauty of RV travel is that you can take it pretty much anywhere and set up shop. You can find list upon list of campsites all over the country and abroad, so just pick a spot on a map and start driving. Once you see the open road ahead, you'll know that you've made the right choice!
Hope this RV guide helped you make this big decision. If you enjoyed this post, come back and visit us again for more travel guides.
Related posts:
Reasons To Volunteer Abroad

Everything You Need to Know about Irish Pubs

8 Essential Items You Should Bring on Your Trip to Japan

Take Swiss Train Journey to the Top of Europe
The post Going Into the Wild: Your Complete Beginner's RV Guide appeared first on pretravels.com.
This post first appeared on Pretravels, please read the originial post: here