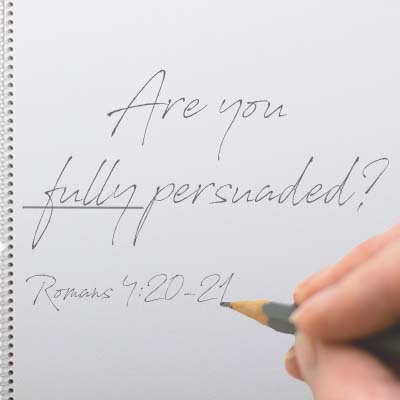 Yet Abraham did not waver through unbelief regarding the promise of God, but was strengthened in his faith and gave glory to God, being fully persuaded that God had power to do what he had promised.Romans 4:20-21
Church,
So often we see the circumstances of our situations bearing over us and making us lose focus on God. For Abraham, the circumstances of his age and the example of his whole adult life all told him that it was impossible for them to bear children. Yet Abraham knew the promise of God. He knew that circumstances, no matter how insurmountable, meanings nothing when God makes a promise.
Do you believe the promise of God today? God Promised that the sacrifice of His son was enough. God promised that by His power we can be made holy and clean. God promised righteousness for those who put their faith in Him.
Regardless of our circumstance, Gods promises stand. No matter what our situation is, Jesus Christ died on the cross so that we can be made free, holy and righteous. What circumstance can stand in the face of such an amazing sacrifice!
I am praying for us to have faith like Abraham who was unwaivering in His belief, yet was strengthened in his faith and gave glory to God.
Are you Fully Persuaded of Gods faithful promises today?
In Christ,
Kris
The post Fully Persuaded of the Promise appeared first on United Faith Church.