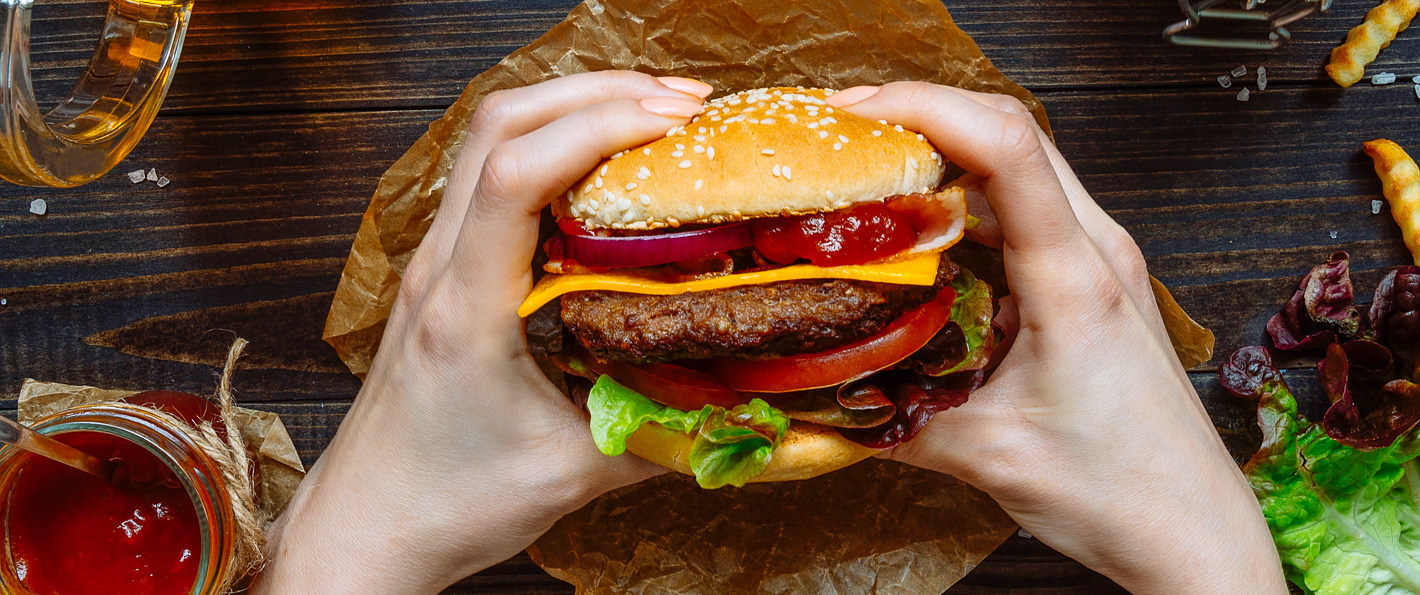 While it might not have originated in the U.S., few foods are more closely associated with American cuisine than the hamburger. From holiday cookouts to America's familiar fast-food culture, the hamburger is arguably the single most visible symbol of our national appetite.
On May 28, we'll celebrate every aspect of the culinary staple on National Burger Day. On this delicious holiday, burger lovers everywhere should look for coupons and other specials so they can save on good burgers at fast food and other hamburger restaurants, grocery stores and more.
Deals at Hamburger Restaurants
Some might not be dedicated hamburger restaurants, but these eateries are pulling out all the stops on National Burger Day.
Chili's: No coupon code is needed to get a "3 For Me" meal, which includes a salad or chips, burger and a Mini Molten Cake.
La Rosa's Pizzeria: Who says you can't branch out with pizza on National Burger Day? Use coupon code 1446 to score a cheeseburger deluxe pizza for $14.99.
Red Robin: Join Red Robin Royalty and get a free burger any time during your birthday month.
Ruby Tuesday: Sign up for So Connected and get a coupon for a free burger valued up to $9 on your birthday.
Wing Zone: Use coupon code CWFMS to get a half pound cheeseburger with wedge fries and mozzarella sticks for just $8.99.
Check Out: 62 Restaurants and Other Businesses That Give Birthday Freebies
Good Burger Discounts at Fast Food Joints
What better place to find good burger deals than a fast food joint? These are the fast food restaurants that offer the best value on National Burger Day.
Burger King: Download the Burger King app and you'll get a free Whopper when you buy one at full price.
Carl's Jr.: Buy any Baby Back Rib Burger combo and get a free Baby Back Rib Burger through June 1 when you present this coupon.
Hardee's: Use this coupon for a buy-one-get-one-free All-Natural Burger.
Johnny Rockets: Join the Rocket eClub and get a free burger right away plus a free burger on your birthday.
Rally's: Use coupon code 4111 on the website to get a free burger.
Sonic: Enjoy half-price cheeseburgers on Family Night every Tuesday from 5 p.m. to close.
Wendy's: Sign up for the email list and get $1 off any premium hamburger.
National Burger Day Online Freebies
There's no need to go out to find good burger discounts. Here are a few deals you can take advantage of online from the comfort of your own home.
Allen Brothers: Use coupon code BURGSPR17 to get eight free bonus burgers on purchases of at least $189.
Omaha Steaks: Buy select combos and you'll get free shipping plus four free burgers through May 30.
Postmates.com: New customers get free delivery worth $10 plus a free Chick-Fil-A burger when they use coupon code APNVVJ.
Uber Eats: Download the app and get a free burger when you use coupon code EATS-UBERF370UE.
Learn: How to Pick Your Cut of Meat
Deals on Grilling Equipment
Prefer to grill your own meat? Here are some ways to save on grills and grilling accessories.
CafePress: Use coupon code BOBBY20 to take 20 percent off select Bob's Burger gear through the end of May.
Cameron's Products: Use coupon code PROJECTSMOKE for 15 percent off any smoker.
Fire and Flavor: No coupon code is needed to get free shipping on orders over $25.
Shop Fox: Use coupon code BURGER to get 20 percent off essential Bob's Burger items.
There's no better way to celebrate National Burger Day than to bite down in a quality, delicious patty you got for cheap.
Hungry for Dessert?: Try These 7 Cheap Apple Pie Recipe Twists
This article originally appeared on GOBankingRates.com: Celebrate National Burger Day With These 20 Deals, Freebies and More