Estimated Read Time: 15-22 minutes
Some people are absolutely, positively, 100% sure that God exists. On the other end of the spectrum, there are some people who are absolutely, positively, 100% sure that God doesn't exist.
I don't know how either of these people do it.
But I hope we can agree that most of us fall somewhere in the middle: we're not 100% sure if God exists or doesn't exist. This includes all the people who say they do or they don't believe in God, but actually aren't sure. You may say you believe in God or you're an atheist, butdeep down(like,reallydeep down), are youreally sure?
Welcome to the world of belief.
I was slightly kidding, but it somehow rings true—when you don't have undeniable evidence of something, you fall back on your beliefs—you fall back to what makes sense.
And for all of us, our beliefs are shaped by our experiences, and this is how we all end up with vastly different concepts about God.
But we're never really sure if we're right or not.
I fall under this same category. I'm not going to lie: I'm 97% sure that God exists. So my perspectives will be a bit biased. But just remember: I'm not really sure, either. I'm almost 100% sure. But am I positive? Not yet at least.
So I wish I can be here to scientifically prove God's existence, but I can't do that, at least not yet.
All I can do (for now) is give you a convincing explanation that makes sense—so let's get to it.
_____
Two Schools of Thought
In the world of logical sense, there are two ways to come up with a logical conclusion:
The first isempiricism. This is making sense based on measurable data (i.e. the 5 physical senses). All math and science fall under this category. Because you can scientifically (or mathematically) prove it, it makes sense, and you know it exists.
Or sometimes it doesn't even have to be scientifically proven—if you perceive it with one (or more) of your 5 physical senses, then that also makes sense to you, and of course, you know it exists.
But to get straight to the point, it's pretty much impossible to use empiricism to prove God. Where do you even start? What is there to measure? What can you perceive with your 5 physical senses?
Maybe it will be possible in the future, but empiricism has nothing to answer God's existence (or non-existence) for now. So we can't use empiricism, and we have to turn to the other school of thought:
Rationalism. This is based on reason and knowledge, and has nothing to do with measuring data or perceiving through your physical senses. If it's logical, and it makes sense, then you have a good justification for accepting it. But unlike empiricism, (for some people at least), you still can't be 100% sure that it exists.
But this is all we have for now. Through reason and knowledge, I will try to give a convincing, logical explanation for God.
_____
Finding Things in Common
So let's start with an analogy: A piece of art can tell a lot (or at least something) about its artist. The DP explains this better than me: "Just as a work of art displays the invisible
Nature
of its maker in a concrete form, everything in the created
Universe
is a substantial manifestation of some quality of the Creator's invisible, divine nature." (p. 16)
If an art is truly original, I feel like it would resemble or represent the artist in some way. So an artist is to art as God is to creation (the universe).
[artist : art :: God : creation]
So what do we find in creation? What can we observe in the universe?
One quality that is found everywhere in the universe is the dual aspects (we call themdual characteristics) ofyangandyin.
For those of you unfamiliar with those terms,maybea better term to use ismasculinityandfemininity, but even this may be confusing. Just remember that these entities are reciprocal and relational, and (basically) opposite to each other.
In fact, the DP says every entity "comes into existence only when these [dual] characteristics have formed reciprocal relationships, both within the entity and between it and other entities." (p. 16)
Let's take an example: subatomic particles (the building blocks for all matter) either have a positive charge (a proton), a negative charge (an electron), or a neutral charge (a neutron), which is "formed by the neutralization of positive and negative constituents." (p. 16)
I, not being particularly knowledgeable in physics, wondered about that statement, then realized that neutrons themselves (as well as protons) are allmade of quarks, with each of them having a positive or negative charge, too.
So yes, the joining of these particles through the reciprocal relationships of their dual characteristics (i.e, positive and negative) form an atom. Atoms can have a positive or negative valence, too (an ion). These atoms can enter into reciprocal relationships with other atoms, and, with the right combinations, can form certain molecules. You can keep building this up and up until we get plants, animals, and humans, among other things.
Let's go back to the term "coming into existence." It can basically mean 2 things:
1) Actually coming into existence.
There needs to be a reciprocal relationship for anything to come into existence. In a subatomic sense, an atom can't reach absolute zero, where the particles stop moving completely, because in that sense, the atom wouldn't exist.
A reciprocal relationship is needed for the atom to exist (or work, rather), and therefore for anything to exist. In the same way, atoms need to act in a certain relational matter in order to form molecules, and we can keep going up this building block ladder and conclude that this is needed in order for any entity to exist.
2) Bringing more things into existence.
This is basically the same thing as the first, but done in a larger scale. For a plant to come into existence (in most cases), there needs to be a reciprocal relationship between a stamen and a pistil, and that will produce a seed.
In most animals, a male and female animal of that species can reproduce to create offspring. In humans, too, a man and a woman is needed to reproduce and give birth to a child. In all of these cases, there needs to be some kind of reciprocal and relational relationship between two entities in order for more entities to exist.
But even if an atom becomes a positive/negative ion after ionization, there's still positive and negative elements in the atom—they're just in stable unity. In the same way, for all beings, there are elements of yin in every yang, and there are elements of yang in every yin. I'm just trying to say every yang entity isn't made up exclusively of yang elements (same for yin).
So we have reciprocal relationships of yang and yin that exist everywhere. And the interesting thing is that this isn't really a matter of belief—in at least some sense, this is true.
But what else do we find?
There is another quality found in every entity that, the DP says, is "even more fundamental to existence than yang and yin." (p. 17)
This is none other than an outer form and the inner quality—every entity possesses these things. From now on, I'll refer to these things asinternal natureandexternal form, respectively.
The internal nature is (obviously) invisible, but it manifests itself into the external form in some way. By doing this, the external form resembles the internal nature (in some way). Because the internal nature and external form are in reciprocal relationships, and need each other to exist, these are considered another example of dual characteristics.
Human beings are probably the most obvious example of this. Every human being has two aspects: a mind (representing internal nature) and a body (representing external form). The DP describes the body as a "visible reflection of the invisible mind." (p. 17)
The DP then continues: "The body resembles the mind and moves according to its commands in such a way as to sustain life and pursue the mind's purposes." (p. 17) This makes sense—if the mind wants to do something, then the body will follow along and do whatever it can to fulfill the mind's desires. Basically, the body is a vessel for the mind to perform its needed actions.
Okay, that's probably too obvious of an example, so let's look elsewhere: what about animals? Animals don't have the mind like humans do, but they still have an instinctual mind, which (generally) avoids pain, enjoys pleasure, and tries to ensure survival by trying to live long and/or passing on their information to the next generation.
Either way, animals do possess an internal nature (their instinctual mind), and use their external form (their body) to carry out these impulses/commands from their instinctual mind.
But what about plants?
It may be strange to say that a plant has a "mind" of its own. But what I'm saying is that there are certain ways that plants behave.
For example, (almost all) plants have a characteristic called "phototropism"—plants grow according to light. If a plant is in a dark area with only one source of light, it will grow toward that light.
Another characteristic that (almost all) plants have is "geotropism"—plants grow according to gravity. If a plant is in a pot and that pot is tipped over, the plant doesn't keep growing in the same direction as it was before—it will naturally curve upward.
These things, among others, make up a plant's behavioral characteristics. Their internal nature (these characteristics) is manifested toward their external form, and that is how a plant behaves the way it does. In this sense, a plant has a certain "mind" (an internal nature).
But what about atoms and subatomic particles?
Even atoms have a "rudimentary nature" that make them behave the way they do. (p. 18) This is the same for subatomic particles, like protons, neutrons, and electrons, alike.
Even energy has this nature: "For energy to form particles, it, too, must possess an internal nature which directs it to assume specific forms." (p. 18)
Again, this isn't really a matter of belief—it's hard to deny that there'ssomethingin every entity that makes it behave the way it does. That's all the DP is trying to say.
I don't know about you, but all of this has me wondering—how do all of these things know what they're doing? It might be a silly question, but it doesn't stop me from wondering it.
Like, how does an atomknowwhat it's doing? Actually, no, how does a quarkknowwhat it's doing? How does a quark know that if you get two up quarks and one down quark, you make a proton, and if you get one up quark and two down quarks, you make a neutron?
How does an electron know which orbital to hang out in an atom? How does a proton (and neutrons, I guess) know that they need to all bunch up together in the nucleus of an atom in order for the atom to function? (I understand that there's a strong force, and that answers how and why protons and neutrons can hang out in a nucleus together, but that still doesn't really answer how the protons and neutrons know they're supposed to do that).
If the answer is "well, they justdo" or "they justknow," then I feel like that's not really answering the question.
I can go on with molecules, DNA, and cells, but I think we get the point here. I think it's safe to say that there has to be some kind of "rudimentary nature", or some guiding principle, for these entities to work—we can refer to these as internal natures. If you think about it, that makes sense.
But let's also just take this time to appreciate the unbelievable complexity of the universe. Even for one atom to work the way it does, all the electrons, protons, and neutrons (the latter two can be divided further into quarks) need to work in some kind of stable unity.
Can you imagine if it didn't? Can you imagine if an electron refused to stay in their orbital and decided to hang out wherever it wanted? Can you imagine if a down quark refused to be with two up quarks (and therefore not make a proton)? Can you imagine if a proton was tired of sharing space with a neutron and decided to leave?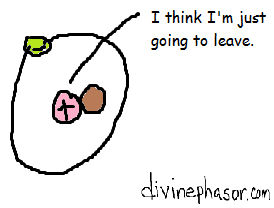 And this is all in just one atom.
I know this all sounds silly because I'm giving subatomic particles a (human) mind of its own, but all I'm trying to say that there are so many things that can go wrong, and yet (almost all) atoms get it right.
What I'm trying to say is that I feel that we take the universe (and all things in it) for granted more than we should. Let's just learn and remember to appreciate it for what it is.
_____
Tracing it Back
Done? Okay then.
I'm also wondering something else—where did all of this come from? You can trace the existence of a human further back and back, and you can do the same with animals and plants. But all of this, including atoms, will all be traced back to the Big Bang. Okay, that makes sense. But where did the Big Bang come from?
I don't know about you, but when I did a Google search on that question, I couldn't come up with a satisfying answer. If you say it came from something, like "an unstable form of energy," okay, great. Now where did this energy come from?
Instead, if your answer is that the Big Bang came from nothing, well… I have nothing to say to that.
I don't know… I feel like there has to be an origin where everything started, and saying that origin is nothing just doesn't seem sufficient.
The DP sums this up perfectly: "Probing deeper still, we search for the Ultimate Cause which brought this energy, with its elements of internal nature and external form, into existence. This being would be the First Cause of all the myriad things of the universe." (p. 18)
That's basically what God is—the origin of all things in the universe. Going with the analogy that we used in the beginning, if God is the artist and creation/the universe is the art, then the art is basically a reflection of the artist (or should be, at least).
And from what we've observed so far in the universe, we find the dual characteristics of internal nature/external form and yang/yin. So God should be the source of all these qualities, with creation/the universe as the reflection.
In fact, the DP says that God has the "harmonious dual characteristics of original internal nature and original external form." (p. 18)
In a nutshell, this makes sense. If the universe really is a reflection of God's nature, and the universe consists of these dual characteristics (yang/yin, internal/external), then God should have these characteristics too.
And I don't think it's that farfetched to add that God has these characteristics harmoniously. If God contains all of these characteristics, then just like pretty much everything in the universe, they should be working together.
So far, we've talked about yin/yang and internal/external separately. But the DP takes a step further and tries to describe the relationship between them: "God's original internal nature and original external form each contain the mutual relationship of original yang and original yin. Therefore, original yang and original yin are attributes of original internal nature and original external form." (p. 19)
I'm not sure if I completely understood that either, but I had to put that out there. Just know that there are dual characteristics of yang/yin and internal/external, and there are elements of yang/yin that work in each the internal nature and external form to make things work.
In relation to us, God represents the internal nature, and the universe the external form—the universe is an expression of God's nature.
The DP also says that God stands in a position of yang (masculinity), while the universe stands is a position of yin (femininity) (more on that next post). This is why, in a way, it makes sense to call God "Our Father" or "Heavenly Father." (p. 19)
But the DP isn't done explaining God and the universe yet. The DP also goes on to say that everything in creation is a "discrete projection" of God's characteristics. (p. 19)
Taking a step further, the DP places us human beings in a level ofimage, and the rest of creation at a level ofsymbol(more on why much later). Whether image or symbol, the DP refers to all of us asindividual embodiments of truth(where, I'm assuming, the truth represents God).
And this makes sense—if God is indeed a mix of yang/yin and internal nature/external form, and if the entire universe is a reflection of God's nature, then one entity in the universe would seem to be one aspect of God's nature—a "discrete manifestation." (p. 20)
(One thing to note: this yang/yin concept is nothing new. Obviously, this concept is from East Asian metaphysics, or specifically, the Book of Changes (I Ching). The underlying basis is that the origin of the universe is the Great Ultimate (Ultimate Void). From the Great Ultimate arose yang and yin and then all beings, who are based on this yang/yin, or the Way. The Great Ultimate is the harmonious source of yang and yin (the Way).
The only thing this is missing is that this concept didn't recognize that all things have an internal nature and an external form, too.)
_____
Other Aspects
Okay, we probably got way off topic from what we were originally talking about. We know that everything in the universe is made up of yang/yin elements and internal nature/external forms, and this is probably a reflection of God's nature Himself, if we're using the analogy that God is an artist and the universe is his art.
Now, based our observation, what other characteristics do we see in the universe that might resemble God's nature? And how can we study these aspects? Here are 6 more aspects that I can think of:
God is harmonious/balanced.
This is an obvious one. Much of the universe (if not all of it) needs some kind of harmony, or balance, to work. Atoms, the building blocks of all matter, especially, have protons, neutrons, and electrons working in some kind of harmony for the atom to do what it does.
If you want to study God's harmony/balance, you can study chemistry, which simply is just how substances interact (sometimes harmoniously) with each other. You can also study counseling, which, really, is the achievement of harmony in yourself and between others.
God is logical/rational.
There are certain laws of the universe that everything follows. The Law of Conservation of Energy, Newton's Laws of Motion, Einstein's Theory of General Relativity, Newton's Law of Gravity, Laws of Thermodynamics, and the Heisenberg Uncertainty Principle are just a few examples. I won't go into them because I'm not an expert on any of these myself (nor will I ever will be) but these are things that people generally accept and can be scientifically proven, and apply across the universe.
If you want to study the logicality and rationality of God, then you can study math or physics, which is basically the basis for all the things I just mentioned.
God is scientific/mathematical.
Building off of the last point, (basically) everything in the universe can be reduced to a scientific and/or mathematical formula. Instead of explaining it myself, I'll take it to physicist Max Tegmark, who sums it up perfectly in an interview:
"So right now, I'm eating an orange, which is made of cells. Why do they have the properties they do? Well, because they're made of molecules. Why do the molecules have their properties? Because they're made of atoms put together in a certain way. Why do the atoms have those properties? Because they're made of quarks and electrons. What about the electron? What properties does it have? And the cool thing is, all the properties that electrons have are purely mathematical. It's just a list of numbers. So in that sense, an electron is a purely mathematical object. In fact, there's no evidence right now that there's anything at all in our universe that is not mathematical."[1]
If you want to study God's mathematical and scientific side, then obviously you can study math and physics, but you can also study technology-related fields and engineering, which build off of these concepts.
God is consistent.
Going with the last two points, these mathematical/scientific formulas make sense, and they're applied across the board to everything.
Aside from all the fields I just mentioned, if you want to study the consistency side of God, you can also study psychology, which isn't exactly in the same field as physics or math, but still study the principles of something—the human mind.
God is relational.
We went over this. Everything needs some kind of interaction (with other entities) in order to exist. So everything is relational.
If you want to study the relational aspect of God, you can study… management or political science. Because really, these fields are all about interactions between people (or governments, which are made up of people). Then again, everything is relational.
God is creative.
This is a tricky one. I can say things like God is logical, rational, scientific, and mathematical, because it makes some sort of sense, and science can back it up. But creative? Where did I get that from?
I don't know about you, but if God were purely a mathematician/scientist/engineer, I don't think He would have created a universe like this. I mean, just look at some of these galaxies:
I feel like there's some kind of inherent beauty in these things, no? I understand beauty is in the eye of the beholder and humans probably created the concept of beauty, but still… I'm just saying, I feel like it could've gone a whole different way.
If God was purely scientific/mathematical, then the simplest way to create the universe would be to make copies of something that worked, right?
Like, we could have lived in a universe where all the galaxies looked the same. That's efficient, no?
But that's not what happened. It could be a coincidence that we just find these things aesthetically pleasing, or at least reallycool. But I don't know, that's just my opinion.
_____
Recap
Every entity in the universe has elements of yang and yin, interacting within themselves and with others. There needs to be some form of harmony between these elements for anything to exist.
Every entity also has an internal nature and external form.The visible, external form is a reflection of the invisible, internal nature, meaning it (the external) resembles the internal in some way.
We can study God by looking at the works of his creation.We use the artist-art analogy to describe this. By observing things in creation/the universe, we can (somewhat) observe the type of being that God is. God is the origin of all these things, and everything is a "discrete manifestation" of his characteristics.
The first two points aren't really a matter of belief—we see examples of this everywhere. The third, though, is tricky. I can talk about this all I want, but it still might not be enough to convince you. As of now, there is no scientific evidence to prove the existence of God, but maybe one day, there will be.
I'm just trying to build up a convincing explanation (and we're nowhere near done yet). But for now, the choice is yours to accept or not.
So if you read this in its entirety all the way to the bottom… I don't even know what to say.
But for the next post, we will talk about how God (and everything, really) carries out interactions. In other words, this post is about "what" things are. Next post, we will talk about the "how."
As always, thanks for reading, and see you next post!
UPDATE:Here's thenext post.
_____________________
Sources:
1: http://www.sciencemag.org/news/2013/02/do-we-live-inside-mathematical-equation
P.S. I did say I promised the drawings would get better, but let's be honest here, it's gotten worse. All I can say is that I'm artistically challenged, so forgive me—I'm trying my best.
P.P.S. Some of these ideas, like the other aspects of God (harmonious, relational, scientific, etc.) aren't my ideas either. They're from a culmination of lectures that I've listened to in the past. Just crediting people where credit is due.
If you liked this post, feel free to share it.
Also, if you liked this post, please subscribe to our email list below! Keep yourself updated whenever a new post comes. We'll only send 2-4 emails a month.
And also, while you're doing that, you can alsolike us on Facebook, because really, why not.
If you want to find the full list of ways to support us, check out oursupport mechanisms.
And lastly, if you have any general questions about us or inquiries, or just want to say hi, feel free
[email protected]