Estimated Read Time: 16-23 minutes
Look. It's never easy to talk about God. Often times, I just have the feeling that somebody is going to get offended, others are going to doubt you, and still others aren't interested, or really don't even care.
Too bad.
Kidding aside, I feel like God is a very necessary topic that I need to talk about in the context of what I'm saying. If I leave God out, none of this makes sense.
So please, bear with me on our journey to explore life, love, and the universe. As outrageous as some of these explanations may seem, I'm trying to do my best to tie them all together so they make sense, or at least sound sensible enough to not call all of this "crazy."
Plus, even if you don't really care, anyone loves a good explanation. So let's do it.
_____
Four (Five) Things
But of course, just as I say this, the Divine Principle just dumps four key points about God, all in one sentence, and just leaves it without explanation in the subsequent sentences. Okay then.
Oh, and if you're wondering what the sentence is: "God, the Creator of all things, is the absolute reality, eternal, self-existent and transcendent of time and space." (p. 21)
Actually, I take that back: this sentence actually spurts outfivekey points about God, if you look closely. Also notice the missing Oxford comma (sorry, I had to point it out).
But yeah, that's it. I guess I have some serious explaining to do:
God is the Creator of all things.
Well, that's not the craziest notion. Going by ourprevious post, God is the origin of all things, and all things are a "discrete manifestation" or a "discrete projection" of part of his characteristics. If a Creator is a "person/thing that brings something into existence," it's notthatridiculous to conclude that God's projection onto the universe makes him a Creator. But more on that later.
God is the absolute reality.
Well, this is up to you to decide whether you think God is real or not. I'm doing my best here. But absolute, as in "not [limited] or diminished in any way"? Sure, that could be possible, if we're going with the fact that God created the universe—still, it's up to you.
God is eternal.
The only way this makes sense is if God created the universe—if that is true, then that would mean God existed before the universe's creation. But maybe it's clearer if you see that
God is self-existent.
We did go over some of this in theprevious post. God has dual characteristics in harmony and can continue to exist because of this. In this sense, God is eternal, as long as God's harmony of dual characteristics is also eternal.
God is transcendent of time and space.
If God existed before the universe, he existed before time and space, no? This is where the reasoning comes from.
_____
Postulates?
As you can see, none of this was easy to explain—it's hard to deem all of these points asfacts.
In actuality, it makes more sense to deem them aspostulates, or something "assumed as true for the basis of reasoning, discussion or belief," at least for now. These will probably become clearer as sensible explanations at the end of this post (maybe).
_____
UPE
But okay, let's assume these statements are true. What now?
Well, the next sentence nearly repeats the first, saying that the "fundamental energy of God's being is also eternal, self-existent, and absolute." (p. 21)
Great. More postulates. But actually, if we assumed the first sentence was true, then it makes sense to say that something that originated from God, the "fundamental energy," is of the same characteristics as God Himself.
But now we get to the topic of energy. The DP follows the previous sentence with "It is the origin of all energies and forces that allow created beings to exist. We call this universal prime energy." (p. 21-22)
Oh great, another long-lettered term that the DP uses.Universal Prime Energy. That actually sounds pretty cool. (I'm going to have to abbreviate it to 'UPE' here, otherwise you'd have to read an 8-syllable phrase in every other sentence).
But in seriousness, I don't think the DP is talking about aphysicalenergy here. At least, I don't think UPE is ameasurablekind of energy, and I'm not sure if it ever will be.
I say this because all of science studiesresultantreality, which is everything that we can see or measure as a result of the universe, but UPE isn't really in the realm of resultant reality—it's more of acausalreality, the reason why everything is the way it is. So you can't exactly use science to measure UPE.
I mentioned in theprevious postthat God is the original internal form and the original external form in harmony. To clarify, the original internal form is the harmonious dual characteristics of God (yang-yin), and the original external form is UPE. (This isn't mentioned in the DP specifically; this is my own opinion).
So God's internal form is a nature to do what it does (built up of harmonious dual characteristics), and God's external form is how that nature is carried out (UPE).
The only "evidence" that I can really provide of UPE is the laws of nature/the universe that we talked about before. God is carrying out his nature through these laws, and he is staying consistent with them.
But UPE is behind all these laws; it is the causal force which guides these laws.
Basically, UPE:
-gives direction and purpose to the energy of the universe
-is the fundamental force for each being's existence
-directs all interactions toward harmony and development
-moves all beings towards relationship
-and guides a being's existence, reproduction, and action.
Again, I don't think this will be something that will be scientifically proven anytime soon. But it makes some sort of sense that there's this "energy" that guides all beings to behave how they behave.
_____
GTA
But UPE alone isn't enough to explain how entities in the universe interact with each other. For interactions, there need to be two things. Let's refer to them assubject partnerandobject
Partner
.
This is how the DP explains it: "Through the agency of universal prime energy, the subject and object elements of every entity form a common base and enter into interaction." (p. 22)
We call thisgive and take action.I know, I know, it's another long-
syllable phrase, but it's so necessary to existence that I have to include it.
It looks something like this: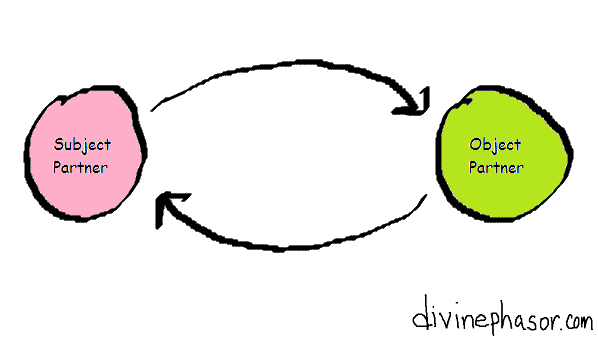 Some important things to note:
This interaction "generates all the forces the entity needs for existence, multiplication, and action." (p. 22) This is how any entity in the universe exists—this is the cause for all interaction in the universe.
Pleasedo not confuse the subject partner-object partner interaction with a superiority/inferiority complex. I know an "object partner" sounds like an offensive term, but hear me out: I'd actually love to be in an object partner position. Here's why:
Really, the main (and perhaps only) distinction between a subject partner and an object partner is that thesubject gives, and theobject receives.
Which leads me to my next point:
Give and take action should actually be called "give and receive action." "Giving" should be an active force, while "receiving" should be a passive force. Labeling it "taking" makes receiving also sound like an active force, which it shouldn't be. Why?
To achieve any interaction, there should be a "giving" (active) force, and a "receiving" (passive) force. If you have two active forces trying to go at each other, it is a kind of interaction, but it (usually) doesn't further the purpose of the universe. Instead, the universe does strive to achieve some kind of harmony, as mentionedearlier. But more on this later.
_____
Sidetracking to Entropy
You might find it strange that I'll be talking about "some harmony of the universe" when you remember the law of entropy. You might associate the term "entropy" with "chaos" or "disorder," and wonder how the universe can achieve any kind of harmony.
I don't know about you, but I actually never really understood what entropy is. I've probably heard of it referred to as "the disorder of the universe" many times. But this is the physics definition of entropy, according to Google:
"
a thermodynamic quantity representing the unavailability of a system's thermal energy for conversion into mechanical work, often interpreted as the degree of disorder orrandomnessin the system.
"
If you didn't get that, then try a simpler explanation: "
Remember that it is really justa measure of number [of] states that a system can be in, given the constraints on the system.
"[1]
So the "chaos" and "disorder" is really just all aboutrandomness. And that makes sense. This explanation continues with an example:
Say you have a small box with a single particle in it. That particle can be in another of different states (positions, let's say) in a given time.
But this box's entropy is comparatively small if you compare it with a bigger box. In a bigger box, the number of different states becomes higher, because there are much more possibilities of where the particle can be. So this box has a higher entropy.
So if the universe is expanding,of courseits entropy is going to increase. This has nothing to do with give and take action, though. I'm not sure why I included an entire section on entropy, because there's no mention of it in the DP, but I guess I just wanted to make a point that the law of entropy doesn't interfere with the principles of give and take action. Got it? Okay.
_____
But anyway, I'm going to stick with give and take action because "receive" is just one syllable too long. Plus, how cool is it to use the acronym GTA? You know what, I know the acronym GTA exists already (the name of some video game? Hmm?), but I'm still going to call it GTA from now on. But also, another thing:
Pleasedo not confuse the subject partner/object partner position with yang/yin.Subject/object arepositions, while yang/yin areattributesof entities. In other words, a yang is in the subject position, while a yin is in the object position.
But also,the yang isn't always in the subject position(same for yin). Once the subject and object "establish themselves," they become interchangeable, so the yang is sometimes the object, and the yin is sometimes the subject. More on what that means later.
_____
Verticality and Horizontality
The DP then mentions something that's either super interesting or super inherent: "Universal Prime Energy and the forces generated by give and take action are in a reciprocal relationship of cause and result, internal and external, subject partner and object partner." (p. 22)
In other words, UPE is averticalforce, while GTA is ahorizontalforce.
Since they all sound awfully similar to each other, it might be hard to differentiate between yin/yang or internal/external, GTA, and UPE. Let me try my best to try to explain the relationship between the three:
Yin/yang and internal/external are the inherentstructures, orstates, of all entities. GTA is the force that allows them to interact—theinteraction force. UPE is the force that guides all of these entities and interactions—theunderlying force. Maybe this diagram will make more sense:
So God's UPE guides dual characteristics to form a common base and enter into a mutual relationship, thus engaging in GTA. These forces generated do 3 things:
-They create a foundation for God's existence. This is because
-They create a foundation for continued reciprocation and existence of the universe. But also,
-They create a foundation for existence for each individual being.
I would say that all of this is pretty impressive, but this is pretty inherent too.
_____
Examples
There are literally so many examples of give and take action. Here are all of them that the DP mentions:
Nucleus-electron assembly.
This electromagnetic interaction, the DP says, is a type of GTA, where the protons and electrons (and I guess, the neutrons) work together to form and sustain an atom.
Molecular assembly.
Positive ions and negative ions can assemble to form certain molecules, which produce chemical interactions.
Positive and negative electrical charges.
The DP says that this type of GTA "underlies all electrical phenomena." (p. 22)
The xylem and phloem in plants.
This type of GTA sustains the life functions and promotes the growth of plants.
Stamen and Pistil.
This GTA is the dominant means for reproduction of plant life. You could say the same thing for male and female animals in a species (usually), and men and women in humans.
Animals and Plants.
How is this an example of GTA? Well, there's the exchange of oxygen and carbon dioxide, at least. There's also more specific examples like the cooperation between bees and flowers.
The Solar System.
In a more massive example, here is the GTA between the sun and the planets. We can also talk about the GTA between the earth and moon as a more specific example. They maintain their rotations and revolutions in a set orbit.
The Human Body.
In here, there is GTA between arteries and veins, inhalation and exhalation, sympathetic and parasympathetic nerves, and so much more.
The Human Mind and Body.
The human mind carries out activities furthering its purpose of life, and can do so through the body.
So many things.But the DP also brings up an interesting category:
"The [GTA] between husband and wife, among people in a society, between the government and citizens in nation, and among the nations of the world are essential for them to live together in harmony and peace." (p. 23)
So the key to a harmonious and peaceful society is some GTA. Easier said than done, I know, but we'll expand on that (eventually).
The DP then brings up something that is seemingly completely out of the blue—it says that all of us has a conscience. I know this might not make sense out of context, but this is how the DP explains it: "Since all forces are produced by GTA, the conscience cannot generate a force by itself; it needs a partner. The ultimate subject partner to this conscience is God." (p. 23)
Interesting. We'll expand on this (eventually), but for now, this is something to think about.
_____
FPF
Take a look at this diagram again:
Does it feel like itsmissing something? Like it's part of a bigger picture? I think so, and the DP seems to think so too.
GTA is great—it explains the interactions of entities. But, just as I saidpreviously, how do these entities know what to do? It feels kind of empty on the top of the picture, no?
If you've been paying attention, then yes, there is some internal nature in every entity that makes it behave the way it does. And UPE drives that entity, so it can perform GTA with other entities (and within itself). And the origin of UPE is, ultimately, God.
So let's put God at the top as our origin, like so:
Ultimately, God drives everything in the universe, by virtue of UPE. Everything in the universe is also adiscrete manifestationof God's dual characteristics. So they're like "divisions" of God's being. But there still seems like there's something missing in the picture…
There. That's better. When a subject partner and object partner engage in GTA, you create aunionof something. GTA between a proton and an electron, for example, will create an atom.
This whole process—the origin dividing into two separate entities and reuniting in oneness—is referred toOrigin-Division-Union action.
Now, I know what you're thing.Great, another long-syllable term. I guess you're just going to have to deal with it. Here, I'll make it easier for you and refer to it as ODU.
So through ODU, you get four positions: theorigin, thesubject partner, theobject partner, and theunion. I'll take it to the DP to explain the rest:
"Any one of the four positions may assume the position of subject partner and engage the other three as its object partners, forming a communion of three object partners. When each of the four then acts as the subject partner and enters into [GTA] with the other three revolving around it, they fulfill the three object purpose." (p. 25)
Now, you're probably thinking, oh no,another long-syllabled term? Yep. I'm not sure if I completely understand the three object purpose. But what I can see is that once the four positions become established, they become interchangeable. Let's keep things simple and abbreviate this to TOP.
But wait, there's more!
Okay in all honesty, there really is one more long-syllabled term you need to know: after this entire process, with the ODU (through GTA, guided by UPE) and TOP, is fulfilled, the four position foundation is established. Let's abbreviate this to FPF. This is it.
I'm only taking so much time and effort and space to explain this because the FPF willliterallypop up again and again in this series. So, when it does, it's important to know what exactly the FPF is.
Also, an important note about numbers:
The FPF is the root of the number four. It is also the root of the number three (because of TOP). It's also the root of the number twelve (Because if all 4 positions engage in the TOP, then there are 12 object partners total). I only say this because the numbers 3, 4, and 12 (and any factors of 10 by these numbers) will pop up again and again in this series, too. So, just a warning.
The FPF is "the fundamental foundation for the life of all beings, providing all the forces necessary for existence," so much so that it enables "God to abide in them." (p. 25). Just think about that statement for a second.
_____
Being Three Dimensional
And because the FPF is so important, we need to talk about it more. The DP starts this off by saying: "All beings who have completed the [FPF] by fulfilling the [TOP] through [ODU] move in circular (elliptical) or spherical paths. As a result, they exist in three dimensions." (p. 25)
I'm sorry, what? That seems like a random statement to make.
But the DP does make an interesting metaphor, though.
The projection from the origin forms two distinct object partners, which interact with each other as subject and object partner. When the object partner responds to the subject partner, they begin GTA—around the subject partner. The DP explains that they are "held in balance by the force of giving (centrifugal) and the force of receiving (centripetal), the object partner revolves around the subject partner in a circular motion, and thus they become harmonious and unified." (p. 26)
At the same time, the subject partner, by revolving around God, also becomes an object partner to God (and therefore united with God). By doing this, the subject-object union as a whole becomes a new object partner to God.
But we're not done yet. Because the subject and object are themselves composed of dual characteristics (because of GTA), they also carry on their own circular motions (rotations). In general, because the "angle of revolution around the subject partner is always changing, the circular movement becomes a spherical movement." (p. 26)
(Why does the angle of revolution change? Perhaps because the subject partner is also moving, revolving around something else too (another subject partner). The subject and object partners also both have their own different rotations as well.)
(I'm sorry. I tried my best to make this look three-dimensional.)
So the DP is basically saying all beings who have completed the FPF carry a spherical movement, and "their mode of existence always becomes three-dimensional." (p. 26)
I'm not even sure what just happened. But couldthisbe why we live in a 3-dimensional world? Who knows. But of course, we need examples, so we look to the most obvious one: the solar system.
In here, the planets stand as object partners to the sun. They each engage in GTA with the sun (through centripetal and centrifugal forces). The sun and planets attain harmony and oneness and form a solar system. But, at the same time, planet earth (and all the others) also rotates on its own axis.
The DP explains that the orbits "do not occupy exactly the same plane," and because of variations in orbits and rotations, "the solar system exhibits spherical motion in three dimensions." (p. 26)
Although it is true that our planets in the solar system occupyroughlythe same plane, it's also true that there areslightdifferences in angles of orbit.[2]So the DP makes somewhat of a point here.
We can also take an atom as an example. The DP does say that an electron forms a common base with a proton and does GTA, where the electron revolves around the proton in a circular motion, uniting and forming an atom. (p. 27)
Although this isn'tquitetrue, the point remains clear: the interaction between a proton(s) and an electron(s) (GTA) and unity (and harmony) form an atom. The electron orbital is spherical (or at least not flat), so atoms are spherical, and are therefore three-dimensional.
But sometimes, this metaphor (obviously) isn't meant to be taken quite literally.
In human beings at least, the body establishes a common base with mind and engages in GTA with it. The body (figuratively) revolves around the mind and attains complete oneness with it. If the mind stands as God's object partner and revolves around God, then it (the mind) becomes God'sembodied object partner.
But the mind and body are also composed of dual characteristics, too, so they (figuratively) carry continuous movement within themselves.
Some random points to consider:
The DP also makes a point and says these
spherical movements show the "dynamism and creativity of the universe,"
with "variations in each orbit's distance, shape, state, direction, angle, force and velocity." (p. 27)
Theultimate center of these spherical movements is God, and all things establishing the FPF are "individual embodiments of truth." (p. 28)
According to science, "elementary particles are the most basic building blocks of matter and explains that they are composed of energy." (p. 28) This means, all things considered, "energy exists to form particles, particles exist to form atoms, atoms to form molecules, molecules to form matter, and matter exists for the creation of all the individual entities of the universe." (p. 29)
God is omnipresent in the sense that, because of FPF,all beings are embodiments of God.
All beings are composed of dual characteristics because for any being to exist, energy is required, and energy can only be produced through GTA—"A movement in a straight line cannot be sustained forever." (p. 32)To have aneternal nature, you need to move in a circular motion, and therefore, GTA is necessary. This rings true even for God.
_____
Recap
UPE (Universal Prime Energy)is theunderlying force which guides the existence of all things.It is the origin of all forces and energies.
GTA (Give and Take Action)is when, through UPE, asubject and object partner form a common base and interact.
Asubject partneris in the position ofgiving(active). Anobject partneris in the position ofreceiving(passive).
ODU (Origin-Division-Union Action)is the process, through UPE, where anorigin is separately manifested into a subject and object partner, and through GTA, interact and form a union.
TOP (Three Object Purpose)is, after ODU is established, whenone of the positions acts as the subject while the other three become object partners and interact.
FPF (Four Position Foundation)happens whenall four positions have become subject partners and have fulfilled the TOP.After this establishment, subject and object become interchangeable. FPF is thefundamental foundation for existence.
See how they all tie together?
_____
But wait, there's more!
Remember the beginning points that I listed about God's characteristics? Remember how hard they were to explain without knowledge of anything? Well, let's try this again now:
God is the Creator of all things.
If UPE is actually a thing, and it guides all energies and forces to bring beings to existence, and the origin of UPE is God, then, yes, technically, God is the Creator of all things. And again, there has to besomethingthat had to bring all things into existence, no?
God is the absolute reality.
Again, if UPE is a thing, and GTA is all guided through UPE, then in that sense, God is a part of reality, since examples of GTA exist everywhere. These principles of GTA never change anywhere in the universe, so in that sense, God is absolute.
God is eternal.
If the key to eternal existence is through a circular motion (GTA), and we say God is harmonious (as mentioned before), and performing GTA forms some kind of harmony, then in that sense, God is eternal.
God is self-existent.
Going with the last point, God can self-exist because His elements are in harmony (because of GTA, he can eternally exist).
God is transcendent of time and space.
We can basically go with the explanation we had before here. If God is the origin of all things (his external form being UPE), then he certainly must have existed before the creation of the universe.
_____
See how much easier that was once you have an understanding of UPE, GTA, ODU, TOP, and FPF?
I know, some of you still won't be convinced. For one, this explanation isn'treallyscientific. But that's fine! This is an explanation of how things work, and I'm sharing this with all of you.Because it makes sense.At least to me.
So far we've talked about the "what" and the "how" of things. For our next post, we will talk about the hardest part: the "why". This is where everything turns upside-down (maybe).
As always, thank you for reading, and see you next post!
UPDATE:Here's thenext post.
_____________________
Sources:
1. http://www.nmsea.org/Curriculum/Primer/what_is_entropy.htm
2. http://www.astronomynotes.com/tables/tablesb.htm
P.S. All definitions from Google. Obviously.
P.P.S. I'm really trying with my drawings here, so please bear with me.
If you liked this post, feel free to share it.
Also, if you liked this post, please subscribe to our email list below! Keep yourself updated whenever a new post comes. We'll only send 2-4 emails a month.
And also, while you're doing that, you can alsolike us on Facebook, because really, why not.
If you want to find the full list of ways to support us, check out oursupport mechanisms.
And lastly, if you have any general questions about us or inquiries, or just want to say hi, feel free
[email protected]