Valentine's Day is right around the corner, and if you're looking for a present for your gun-obsessed significant other, you've come to the right place.
As someone who is soon to be marrying a fellow gun enthusiast, this is something I've spent a lot of time thinking about, and I think I've come up with a couple good ideas, let me know what you think.
*Note: this is absolutely not me trying to trick the internet into helping me pick a Valentine's Day gift because I'm terrible at picking out gifts, and I'm offended that you would even think that.
Let's start with…
Fun Date Ideas
There's been a lot of talk about "paying for experiences rather than things" and I think that's a great idea. A lot of times, traveling to a new place, doing a fun thing or seeing a cool show is a much better use of your time and money than just buying a Gift.
As an example, we frequently hit up our local Axe Throwing spot, Bad Axe Throwing.

Yes, it's exactly what it sounds like. Yes, it is awesome.
There's plenty of fun things out there that don't involve axe throwing though.
What fun things can pro-gun couples do together?
How about a couples range day?
Groupon and other deal-search type places will frequently have special discounts on range day outings for couples this time of year, so be sure to check there if you're looking to try something like this. Overall, supporting your local range is a great way to not only be active in the local 2nd Amendment community but also learn things from some of the other folks there.
Be sure to check out our range etiquette guide if this is your first outing so you don't become "that" guy or gal at the range.
Also, support your local range! There are a few places run by assholes, but by and large local ranges are run by people who are not only passionate about firearms, but they're usually great resources for learning things that will improve your shooting.
Related Idea: A Firearms Class!
Training classes are also a good option for a fun experience, whether you take the class together or just sign your significant other up for one. Most of your bigger ranges will offer classes for all levels of experience, and there is always some way to get better, even if its just a class that shows you new drills to try.
Also, you can meet some really cool folks at events like this, which is a great way to be more active in the local gun community. These classes are also great for people who want to get into competition like IDPA or 3-Gun as many ranges will offer "Intro to…" classes.
This is also a great way to get an eye on what your local competition is like before showing up to a match. I like at least having an idea how I stack up to the local competition before I go, and a little scouting the opposition never hurt anybody, unless you're the Patriots.
You can also show someone how much you care about their personal safety by gifting them a ticket to a concealed carry class.
Learning to carry safely and confidently is a huge part of responsible gun ownership (assuming you choose to carry, and live somewhere that it's legal to do so) and getting some pointers on things like drawing quickly from concealment, choosing the right holster, and other related things that go into carrying can be the difference between life and death in a dangerous situation.
It's also really fun.
If you have a home range (or just a big backyard and no neighbors) you can also invest in some fun reactive targets. I recommend a nice dueling tree like the one below. Great for practice, and great fun too.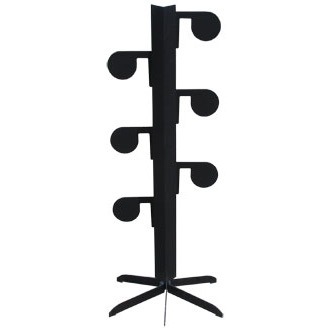 Dueling Tree Target
See It
Compare prices (2 found)
Prices accurate at time of writing
The Safe Choice: Ammo
It's hard to go wrong with ammo. Anyone with a serious gun interest is always going to be excited to have more ammo because you're helping further their addiction habit hobby. Ammo is the fuel for competition, target practice, and just screwing around at the range plinking at cans and dirt clods, so it's always going to make for a good gift for gun lovers.
If you're worried about picking the right ammo (caliber, bullet type, bullet weight), just look around for a box of ammo that goes with their favorite gun, easy peasy.
If that's not an option, check out our 9mm ammo recommendations or AR-15 ammo recommendations for some good tips on quality ammo.
The Safest Choice: Gift Cards
Of course, if you want to go the really safe route, you can always let them pick their own gift. Amazon has a surprising amount of gun accessories and other doodads that are useful to a firearms enthusiast, so an amazon gift card is a pretty safe choice most of the time.
If you want to do something directly firearms related, I'd suggest a gift card from a big retailer like Brownells.
Brownells offers a ton of cool stuff, from guns and ammo, to reloading equipment, targets…basically anything you could need (or want) that's gun related. You can pick up gift cards below, or just poke around and see what else you can find that you might that looks interesting.
The Personal Choice: Have Something Customized
If you reallllly know the person you're getting a gift for, you can always get one of their customized. For example, if you know your significant other is waiting on suppressor paperwork to come back, maybe see if they have a rifle or pistol that needs a threaded barrel.
You can also get some really nice drop-in threaded barrels from places like Lone Wolf or Faxon (especially since Faxon is now doing barrels for GLOCKS and M&P's)
You could also spring for something like engraving or a new cerakote job, just be sure you really, really, reallllly know what you're doing here, and you know the person you're gifting it to will like what you've picked out. Otherwise, maybe see if you can find a place that does coatings and offers gift certificates so your SO can get something they're sure to like.
Of course, you can also pick up some upgrade parts like these awesome drop-in GLOCK or M&P triggers that will take an already good weapon and make it great. They are easy to install, and depending on where you buy them, easy to return if whoever you're buying for ends up not liking it. There's also a pretty good second-hand market for stuff like that, which can help you save a bit of money, or recoup some money if you pick up something that doesn't work out.
If they're anything like me though, something like a new AR trigger or handguard that doesn't work out on the gun its intended for is just an excuse to build a whole new rifle around the one part ( I definitely have guns that were built because I had a spare stock or trigger lying around that needed a home, don't judge me).
Parting Shots
That about wraps it up for this one folks. Let me know in the comments below what you're getting your gun lover this Valentine's Day!
The post Buying Valentine's Day Gifts for Your (Gun) Lover appeared first on Pew Pew Tactical.