zLive Bot tips by Uncle Tito
I have been using Zlive Bot successfully. I don't really have any filters as I invest as zLive Bot instructs; but I have my own potential method I have been using that I can share.
=> Download Zlive app here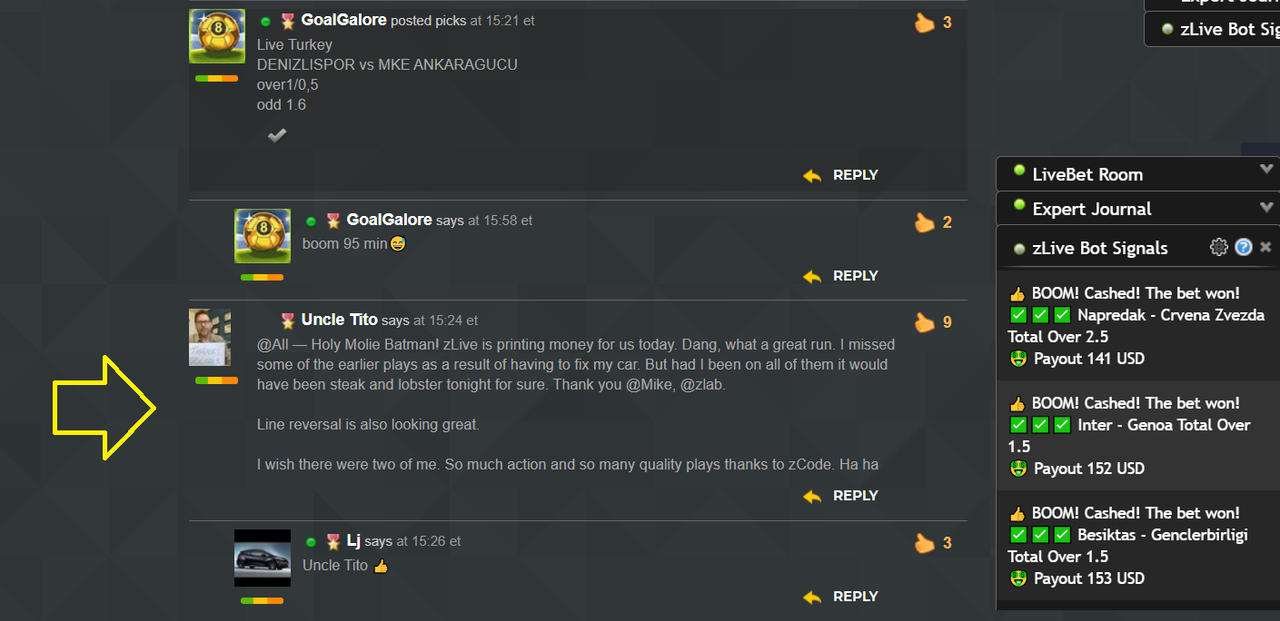 Most of my zLive Bot investing is in Soccer. I started investing in Tennis which has been a success and which I plan to continue to pursue. I try to monitor all of zLive but as most know based upon their experience just studying one sport can take up a lot of time.
The first thing I did and continue to do to this day is look at the history. Anyone who looks at the history will see zLive having winning streaks of easy like 5-6 in a row and winning streaks of 7-9 is common.
Most consecutive loses meaning losses in a row that you will see in the history are like 1 or 2. There is an occasional 3. I have never seen more than 4 losses in a row that I can recall. Maybe someone else saw more but I can't remember seeing more than 4 and even if there were more that is incredibly rare.
So considering these factors it can give you some confidence to trust in the system when investing.
Originally I tried to wait for 2 consecutive losses before laying a first bet; but the problem was it took too long for there to be 2 consecutive losses and some days never. Plus you watch all these wins keep going by and you are not on them. I suppose you could still do that but that is a long wait.
As to bankroll, I follow the advise of some of the great ones around here I start with 1% of my bankroll as an A bet. I saw recently Chessmaster invests 1% on his flat bets.
Originally when I started it was all about getting 1 win for the day and stopping. As a hypothetical 1 win at $100 a day x 30 days =$3K.
Now I try to stop after 2 wins. Occasionally I have gone for 3 wins.
I don't make every play. My books don't have all the plays being shown. So I have my own built in filter system there although many of those turn out to be winners.
So even though you don't know what matches will come up I try do some research the night before. I don't know if anyone knows this or not but Soccer Buddy (SB) 1 H Over .5 is insanely accurate. Just go back a week from today and look how many times SB predicts the winner in the Over .5 1 Half. Amazing. Some days it's 100%. The .5 Over 2 Half is nearly just as good. This is just one research tool I try to use to get a glimpse of what might become available. So studying these in advance along with the BTTS and other SB stats gives me a decent read on what might be potential matches to invest in.
This helps in the situation where you got 2-3 plays coming up all at the same time. I don't have a set procedure for this yet. If I already have 1 investment going I will usually finish that before making another investment. Although I have had 2 zLive Bot plays going at the same time it is usually where the 2nd one is a very high confidence play.
Most of this I am sure many already know but I get the zLive Bot plays directly from the face page on the Wall where the zLive Dropdown Box is to the right. If you click on the blue question mark next to the zLive drop down box it will take you to the upcoming potential plays zLive is thinking about recommending.
So this allows me to see the potential plays in advance and this allow me to cross check them against my research (mentioned above). This feature also allows you to get the play lined up with your bookies maybe even being able to compare odds if there is enough time.
This ZCode feature which allows you to see the potential play in advance also helps you get a jump on on it. This zLive is programmed so good (if those are the right words) that sometimes the play will be posted and as I am getting ready to push the button to invest a goal is scored. zLive Bot must have it's finger right on the pulse of these games.
There are some great live betting experts like Goalsgalore, Nikita, Denis Livebet, Rolando, and (I know I am forgetting someone. Please forgive). So anytime you see one of these great experts make a play that is the same as zLive Bot I am all over it.
The play I like the best probably because it gives the most time to score the goal to win the bet is the Over 1.5 game total especially when this play is offered when the match is 1-0 and it's still in the first half.
Which brings up a big comment. The odds. Like I said sometimes the goal will happen so fast you can't get the bet down fast enough. However, the longer you wait the better the odds get. Anytime I can get those odds under a -200 I am usually investing or at least I got my finger on the trigger.
I play a progression similar to Nikita. Nikita plays an ABC + style progression.
Because of the success of the zLive Bot system and my passionate dislike for C bets I do an ABA style progression.
For the sake of this response I would continue to play after an ABA win or lose until I won again.
I have done a C Bet where zLive has 2 or more consecutive losses showing or 3 losses if separated by only 1 win.
A lot of how I finish up the day with zLive Bot really depends on where I am at with my other 2 Zcode systems. If those 2 systems are solid as usual then I try to be done after a 1 win (see calculation above). But it's tempting to keep going. Even if I cash out for the day I continue to monitor zLive Bot, zCode Tools and the Wall for as long as I can which come think about it is almost every waking moment.
GL- I will write more when I learn more.
=> Download Zlive app here
The post Zlive Bot Tips by Uncle Tito appeared first on NFL Picks | NHL Picks | Hockey Predictions | Winning Sports Picks | MLB Predictions | NBA picks | MLB picks | Soccer Picks.