UK contractor Petrofac has been awarded a contract worth €340mn ($404mn) by Gazprom related to its TurkStream gas pipeline project. Petrofac said September 5 it has been awarded an engineering, procurement and construction (EPC) contract by the Gazprom-owned South Stream Transport company to develop onshore pipelines and a gas receiving terminal near Kiyikoy in Turkey.
The UK firm said it has been undertaking early works for five months now, since April, including front end engineering design (Feed) verification, plus detailed design and procurement for the project, which is associated with the offshore section of TurkStream.
Under the contract, Petrofac will provide EPC for the receiving terminal, which will be ready for commercial operations in December 2019. Once complete, it will receive 31.5bn m3/yr from the TurkStream pipeline, originating from the compressor station in Anapa on Russia's side of the Black Sea.
"We're delighted to be working with South Stream Transport to help open up a vital gas export channel to Turkey and southeast Europe," said Roberto Bertocco, managing director of EPC management for Petrofac Engineering and Production Services: "We now look forward to progressing to the next phase where our focus is on achieving safe and effective delivery in line with South Stream Transport's goals and expectations."
TurkStream began construction in May 2017. The main offshore pipelay contract was awarded to contractor Allseas in December 2016.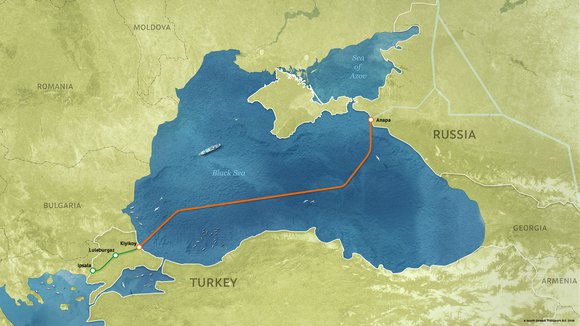 TurkStream offshore route in the Black Sea (Map credit: South Stream Transport company)
Mark Smedley