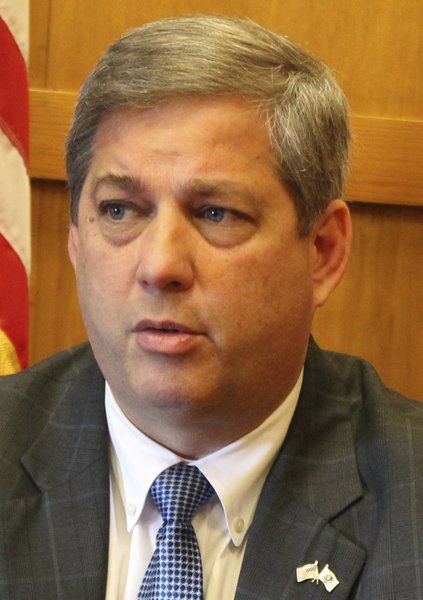 SAM DORAN/SHNS photo/State Senate Minority Leader Bruce Tarr, R-Gloucester
BOSTON — The Massachusetts Senate unanimously voted to approve a bill last week that would outlaw the drowning of animals.
The measure would strengthen the state's animal cruelty laws by increasing reporting, updating penalties and prohibiting certain kinds of cruel acts, advocates said.
The bill, sponsored by Republican Sen. Bruce Tarr of Gloucester, seeks to build on an animal Abuse law that was prompted by the case of "Puppy Doe" — a year-old female pit bull mix that was found in a Quincy park in 2013. It was tortured so severely it needed to be euthanized.
Besides banning the drowning of all wild and domestic animals, which is not explicitly outlawed in Massachusetts, the bill would remove a requirement to automatically kill animals involved in animal fighting, prohibit engaging in sexual contact with an animal, and require property owners to search for abandoned animals within three days after a property is vacated.
Tarr, the Senate's minority leader, said toughening laws against animal cruelty also could result in a reduction of crimes against people. He pointed to a study that found that a person who has committed animal abuse is five times more likely to commit violence against people.
Tarr said the bill "builds on the foundations of our original law and will ensure that abuse is reported and enforced, that animal drownings are outlawed and that our animal control laws reflect the seriousness of animal torture and abuse."
The legislation would mandate that officials from the Department of Children and Families, the Department of Elder Affairs and the Disabled Persons Protection Commission report instances of animal abuse — while making animal control officers mandatory reporters of child abuse, elder abuse and abuse against disabled persons.
It also would bar insurance companies from refusing to issue homeowners or renters insurance policies based on the breed of the dog being kept by the homeowner or renter.
A separate bill also approved by the Senate clamps down on conditions at so-called "puppy mills."
The vote comes as Radoslaw Czerkawski, the man charged with animal cruelty in connection with the Puppy Doe case, is on trial in Norfolk County Superior Court in Dedham.
The case drew national attention and sparked calls for tougher penalties for animal abusers.
The starving dog was found with fractures, a stab wound and a split tongue.
Czerkawski has suggested that kids he saw drinking in the park were responsible for the abuse, while a defense attorney previously questioned some of the evidence in the case.
The bill now heads to the House for consideration.
This Week's Circulars

SOURCE:
The post State Senate approves Tarr bill Banning Animal Drowning appeared first on Shareabler.
This post first appeared on Shareabler, please read the originial post: here