More often than not, I find myself dreaming of food – whether I am awake or asleep! These Mini Bacon and Onion Pasties were the result of one of those moments.
They're the ideal appetiser to serve with drinks; crisp, flaky Pastry filled with a bacon and onion mixture. It is savoury goodness in mini form!
Best of all? This delicious tasting, impressive looking recipe is one of the simplest I have published on the blog yet!
Read on, and I will explain just how quickly you can whip up a batch of these Mini Bacon and Onion Pasties.
Ingredients in the Mini Bacon and Onion Pasties:
Given that there are only a handful of ingredients in this recipe, I recommend using good quality products.
Bacon:
For this recipe, I have used a good quality shortcut bacon. You can tell the quality of bacon when you cook it – if the bacon starts to spit a lot in the pan, this tends to indicate that the bacon has high water content. Higher quality bacon should not spit nearly as much.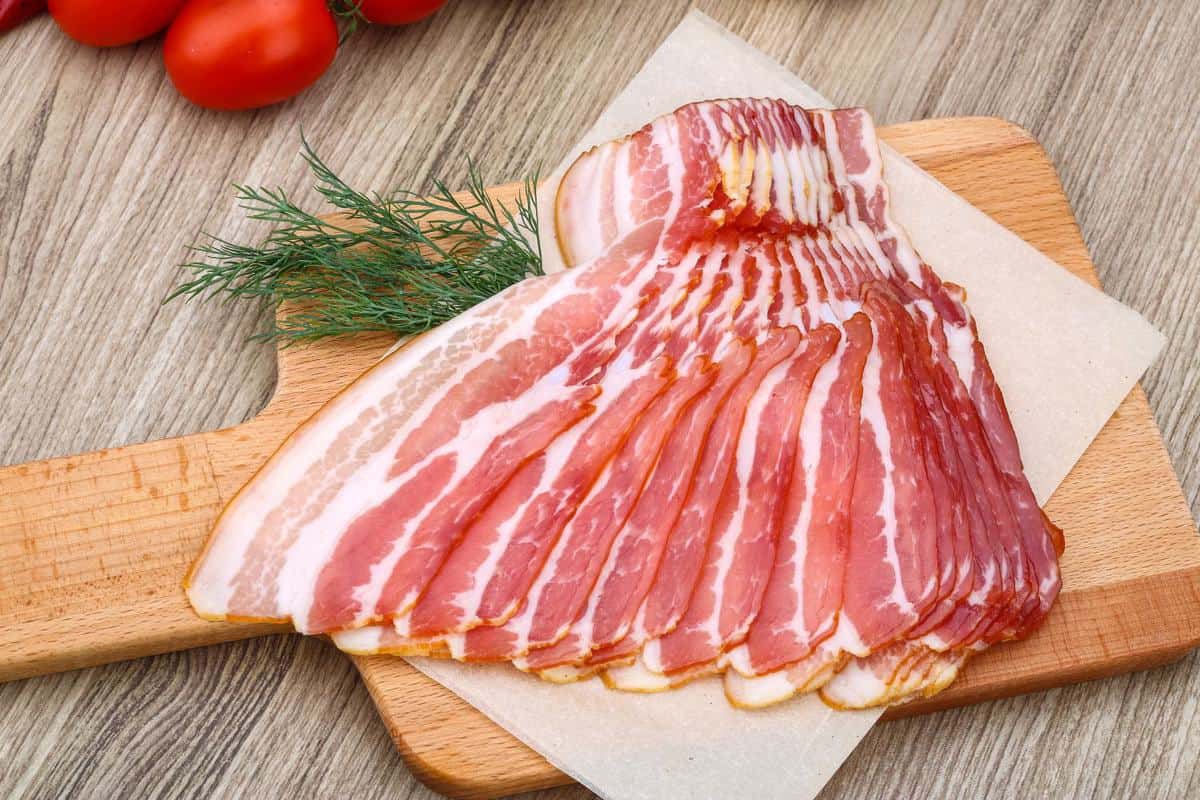 Onion:
The brown onion, also known as the yellow onion, is the one you use most frequently. Red onion will also work fine in this recipe.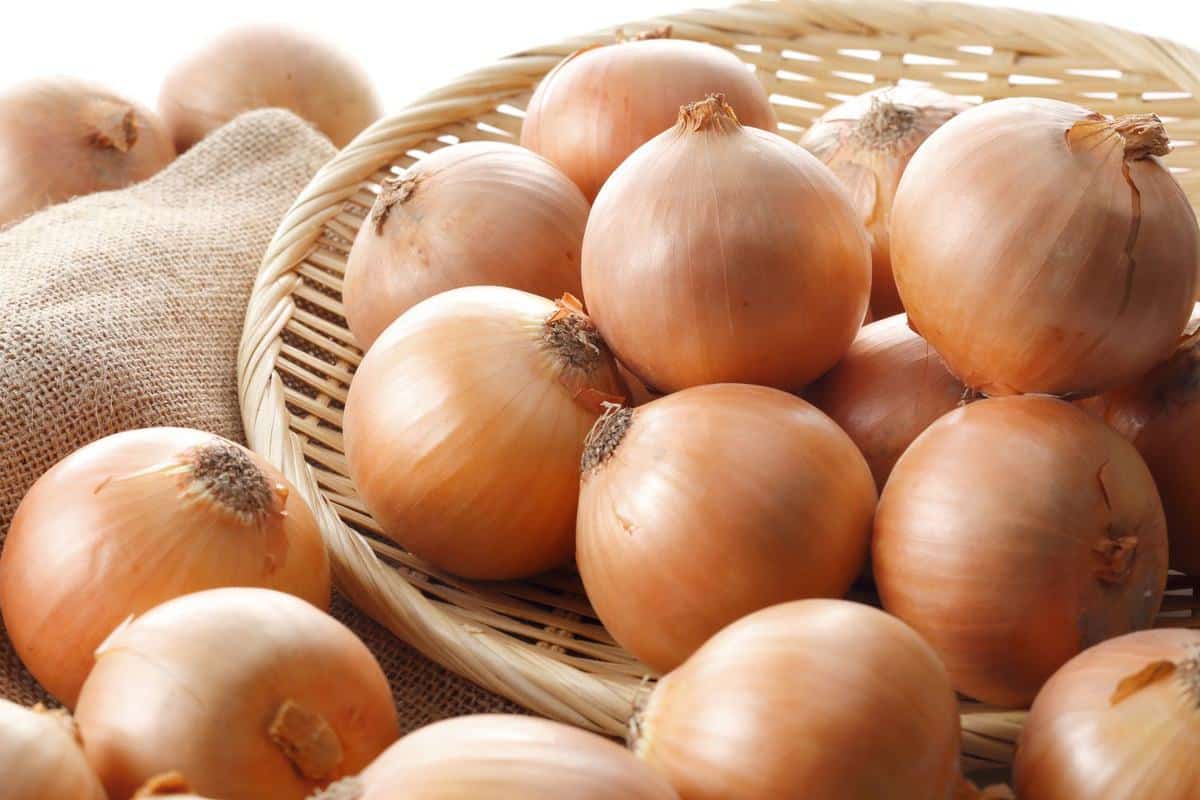 Butter Puff Pastry:
Butter Puff Pastry is an ingredient I always have on hand! As I have mentioned previously, I tend to make everything completely from scratch.
My one exception? Definitely puff pastry. I do occasionally make my own, but for ease (and to make these delicious pasties even quicker!), I use frozen pastry here.
As this food blog is all about simple and delicious recipes, I highly recommend using frozen puff pastry. I prefer to use butter puff pastry, for an extra flaky pastry base.
Sea Salt and Black Pepper:
I use sea salt flakes and freshly ground black pepper to season my pasties. Keep in mind that the bacon is salty, so be sure to taste before you add too much salt.
How to make the Mini Bacon and Onion Pasties:
Ideally, I defrost the pastry sheets in the refrigerator but if I'm short of time I defrost the pastry on the kitchen bench. It is, however, essential that the pastry not become warm, it must stay chilled.
As such, I recommend keeping the pastry in the fridge until you are ready to begin assembling your pasties. If, once you have assembled the pasties, and the pastry is too warm, you can chill them on the tray prior to baking.
I begin the filling by preparing my bacon and onion mixture. I finely dice my onion and bacon and caramelise in a little olive oil. The mixture is then set aside to cool completely and is seasoned with salt and pepper.
Using a cookie cutter, I cut rounds of pastry and place on a baking tray. A small amount of the bacon and onion mixture is then placed on the pastry.
I then seal the parcels to make a mini pasty. A brush of egg wash gives the pastry a delicious sheen.
The pastries are then baked to golden perfection.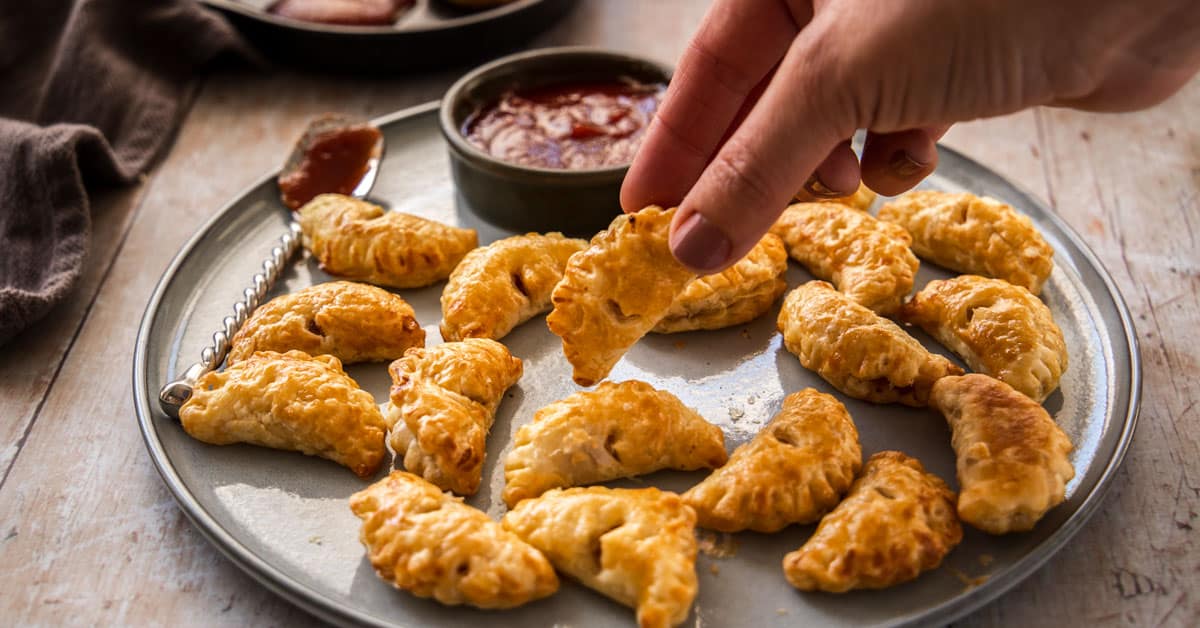 Tips for success:
As mentioned above, I highly recommend using a Butter Puff Pastry – it is better quality and will give a better flavour and texture to the pasties.
The pasties freeze well. Allow them to cool completely, and then place in a sealed container with a layer of cling film or parchment to separate the layers.
If reheating the tarts, use a moderate oven temperature.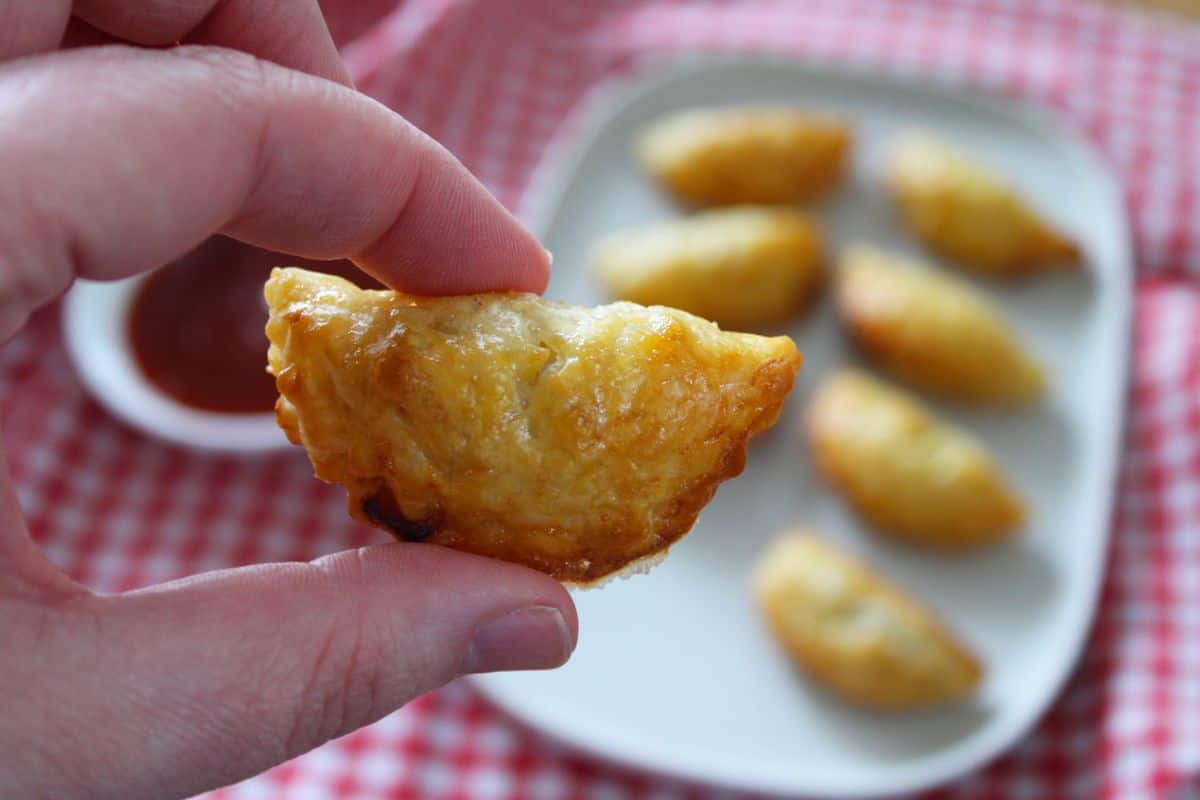 More suggestions for these ingredients:
Bacon can be found in these delicious recipes:
Egg and Bacon Galettes
Bacon and Onion Tarts
Broccoli, Bacon and Cashew Salad
Bacon and Jalapeno Mac and Cheese by Another Food Blogger
Onion is the star of these dishes:
Onion Patties – Vegan and Gluten-Free
Roasted Cipollini Onions with Thyme
Caramelised Onion Dip
Onion, Fig and Feta Tart by A Baking Journey
Here are some more delicious pastry recipes for you to try:
Spinach and Feta Galettes
Mini Plum Tartlets
Blue Cheese Puff Pastry Tarts
Tuna Puff Pastry Pinwheels
Pepperoni Pastries
When it comes to serving:
These are a delicious canape to serve with a pre-dinner drink. They also make a fabulous brunch or lunch, served with a green salad.
As you can enjoy the pastries both hot or cold, they're also perfect to put into a lunchbox!
I would love to hear what you think when you give these a try. Do let me know in the comments below what you think!
Enjoy!
Alex xx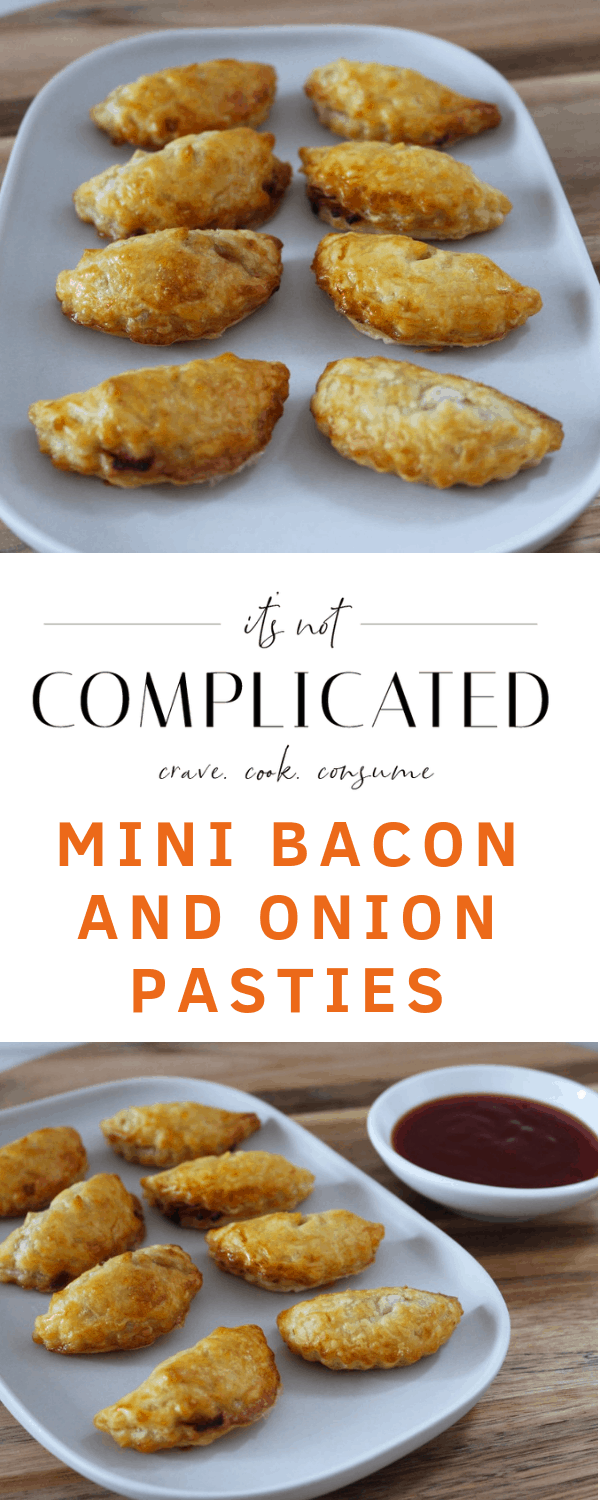 Print
Bacon and Onion Pasties
Ingredients
3

shortcut bacon rashers

1

small brown onion

1

tsp

olive oil

1

sheet

butter puff pastry

See Note 1

1

egg

See Note 2

sea salt and black pepper to taste
Instructions
Finely dice the onion, and chop the bacon into small pieces.

Heat up a frying pan, and add the teaspoon of oil to the pan. Once heated, add the chopped bacon and onion.

Fry until golden brown – this usually takes about 10-15 minutes. Stir regularly to ensure the mixture doesn't stick.

Set mixture aside to cool down.

Preheat oven to 200 Degrees C (390 F).

If the pastry is frozen, remove it from the freezer shortly before preparing the filling. (Don't remove it too early or it will be difficult to cut neatly. The pastry will have a better texture if it is still chilled when placed in the oven.)

When the pastry has just defrosted, using a 6 cm cookie cutter, cut 12 circles of pastry and put onto a baking tray lined with baking paper.

Divide the cooled bacon and onion mixture between the pastry circles, leaning a little towards one side of the pastry.

Fold the circles over to make a pasty shape.

Using a fork, press down the edges of the pastry, to ensure it is well sealed.

Using a pair of kitchen scissors, snip a small hole in the centre of the pasty, to allow steam to be released.

Bake in your pre-heated oven for 10 minutes, or until golden brown.

Allow to cool slightly before serving, or cool completely if storing/re-heating later.
Notes
I highly recommend using a Butter Puff Pastry – it is better quality and will give a better flavour and texture to the pasties.
We use an egg for the egg wash of the pasties prior to baking. If you have a spare white or yolk, you can use this instead of a whole egg.
The pasties freeze well – allow to cool fully. Place in a sealed container with a layer of cling film or parchment to separate the layers.
The pasties reheat very well as a lower temperature.
Nutritional information is based on one pasty.
Nutrition
Calories:
148
kcal
|
Carbohydrates:
10
g
|
Protein:
3
g
|
Fat:
11
g
|
Saturated Fat:
3
g
|
Cholesterol:
17
mg
|
Sodium:
93
mg
|
Potassium:
42
mg
|
Fiber:
1
g
|
Sugar:
1
g
|
Vitamin A:
20
IU
|
Vitamin C:
1
mg
|
Calcium:
6
mg
|
Iron:
1
mg
The post Mini Bacon and Onion Pasties appeared first on It's Not Complicated Recipes.