Savannah is pleased to announce an update on average Production volumes from the Seven Assets over the course of the November 2017 – January 2018 period, which have been provided by Seven Energy.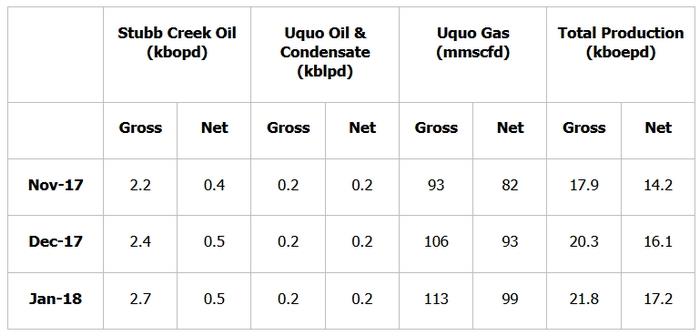 Uptime at the Uquo CPF and the Stubb Creek EPF has been 100% and 98% respectively over the three-month period.
Production levels at the Seven Assets in February have continued to strongly increase, with month to date average production being 25.7 kboepd gross and 20.7 kboepd net, largely driven by increased sales to the Calabar NIPP which are supported by a World Bank Partial Risk Guarantee.
Corporate Video
A corporate video will this morning be published on the Company's website. The video discusses the Seven Energy Transaction as well as Savannah's upcoming drilling programme in Niger, and will be accessible via the following link: www.savannah-petroleum.com.
Andrew Knott, CEO of Savannah Petroleum, said:
'The strong production performance seen by the Seven Assets over the course of the past three months is highly encouraging for the 2018 outlook. Following the completion of our Placing, Savannah is now well positioned to deliver further growth in both Niger and Nigeria. In Q1 2018 we expect to spud the first well in our potentially transformational multi-well drilling campaign in Niger, Bushiya. We continue to target completion of the Seven Transaction in April, and look forward to providing further updates in due course.'
Source: Press Release
The post Savannah Petroleum Announces Seven Energy production update appeared first on Energy News | Oil and Gas News.