Estimated Read Time: 15-21 minutes
Well… what now?
It's easy to look at the state of the world today and want to give up. Humanity, for all its accomplishments, still has a long way to go, at least in terms of a peaceful and united world. Will we ever achieve this world? If God exists, does He care about saving this world?
What does the Divine Principle have to say about this, if anything?
So far, we've talked about how things should've been, and we've talked about what went wrong. But this, surprisingly, only covers about 20% of the Divine Principle. This means there's a lot of talk on how to fix things, or how things have been fixed throughout history.
This post is just a glimpse on those things to come. But first, let's recap what happened so far.
_____
God's Plan and What Happened
By now it should be clear that God had a plan. He could have fulfilled that plan Himself. The only catch? He decided to give us our own portion of responsibility to fulfill.
And it was so for
Adam
and Eve. All they had to do was keep the Commandment and fulfill the Three Blessings. If Adam and Eve had reached perfection (thereby fulfilling the First Blessing), they would have built a sinless family and society according to God's plan.
This would have been called the Kingdom of Heaven. It would have been a world consisting of one great family with the same parents. Adam and Eve would have been the True Parents of humanity.
What kind of world would the Kingdom of Heaven have been like? The Divine Principle makes an analogy of this world to a human body. We would all be parts of the human body, and the brain would represent God.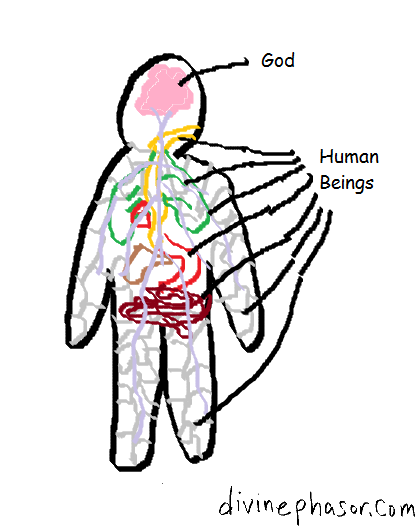 Members in a human body coordinate horizontal relationships with each other and at the same time receive vertical 'commands' from the brain. Likewise, in the Kingdom of Heaven, people would "form cooperative horizontal relationships with each other and live together in tune with the vertical relationships emanating from God." (p. 81) Wow.
I do think this analogy is a bit inaccurate though. Body parts don't have a mind of their own, but yet, in the Kingdom of Heaven, everyone does have a mind of his/her own. Though we are fully attuned to God and His Will once reaching perfection, we do have the freedom and power to be creative with our original mind. So I'd like to think of this more as an interconnected web with a center.
So our vertical connection (with God) and horizontal connections (with others) would be strong and existent. What does this mean? The Principle says "no one will harm his neighbor, since if one person were to suffer pain, everyone in this society would experience the Heart of God who shares in that person's grief." (p. 81)
_____
God's Heart
This actually sounds remarkable. This means that, yes, God has a Heart, and no, He does not need nothing. At least I don't think so. You might think of God as someone who is omniscient and omnipotent and in control of everything, but consider this: if God is all of those things, why would He allow any suffering to exist? Why couldn't He end it all with his omnipotence? Or does He not care at all?
If God didn't care, then it would be hard to imagine any time where the Kingdom of Heaven, or even at least a peaceful world, would be established.
Therefore, I do think that God does need something. I think that love, in its truest form, cannot be produced and reciprocated by one entity alone. God needs an object partner to love, and that object partner is us, human beings.
So I think God does care. God does have a Heart. He wants all of us to receive His love and truly be happy. But a big reason why he can't do much about it is because He gave us our own portion of responsibility to fulfill.
(Side note: This doesn't mean God can never do anything about us until we reach perfection. It's just that He can only act on the fruits (results) that our portion of responsibility produces.)
_____
But anyway, what else would characterize the Kingdom of Heaven? One huge fact-of-the-matter is, no matter what the purity of the people are, if the society is in extremely primitive circumstances like cavemen, this cannot be the Kingdom of Heaven.
This should be self-explanatory, but God did give us dominion over creation. Besides taking loving care of creation, this also means to "advance science, harness the natural world, and create an extremely pleasant social and living environment." (p. 81) This is what the Kingdom of Heaven should be like.
Can you picture it? I'm certainly too artistically challenged to draw it.
This all sounds so great—being in tune with God, having one united family under God, and having an extremely pleasant living environment. But then you realize that it didn't happen with Adam and Eve.
Because of the Human Fall, human beings fell into ignorance and it became harder and harder to achieve God's Will. In fact, human beings "failed to cultivate the divine nature; instead, they acquired an evil nature. People with evil nature have propagated evil through their children, constituting evil families, evil societies, and an evil world. This is the hell on earth in which we have been living." (p. 82)
You could use the same analogy of an interconnected web with a center, except many of the connections are missing.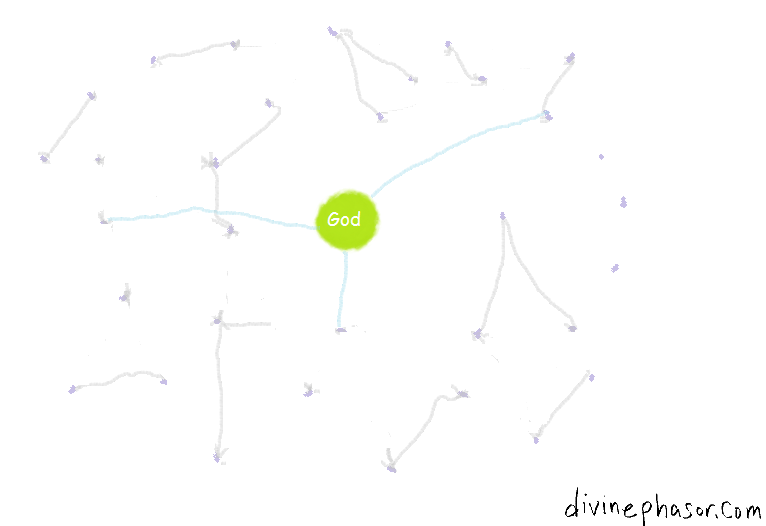 This means that mainly because our vertical relationship with God has been severed, it's hard for us to make proper horizontal relationships with others. Unlike the Kingdom of Heaven, "We perform deeds harmful to others because we cannot feel the pain and suffering of our neighbors as our own." (p. 82)
And this has basically been the state of the world for much of history.
_____
Now What?
So, what does God do now? In fact, what did God do after Adam and Eve fell? He certainly can't leave it as is, since that would mean God would be an impotent and ineffectual God that failed in His Creation.
Also, consider this: if God is absolute, unique, eternal, and unchanging, then His purpose of creation must also be the same. If that is so, then His Will for fulfilling the purpose of creation is the same, too. In that case, God's predestination of His Will must also be absolute, unique, eternal, and unchanging. Therefore, no matter what, his purpose of creation will one day be fulfilled.
One more thing: since God gave human beings an eternal nature, He can't annihilate them just because they fell.
So how does God do this? To put this in very broad terms, He needs to restore humanity to its original, sinless state. Think of it like this: if you need to save a drowning person, to "restore" him/her would be putting the person back to the state before drowning.
It's relatively easy to do that with one person. The only thing is, the drowning person represents humanity. This whole process of restoration is called the Providence of Restoration (keep this term in mind; it will come up again and again).
So what is the goal of the Providence of Restoration? It's the same as before: God wants to establish the Kingdom of Heaven on earth, and that fact doesn't change. The only problem is, Adam and Eve never fulfilled their responsibilities, so there was no one to start God's lineage.
So what does God do now?
The answer is very simple: because the first Adam didn't succeed in his responsibility, there needs to be a new Adam that will. God needs to send/develop a new Adam so that, together with a new Eve, they can become the True Parents of humanity.
But God can't send the new Adam in an instant; He needs to prepare a good lineage, where people in that lineage have fulfilled their responsibilities. Upon this foundation, God can send a new Adam. Before a new Adam can be sent, there are people that God calls on to do a mission. We can call these people central figures. If these central figures fulfill their responsibility, then that can fulfill the proper conditions so that God can send the new Adam.
But there's still one more thing God needs to do: He needs to prepare the social environment. This is so that, upon the new Adam's arrival, he doesn't immediately get rejected or killed.
This might be obvious, but this person doesn't become the new Adam just because God chose him. It's also dependent on the new Adam's responsibility. If he does not fulfill his responsibility, then he cannot become the new Adam that God has purposed him to be.
_____
Responsibility
You can think of this as the Responsibility Ratio. God takes 95% responsibility in preparing and sending the new Adam (lineage, environment, other things that are usually out of peoples' control, etc.). The new Adam, or any central figure, just has to take 5% of the responsibility. In perspective, this seems really small in comparison with God's. But this 5% responsibility requires 100% of our effort. Without it, it's hard to fulfill your responsibility.
This Responsibility Ratio appears quite a lot in our lives. For example, when you go to school, you're not responsible for building the school, or hiring the teachers, or buying the furniture, or coming up with the curriculum, or anything of that sort. All you need to do is learn the material that is taught, study the material, and (usually) be able to memorize the material when needed.
As for another example, when you want to read a book, you don't need to prepare the book material, think about the content of the book, or write the book. All you have to do is get the book, pick it up, and read it.
I'm not necessarily saying God is apparent in those examples. It's just that in many cases when you need to do something, most of the underlying ("background") things are already done for you; all that is required now is your effort.
_____
So, what is the new Adam's responsibility, then? Basically, just three things:
1) Overcome Satan
2) Fulfill the Three Blessings
3) Persuade people to engraft to God's tradition
If the new Adam can do these things, then all we (everyone else) have to do is believe in the new Adam, love the new Adam, and unite with the new Adam.
Simple formula, right? About that…
_____
Intended Value of Human Beings
Fast forward many years though, and you have someone named
Jesus
. You might have heard of him. I do believe that Jesus, in God's original intention at least, came as the new Adam.
Of course I didn't draw this.
I also think Jesus was truly a person who realized the purpose of creation. What does that even entail?
Jesus was a person who attained perfection of individual character (the First Blessing). As such, the relationship between him and God is compared to the relationship between mind (God) and body (Jesus).
What does the relationship between the mind and body of a true person look like? The Principle says that there is inseparable oneness between the mind and the body (p. 164). This means the mind and body are moving toward one purpose (presumably, to live for the sake of others).
Likewise, the relationship between God and a true person also entails inseparable oneness between each other, together forming an FPF. This means that "the person experiences the Heart of God as his own reality. Having a fully mature character, such a person is a temple of God, in whom God can dwell continually, and comes to possess a divine nature." (p. 164)
This means that a person that has realized the purpose of creation has divine value.
Now, if you look at a person from the perspective of God who created us, you can see that He created every human being with a unique individual character. Since God also created human beings for the purpose of sharing joy with them, this means that "each person is God's substantial object partner who manifests a distinctive aspect of God's characteristics. Hence, that person is the only one in the entire universe who can stimulate that distinctive aspect of God's nature to bring Him joy. Every person who has completed the purpose of creation is thus a unique existence in the cosmos." (p. 164)
This means that a person that has realized the purpose of creation has unique value.
Now, if you look at a person from the perspective of the cosmos, as learned before, a person's spirit body encapsulates the elements of the spirit world while a person's physical body encapsulates the elements of the physical world. We even go so far as to call human beings "microcosms of the universe." (p. 165)
This means that a person that has realized the purpose of creation has cosmic value.
It might help to think of this like so: imagine a perfect machine resembling puzzle pieces that only works if all the pieces are present; every piece is unique in the universe and there is no way to make a replacement or copy of any piece.
This means that no matter how insignificant a piece may seem, its value is that of the entire machine. If you extend this analogy to us human beings, it would be like saying "a fully mature person is unique in all of the universe. No matter how insignificant he may seem, his value is equivalent to that of the entire cosmos." (p. 165)
I know these words (divine, unique, cosmic) sound way up there and unattainable, but get this: this is what we were supposed to be! In fact, if Adam had realized the purpose of creation, he would be identical to Jesus (in terms of the purpose of creation)—they would have equal value.
If Adam had realized the purpose of creation, then we would all, after going through the growing stages, also realize the purpose of creation and be all of these values (divine, unique, cosmic) too. Incredible if you really think about it.
_____
What Happened to Jesus?
But this doesn't add up… Adam didn't realize the purpose of creation, but Jesus did. Why haven't we all realized the purpose of creation by now?
You see, Jesus came as this new Adam. His end goal was to establish the Kingdom of Heaven, as is any new Adam's goal. He definitely got around to fulfilling the First Blessing, but he never had an opportunity to fulfill the second or third.
Why did this happen? What could have happened so that Jesus could reach this goal?
Back then, the Jewish people had prophecies that suggested that 'Elijah' (basically someone who leads people to the new Adam) had to come before the new Adam. So as much as they were waiting for the new Adam, they were waiting even more for the Elijah.
But Jesus appeared to the people before they had any signs of Elijah coming. Jesus clearly stated that the Elijah was this guy named John the Baptist. You might have heard of him, too. But John the Baptist clearly stated that he was not the Elijah.
So we have two contradicting claims here. Who would the people believe? That all depends who appeared more credible at the time.
How did Jesus appear to the people at the time? Let's see… he was an uneducated young man, grew up poor, and was the son of a carpenter. He was born and grew up in Nazareth, a town not many people knew. He declared himself "Lord of the Sabbath" but seemed to defile the Sabbath at the same time. To the people, he seemed like he was trying to be above the Law. So the Jewish people persecuted Jesus. Because of that, he had to find disciples among fisherman, tax collectors, prostitutes, and sinners. (p. 124)
What about John? He was born to a prominent family; he was the son of a priest. The story of his birth seemed miraculous, surprising many people: an angel appeared to his father and said that his wife, who was old and barren, would have a son. When his father did not believe the angel, he was struck dumb until John was born. Then, in John's early years, he led an exemplary life of faith in the wilderness, surviving on locusts and honey. Some prominent people even wondered if he himself was the new Adam that was to come. (p. 125)
So… let's see:
Even by just looking at this chart, can you make a judgment on who appears more credible? Of course it would be John the Baptist. So what happened? Obviously, they took John's word over Jesus'. And because they believed John, they thought that Jesus' words were a fabrication. So Jesus was condemned as an impostor.
But what if John the Baptist said that he was the Elijah? Surely, with the deep amount of respect that other people (especially leaders) gave him, they would have believed in John and probably even flocked to Jesus. It would look something like this:
With that foundation, a reasonable amount of people would have respected both John and Jesus, and Jesus, who came as the new Adam, could've expanded on that.
But unfortunately, that didn't happen. Jesus died on the cross never getting a chance to fulfill the Second or Third Blessing, or start building the Kingdom of Heaven. And so we wait for a new Adam.
(Side note: Of course Jesus' death on the cross was not for naught. I'm not trying to undermine the credibility of Christianity in any way. Believing and having faith in Jesus can bring about spiritual salvation. But we still wait for a day where another new Adam can come and establish the Kingdom of Heaven.)
_____
What About Now?
So what does any of this have to do with the present days?
If you really look around and think about it, we are alive at a time like no other in history. You can even call this time the Last Days. As scary as this may sound, the Principle just defines this as a time "when the evil world under satanic sovereignty is transformed into the ideal world under God's sovereignty." (p. 89) Although this may not be as apparent, it's coming closer than you probably think.
How can we tell? One way is by looking at the restoration of the Three Blessings. Since the Three Blessings were all of our intended goals, and a feat difficult to achieve throughout history, it makes sense to see how these were being restored up until now.
Signs of Restoration of the First Blessing
This is the restoration of an ideal person.
One example of this is the restoration of true human value. Democratic ideals are flourishing more than ever before: in the last 100 years or so, people have been promoting the emancipation of slaves, the freedom of oppressed racial minorities, the independence of small and 'weak' nations, human rights, and equality between the sexes and among all peoples. (p. 97)
We're living at a time where the value of the individual is more than it ever has been before. Because of this, it becomes more possible for us to achieve the First Blessing.
Another example is the trend toward the recovery of the freedom of the original mind. As explained before, after the Human Fall, human beings lost their freedom (of the original mind) and have been striving to gain it back. It's hard to deny that the zeal to gain true freedom has reached its height in these present days. Because of the recovery of the original mind, it also becomes easier to achieve the First Blessing.
Lastly, the spirituality of fallen people is being restored, and as a result of this, there is a rise in spiritual phenomena. Again, I can't comment on this, but maybe those who are spiritually open can somewhat relate with this. Recovering our spirituality is another way make easier the achievement of the First Blessing.
Signs of Restoration of the Second Blessing
This is the restoration of ideal families/nations/world.
We can see this through the continual merging of cultures, as well as the rise in intercultural exchanges more than ever before. Interracial (and interethnic) marriages are more common than ever before, also contributing to bringing cultures together.
There's also, within the last century, the establishment of the League of Nations, and later, the United Nations, striving to bring all the different countries into unity. Nothing like this has ever been established in history. And, there's also more economic interdependence between countries than we have ever seen before. These things make it easier to create unified nations, and therefore, a unified world.
Signs of Restoration of the Third Blessing
This is the restoration of ideal dominion over creation.
With the turn of the 20th century, there has been more concern for the environment than ever before. Movements regarding ecological concern and conservation movements have been rising. Even some countries' governments have concern for the environment, and make the necessary steps to conserve and nurture it. People are learning more to love and care for the environment than to (knowingly or unknowingly) destroy it.
But probably the greatest sign of restoration is the advancement of technology. We have advanced more in technology in the 20th and 21st centuries than any other time in history. Through science and technology, we are achieving proper mastery of Creation.
Also, we have built an extremely comfortable and pleasant living environment through economic progress and scientific development. This is another important factor in establishing the Kingdom of Heaven.
All in all, we are living in a time unique to all of history. It's hard to deny that. About that new Adam though… (which I'll explain at a much later time)…
_____
One More Thought
If God truly cares about everyone, and wants to save everyone, surely that means everyone, right? So what about the dead people? What will happen to them when the new Adam comes again?
Let's first take the example for religious people: Christians, Muslims, Hindus, Buddhists, Jews, etc. Spirits who died believing in one of these religions will guide current people on the earth, depending on their respective religions, to the new Adam, assisting them to believe in him and fulfill God's Will. The timing of their return, though, may depend on peoples' spiritual positions. By doing so, both the spirit and the earthly person gains the benefits, engrafting onto God's lineage by attending the True Parents of humanity.
This also works for people who didn't believe in a religion during their earthly life. Those conscientious people who died but did not believe in any religion will also descend and guide conscientious earthly people in the same situation to attend the True Parents.
This even works for evil spirits. When the time is right, "evil spirits will descend to 'evil' people on earth of the same spiritual level and assist them to accomplish God's Will." (p. 151) Hmmm…
All of this is known as resurrection. In particular, for these spirits, it is known as returning resurrection. No, this does not mean physically resurrecting from their decomposed bodies. That would be a scary thought.
Rather, this is a spiritual resurrection, where we go "from the realm of Satan's dominion to the realm of God's direct dominion, through the providence of restoration." (p. 136) Through this resurrection, changes may occur in the heart or spirit, but there should be no significant external changes.
Just interesting thoughts to keep in mind.
_____
All of this is an introduction to the next part of the Divine Principle, Part 2, which focuses solely on the Providence of Restoration and history.
The basic premise is that since the first Adam didn't succeed in his responsibility, and Jesus could not establish the Kingdom of Heaven on earth, the new Adam must come again to do that task. But there's so much more to talk about.
So if you have actually made it this far, congratulations! You have basically finished Part 1 of the Divine Principle! This post may have explained a glimpse of how God/we human beings have been fixing things, but we aren't even halfway done yet.
So for the next post, we will talk about how to fix things, and perhaps even how God started fixing things soon after the Human Fall.
As always, thanks for reading, and see you next post!
_____________________
Like this? Share it.
Also sign up for the mailing list below. Only 2-4 emails a month.
Also like us on Facebook. Why? Why not?
Support mechanisms here.