The Christmas season celebrates the festive spirit of love, forgiveness, and togetherness. Houses, public areas and churches are decorated with Christmas trees, Poinsettia flowers, aromatic candles, hanging star-shaped lanterns, and twinkling lights. This year, we bring you traditional to trending Christmas home decoration ideas to add the perfect touch of festive cheer. Here is how to curate the best Christmas decor by bringing the winter wonderland into every room.

Entrance
To transform the look of your house, begin with the entrance. The foyer and the main door are the first entry points that create a huge visual impact on your guests. The décor must be inviting and personalized for Christmas.
Here are 5 tips on how to spruce up your front entrance with festive accents to create the perfect entryway:
1. Frame the door with fairy lights,
2. Hang a wreath on your front door,
3. Fix a decorative wall shelf near the door and place mini Christmas trees on it,
4. Hang a stocking on your letterbox, and
5. Add a colourful Merry Christmas sign on the wall to welcome all.
Living Room

Shades of raspberry, plum, and grape are the trending colours for Christmas 2021. So, why not place a
bright coloured sofa set
or sofa chair as the focal point of your living room?
Here are 5 Christmas living room décor ideas to dress up the space for a merry celebration: –
1. Place a flocked Christmas tree on a white faux fur base in one corner of the room,
2. Use white cushions, throws, and blankets on your sofas for a winter wonderland living room,
3. Light up red and green tea-light holders on opposite walls,
4. Hang mixed stars and snowflakes in various sizes, materials, and designs along with the window frame, and
5. Strategically place fir garlands, stockings, pinecones on various shelves and on the centre table.
Dining Room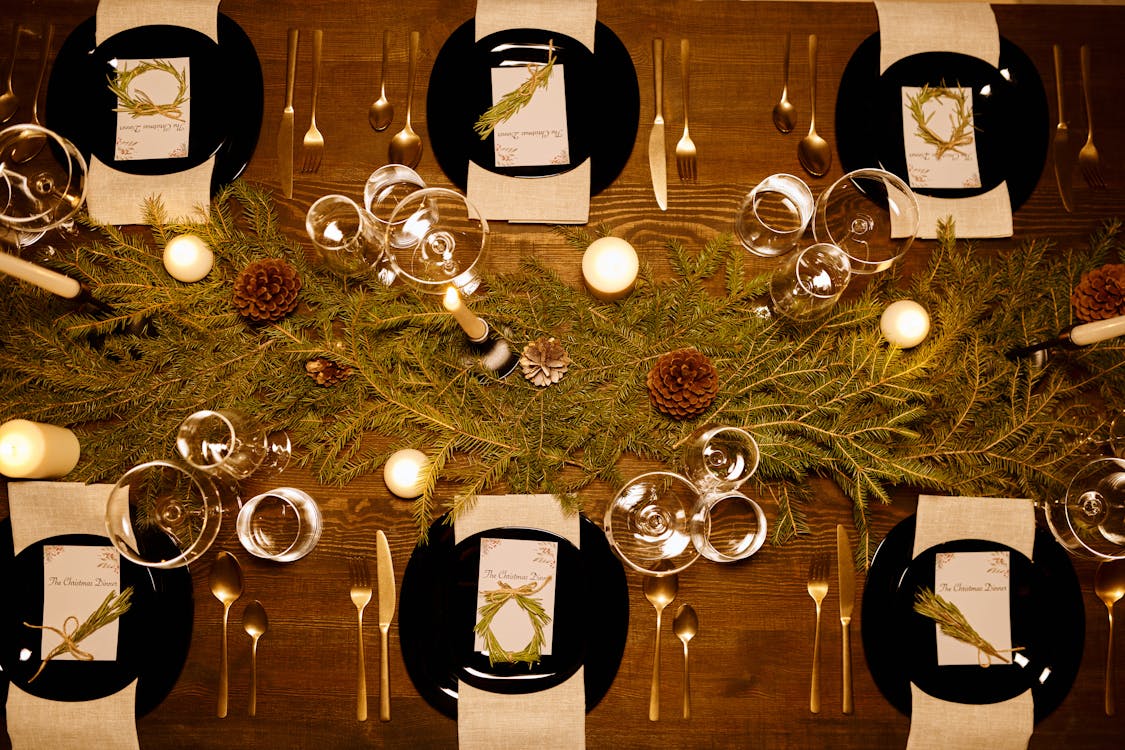 The next most important room to decorate for Christmas is the dining room. It is the room where family and friends will gather over a specially prepared Christmas feast. So, why not bring home a new six seater or eight seater dining set and arrange your Christmas decorations around it?
Here are 5 decorating ideas to create a festive style dining room: –
1. Hang a centrepiece from the ceiling that has some Christmas foliage and glittery baubles,
2. Place traditional red and green table runners and candy canes on the dining table,
3. Use table settings and crockery with Christmas designs,
4. Place a mix of raspberry, plum, grape, and white coloured candles in decorative candle stand throughout the dining room, and
5. Add reflective surfaces like gilded mirrors and silver/gold baubles to amplify a cosy candlelight ambience.
Kitchen

Your kitchen is the heart of the home and deserves special attention. From cooking holiday family dinners to baking gingerbread cookies for children, the kitchen will be a high-traffic zone during the Christmas season.
Here are 5 simple Christmas kitchen decorating ideas to make your kitchen more festive and let the aromas flow: –
1. Dress your plain kitchen chairs in ribbons in traditional red and green or trending raspberry, plum, and grape colours,
2. Hang fairy lights, ornaments, and greenery on windows or hang garlands from the ceiling,
3. Place Christmas cake stands and cookie jars on kitchen counters and island,
4. Incorporate red patterned kitchen towels and decorative crockery pieces, and
5. Place winter ingredients like pinecones, cinnamon, acorns, and dried fruit in a bright festive bowl.
Bedroom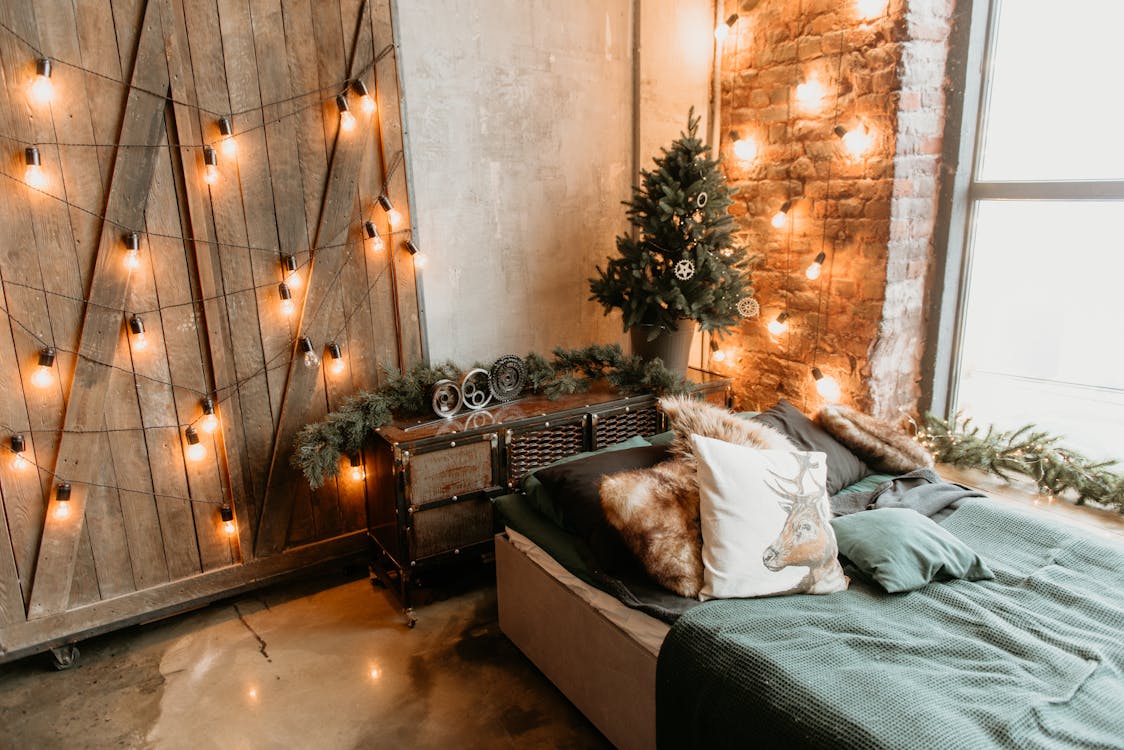 When it comes to Christmas
bedroom
decor, the bed becomes the focal point. Start by purchasing some new Christmas bedding or maybe even a new
king size bed
to set up a festive scene in every bedroom.
Here are 5 Christmas bedroom decorating ideas that will help spread Christmas cheer in your bedrooms: –
1. Place mini Christmas trees on your nightstands
2. Add Christmas frames behind your headboard
3. Swap your bed linen, pillows, and cushions for fresh Christmas themed festive bedding,
4. Use festive figurines, baubles, wreaths, Christmas stickers on your bedroom door, wardrobe, dressing table, and window sills, and
5. Use a diffuser or scented candle with sweet scents to evoke the extra special festive feel.
Bathroom
The bathroom may not be the place you think of decorating for Christmas, but adding small touches of Christmas cheer will help soak in the energy. Decorate the master bathroom, children's bathroom, and guest bathroom this holiday season.
Here are 5 simple Christmas bathroom decorating ideas to help you brighten every bathroom in your home: –
1. Add festive holiday bath towels and a Christmas-themed shower curtain,
2. Use Christmas scented candles,
3. Place mini wreaths on the bathroom mirrors,
4. Hang Christmas ornaments on towel hooks, and
5. Have fun with Christmas-themed toilet paper.
Balcony

Just as you decorate the interior of the house, remember to decorate every balcony in your home. Bring in the festive cheer by adding some chic outdoor Christmas decorations. It is the season to sit out and enjoy a drink with friends in the beautifully lit and decorated open space of your home.
Here are the 5 best Christmas balcony decor ideas for your home.
1. Brighten the balcony up with string lights, led lights, Christmas lanterns, and decorative ceiling lamps,
2. Get a coffee table and decorate it with a classic Christmas centrepiece,
3. Place a reindeer, an elf, and a snow tree in the corner,
4. Pick decorative flower pots with eucalyptus and berry sprays. Mix some golden false cypress or artificial plants to create the winter garden feel, and
5. Opt for multi-coloured garlands, ornaments, ribbons, baubles, and wreaths to decorate your balcony.
Christmas is not just a season; it is a feeling. With these Xmas home décor ideas, give your home a festive spark of cheer to set the mood for a happy holiday season.
Merry Christmas!
The post Bored of the same Christmas lighting setup? This Xmas Decor Guide is for you appeared first on Evok Stories.