#1 Frog Devours Snake
Near Queensland, Australia Ian Hamiliton of Australia's Daily Mercury captured these photos of what several articles identify as a Cane Toad, but what may actually be a type of Tree Frog (Litoria), devouring a Brown Tree Snake or a Keelback snake, in a bizarre twist of the normal food chain. The non-venomous Brown Tree Snake usually feeds on birds and even amphibians, so it was a surprise and a treat for many interested parties. A veterinary surgeon interviewed in one newspaper commented, "We have seen snakes eating frogs here but not the other way around. We have actually saved frogs a couple of times because they make quite a noise when the snakes are getting them. But don't ask me how on earth that frog swallowed that snake."
It took a total of 15 minutes for the cane toad to devour the snake entirely.
In the Daily Mercury, Australian Wildlife Rescue Service volunteer Fay Paterson, on the contrary, claimed that the snake was a common Keelback snake, a non-venomous species. It is hard to be sure which it is with both the Keelback and the Brown Tree Snake being so similar in appearance, and the photos being of such low quality resolution. Ironically, the Keelback is one of the few snakes that can eat C
ane Toads, up to a certain size, without being harmed. The veterinary surgeon who identified it as a Brown Tree Snake commented, "That type of snake usually eats birds.
But in the food chain anything can happen as long as you are bigger than the bloke you are eating," he said. "It is just a measure of what can happen out there in the wild."
This photo is of an entirely separate incident than pictured in the first photo and the image was captured in China, but both the frog and snake appear to be of a similar species.
Actual Cane Toad eating snake.
#2 Beetle Devours Frog
New research has found that the Epomis beetle, when presented with the opportunity, will attack and kill amphibians several times the beetle's size. Strangely, amphibians and frogs are animals that usually prey upon the insect. Every time the researchers put the Epomis Beetle in an enclosure with an amphibian, the beetle attacked and consumed the amphibian. The beetle's normal diet consists of other invertebrates, such as insects, worms, and dead vertebrates so the findings were strange and unusual.
"Amphibians are typical insect predators, and their diet may include adult beetles, ground beetles in particular," study researcher Gil Wizen, at Tel Aviv University in Israel, said in a statement. "The recently filmed successful attacks of the beetles on toads and frogs brought new insights on the amphibian-insect interactions, and documented the uncommon phenomenon of invertebrates preying on vertebrate animals."
Like a sick horror movie these beetles will often get to know their prey first, harmoniously sharing shelter and living space during the day before they paralyze and devour their prey at night. With surgical precision, the beetles wrestle and mount the frogs before making an incision on its back, which instantly paralyzes the amphibian. It then slowly devours the frog from the bottom up, starting with the legs first. The meal will usually last over several hours with the frog completely aware of its fate, as it is slowly consumed alive.
The Epomis larvae feed exclusively on frogs and other would-be predators, and are notable for being obligate role reversal predators. Epomis larvae are known to lure the amphibians by making distress-like movements. They then evade the attack and disable the predator with a bite to the throat, underside, or with an incision to the back to cause paralysis. Scientists speculate that Epomis evolved this behavior as an aggressive evasion tactic in response to predation by amphibians. The success of this tactic probably led to Epomis beetle becoming an obligate predator itself.
The strong jaws of the larvae may be one evolutionary advantage they use to defeat a predator so large.
"The amphibians don't stand a chance. They can't ignore the moving larvae because, if they do, something is wrong with their instincts," said entomologist Gil Wizen of the University of Toronto, leader of a study about the deadly bugs published Sept. 21 in PLoS ONE. "Normally amphibians eat small larvae, so the larvae seem to be taking their revenge here," he said.

Wizen and Gasith described the strategy of Epopmis beetle larvae as an "extremely rare anti-predator behavior." "How a single insect genus evolved a unique role reversal … is currently an enigma," they wrote in the study.
In fact, this kind of role-reversal is extremely rare in the wild; in only about 10 percent of predator prey relationships do smaller animals consume larger organisms. Most of these are outright attacks instead of the prey animal, in a twist of fate, luring the predator to be consumed.
Although Humming Birds are not normally a predator of the Praying Mantis, they do feed on some small insects as well as nectar. There have been numerous observations of the birds hawking gnats and other small insects from the air. There are many species of Praying Mantis that are quite small, at least for a time,
and of course there are many birds that do normally feed on the Praying Mantis. So it is highly unusual that this invertebrate should feed on a vertebrate species that is much larger, like the Humming Bird, which in all appearances is quite similar to several animals that do prey on the Praying Mantis.
#4 Pigs Kill Leopards and Humans
Winner of the 2014 National Geographic photo contest, by chanaka perera, the photos shows 3 male wild boar as they make a brutal attack on a large male leopard, ultimately killing the leopard.
Often prey animals, Wild Boar or Wild Pigs will sometimes switch it up and attack then kill their predators like the Leopard, even when unprovoked.
A group of large wild boar suddenly make an unprovoked attack on a large male leopard, ultimately killing the leopard.
Wild Boar and even domesticated pigs have been known to attack, kill, and then eat humans. One example is an Oregon farmer who went to bring his hogs breakfast instead, apparently, became the meal himself. When the farmer never returned from feeding his hogs one morning in 2012, it prompted a family member to check on him. What they found was horrifying.
"They first found his dentures and his hat, a package of cigarettes, his pocket knife. Then they started seeing pieces of his body," said Paul Frasier, Coos County district attorney. "Several of the hogs weighed 700 pounds or more." "

First time I've had a situation like this," he said. "Outside of television and reading Hannibal Lecter novels, I've never heard of anything like this."
It was speculated that only one of the Hogs was aggressive, and the attack may have occurred in result of the farmer accidentally stepping on a young piglet.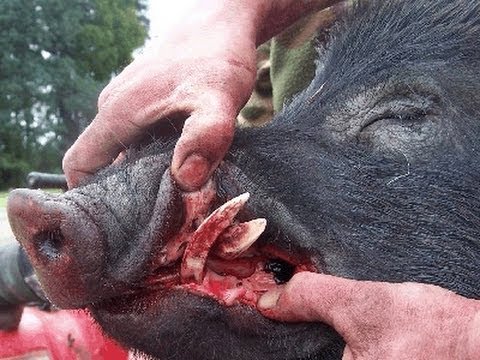 Due to the clearing of natural boar habitats, the number of interactions, including aggressive ones, between humans and boars has increased. Some attacks are provoked, for example when a hunter wounds a boar which then counterattacks, some are not.
predators become prey, hunters become hunted, anti predator adaptation, obligate predators, animals, Frogs Eat Snakes, praying mantis eats hummingbird, Epomis beetle, wild boar, pigs eat humans, predators become prey, hunters become hunted, anti predator adaptation, obligate predators, animals, frogs eat snakes, praying mantis eats hummingbird, Epomis beetle, wild boar, pigs eat humans, predators become prey, hunters become hunted, anti predator adaptation, obligate predators, animals, frogs eat snakes, praying mantis eats hummingbird, Epomis beetle, wild boar, pigs eat humans, predators become prey, hunters become hunted, anti predator adaptation, obligate predators, animals, frogs eat snakes, praying mantis eats hummingbird, Epomis beetle, wild boar, pigs eat humans, predators become prey, hunters become hunted, anti predator adaptation, obligate predators, animals, frogs eat snakes, praying mantis eats hummingbird, Epomis beetle, wild boar, pigs eat humans, predators become prey, hunters become hunted, anti predator adaptation, obligate predators, animals, frogs eat snakes, praying mantis eats hummingbird, Epomis beetle, wild boar, pigs eat humans, predators become prey, hunters become hunted, anti predator adaptation, obligate predators, animals, frogs eat snakes, praying mantis eats hummingbird, Epomis beetle, wild boar, pigs eat humans, predators become prey, hunters become hunted, anti predator adaptation, obligate predators, animals, frogs eat snakes, praying mantis eats hummingbird, Epomis beetle, wild boar, pigs eat humans, predators become prey, hunters become hunted, anti predator adaptation, obligate predators, animals, frogs eat snakes, praying mantis eats hummingbird, Epomis beetle, wild boar, pigs eat humans, predators become prey, hunters become hunted, anti predator adaptation, obligate predators, animals, frogs eat snakes, praying mantis eats hummingbird, Epomis beetle, wild boar, pigs eat humans, predators become prey, hunters become hunted, anti predator adaptation, obligate predators, animals, frogs eat snakes, praying mantis eats hummingbird, Epomis beetle, wild boar, pigs eat humans,
Share on Tumblr