The international company Uber is now testing its new service. Uber and Jump started dockless ebike sharing test in San Francisco USA. In fact, Uber is experimenting with a New York based the Dockless ebike sharing startup company 'Jump' to recover the ebike service in the US San Francisco city.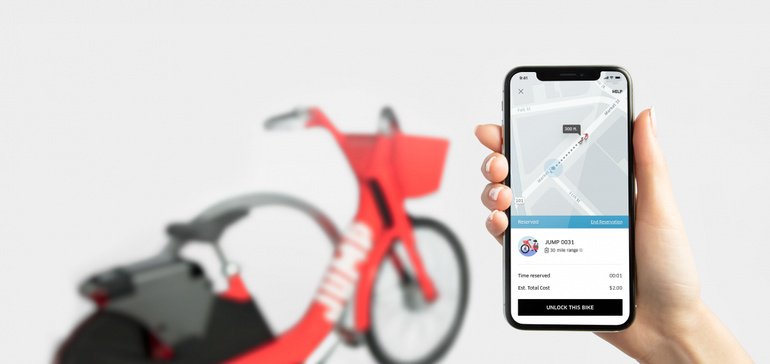 There is already a service called GoBike bike service in San Francisco city but Jump bikes are Dockless and electric bikes. Dockless bikes means that the bike can picked up and after use the user can it park at any designated parking facility and lock bike with traditional bike parking.
Users in San Francisco who are interested to join this Uber and Jump Dockless ebike test which is for limited period, they can join Uber Waitlist because there is only 250 Jump Dockless ebikes for test in San Francisco so that's why Uber limit the number of people using their app to access this service. But to book Jump ebike it has its own app for those who want to use Jump ebikes without the permission of Uber. In San Francisco the Jump dockless ebike is only provider which has been granted a permit by the San Francisco Municipal Transportation Authority (SFMTA).
Users in San Francisco who wish to join this trial they will have to use the Uber ebike app. Users must go to the location of the e-bike itself. To book a bike, click the bike icon in the Uber ebike app. After this a map will open these maps will tell users about the location of the bike. Bike can be unlocked with the help of given pin from Uber ebike app.
For half-an-hour ride on the bike, users will have to pay 2 US Dollar. After 30 minutes of completion, the company will charge per minute. After reaching your place, the user will have to park it near the public rack. Users must also mark the location of the ebike on the Uber ebike application map.
Jump CEO Ryan Rzepecki wrote in his blog post that "Our mission is to make the bike you want" which can take you forward to reach your destination early and to be the most fun to ride. A bike that you do not need to buy and no need to spend a penny to maintain it, always nearby to you when you need it. If we complete this mission then we will see more people on ebikes which means more accessible, greener, and healthier cities.
Uber's service is in the early stages, so the company is offering 250 ebikes only to the user. This test of Uber proves this fact that the company is going to be more focused on two wheel services except car service. If this test of Uber was successful, then the company could start Uber ebikes in other countries too soon. In such a way, Uber ebikes service can also be successful in countries with high populations, where traffic users will have to lose their pockets less.
Also Read: Xiaomi XPRINT Pocket AR Photo Printer Features & Specifications