It has a table tennis table in its courtyard, a gigantic pop-art decorated wall in the lounge area and a container trailer as part of its lobby decor. If you get really lucky, you can even cozy up with a famous (wax) figure. Hotel Zephyr at Fisherman's Wharf makes a good choice if you're in San Francisco and looking to stay at the bay. Apart from being an eclectic mix of quirky and avant-garde, it also offers a sweeping view of the San Francisco bay, if you're booked in the sea-facing room.
The room itself has a nautical theme, which is accented throughout the hotel's overall décor. A standard deluxe room with a king bed and a bay window seating area is enough for a family travelling with a young kid. The basic amenities are available in-room, and certain elements were made more fun. A mini dartboard hangs in a corner, in case you get bored in the room while waiting for your partner to get ready. The walls are covered with the map of the bay area for your reading pleasure, and the lamps look like giant globs hung from nets. It's the details paid to making the room have a bit more character that makes it appealing, and this is reflected on the rest of the hotel as well.
The hotel lobby is a warm spacious area with enough seats for guests to wait comfortably, and my two year-old to run amok. During my stay, there was even a wax figure of Leonardo Dicaprio on display at the lobby from the nearby Madame Tussaud's. The lobby is linked to a lounge area, a gathering place where groups can wind down after a day out for a chat or some card-playing; there are also some board games available. There's a long table, chairs grouped in intimate circles and inviting sofas sprawled around the lounge. Just next door, there's a separate game room where there's a pool table and seating all around to accommodate a tidy crowd. There's also a long table here, possibly for meeting or event purposes. The furniture and the furnishings are a vibrant, eclectic collection that should rightfully clash, but somehow work wonderfully here.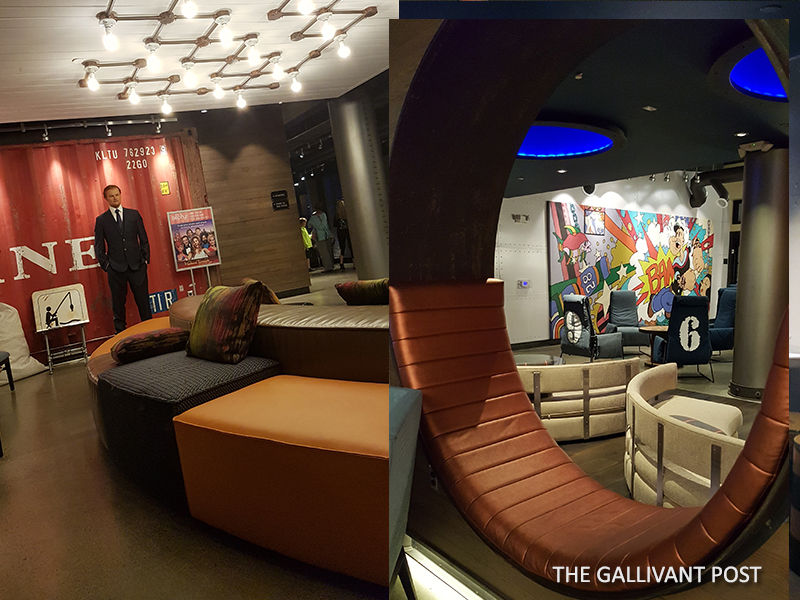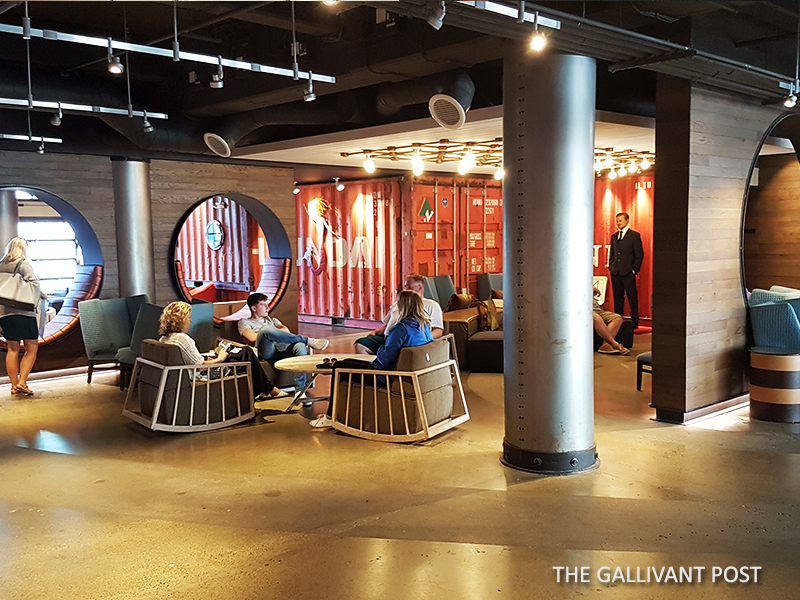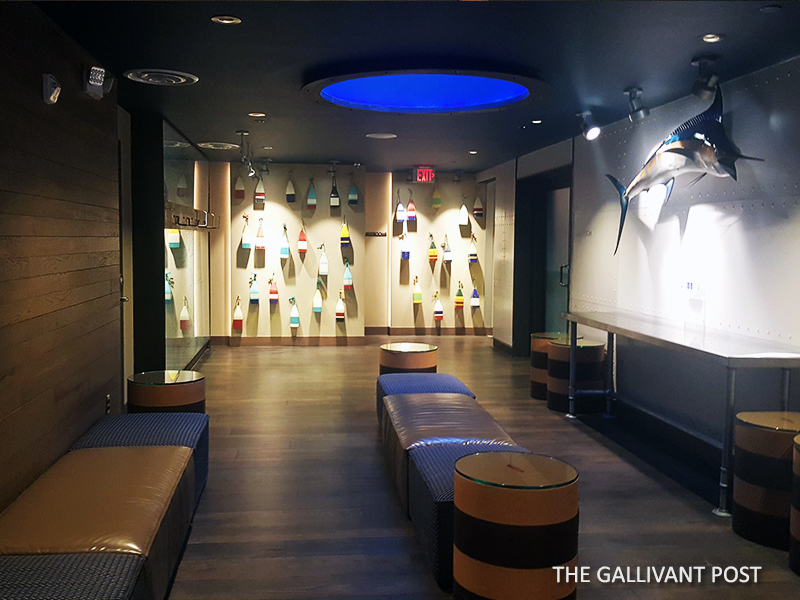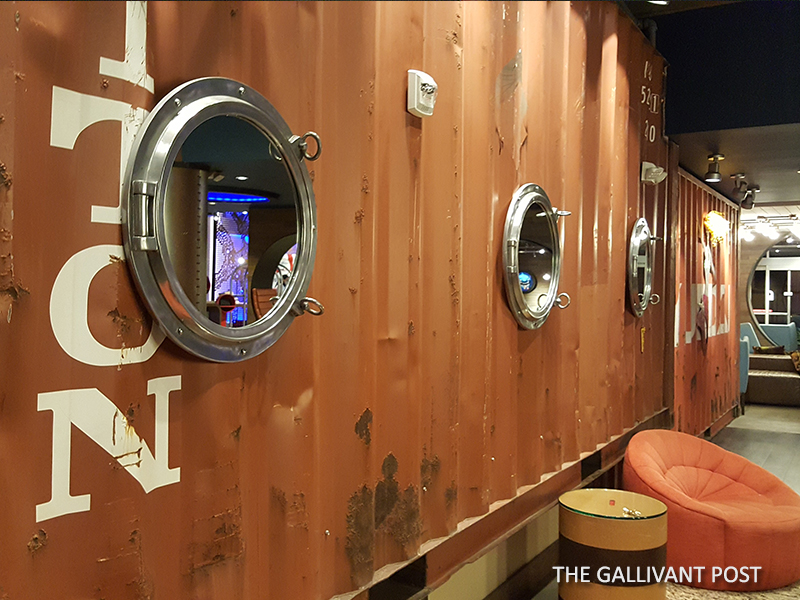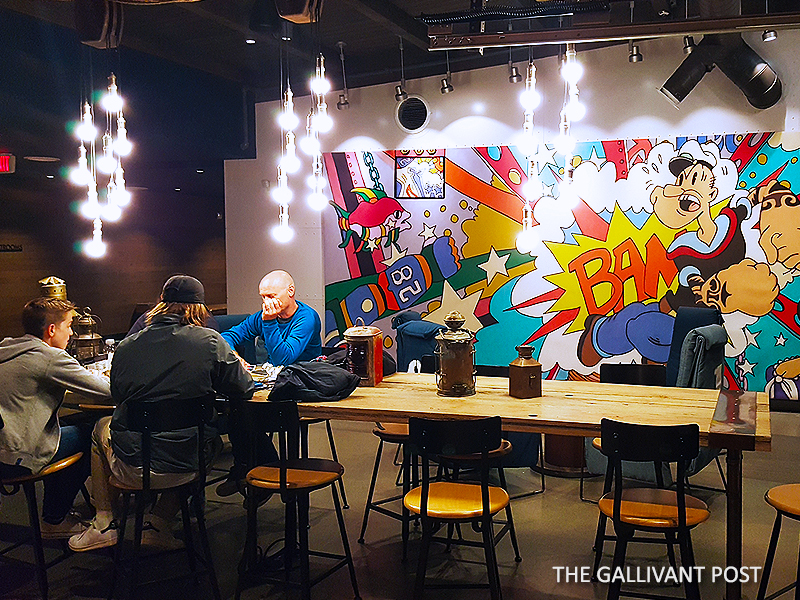 While the interior makes you want to linger longer, its courtyard would make you reluctant to leave the hotel at all. A fountain fashioned out of water pipes and an artwork created out of discarded metal containers and parts highlight the industry-feel courtyard. There's a caravan sitting at the side, a fireplace at the center of a seated area, and a games corner where you can challenge a friend or two in. it's also great for the little ones. My toddler had a ball of a time playing with bubbles and just running around. It's nice to just sit here, have a book to read and just embrace the surroundings. One thing I found convenient is that the back of the courtyard is linked to a Johnny Rockets restaurant, which you can pass through to hit the heart of Fisherman's Wharf. This cuts down time of making one big detour around the block to get back to the hotel.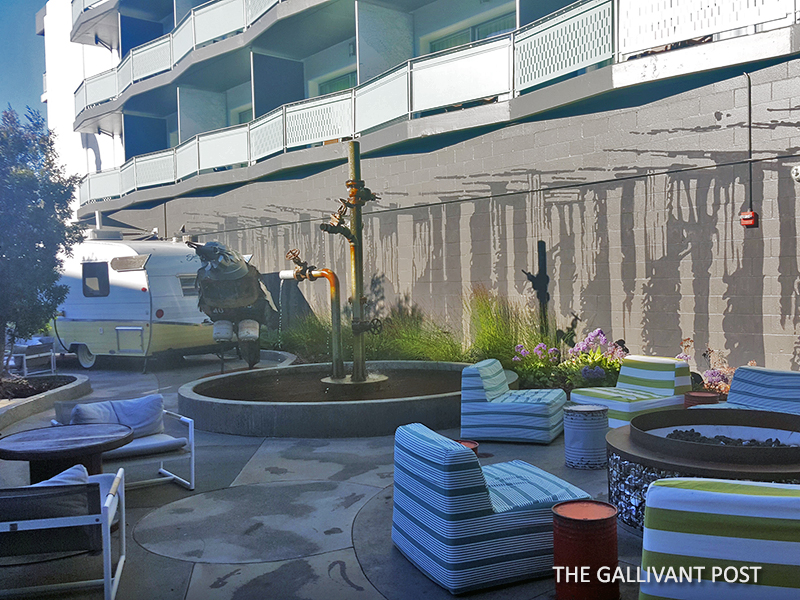 The hotel doesn't serve breakfast, although you have nothing to worry about, because it's right next to an IHOP. You can find food anytime of the day.
The staff are a terrific bunch. They were beyond helpful in assisting with our car rental booking. We were travelling to Yosemite but were unsure what kind of car to rent and where to rent from. They gave great advice and helped with our booking.
I spent two nights at this hotel and my only regret was not getting to stay longer. I almost wanted to tweak my itinerary so that I can actually spend more time at the hotel itself. If you're ever looking for a hotel at the Wharf, let it be Hotel Zephyr.
Here's their official website for you to find out more: Hotel Zephyr
Tags:
| | | | | |
| --- | --- | --- | --- | --- |
| Del.icio.us | Facebook | TweetThis | Digg | StumbleUpon |
Comments: 0 (Zero), Be the first to leave a reply!
You might be interested in this:
Snapshot: Crossing the stunning Shahara Bridge in Yemen
Snapshot: Drinking in the beauty of the Svartifoss Falls
Snapshot: World of Color
Mont Saint Michel; stepping back in history
Top Beach destinations around the World
---
Copyright © The Gallivant Post [Hotel Zephyr at Fisherman's Wharf], All Right Reserved. 2017.