Accelerated Mobile Pages have evoked strong opinions from SEOs and developers since they were first introduced in 2016. Some argue that AMP is another competing standard for webpages that conflicts with the fundamental principles of the open web, while others say that AMP is necessary to bring the web in to the modern mobile-first era.
At the second annual AMP Conference, held on 13 and 14 February in Amsterdam, there was no such ambiguity. Almost every speaker sung AMP's praises and tried to emphasise the various ways AMP is awesome.
Regardless of your personal views on AMP, there were a few interesting announcements and showcases at this conference which are worth learning more about:
AMP for Email
Arguably the biggest announcement at the AMP conference was AMP for Email. This new technology enables email messages to become interactive, using a variety of AMP components to power things like surveys, live content updates, and subscription management – without ever leaving the email client.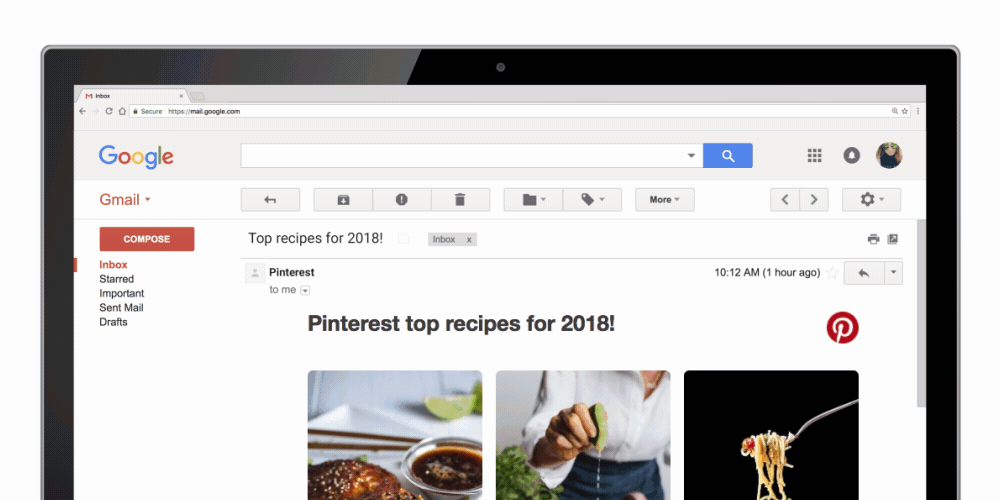 You may wonder about the security aspect of allowing emails to import content from external sites. Due to AMP's tightly managed restrictions, the JavaScript that enables these 3rd party interactions should in theory be fully secure and not allow the injection of unwanted malware code in to your email messages.
Because there is a standard HTML compatibility layer as a fall-back mechanism, email messages that use AMP for Email will show as normal static emails in clients that don't (yet) support it.
AMP for Email will first roll out for Gmail with a developers preview. Google has published a dedicated blog post about it with more information and links. You can sign up for the developers preview here.
AMP Stories
The second big announcement was Amp Stories. This is an enhancement of existing AMP articles that enable elements such as videos, sounds, animations, and more, to help publishers create 'richer experiences' for key articles.

AMP Stories are built by layering different AMP components on top of one another within one AMP document. More details about AMP Stories can be found on the Google Developers Blog here.
WordPress & AMP
One of the sessions was focused on WordPress; specifically, how WordPress will be integrating AMP with the upcoming version 0.7 of the official AMP plugin.
With this new plugin version, WordPress site owners can enable their entire site to become native AMP. You won't need to maintain separate AMP versions of your pages anymore – your entire site can be valid AMP with the plugin v0.7.
They also showed a demo of Gutenberg, the new WordPress WYSIWYG editor, complete with live AMP validation to ensure you're creating valid AMP pages on your WordPress site.
Building your entire site in AMP was a recurring theme during the event, with a talk dedicated to it as well. Let me be clear: I believe you should not build your entire site in AMP.
The people behind AMP might be very excited about their technology, but it's still mostly controlled/guided by Google. I feel your efforts are better spent on building a good website on truly open web standards, and avoid these artificial restrictions that the AMP project wants us to embrace.
Other Highlights
Some of the other news and highlights from the conference were:
AMP Toolbox: The AMP Toolbox is is a set of tools to help improve the performance of AMP with server-side optimisations, allowing you to replicate the optimisations of Google's AMP Cache for your own site.
Brands Using Amp: It wasn't just Googlers proclaiming the gospel of AMP. We also had a number of speakers take to the stage representing big brands – The Washington Post, BMW, Pinterest, AirBNB, and many more – to show how they use AMP and the challenges they overcame in the process.
AMP & PWAs: There were a few talks about AMP and Progressive Web Apps, showing how combining these technologies could lead to web experiences that rival native apps in terms of responsiveness and functionality.
AMP and Ecommerce: The first session of the second day was a deep dive in to AMP for ecommerce. Some new AMP technologies were shown, such as the date picker and checkout flow, interspersed with examples from companies like Zalando and Yahoo Taiwan. The video from that session is worth watching if you're thinking of implementing AMP on your ecommerce site:
Reddit & AMP: One of the talks on the second day was from Reddit, where they showed how 'the front page of the internet' is working with AMP for mobile users. As a special treat they also shared a preview of the forthcoming Reddit redesign:
AMP and Advertising: there were a few sessions about advertising and AMP, but I believe advertising embodies everything wrong with the internet, so I zoned out for those talks. If you're interested in online advertising and AMP, check out the videos on the AMP YouTube channel.
Goals for 2018
In the closing session of the first day, the AMP project leads reflected back on the targets they had set themselves in 2017 and, more importantly, revealed what they wanted to accomplish in 2018:
Enable publishers to create app-like content experiences on the mobile web.
Ecommerce sites to have frictionless transaction flows on AMP.
Maintain the web as a vibrant marketplace for publishers & advertisers – i.e. better ads with AMP.
Make AMP indistinguishable from other web content for users.
Allow AMP pages to run non-AMP JavaScript.
That last goal – allowing user-authored JavaScript in AMP pages – was presented with a lot of caveats, but it's an especially important one as it looks to be a huge concession to the wider web community. It might also undermine what makes AMP so performant and reliable.
As the first day of #AMPConf sessions came to an end, @cramforce announced one more thing… pic.twitter.com/lHv701c1wX

— AMP Project (@AMPhtml) February 13, 2018
How that one will pan out will be interesting to watch. User-authored JS could slow down pages and re-introduce the issues AMP wanted to solve about the mobile web in the first place.
AMP and SEO
The inimitable Aleyda Solis gave a presentation about SEO and AMP, showing how developers can make sure they implement AMP the right way to maximise visibility in search results.
She also showed how you can use tools like Google Search Console and the AMP Validator to prevent issues and fix errors when they occur. The video from her talk is definitely worth a watch:
AMP Propaganda
All in all the second AMP Conference was a pretty slick propaganda exercise, where the overall goal was to demonstrate why AMP is awesome and how it can help make the web better.
Whether or not the conference managed to convince the audience, well… I'm certainly more informed about AMP, but remain a skeptic.
While nominally positioned as an open source project, the fact remains that 90% of the code commits come from Google employees. The conference was very careful in separating AMP from Google in all talks, but let's be honest, this is still a Google project.
If and when that changes, and the wider web starts embracing AMP – or perhaps selectively using components when they do a better job than what's out there – we may need to change our views. For now, my opinion remains unchanged: focus on building the best website you can for your users, and only implement AMP technologies when you have no other choice.
Post from Barry Adams