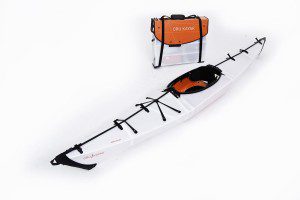 The Oru Kayak is an innovation designed to make kayaking an option for everybody, even those who live in the city or in cramped spaces. The design was inspired by origami, and it shows. Not only is it extremely light, the Oru folds down to a small and easily-portable size. Originally funded by Kickstarter in 2012, this kayak has taken the sporting world by storm in the last few years. In addition to the original Bay model, inventor Anton Willis and his team have since released the Bay+, with some new and interesting features. This review will focus on the consistently popular Bay, and offer some insight into exactly why this kayak has become so popular.
>> Click here to see the price, specs and reviews on Amazon
Features that Matter : Oru Kayak
Awesome Material
This kayak is made from very light, flexible material that is also extremely durable. It is constructed from a double layer of resilient, waterproof plastic that is easy to fold. Repeated folding won't damage the Oru, so it can be taken out of storage and transported hundreds of times with no wear and tear. In fact, the manufacturer has rated the material good for 20,000 fold cycles; that's a lot of kayaking.
The Bay is made up of a single large sheet with only one seam, located at the top of the boat. The single seam is waterproof, completely sealed, and in any case above the waterline. Despite its flexibility, the Oru is actually very rigid and firm when assembled, eliminating the need for an internal frame. In addition to the plastic body, the Oru uses metal fasteners and Rubber Deck Straps, all of which are high quality and durable. Extra rigidity comes from the two bulkheads at the back of the cockpit.
Inside the cockpit, the Bay has a rigid floorboard with an adjustable footrest and a comfortable foam seat with a moveable backrest. The cockpit itself is reinforced, making it easy to get in and out of the kayak. The Oru is designed to provide a comfortable ride and allow for longer trips without discomfort or the need for continued adjustment of the seat and footrest.
Size (both when Folded & Unfolded)
When it's unfolded, the Oru Bay is 12 feet in length and 25 inches wide, with a 16 by 30-inch cockpit. Folded, this kayak is 32 inches long, 13 inches wide, and 28 inches high, making it simple to carry around. The entire thing only weighs 28 pounds, which is a huge advantage both in the water and when carrying it around.
Although it is light, the Oru allows for the transportation of all the gear a kayaker needs in the area behind its seat. The balance is excellent and will not be compromised when carrying the standard equipment.
>> Click here to see the price, specs and reviews on Amazon
Performance
The Bay offers tremendous speed, partly due to its design and partly due to its very light weight. It is an ideal choice for beginners, as the lack of weight makes it very low-effort to navigate through the water, allowing for concentration on other things. Experienced kayakers will find they get up to quite a high speed using it, particularly when compared with traditional kayaks and some of the bulkier inflatable vessels on the market.
Cons
Great as it is, the Oru is not perfect. One common complaint is the time it takes to put the kayak together; it unfolds easily, but by the time all the necessary adjustments have been performed it takes around 20 minutes to assemble. This wouldn't be an issue, but the manufacturer states that it can be done in five minutes.
Full Features & Specifications
Comfortable foam seat and fully-adjustable backrest
Easy-to-close watertight seams
2 rubber deck straps for extra gear
Easy-to-adjust footrest
Reinforced cockpit for easy entry
Pair of bulkheads for extra rigidity
Simple and intuitive strap and buckle closure system
Fits standard spray skirts (size medium)
LENGTH: 12′ (3.7 M)
WIDTH: 25″ (63 CM)
WEIGHT: 26 lbs
WEIGHT CAPACITY: 260-300LBS
COCKPIT: 16″X30″ (41X76 CM)
One problem which may not affect everyone is the light weight and small size. Larger kayakers may find it difficult to get in and out of the kayak, as the weight makes it slightly more prone to tipping. The cockpit is also fairly small, in order to maintain portability, so those with bigger frames or longer legs might find it difficult to get in and adjust.
Final Thoughts
Overall, the Oru Kayak makes for a fantastic kayaking experience. It is convenient, highly portable, and admirably innovative. Experienced kayakers will enjoy the novelty of an origami kayak as much as its performance, and beginners will love how simple and user-friendly the Oru is on the water. This kayak is well worth taking out for a ride. It also has received a rating of 4.7 on Amazon.
>> Click here to see the price, specs and reviews on Amazon
The post Oru Kayak – Quality Product with a Brilliant Design appeared first on Cool Fishing Kayaks.