Justin Trudeau is bailing out a Texas Oil Billionaire. He should be bailing out Canadas workers and the climate.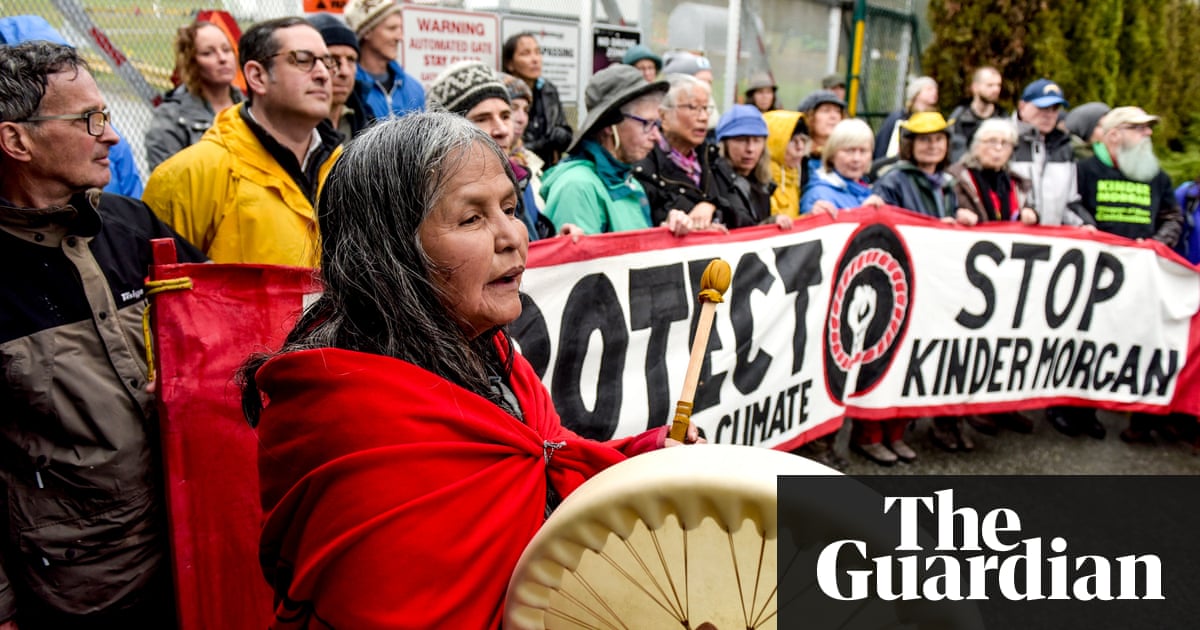 Last Saturday, Indigenous masters stood arm-in-arm in front of the gates of Kinder Morgan's pipeline worksite in Burnaby, British Columbia.
For weeks before, hundreds of non-native people- environmentalists, federal parliamentarians Elizabeth May and Kennedy Stewart, even an technologist formerly employed by the Texas oil corporation- had marched to the same lieu. In these cases, police approached, read aloud their violation of a no-go zone, and arrested and shackled them.
Now it was the curve of half of the leadership of the Union of BC Indian Chiefs, including Grand Chief Stewart Phillip. They waited in the sprinkle for hours. But the police never came.
It wasn't an accident. As the push for this grapevine has transfixed the country, there's one image the oil industry and Canadian authority desperately wish to avoid: that of Indigenous races as the unifying breast of a rising action for an alternative.
The media has thus far done them the advocate. We've heard little about the Tsleil-Waututh and Squamish, the coastal First Nations who've taken the federal government to courtroom. We've heard even less about the Secwepemc in the interior of BC- whose regions flood almost half of Kinder Morgan's route- who are now building solar-panelled minuscule rooms instantly in the pipeline's course. And we've heard nothing about the Lubicon, Athabasca Chipewyan and Beaver Lake Cree downstream of the Alberta mines, who first fostered the exclamation of concern about Canada's future with the tar sands.
They understand what the Alberta and Canadian governments seem to not. To frustrate environment failure, we must stop petroleum business from digging up brand-new situates of fossil fuel. Government boosters of each pipe activity have instead mailed a very clear message: to hell with our climate commitments. So Indigenous races did exactly what our governments will not: they've gather a line.
At a meeting in Alberta ten years ago, long before the world knew of the tar sand, a young Indigenous activist named Clayton Thomas-Mueller timed at a map of proposed grapevines, sprawling like tentacles across North America." This planned marks where our friends will emerge ," he predicted.
And so we've seen brand-new, diverse alliances of Indigenous and non-Indigenous beings spring forth in the pathway of the Northern Gateway, Keystone XL, and Energy East pipelines. Each has been stopped or halted. Kinder Morgan's TransMountain expansion- tripling its pack capability- is the last. The thousands who've flocked to Burnaby mountain the last weeks now know that real atmosphere supervisors aren't found in legislatures. They're detected preparing blockades on the ground.
The rule of law, you say? By promoted through the pipeline, Justin Trudeau bulldozes it himself. He transgresses Indigenous arrive claims on unceded estates that have been recognized by the United states supreme court, and the right to" free, prior informed consent" in the United Nation statement. He flouts the Paris Climate Accords, whose ambitious target his government was praised for assistance to build. And he flouts an election edict granted by a majority of British Columbians. In other oaths, the Indigenous-led opposition to grapevines aren't" crook felons" or a" loud minority ." They're executing the democratic will of a province- and the consecrated law the responsibility of the country.
So don't let scholars and politicians profess this crisis is about BC Premier John Horgan refusing federal jurisdiction. Governments aren't provoking a brand-new constitutional impasse. They're prolonging an age-old colonial plundering. Much of the most recent ponds of global carbon- and the infrastructure to send it out- are located on Indigenous races' regions. Which constructs the attempt to tramples through their countries by a foreign petroleum fellowship- a spawn of Enron– part of a long, familiar storey. Yet Justin Trudeau doesn't call this what it is. He announces it the "national interest."
But wrapping an offence in the banner of own national interests is simply shroud the truth for so long. The wall of Indigenous-led protest qualities the way to a new narration: a transition off fossil fuel to a thriving low-carbon economy. The nature is once turning on the tar sands. Its pall may tower over Canadian politics, but its contribution is diminishing and small: just 2 percent of their own economies.
The good news is that we can create much more professions through investment in renewable energy, public transportation, and residence retrofits than in oil and gas- as many as 34 experiences more. So why are Trudeau and Alberta premier Rachel Notley investing our taxes bailing out a Texas oil billionaire? They should be bailing out Canada's workers, "Nations " and the climate.
To say that Indigenous publics have become the heroes in this fight isn't high-minded romanticism. It's hard-bitten reality. Those First Nations who've ratified are dealing here with Kinder Morgan struggle with humbling poverty- they are stay between a gas pipeline and a hard situate. And as Indigenous privileges were becoming increasingly impressive, the financials buy-offs- as much as$ 1bn per fossil fuel campaign– have just been grown-up larger. This recommends one thing about the resist of other "Nations ": that it is even more remarkable.
" We requirement the money[ the project would bring ], but we don't need it enough to sell out the things we desire and are spiritually are attached to- and that's our ground, our water, our people ," Rueben George of the Tsleil-Waututh First Nation said on Friday.
The Tsleil-Waututh, and their numerous stretching partisans, will be on watch when Kinder Morgan takes its likely next stair: drilling a loophole through Burnaby mountain. Polls show that 10 percent of British Columbians- an incredible half-a-million people- are already prepared to engage in nonviolent resistance to stop it. They understand what government and manufacture hoped there is no way to: that Indigenous titles aren't simply a tool to forge a safe, liveable future- they're the most powerful one we have.
It signifies best available representative of our national interest isn't Justin Trudeau or Rachel Notley , nor even John Horgan. It's the Indigenous people standing in the path of a pipeline.
Twitter : @Martin_Lukacs
Read more: https :// www.theguardian.com/ environment/ true-north/ 2018/ apr/ 16/ whos-defending-canadas-national-interest-first-nations-facing-down-a-pipeline
The post Whos defending Canadas national interest? First Nations facing down a pipeline | Martin Lukacs appeared first on Top Most Viral.