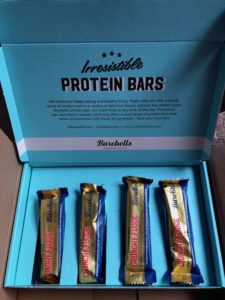 (Gerry Furth-Sides) Did you know you are biting into a piece early space history when you bite into a Protein bar? Just about 60 years ago, when NASA was tasked with coming up with nutritious and compact provisions aboard ship – they came up with a prototype of nutrition bars. And so the first wave of bars was eventually launched in the marketplace as the Apollo moon landings were at their height, They were named "Space Food Sticks" The official description to consumers of Space Food Sticks was straightforward and scientific: "Non-frozen balanced energy (snacks) in rod form containing nutritionally balanced amounts of carbohydrate, fat, and protein."
Pillsbury, makers of the original Space Food Sticks for NASA, tried commercializing the recipe but failed to capture either the public's imagination in the marketplace – though people all over the world talked of nothing but the space program once the US landed on the moon. Space Food Sticks were durable, versatile bars marketed in flavors thought were enticing at the time: orange, mint, and peanut butter. The key design criteria, necessary for its consumption in space, was a size and shape easily handled by a busy astronaut while wearing a helmet. TANG, the powered energy drink had about the same amount of naturalness to it.
From their public debut as essential astronaut food energy bars, it was an easy transition for the bars into a high-energy source of quick burn fuel for athletes. Protein bars made their athletic appearance in 1986 when they were released commercially as Power Bars. Power Bars ignited a new segment of athletic energy supplements each boasting a unique formula but all claiming to provide athletes with a reliable source of high levels of protein. Dieters quickly caught on to them and they became a regular part of many protein replacement diets.
When American meal patterns started changing, snacking occasions were increasing along with tastes, the energy bar had a new start – and marketing strategy that positioned and promoted them as "nutrition bars." Today everyone who considers themselves – "people on the go" uses them as a substitute meal or quick pick-me-up burst of energy for those people looking for a healthy snack.
It would be decades before energy bars in their current form would make an appearance, and in one of them this century I had ordered an entire carton of "high protein" bars that turned out to have more sugar than a candy bar. I have not eaten one since this year. Today, protein bars enjoy mass-market appeal as a healthy energy boost, thanks to their natural ingredients. Energy bars are widely accepted as a healthy between-meal snack, or, as an occasional meal replacement. In 2006, the original Space Food Sticks were re-released.
These days you can get just about any and every flavor you can imagine in a protein bar, now either available at your local health food store, supermarket, convenience story or online. Hundreds of different brands, diet-specific bars, low sugar, high protein, high fiber, low fat, high fat – you name it! In 2016 alone, global sales of protein and nutrition bars exceeded four billion dollars!
Best-selling Barebells, exemplifies the sumptuous taste with no artificial ingredients. CRUNCHY FUDGE was recently added to their line of high-in-protein, no added sugar* protein bar brand. The texture is between a Milky Way and cushiony soft nougat and there is no after-taste. It is actually more like a royal dessert than a rugged meal.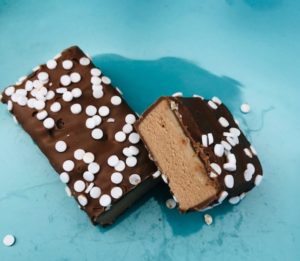 Barebells Functional Foods

was launched in Sweden in 2016 to offer products high-delivering 20g protein, no palm oil and no added sugar* – a real treat for everyone who wants to feed their cravings.
Barebells' Crunchy Fudge Protein Bar contains 20 grams of protein with a gooey, soft fudge center and a smooth, milky chocolate outer layer, topped with sprinkles for an extra crunch. Similar in nutrient and flavor profiles to Barebells' existing bars, consumers will find Crunchy Fudge wrapped in a golden packaging with unique design features.
Crunchy Fudge can be purchased via online retailers such as Bodybuilding.com and Amazon.com, as well as at select retailers and gyms nationwide beginning today. For more information, visit //barebells.com/us/ or follow them on Instagram.
The post The Spiffy Protein Bar at 40 and How It Came from Outer Space Created It appeared first on Local Food Eater.