New, creative French-inspired St.Valentine's Day ethnic celebrations range from renowned Chef Kimmy Tang's California-inspired French-Vietnamese and Chef Alain Cohen's refined French-Tunisian to Chef Olivier Rouselle's international-inspired Parisian French menu. After all, isn't French the "language of love?"
Personal French themes run through all of these celebratory meals across the city. Chef-owner Kimmy Tang's Vietnamese Bistro Mon Cheri is in Pasadena. The Pico-Robertson neighborhood houses Chef-owner Alain Cohen's Sephardic French-Tunisian Got Kosher? (aka Harissa Restaurant as of March 1, 2018). Executive Chef Olivier Rouselle has headed the kitchen for years at On Sunset Restaurant at the tucked away treasure, Luxe Sunset Hotel in Bel-Air.
The talented, irrepressible Kimmy Tang invites her guests to her intimate Valentine's Day at cozy, bright Bistro Mon Cheri. The sophisticated menu reflects her cosmopolitan background. Born in Vietnam and a world traveler, the talented and exuberant chef has even started in a cooking show in Rumania. The Bistro Mon Cheri name honors one of Kimmy's favorite, well known French restaurants in Vietnam. For more information please see: https://la.eater.com/2017/5/11/15613104/bistro-mon-cheri-pasadena-kimmy-tang-opening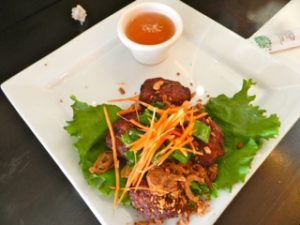 The light, refreshing dishes feature her usual California flair to them. The price is also a refined $35 per person.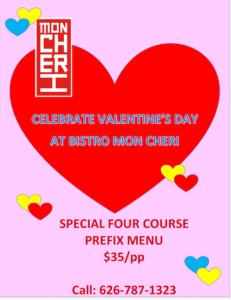 The California-inspired Vietnamese menu includes Starters: Crab Wontons served with Avocado Aioli; Beef Sausage wrapped with Mozzarella Cheese, and Fish Dumpling served with Spicy Soy. Spicy Shrimp Corn Chowder or a Shrimp, Carrot, Cucumber Noodles on Crispy Rice are the choices for the Soup or Salad course. The Main Courses include, Baked De-Boned Gem Hen served with Gourmet Rice; Grilled Argentinian Shrimp served with Cilantro Garlic Quinoa, or Lightly Fried Pork Steak served with Coconut Rice. "Dessert of course!" here includes either a Coconut with Strawberry or a Coffee Panna Cotta.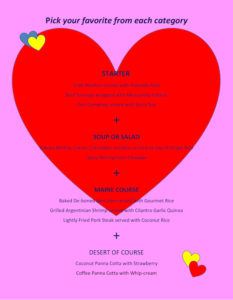 Bistro Mon Cheri is open from 11 a.m. to 3 p.m., then 5 p.m. to 8:30 p.m. from Monday to Thursday. Hours extend to 9:30 p.m. on Friday to Saturday. Closed Sundays.
Bistro Mon Cheri, 950 E. Colorado Blvd. #204, Pasadena 91106
626-787-1323 http://bistromoncheri.com/
Candlelight and white tablecloths transform the front room for the annual I

HARISSA celebration that is purposely planned on February 14 as a unique evening of French-Tunisian at Got Kosher? Cafe restaurant. Chef-owner Alain Cohen offers a 5-course prix fixe dinner and a complementary glass of wine from a brand new list of the finest kosher beers and wine. Got Kosher? Cafe officially becomes HARISSA RESTAURANT on March 1, 2018.
Signature favorites will still highlight HARISSA RESTAURANT's new expanded California-inspired menu reflecting the vibrant "sun-cuisine" heritage of Cohen. Born in Tunisia and raised in Paris, France, he worked in his father's kosher Tunisian restaurant, Les Ailes (The Wings) from the age of nine. Success came early to the innovator when, his refined French-Tunisian menu turned the restaurant into an overnight sensation, later becoming a Paris landmark. Chef Cohen is the creative force behind the famous pretzel challah. He is now becoming as well known for his gourmet Sephardic cuisine "with heart" (and just enough heat), and that just happens to be kosher.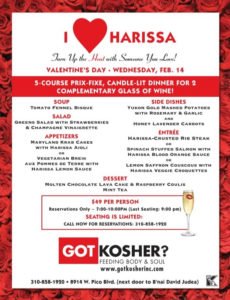 For information on Chef Alain Cohen, please see our post on this congenial innovator known as the "Tunisian epicurean" , here with daughter Sophy at the restaurant.
Who is Alain Cohen and Why he offers Kosher – with no apologies
The Valentine's Day menu at On Sunset Restaurant created by Luxe Hotels Executive Chef, Olivier Rousselle is an extravagant, French-inspired 5-course meal offered for $68 per person. World-class chef Rousselle, whose culinary experience spans three continents, is known for his exquisite menus that showcase seasonal California fare.
Personable Chef Olivier, originally from Paris, has family ties that are rooted in the Bordeaux region. His formal culinary studies began at the age of 16 in Paris with an externship in Gascony under the tutorship of famed chefs Bernard Ramouneda and Andre Daguin. Upon graduation, he was immersed in the fast paced environment of a traditional French Brasserie in Paris.
A toast of Luxe Champagne Cocktail
Amuse-Bouche
_______________________________
Choice of one in each course:
Maine Lobster Salad with Orange Vinaigrette Boston Lettuce, Blood Orange Segments, Peruvian Purple Potatoes, Avocado and Chives
_______________________________
Seared Maine Scallop Cauliflower Purée, Sage-Pine Nuts Beurre Blanc
Sauteed Foie Gras with Brioche Persimmon Chutney, Petite Walnut Salad
_______________________________
Filet Mignon Tournedos Truffled potato Puree, Haricot vert, Port reduction
Seared Ahi Tuna Ginger-Carrot Mashed, Sesame Spinach, Saké Jus
_______________________________
Valhrona Chocolate Fudge Cake Vanilla Bean Ice Cream and Cocoa Sauce
Raspberry Panna Cotta Red Coulis and Lavender Tuile
Coffee or Artisan Tea
The post New French-inspired Valentine Day Menus by Famous Chefs appeared first on Local Food Eater - Find Best Ethnic Local Food Places | Clorder.