Water equals wellness, right? It fills, fuels, and flushes us. Not to mention it has been used throughout history to heal, which is why so many wellness destinations use it in their therapies.
After some recent headlines on water safety made their way through the inbox grapevine, it's safe to say a lot of Americans are pretty alarmed about what they are or have been Drinking. From the Flint disaster and now the discovery of microplastics in big name water bottles, what is safe anymore? We set out to find some info on what is happening with all the water hype.
Before we delve into the issues, what some people tend to overlook is that modernized, first world countries have it SO much easier compared to third world countries when it comes to water. According to Water.org, "844 million people – about 1 in 9 – lack access to safe water" around the globe. When is the last time you have had to walk miles to access sanitized water like the young girl in this video?
Video embedded from USA Today.
thrilled with treatment advances and product. Yet, she will NOT drink bottled water, "unless I don't have any other option".
This is what brings us to part of the controversy with drinking water options, which started circulating more in the media in the later part of 2017 and beginning of 2018: the discovery of microplastics in over 90% of big name water bottling companies. "There is a term 'emerging contaminant (EE)/contaminants of emerging concerns' in the water treatment field, which can be defined as 'contaminants which have been in the environment for a while but for which concerns have been raised much more recently' and pharmaceuticals, personal care products (PPcPs), and now microplastics are a few of the emerging contaminants being studied." (source: Wong Syie Luing on this thread)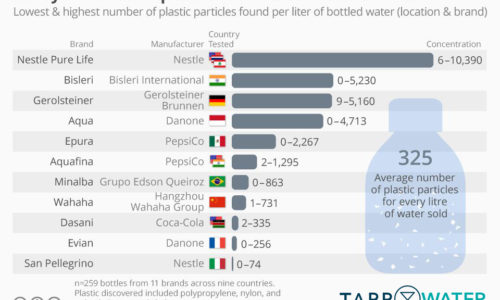 Picture from TAPP Water.
However, TAPP Water alarmingly reported here that "it's not just bottled water. A previous study by Orb Media, found that 94% of tap water in the USA and 72% in Europe contained microplastics".
It sounds scary, but really, after reading articles upon articles, both opinion-based and in research memos, there is NO clear consensus at all. There just hasn't been any studies whatsoever IF these tiny pieces will even affect health, but the WHO is looking into it. Yet, the biggest priority is still providing clean water access to the at least 2 billion people globally whose drinking water source is contaminated with feces. Perhaps the body's amazing organ systems just flush it all out like it does most "intruders" or toxins?
What do the more "natural-minded" think?
Many would argue that by treating naturally-sourced waters from a reputable source like a clean spring spouting from the depths of the Florida aquifer or a pristine mountain creek ( also known as raw water), people are depriving themselves of probiotics, vitamins, and minerals like magnesium, which has a ton of benefits to the body!
Here's an example why cleaning out minerals in water OR adding things like fluoride upsets one mom, Katie Wells, who is VERY popular in the clean-living world: "Fluoride in drinking water binds with magnesium, creating a nearly insoluble mineral compound that ends up deposited in the bones, where its brittleness increases the risk of fractures. Water, in fact, could be an excellent source of magnesium—if it comes from deep wells that have magnesium at their source, or from mineral-rich glacial runoff. Urban sources of drinking water are usually from surface water, such as rivers and streams, which are low in magnesium. Even many bottled mineral waters are quite low in magnesium, or have a very high concentration of calcium, or both." (Source: Wellness Mama)
Another popular figure in the holistic world is Ty Bollinger whose blog post on detoxing says,"today's municipal water supplies may contain anything from fluoride, chlorine, and lead, to parasites such as Giardia, to endocrine disruptors found in oral contraceptives." Essentially, many holistic-minded folks understand that chemicals are put into the water to clean and sanitize it, but they also feel that doctors have not researched the long term affects of those chemicals over time and how the affect the human body. Basically, "poisons" clean things, but they should be entering the body in mass, especially without consent.
In this Health Guidance post, the author says, "Adding chlorine to water is actually adding a poison to the water we drink. Over time, chlorine taken in small doses will increase the risk of cancer, heart disease and other health conditions… Chemicals, such as pesticides and fertilizers in drinking water have been linked to birth defects. Yet, chemicals have been used for years to purify drinking water by killing the parasites that live in it. However, experts say that these parasites are becoming immune to the chemicals and are living after purification treatments. These types of parasites will cause serious health problems in your digestive system."
The above reasoning is the foundation for the raw water trend, which is gaining popularity with the natural-minded families. With the fear of chemicals or consumers' desire to have pure alkaline water like new brand Alpha Pure's spring water (which the FDA does require spring waters to be tested actually), certain companies, Live Water is an example, see an audience and are capitalizing on it in the name of health. (We DID reach out to Alpha Pure water based out of Ocala, FL, but they did not return an answer.)

Photo by Brodie Vissers from Burst
Sounds good? Well, many tout this as a scam due to multiple companies being ousted as just bottling up tap water and selling it for over $6 a gallon! However, Jonathan Belloit, President of WPC Industrial Contractors tests water to determine if is a health liability or asset and says raw water might not ALL be a scam since it would depend on where you live and what your source it. "Raw water (editor: think wells) was always the standard in rural Florida for years, but now that we have a population of over 21 million people, wells are a precious commodity and very hard to permit for consumptive use. Geologically speaking, Florida is a very young state, so it presents certain challenges when you draw from the Floridian aquifer. This is why you see so many innovations in the quest to reuse and recycle for public use, there is simply not enough water to go around, especially in South Florida and Tampa Bay."
More Experts Weigh In
Robert E. Duthie, Founder, President, & Bioengineer at Synergena International, Inc., gives some additional insight on a couple headlines:
Q: What exactly are microplastics, and where do they come from?
Plastic debris can come in all shapes and sizes, but those that are less than five millimeters in length (or about the size of a sesame seed) are called "microplastics. Microplastics occur from (a) deterioration of plastics – example is theplastic bottles disposed in the oceans, (b) microbeads – examples are found in health care products, (c) plastic flash – examples are the small, fine, extra plastic sheets or shapes occurring in manufacturing molded plastic merchandise such as toys, bottles, etc., and (d) garbage – example is non recycled plastic bottles.
The microplastics recently discovered in bottled water studies occurred from manufacturing and bottled water companies failure to debur and clean the bottles after manufacturing.
Q: How do people avoid them in their water and do you think this is a major problem for people to be drinking plastics in ANY amount or is ingesting a small amount daily no big deal?
Use glass, ceramic or stainless steel water bottles, and no… no ingestion of plastic is healthy. All people with immune system deficiencies need to be careful of their source and container for water.
But if processed properly, all water is safe. This holds true for a variety of safe water containers manufactured from FDA approved plastic.
Q: Okay, and now for the raw water companies….
SCAM. Would you drink water from a puddle?
Q: Other thoughts…
Municipalities (governments) are becoming fiscally strained to provide clean, safe water. The result will necessitate the populace purify their water. PFOA/PFOS is the next shoe to fall and Florida's water will soon be the
subject of discussion.
---
In the end, what are families to do? It seems like you can't win.
Well, many people will agree that a great way to have cleaner water is to install a carbon block filter water purification system, the most efficient ones, can remove contaminants down to 0.5 micron and leave your water with those healthy minerals. Some others: 1) Granular Activated Carbon (GAC) faucet filters such as TAPP 1: filters contaminants down to about 5 micron (micrometers) so most microplastics will be removed. 2) Reverse Osmosis filters and Ion Exchange: they can filter down to to 0.001 micron so will remove all microplastics, but are a lot more expensive and require maintenance.
Another thing to look into yourself is seeing if your local water treatment plants would or already use SIAD processing. Mr. Duthie does this to ALL his drinking water! When asking around, you can either contact a private water testing lab to see if there are any suspected contaminants or you can just ask your water facility. "All rate payers are entitled to information (editor: about your public water quality) in most states because it is public money and is considered public information," says Belloit. "Most utilities have that information posted, but it may have to be a written request. If not most laboratories at your public health department can perform an analysis."
It won't solve the microplastics dilemma, but consider high silica content mineral water that still has minerals if you want added water benefits and are too nervous to go the raw water route. According to a lecture by Dr. Chris Exley, PhD at a January 2011 vaccine safety conference in Jamaica, this article says, "Dr. Exley mentions one agent that pushes out stored metals like aluminum from our bodies: High silica content mineral water. He mentioned two brands, Volvic, which is sold at various Whole Food and Trader Joe stores, and Spritzer, which is harder to find.
Lastly, maybe reach out to someone local in the water industry like we did with Natalie Cueva, and ask them questions yourself if you are distrustful of online reports! Natalie assured us, "I am glad (water) has chlorine and fluoride! We sample and test regularly for microbiological contaminants (among other things) and have the chlorine to thank for good results…In my lab, we test the raw and treated product all over the service area and are heavily scrutinized at the state level. We have to regularly be audited and send extensive quality reports of many kinds… Because of my involvement and what I have learned about water treatment, I am all the more confident in how the system is set up. There are struggles (i.e. aging infrastructure), and some systems have obviously fallen short of the required regulations, but improvements also are constantly being evolved. I genuinely believe that most of the people in this business actually really care about public health and safety and want customers to have the best product possible."
In the end, most Americans are blessed to not have to worry about where their next clean water source will come from, but there's obviously many opinions! What do you do for drinking water?
Share your tips and favorite products with us on Facebook or leave comments so families might continue learning.
The post What's the Deal with Raw Water, Tap Water, Microplastics, & More? appeared first on Shannon Miller.