A Claddagh Ring is a world-famous traditional ring which originates from Ireland. The ring has three main components, the hands which represent friendship, the crown which represents loyalty and the heart which represents love.
Shop now on Etsy
Claddagh Ring
The customs and designs which have long been associated with the ring originate from the small Irish fishing village of Claddagh, which was historically located just outside of the old city walls of Galway, but is now part of Galway. Evidence suggests that the ring first appeared in its modern form during the 17th century.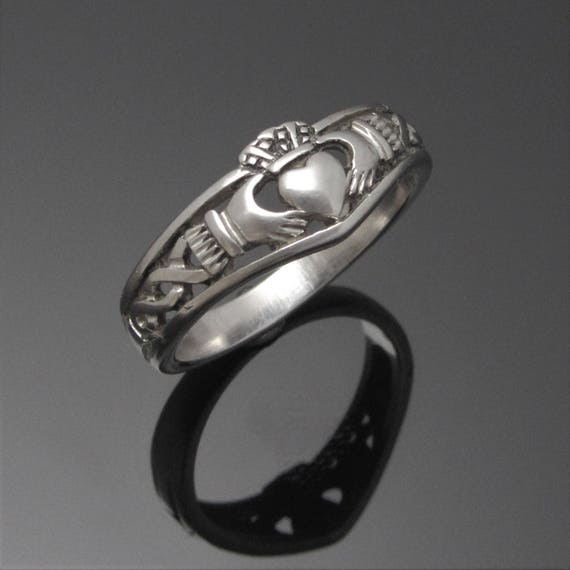 Silver Claddagh Ring - Buy from Etsy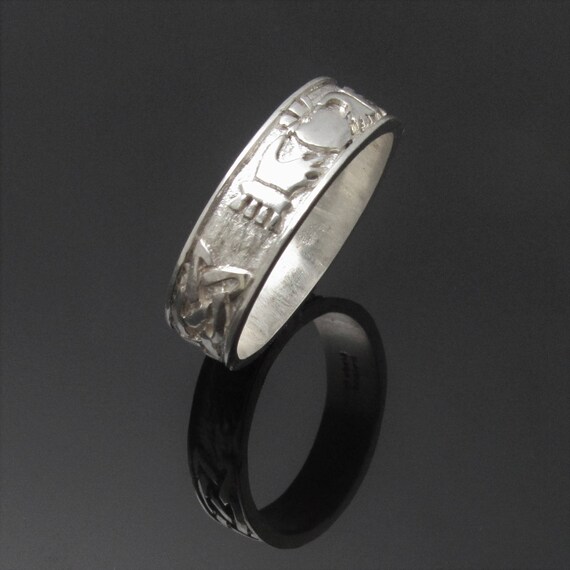 Sterling Silver Claddagh Ring - Buy from Etsy
The Claddagh ring is not wholly unique in its appearance and is, in fact, part of a family of rings call 'fede rings', which are common across much of Europe. The name 'fede' basically translates into 'hands joined in faith'. These types of rings date back as far as Roman times, where the gesture of clasped hands was linked to pledging vows, and as such these rings were used as wedding or engagement rings.
Fede rings are distinguished by the design of two hands clasped together to symbolise faith or trust. The Claddagh ring is a slight variation on this which also combines a heart and crown into the design.
The interest in Claddagh rings exploded during the end of the 20th century, where it came to symbolise Irish identity and for being a fashionable piece of jewellery. Modern interpretations of the Claddagh ring have begun to incorporate additional Celtic and Irish symbolism, further accenting the Irish origins. These design enhancements correspond directly with increasing worldwide popularity and may be linked with Irish descendants looking to increase their sense of identity.
Claddagh Ring Origins
Galway has long been a producer of Claddagh rings, but the name 'Claddagh Ring' was not applied to the ring before the 1830s.
One such jeweller and maker of Claddagh rings was Bartholomew Fallen, who created these rings up until around the 1700's. Fallen's rings are some of the oldest surviving examples of this type of work, with many to this day still bearing his mark.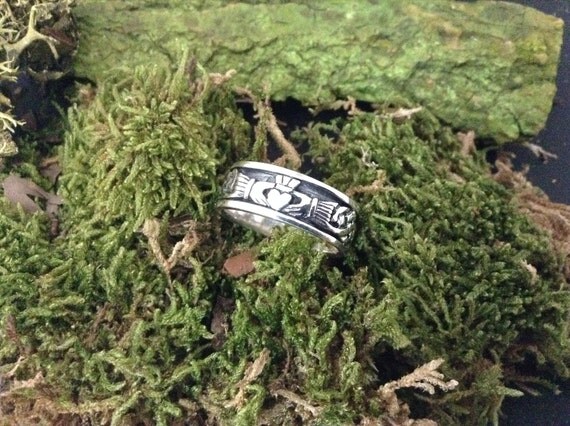 Men's silver Irish Celtic Claddagh ring - Buy from Etsy
There are numerous legends surrounding the origins of the ring, many of which involve the silversmith Richard Joyce, who worked in Galway during the 1700's. The story goes that Joyce was once captured and kidnapped by Algerian pirates during the year of 1675. Joyce was subsequently sold into slavery and ended up working for a Moorish jeweller, who taught Joyce the goldsmith craft. It wasn't until many years later that King William III sent an envoy to Algeria to demand the release of all captured and enslaved British subjects, this included Richard Joyce. So after 14 years, Richard Joyce was finally released, returning to Ireland with his new found skill and the rings he had fashioned in captivity, these rings are now known as Claddagh rings. The legends state that he gifted one the rings to his sweetheart, married and then became a very successful jeweller. His initials are now on some of the earliest surviving Claddagh rings.
It wasn't until the 20th century that knowledge of the ring and its customs spread beyond the limits of Galway. During this time Galway jewellers began to market it to British consumers and meaning and use of the ring began to gain traction and the ring became increasingly popular.
Claddagh Ring Usage and Symbolism
A Claddagh ring is unique in its appearance, featuring a heart clasped by two hands and usually, the heart is surmounted by a crown. These three elements each symbolise a different aspect, the heart symbolises love, the hands symbolise friendship and the crown symbolises loyalty. It is also possible to get a Claddagh ring without the crown, these are referred to as 'Fenian' rings, but the design is not as popular as the more common crowned version and hasn't gained as much traction with the public. The rings are especially popular with individuals with Irish heritage, such as Irish Americans, where they are commonly used to show culture as well as symbolising friendship, engagements or weddings rings.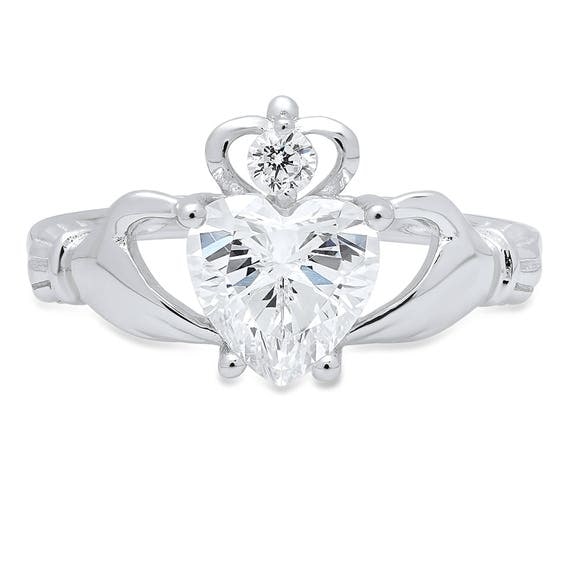 Claddagh Promise Ring - Buy from Etsy
Claddagh Wedding & Engagement Rings
Claddagh rings can, of course, be used to demonstrate friendship, but they are more often used as symbols of love and as such Claddagh engagement rings and Claddagh wedding rings are more common. A mother may gift the ring to a daughter when the daughter comes of age. There are numerous wishes and statements associated with these rings, including 'Let love and friendship reign'. It common practise in Ireland, Canada, the United States and other parts of Irish migration, for the Claddagh ring to be passed down from generation to generation, from mother to daughter or from grandmother to granddaughter.
A Claddagh ring can also be worn to demonstrate the wearer's relationship status.
• If the ring is worn on the right hand with the heart facing away from the palm, the wearer is indicating that they are single and might be looking for love.
• If the ring is worn on the right hand with the heart facing towards the palm, the wearer is in a committed relationship.
• If the ring is worn on the left hand with the heart facing away from the palm, the wearer is said to be engaged.
• If the ring is worn on the left hand with the heart facing the palm, the wearer is said to be married.
There are localise variations on the means interpretations of the symbolism. However, all symbolism is a relatively recent addition to the story of the Claddagh ring, there is little in the way of evidence to suggest that the rings have always had this meaning in Galway.
Picking The Perfect Claddagh Ring
If you've been captivated by the romance and legends surrounding Claddagh rings, you might be interested in picking out the ideal ring for the loves on in your life – or maybe just as a treat for yourself. The symbolism and stories behind Claddagh rings have endured through the ages as they are fundamentally associated with love, faithfulness and romance, which is something dear to almost everyone's heart.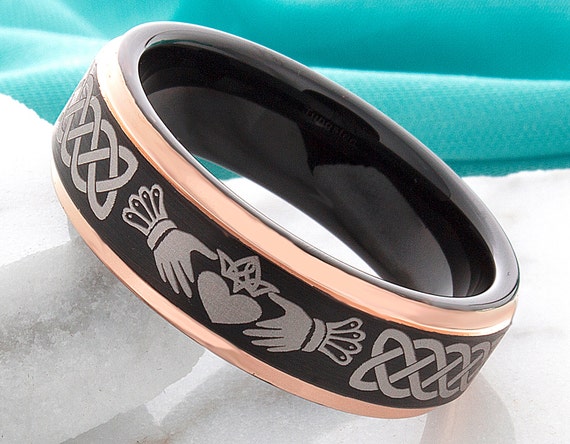 Celtic Claddagh Ring Tungsten Wedding Band - Buy it on Etsy
There is perhaps no better way or medium to celebrate your appreciation and love for someone dear to you than to give her or him an ageless Claddagh ring. If you happen to be of Irish descent, then the ring will be especially meaningful to you. Claddagh rings come in a huge variety of styles, finishes and at a range of price points, so you should be able to easily identify something that suits your needs.
Claddagh Engagement Ring
What better way to surprise your future fiancé than buying her a diamond engagement ring with a Claddagh design. So while the central diamond takes centre stage, the subtle or bold Claddagh features can add an increased depth of meaning for both you and her. There is a huge range of Claddagh engagement rings available, so there's bound to be a style or design which meets your exact requirements.
Regardless of whether the Claddagh symbols are lightly engraved into the engagement ring, or the ring is fundamentally Claddagh in design with an added diamond, you can be assured that your choice of a thoughtful engagement ring will be especially appreciated and deeply meaningful. A Claddagh engagement ring is a brilliant conversation starter and it will surely always evoke interest.
Claddagh Rings for Men
There are essentially two sorts of men's Claddagh Rings. There's the classic Claddagh ring that can be work with its heart facing inwards or outwards, or there are contemporary Claddagh wedding rings that are subtly engraved with the Claddagh symbols. Claddagh rings are not just for women, men have been wearing the rings for hundreds of years, famously both Bono and JFK Jr have both been known to wear a Claddagh ring. The Claddagh wedding ring offers an interesting alternative choice which is often understated in design and looks.
Claddagh Birthstone Rings
A Claddagh birthstone ring is a genuinely lovely gift idea. The rings are relatively inexpensive, which is largely due to the use of silver and semi-precious gemstones. Adding a birthstone to a Claddagh ring can really elevate the thoughtfulness of the ring and can make the gift quite personal and touching. The central heart of the ring can come in a range of birthstones, each one shaped to match the heart shape.
Claddagh Ring Care
As with all jewellery, it is important to care for your Claddagh ring carefully, excessive heat, abrasion or exposure to harsh chemicals may harm the ring irrevocably, so it's best to avoid wearing the ring while cleaning or performing DIY. If the damage is caused, I would urge you seek the help of professional jewellers to assess the likely cost of repair.
Cleaning a Claddagh Ring
Removing everyday dirt is a relatively straightforward task, but extra care should be taken with rings that contain a gemstone. First, prepare a bowl of warm water with a small amount of mild soap added. Submerge the ring in the water and using a soft bristled brush (such as a baby toothbrush) or by using a soft cloth, work to remove all visible dirt and grime. Take care of gemstones to make sure excessive force is not applied. Once the ring has been cleaned, rinse the ring using freshwater, removing all soap residue. Lastly gently pat the ring dry with a soft cloth and leave in a well-ventilated area to dry, do not leave the ring in direct sunlight.
If you can, take the ring to be professionally cleaned at least once a year.