For most organizations, Software Testing is a vital cog of the software development cycle.
Software testing enables you to evaluate your products performance by double-checking it in iterative testing cycles prior to release to make sure that the software is defect-free and will collectively satisfy clients and end-users objectives.
In an era of massive surge in software usage, glitches are no longer tolerated – it could leave a permanent mark on the reputation of your organization and can incur huge financial losses to yourself as well as users.
Software testing has evolved, newer technologies continue to proliferate into more software applications bringing new challenges to testers coupled with the rising demands of end-users who need better features with no bugs.
Software testing will always be an integral part of the software development cycle. Whether it's new software or an updated version – you need to test.
Transform testing protocols with Artificial Intelligence (AI) at its core:
AI continues to disrupt many facets of our lives, processes that were otherwise "painstaking" has now become obsolete.
The inclination to adopt AI and Machine Learning technologies into software testing
extends not only to speed up testing processes and use less human resources, but entails several other advantages featured below:
Immersive performance enhancement:
Most companies claim to follow an Agile or DevOps module to iterative testing. Yet, manual testing may never be able to break past the bottleneck of time-consumption and accuracy in the vicious cycle of iterations; after all to err is human.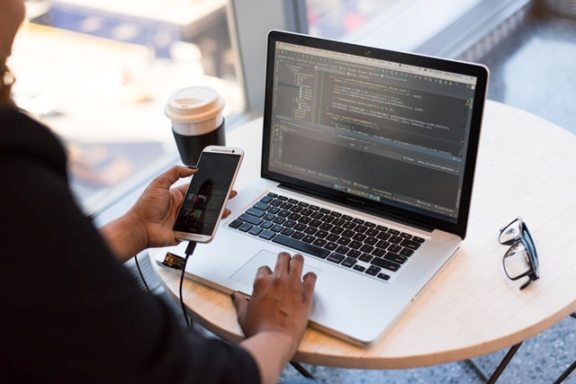 Now imagine if a machine based on precise algorithms can iterate processes with copious amounts of data maybe even in real time. You not only gain precise perspective in detecting the source of the bug, but the whole process can be shredded down to mere minutes – instead of days.
Learning drastically improves:
There has never been a software without bugs. Even your most trusted mobile app requires bug fixes. Take a look at your favorite app on Playstore – every update mentions that "bugs were fixed".
Most software testers will profess that bugs may not always present the worst scenario. Bugs allow us to analyze an anomaly and its roots and create a better defenses mechanism.
Generative adversarial networks (GAN), is a part of unsupervised machine learning in which acquired data is fine tuned through various parameters of a neural network which then spars with other neural networks to essentially learn from each other and derive better results. Now imagine the technology is implemented into automated testing; we may be able to discover loopholes and eliminate bugs during the testing cycle.
Test at the speed of development:
Reports indicate that the role of the developer-tester is growing among many small to large corporate. Ideally a developer should be left to use his expertise to bring value to a product, a tester validates this value. The hybrid breed is a dangerous precedent diverting both groups from their core value – the product itself.
AI implementations could alter the dynamics of project scheduling. If we were able to optimize the entire testing phase to derive faster results in which defects could be simultaneously corrected by the development team before sending the final results to QA.
AI embraces change:
How do we adapt to change – through "foresight" which allows us to be prepared.
AI runs a comprehensive predictive and prescriptive analytics to indicate risk and defects from source code inputs to derived outputs. Prescriptive testing is done on a continuous feed of test scenarios; tapping into every single button or feature to find any performance or functionality glitch.
Manual testing carries the same tedious testing process to analyzing new source code brought about by a software update. AI isn't hard-coded and can automatically detect every new feature and path. Changes are quickly evaluated by AI bots to either be a addition or a bug.
Conclusion:
Speed is of paramount importance in a digital economy. Your business cannot afford to incur losses due to malfunctions or delays. Soon, manual testing teams will not be able to cope with the pressures of escalating demands and short timescales of a evolving software market.
AI bots bring greater agility, accuracy and quality to your software testing process. AI algorithms can be precise through human inputs or self-learning protocols to provide enhanced analytics, predict outcomes, detect and easily trace defects, gain real time feedback and improved optimization of every process.
With so many benefits, the underlying question is – are the days of the software tester numbered?
At the moment, AI cannot possibly replicate the intelligence and creativity of humans to resolve complex problems, in fact; it still depends on human based algorithms. Yet, most testing is based on iterations – an area where AI is far superior.
Most experts predict a paradigm shift from manual/traditional automated testing to AI based automated testing. But we might just be able to gain more from the cumulative strengths of both AI and human intelligence.