A traditional dessert made with Wheat Flour,ghee and Jaggary
Golpapdi or Gur Papdi is a popular dessert or sweet from Gujarat which is specially made during winter. Golpapdi is also popular in Sindhi community as sukhdi and in my home town Mathura we call this –kasaar.It is quite an easy recipe which is great as a dessert,a healthy recipe for kids lunchbox and good as a travel food and have a long shelf life .
A good amount of ghee, jaggary, dry fruits and Sesame Seeds goes into it which gives warmth and energy to our body,sesame seeds and nuts are very good for health as they are rich in calcium ,fat and minerals.You can also add warm spices and herbs into it like nutmeg powder,dry ginger powder,clove powder, gund, dry grated coconut etc according to your choice.
I have made the simple basic version but you can adjust it as per your choice.It is also a great post natal food and be given to new mothers .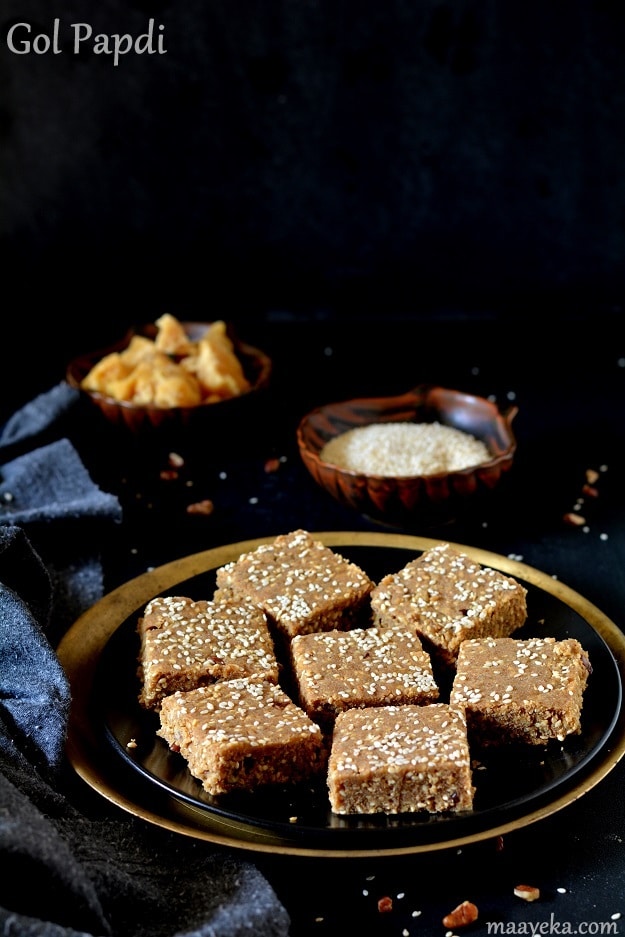 A traditional dessert made with wheat flour,ghee and Jaggary
Course

Desserts/Sweets/Mithai, Kids Friendly, Tiffin recipes, Travel Food

Cuisine

Gujarati Cuisine, Sindhi Cuisine
1

cup

Wheat Flour / Atta

1

cup

Clarified Butter / Desi Ghee

1

cup

Jaggary / Gud

grated

1/2

cup

sesame seeds /til

1/3

cup

Dry fruits/mewa

chopped
In a heavy bottom pan add ghee.

When ghee melts completely add the wheat flour.

Roast wheat flour till it become golden and start giving a nice aroma

Now add sesame seeds and stir for a minute.

Now remove the pan from the flame .

Quickly add the grated jaggary and chopped dry fruits and mix it immediately.

Now spread the mixture in a greased plate and level it with a spatula.

Sprinkle some toasted sesame seeds over it and press gently.

Let it rest for 5 minutes and then cut into squares pieces but don't remove them from the plate till they cool down completely.

When it come to room temperature then remove the square pieces and store in a air tight box.
NOTE-
You can also add 1.5 tsp dry ginger powder /saunth ,1/3 cup grated dry coconut, 2 tbsp of crushed gond, 1/4 tsp nutmeg powder,1/2 tsp cardamom powder in it if you wish.
The amount of jaggary can be adjusted according to your taste ,can add 2-3 tbsp more or less.
The post Golpapdi, Gur Papdi, Sukhdi appeared first on Maayeka. Indian home recipes - just like Maayeka!