OVERSEEN & OVERHEARD

TIME TO MAKE THE MOVIES

...Time Inc. is venturing into films. According to the media giant, it has teamed up with man
agement-production company Collective and XYZ Films, a production firm that finances rights acquisitions, script development and bridge lending, to produce features and documentaries based on articles published in Time Inc. magazines--Time, Sports Illustrated,
Fortune and Life. Here's how the deal works: XYZ will contribute a seven-figure development fund that will option articles, hire screenwriters and tie talent to packages that ca
n then be shopped to studios. The first project out of the gate will be based on a Sports Illustrated article entitled "Breaking the Bank" about Ultimate F
ighting Championship player "Lighting" Lee Murray, who is suspected of masterminding the largest bank heist in history in 2006. Smart move for magazines to venture into other arenas, given the stats released this week that magazine newsstand sales dropped 6.3% the first quarter of 2008. To make the
Time Studios venture even more successful, the company will need to not only reach out to Urban Hollywood, but to also pr
oduce films that wil
l appeal to a multicultural audience.

THE BIBLE FOR SALE?
...The rumor about the Hollywood Reporter being placed up for sale b
y the Nielsen Company is the talk of the town
. The Hollywood trade bible has been down in readership and ad sales. If the gossip mill is true, this only points for the need for more diversity in the media.
And as the browning of America continues, it is only wise for all media--including the trades--to boost their multicultural coverage and readership.
DATE WITH A DIVA

...It's almost hard to believe but it's been 18 years since actress Sheryl Lee
Ralph launched her annual DIVAS: Simply Singing (www.divassimplysinging.com/) to benefit AIDS programs. We just got word from her camp that this year, the charitable event will take place October 11th in LA at the Wilshire Theatre
Beverly Hills . Confirmed DIVAS slated to perform are leg
endary singers
Patti Austin, Siedah Garrett, Miki Howard. All money raised through their efforts goes to help those in
fected and affected by HIV/AIDS, making this a great event to support.
FAILED TEST...NPR has pulled the plug on its experimental weekday morning program "Bryant Park Project," which was aimed at drawing a younger audience. Hosts Alison Stewart, formerly of MTV, and former NPR radio host Luke Burbankwrapped up their last broadcast of this New York-based program on July 25. You can't say NPR didn't try; the first-year budget for the program, which debuted Oct. 1, was more than $2 million. The live two-hour program included a range of topics from news to culture. Despite promise the show was on shaky footing from the start, say insiders. First Burbank quit before the debut, staying on on-air just for three months. Stewart, on maternity leave, was then absent from the show for weeks. The news anchor, Rachel Martin, jumped to ABC News in May and two NPR execs who helped develop the program departed. The show's idea seemed innovative enough, but the misstep may have been in not tapping young, fresh faces as hosts and anchors. Stewart, now 42, is a seasoned journalist but the target audience may have been itching for a media newbie. And the lack of marketing certainly didn't help draw audiences to the program.

CAN YOU SAY "STAT"?...Film actress Angela Bassett is spreading her wings. She's finally making her small screen debut. Bassett
has signed on to the cast of "ER" for the long-running series' fina
l season. As will all those who pass through ER's hospital co
rridors, Bassett's character will have a troubled past. She comes to the ER as a
doctor just back in Chicago after a few years in Indonesia doing tsunami relief. While it'll be great to see Bassett in prime time, The A-List can't wait to see her in the just-wrapped B.I.G
. biopic Notorious.
GIRL SURFERS

...Cyber power, that's what Black Women are going for, so a new study says. It seems Black women are more likely than other female consumers to spend time using technology, and they view cellphones and the Internet as tools of empowerment and self-expression,according to a new E
ssence Magazine survey. Blac
k women are five times more likely to use cellphones for three or more hours a day. The survey found Black women, 31% of those questioned, also embrace new mobile technology, with 21% of them using cellphone Web browsers to make purchases, compared with 8%
of
other women.
With all this usage by Black females,
content distributors and providers are missing the boat by not creating more online destinations catering to this growing market.
Surf on sisters, surf on.

GOVERNMENT AT WORK (WE HOPE)...At last, someone in government is moving to create more Minority Media Ownership, something The
A-List has been calling for since we created a "increased opportunities" petition to the FCC (

http://www.thepetitionsite.com/takeaction/463150484

). A bill to promote minority media ownership was recently introduced by U.S.
Senator Robert Menendez (D-NJ) The bill supports diversity in media ownership with new legislation to restore the tax certificate policy for sales of telecommunications properties to socially disadvantaged businesses, or SDBs. The tax certificates policy, according to the proposed bill, should cre
ate new opportunities for socially disadvantaged broadcasters and encourage investment in their companies. It would also promote diversity of voices in the nation's current media outlets. The bill would provide $350 million in tax certificates for use over a six-year period to qualified SDBs to use as incentives for corporations to sell telecom properties to them. In a statement, the senator said: "I support diversity in media ownership because it provides a window into comm
unitie
s, languages, views, and values that might not otherwise be heard without these outlets...Unfortunately, we see major news outlets airing too many sensationalist stories on outlandish topics, such as immigrants with leprosy, black street gangs or Mexican plots to
re-co
nquer the United States. Americans should be able to flip to stations where we can hear about Asian-American CEOs revolutionizing their industries, African-American doctors saving lives, and Hispanic soldiers, many of whom are not yet citizens, bravely fighting overseas under the flag of the country they're proud to call their own." The real test will be if this moves through the Senate with fast
approval. We'll keep you updated.
HIP HOP HOLLYWOOD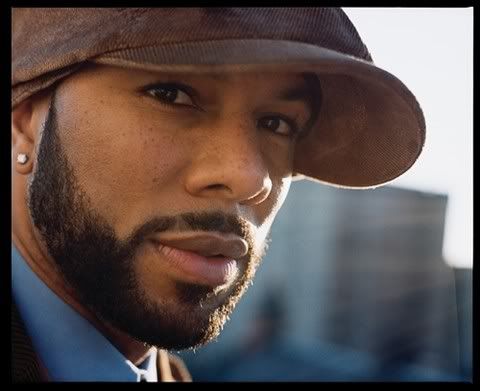 THE END IS NEAR

...Another Terminator is on the way. John Conner (Christian Bale) teams up with a freedom fighter,
"raptor" C
ommon. Terminator Salvation: The Future Begins is a Halcyon Pictures

production and will be distributed by Warner Bros, domes
tically. Son
y will pick up the international release. McG (aka Joseph McGinty Nichol) is directing. In the flick, a th
irty-something Connor leads what is left of the human race in a battle against the machines. If Terminator is as popular as Bale's Dark Knight movie, then Common has jumped on board
a blockbuster.
MASTER TV

...Is Master P turning into the Tyler Perry of Hip Hop? Maybe. Master P, who now goes by his given name Percy Miller, has announced he's launching a family-friendly cable network, Better Black Television (BBTV). The network will provide "positive content for a black and brown culture," according to a press release. BBTV, set to launch in 2009, will be a general entertainment channel running a wide range of scripted, unscripted and news programming, including drama and comedy series, movies, animation, reality, politics, sports and entertainment news, children's educational and teen programming, as well as "responsible hip-hop music and videos." Check out the lineup of BBTV advisory board members: Denzel Washington; Vault Load Films president Jim Finkl; NAACP executive director Vicangelo Bullock; NBA player Derek Anderson; cable industry veteran Prof. Sal Martino; hip-hop pioneer DJ Kool Herc; entrepreneur Olatokunbo Betiku; and real estate mogul Curtis Oakes. The cable channel is in the process of purchasing local cable channel affiliates across the country. Production on BBTV's programs, which include a classic R&B and Hip Hop music video show, a children's education program entitled, cooking show, a finance program, a comedy show, a bilingual soap opera and film showcase has begun in California, New York, Louisiana and Florida. Sounds like P, excuse us, Mr. Miller is serious about this venture. We'll keep you updated on developments.
EXECUTIVE MOVES
Boos
t Mobile names Matt Carter senior vice president and GM
Boost Mobile, a division of Sprint Corporation, has named Matt Carter as Senior Vice President and genera
l manager. Carter now lead Boost's operations, including the Marketing, Sales and Distribution, Product Development, Finance and Customer Service departments. Most recently, Carter served as senior Vice President, base management at Sprint. Carter holds a
bachelor's degree from Northwestern University, Evanston, Ill., and an MBA from the Harvard Business
JAZZMYNE PUBLIC RELATIONS CELEBRATES 20 YEAR
S

A-list celebrities, athletes, aut
hors, filmmakers, music producers, rappers, special events and businesses alike have received not only expert publici
ty service, m
anagement and consulting and pers
onalized service from Jazzmyne agency head, Makeda Smith. Now celebrating 20 years in business, the boutique PR firm has consistently boasted a client base that

competes with the majors. Past celebrity accounts have included Kevin Eubanks, Jamie Foxx, Nick Van Excel, Mo'Nique, Dorien Wilson, and J. Anthony Brown, to name a few. Prior to launching Jazzymne,
Smith was Associate Director of West Coast Publicity at Hervey & Company, a public relations firm headed by industry veteran, Ramon Hervey.
NEWS
NCBCP and AURN announce joint initiative to "Get Out the Vote"
The National Coalition on Black Civic Participation (NCBCP) and American Urban Radio Networks (AURN) have launched a nonpartisan radio campaign aimed at ensuring Americans register, verify their names on voter rolls and vote on Election Day. Over the next two months, the Unity '08 Campaign will target 18 states with their message of "Be the Change." According to the organization, in addition to promoting the NCBCP's Unity '08 voter assistance hotline 1-866-MYVOTE-
1, the goal in the initial phase of the radio campaign is to make sure each eligible voter is registered, locates their polling place in advance and knows what to do if they incur problems at the polls. The initial phase of the campaign runs through October 1 and wil
l be followed with phase two, encouraging citizens to vote early or on Election Day, November 4, 2008.
SPOTTED

Kenny G headed to KJLH-FM radio station in Los Angeles where he was spotted posin' with KJLH Program Director Aundrae Russell, Stevie Wonder, Will Downing and KJLH Morning Host Guy Black. Seems Kenny G was at the studio promoting his new album Rhythm & Romance and he and Will Downing were both in town to perform at the LA Jazz & Music Festival on July 26 at the Greek Theater. Stevie Wonder surprised the crowd that night by joining Kenny on-stage during his set.
REMEMBERING...
BERNIE MAC & ISAAC HAYES
The tributes have
been flowing in for two Black Ho
llywood icons, who died suddenly last week and both of whom star together in the upcoming
Soul Men,
directed by Malcolm D. Lee and also starring Samuel L. Jackson. Our own Gil Robertson and members of his African American Film Critics Association had this to say.
"Bernie Mac had the ability to effortlessly make people laugh," says critic Wilson Morales. "He was an incredible talent with whom my colleagues and I in AAFCA always looked forward to covering. Bernie had a big heart and he will certainly be missed
by the members of our organization."
"The loss of Isaac Hayes less than 24-hours after Bernie Mac represents a major double blow to the entire entertainment industry, black Hollywood in particular," says AAFCA President Gil Robertson IV. "The art form and expressions created by Isaac Hayes in particular resonated not only in American pop culture but throughout American life. Both are talents that will be missed but always remembered."

The A-List is: Lauren Coleman, founder/co-publisher...Ann Brown, co-publisher...Melissa Ross, European correspondent...LeAnne Lindsay, contributor...Anthony Davis, contributor...Gil Robertson, contributor...Dan Williams, contributor...Jaleesa Brown, contributor...Clemetine Clarke, columnist