Ariana Grande posed with her puppy Toulouse in Vogue and revealed that she does not remember Thank U, Next because she was very drunk and sad (in that order, ok) after the death of her former Mac Miller.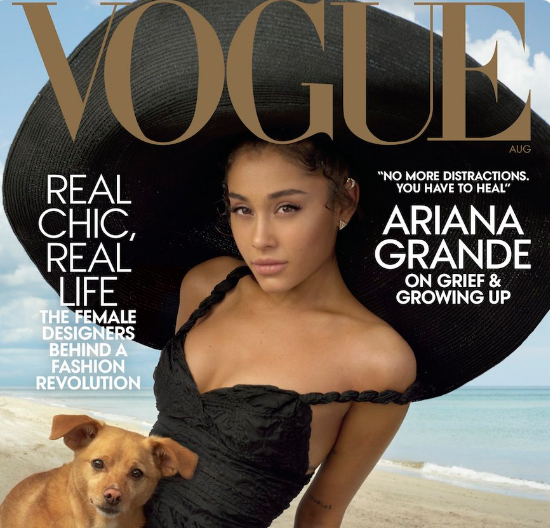 Ariana pointed out that Jungle City Studios is very close to her apartment, and her friends took her there with the hope of helping her with his grief for the death of his ex.
"My friends know how much consolation the music brings me, so I think it was a kind situation, let's go there" said Grande to Vogue.
Unfortunately, or fortunately, who knows ? – Ariana has no memories of that session that took her to her album "Thank U, Next" … and what little she remembers is very blurry.
"But if I'm completely honest, I do not remember those months of my life because I was ( a) very drunk (b) very sad. I do not really want to remember how it started or how it ended, or how suddenly there were 10 songs on the table. "
RIGHT! He remembers nothing …
Ariana Grande also said that the record made her realize that she needed to stop going out and have time alone, because she had been bouncing from relationship to relationship, including her ex-Big Sean, Ricky Alvarez and Miller. She was also briefly engaged with Peter Davidson.
"I think this is the first record and also the first year of my life where I realize that I can not let go of time with myself, only me. I have been in a relationship all my adult life. I've always had someone to say good night to. So "Thank U, Next" was that moment of realization. "

" It was a scary moment of "Wow, you have to face all these things now. No more distractions. You have to deal with this whole mess. "
And about her ex-fiancé Peter Davidson, Ariana Grande says it was an" incredible distraction "for the unhealthy pattern she had in LA.
" My friends were like, "Come! We are going to have fun this summer "And then I met Peter, and it was a great distraction. It was frivolous, funny, crazy and unrealistic, and I loved it, and I did not know it. I'm like a girl when it comes to real life and this old artist soul being around a million times. "

" I still do not trust myself with the things in life. "
Awww … the puppy stole that cover. Ariana looks unrecognizable, that hat that should weigh more than her. LOL! There I saw a report that said Ariana confessed alcoholic … omg!
. @ArianaGrande is our August issue cover star! Read the full profile: https://t.co/UxXtVicloP pic.twitter.com/1aMwsKlYHV

– Vogue Magazine (@voguemagazine) July 9, 2019 [19659005]

Pulling aside her perfect pop-star veneer, @ArianaGrande opens up about her last two years-a roller coaster of triumph, tragedy, and growing up. https://t.co/cOQnn7hpnX

– Vogue Magazine (@voguemagazine) July 9, 2019

Share this news!