Disclaimer: Everything down below are my personal opinions. I'm in no way affiliated with any corporation, especially The Bachelorette or ABC.
Before I say this, here's a disclaimer disclaimer: I'm not a Bachelor Nation super fan - I enjoy watching the show because it's pure white garbage and doesn't promise to be anything but that. Keep that in mind when I say that I'm a BIG fan of Nick Viall. I caught the past season of Bachelor in Paradise (not seeing any other of the 74 seasons he's apparently been on before, and I guess not liked?). He seems like a cool guy with a great personality and I have no problems looking at him. None whatsoever. So when I heard he was going to be The Bachelor, I had a renewed sense of interest in the franchise! I might have said this before but the literal same minute Jubilee was essentially kicked out of the house last year, I switched the channel to Hit the Floor and didn't care to watch for the rest of the season. I didn't even know what a Lauren B was until ATFR for The Bachelorette. Also, if anyone was wondering, after Jojo kept BOTH Nick and Alex (even though Stevie Wonder could see she was going to send them both home the next week) I had no interest in recapping the rest of the season. He final four (four white guys with brown hair and beards looked exactly the same and the combined personality of a can of Coke Zero). Bottom line, I like Nick, so maybe I can finally get through a season of recapping something in Bachelor Nation!
I don't want this to be a personal essay so I'll just jump into the meetings and my initial thoughts on the girls!:
Danielle L. looks like a Kardashian before the surgery, Elizabeth's wedding dress looked like an upside down white mushroom, Rachel is black excellence, Christen looked like a banana dipped in a vat of glitter, Taylor should have kept her mouth shut on all the piece of shit talk, did...they introduce Kristina and that accent?
Hussie came for his last name, the girl from Alaska should have left her coat in Alaska. Sarah had the nerve to run up to the runner up, Jasmine G....picked the ring she'll never be proposed to with and maybe if Liz wasn't so light skin and texted him back then maybe she wouldn't have to come on TV and compete with 29 other women for a guy she's already fucked and had a chance with. Poor girl, though. The only thing bigger than her ego are those white picket fences in her mouth disguising themselves as teeth. Chris Harrison popping out of the bushes to remind Nick that he knows Liz, and pretending the producers didn't toss his travel size ass at Nick like a football was pretty entertaining though.
Corinne runs a million dollar corporation but gave him a bag of tokens from the dollar store to 'cash in', Vanessa's...cute and who gave Danielle M. permission to stick her dirty ass finger in Nick's mouth (then...lick her finger again). Raven taught Nick to bend and snap, which was nice, and we finally have a light skinned woman named Jami to root for (spelled Jaimi) because Jami was a mess last season. I don't know who gave Darlene from Mr Robot the authority to pull a raw wiener from out of a book and stick it into Nick's mouth, but thankfully I left the room before I had to see any of that. Did Brittany give him a prostate exam? I would come for Lace(y) riding in on that camel if she didn't break her neck 6 times on the way to meet Nick, that looked painful.
And finally...Alexis came in a shark costume, claiming it was a dolphin. It wouldn't be this bad if she didn't already claim to be a dolphin trainer. Sweetums, dolphins are mammals, therefore they do not have gils. I don't know what knockoff costume shop the producers sent her to, but the package should have said 'Shark Costume'. What kind of dolphin trainer on God's green earth mistakes a shark for a dolphin? When she gets eaten after she's kicked off the show, no one is to blame but herself. We warned you, sis.
From the first conversation Rachel and Nick had, I started hollering for her to run to the front because she was front running the shit out of the whole episode. I did a praise dance when she was revealed to be the 'first impression rose' recipient like I was in church.
Corinne and them chestnuts she has stuffed in her cheeks are a piece of white work. Instead of kissing Nick when she had the chance, she walked away and interrupted his conversation with Daniel, I mean Vanessa, and just...planted one. She planted...something down his throat because three seconds in, eyes were closed and it looked like he was about to eat her damn face off. But my sweet sis Rachel got the last laugh in the end, didn't she?
Liz and those marble tiles in between her teeth did absolutely everything wrong tonight, and apparently for the last six months. So while she was busy on camera claiming that Nick never got in touch with her, it was revealed that she was the one who decided to not give him her number and just keep it into something casual. ...But you just sa...okay, moving on. I don't know who interrupted their conversation, but Nick was like:
ROSE CEREMONY:
01. Vanessa (the Canadian who speaks French)
02. Danielle L. (Kardashian)
03. Christen (the banana)
04. Astrid (...)
05. Corinne (Olivia/Chad)
06. Elizabeth W (upside down mushroom)
07. Jasmine G. (what is a basketball dancer?)
08. Raven (bend and snap)
09. Kristina*
10. Danielle M. (baby doctor)
11. Sarah (runner up)
12. Josephine (Dalia/Darlene)
13. Lacey (Hump day)
14. Taylor (her friends hate Nick and she made sure he knew)
15. Alexis (the shark)
16. Haley (?)
17. Whitney (?)
18. Dominique (?)
19. Jaimi (she has balls)
20. Britanny (?)
21. Liz (her teeth are bigger than the mansion)
*Where is her accent from? Did I miss something?
-I'm pretty sure I'm missing one, but
¯\_(ツ)_/¯
EPISODE GRADE: B
Stray notes:
-Seeing all the white men from Bachelor's past reminded me that maybe one day we can get a Bachelor who isn't white, that isn't named Juan Pablo.
-Goodness, were the girls this shallow last season (in the limo: He's so hot, he's so hot, he's so hot!)
-Corinne is trash but I can't wait to see this hoe fuck Nick in a bouncy house. Clearly she's around for the ratings.
-Even though I know it's probably some activity, I can't wait to see someone slap the dog shit out of Nick (no matter how much I like him right now).
-Dalia from Suburgatory/Darlene from Mr Robot AKA Carly Chaikin AKA Josephine: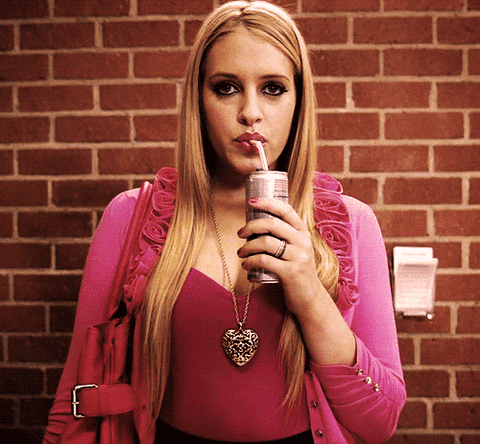 -I hope I'll be able to stick to these reviews every week because this season looks promising!
-Thank you to Yahoo for the pictures!