I should have seen Citizen Kane 1-2 years I started movie blogging, but instead just now. I found myself not feeling any horror movies to be seen now that I am carrying a baby (psst..big news!). It is maybe the only 'neutral' movie left on my BS list left to be seen this year.
I have always wondered what is behind the multibillionaire and the CEO of many companies? They often considered as heartless and mean, unattached to anything and they only believe in their money. Or, so they look like it. Citizen Kane looked like it in a glance. It is a story about Charles Foster Kane, the owner of The Inquirer, one of the biggest chain of newspaper in America back then. They said that Charles Kane was based on the owner of a big newspaper as well, William Randolph Hearst.
The story round about couple of reporters trying to find a link of Charles last word before he died; Rosebud. The search was almost without any result, but lots of story about the big man unfolded.
"There's only one person in the world who's going to decide what I'm going to do and that's me…"
Maybe the only humane thing I saw about Kane was him playing with his toy before the bank took him away from his parents. I didn't know that bank could ever took over a child and take care of their education. But apparently in this movie they can, after they find a mine in Kane's parents house. There wasn't much crying in that scene, just a hesitated kid traveling alone without his parents.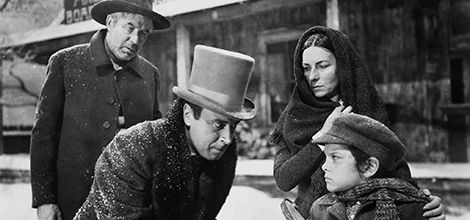 Kane always looked formal, unattached, confident and shielded. The way Orson Welles portrayed him (who also directed and produced the movie), he looked unbreakable and fearless. A man with power, a man that could be mistaken to be God. A man who thinks he's God, perhaps. He even bought a house opera for his spouse, and then later a palace called Xanadu.
But you have to wonder though, after all those power and money, what's the point?
Many people mistaken money for happiness, or a tool to be happy. Maybe it could. But, if you're still feeling empty, then there's something wrong. About some people that think buying things can make a problem gone, or a way for others to love him, well that's just another shortcut.
I realized just how revolutionary how this movie plotted its dense and solid story, that it made it to be a significant film in its time. But why sometimes, some dialogues got cut for another scene or another dialogue. As for the story itself, I didn't find it much surprising. Though, the great ending maybe the only thing that revealed Charles Kane was indeed a human, quietly crying for love.
Score :
The post Blind Spot '15 : Citizen Kane (1941) appeared first on Inspired Ground.