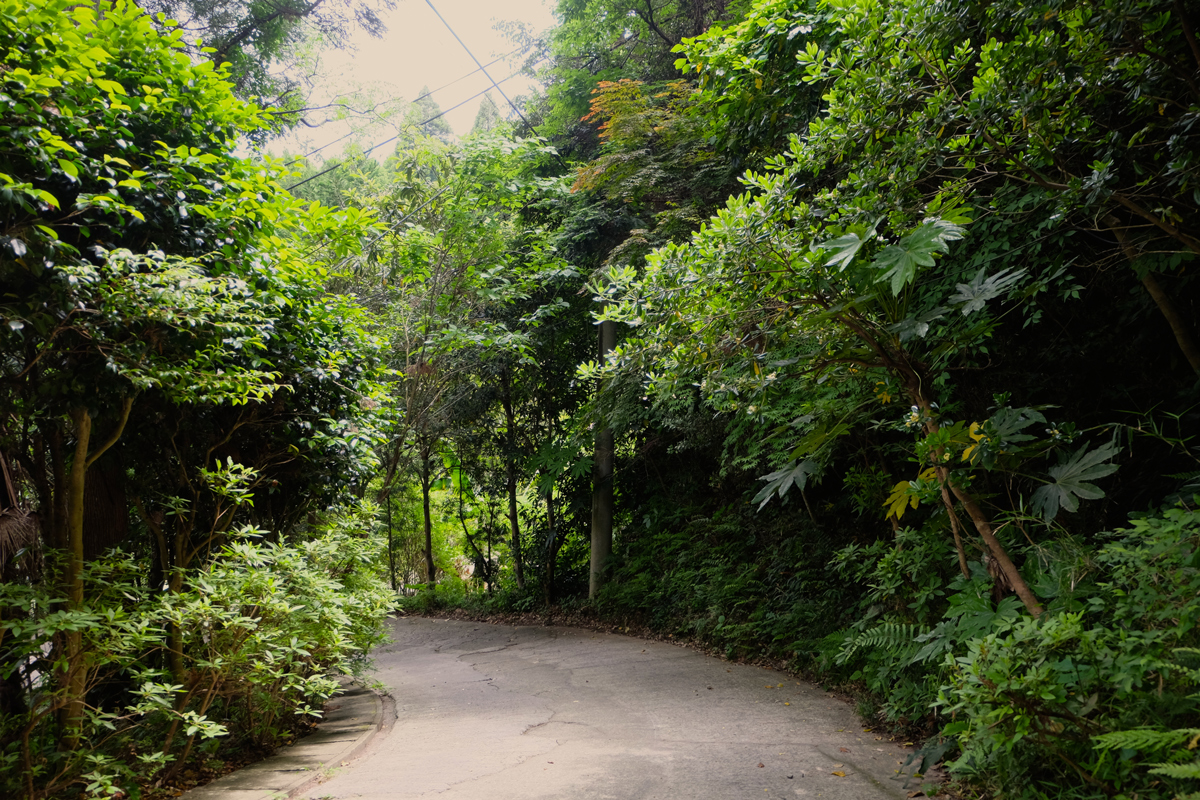 Chiba Prefecture in Japan
is east of
Tokyo metropolitan
and a perfect destination for those trying to experience the peak of
what the Japanese outdoors has to offer
- thickets of
lush bamboo
,
wooded hills of cedar pines and ferns
, wild poppies, irises, and daisies along the roadsides, vast and open rice fields as well as miles of sandy beaches. [caption id="attachment_12847" align="aligncenter" width="500"]
Serene pathways in Nakadaki Art Village[/caption] Along
the pacific coast
of Chiba prefecture, there are many little towns that
most foreigns visitors to Japan would never think to go and see.
Isumi
is one of those towns - small, remote, green, mostly inhabited by farmers (cucumbers, tomatoes, rice) and fisherman (sardines, lobsters, amberjack, clams). But
Isumi is special
- it has something special that sets it apart from all the other towns in Chiba Prefecture. It is home to
Nakadaki Art Village
,
an amazing forest village
that I have spent the past month living in. [caption id="attachment_12846" align="aligncenter" width="500"]
The forest atmosphere is very peaceful[/caption]
Nakadaki
is a place that people can escape the confines and bustle of Japanese cities and spend a few days relaxing in
a beautiful forest atmosphere
. It consists of
14 gorgeous accommodations
spread over Nakadaki Heights, a heavily forested hill surrounded by
rice fields
, only a 15 minutes drive from the beach. Hiking paths and wooded areas connect the cabins to each other, and there is a large outdoor tennis court and even two cafes on the grounds as well. [caption id="attachment_12849" align="aligncenter" width="500"]
Dappled light on your private porch at Nakadaki Art Village[/caption] I was totally baffled by the contrast between
the wild forest outdoors
and the interiors of
these luxurious cabins.
Each house is built
of wood
, giving them a very
'summer cottage' feeling
, and complete with nice furniture, wood stoves, outdoor porches with barbecues, and some even have large projectors and full bars. Its kind of a beautiful concept - the atmosphere of
camping
, but the buildings themselves are really nice. You can completely relax, hang out with friends and family, meet new people, go for hikes and find inspiration out in nature. [caption id="attachment_12843" align="aligncenter" width="500"]
The interior of Atelier House, one of the cabins[/caption]
All the cabins are different
; you can visit the website for yourself to choose which one you would like to stay in. It also depends on how many people are in your party. But if you want to bring a big group, don't worry - some of the larger cabins can sleep more than 20 people comfortably. [caption id="attachment_12848" align="aligncenter" width="500"]
The Grand Cabin is huge![/caption] I have had the work here in the village as an artist, designing the interiors of different accommodations. Based on my experience, I can heartily recommend vacationing here. Its perfect for families or groups of friends interested in spending time around a fire together in the evenings and going to
beach
or
hiking
during the day. In my opinion, you will be able to take advantage of the area best if you have access to a car. But if you don't, don't worry, its still possible! Nakadaki Art Village's owner, Yoji Fujimoto, is a very generous man, and he is will pick you and your party up from
Chojamachi Station
on the JR Sotobo Line and bring you to the village. [caption id="attachment_12850" align="aligncenter" width="500"]
My interior artwork in Studio House![/caption]
Nakadaki Art Village
is really popular among
Japanese vacationers
- people trying to escape the city and experience the tranquility of nature in comfort. Especially during the Golden Week in early May, it was filled with excited families and friends - more than 300 people came, but even with full reservations and the mouthwatering smell of multiple
yakiniku
barbecues, the village remained serene and beautiful. Nakadaki Art Village also works as a host site for
outdoor events or private parties
such as festivals, concerts, and weddings. It is possible to work with the village staff to organize a variety of ways to reserve and utilize the 20,000 square meter site. If you are interested in making a reservation for your nature retreat at Nakadaki Art Village, or have any questions about the accommodations please do not hesitate to call the village at +81.090.5390.8492 or use the inquiry form on their website. [caption id="attachment_12859" align="aligncenter" width="500"]
Loving the outdoors in Nakadaki Village![/caption] I loved spending time in the village, and I'm sure you will too! Please visit Nakadaki Art Village, because it is an experience you absolutely will not regret! Do yourself some good and time in the fresh air and greenery; maybe you'll have the chance to check out some of my artwork as well! [cft format=0]
The post Discover the Nakadaki Art Village in Chiba, near Tokyo appeared first on VOYAPON.