No, Barot was not in my original plans of #60DaysOfSummer. I'd come across the name before but never seriously considered it and I was not even sure about the location. But that day, while coming towards Mandi from from Bir, I came across a it again on Google and realized that it falls somewhere in between. I also found a few obscure trekking routes that seemed exciting. So, I took a bust to Bir.
The bus ride was short and mostly comfortable. Coming from Jogindernagar towards Mandi, the bus took a diversion at a small place called Ghatasaini and took a Road that was much steeper and curvier than the already curvy main road. This stretch is around 25 kms but the slope eases out after the midpoint.
Barot looked a bit demure at first sight. There were many small, wooden huts in the main market, making it look like lumber trading station from the Wild West. The very reason of its existence is a power project on the River Uhl, around which Barot is built. The barrage is right besides the market and there is a bridge to cross over to the other side. My online research showed that the place has barely two or three accommodation options. So, I saw an obviously named homestay called "Barrage View" and took up a room for the next few days. However, later on I discovered that there are many other options in the nearby areas contrary to what the online sources mentioned. This place is just beginning to experience a tourism boom probably. But I will come to that part later.
So, for the first day and a half, I spent Walking around the place, without trying too hard to do anything. Barot is that sort of a place that takes one back to a more innocent era. There are tourist facilities but it has not yet been turned into a Mcleodganj or Kasol or Manali. It will eventually but as of now it remains somewhat sleepy and unhurried. There are trekking routes but even they are barely explored and frequented mostly by locals only. So, I also soaked in the laidback air and experienced simple joys of life, such as sitting on the banks of a river, hiking around the nearby hills blooming with wild summer blossoms, and ogling at other people who do not have the same needs and exigencies as myself. There were here of sheep jostling for space on the bank of the river, schoolkids returning home after a hard day's work, and there were local women chatting idly while their cattle grazed around them.
I started by getting back to the road and walking Ahead. I passed the government run trout farm and then I came across the confluence of two hilly rivers, Uhl and Lamba Dug. There is a bridge over there that took me to another concentration of shops, homestays, and restaurants. So, the information I gathered wasn't really accurate. This is actually a separate village called Multhan, just ahead of Barot. But this area has more facilities for accommodation and food. I walked ahead along the road, which apparently goes towards Baragaon, which is an important point for long-distance trekkers. Personally, I just walked till the point where there is a small waterfall, and stayed there till sunset.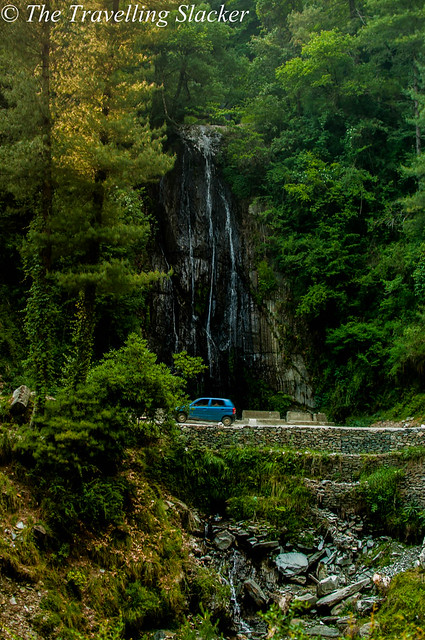 The next day, I crossed the bridge over Uhl just in front of my homestay. The interesting thing about Barot is that it is divided between two districts. So, far I was on the Mandi side. Now I'd crossed over to Kangra. There are many more homestays and restaurants on this side. I'd not noticed them earlier but after a bit of brisk walking, I discovered them one by one, along with a camping site too. The entire riverbank was covered with seasonal flowers.
It was an idyllic setting but I was now in mood for a longer hike. I was not sure where the road goes but I kept walking. I entered a more desolated area covered with dense vegetation. The first noteworthy thing I came across here is the haulage trolley track. It is a British era track that was built to transport luggage and people from Joginder Nagar. It looked like a monorail trek but it was going straight up towards the steep peak of a hillock and getting disappeared in the jungle. This could have been a tourist attraction all by itself but I was told that it is not longer functional. It is currently owned by PSEB (Punjab State Electricity Board) but I do not think they are really utilizing this well.
I walked further, walking past fields of potatoes and kidney beans on the slopes of small hillocks and also the path started to get steeper. I was walking along the Uhl so far. I saw many small streams meeting the river… And then it hit me!
First I thought someone had thrown a stone at me. But then I realized that a hailstorm has arrived from nowhere. I took shelter under a tree but I din't really mind it because this was something I had not seen in years. It was a regular affair during my schooldays in Assam and having lived in places like Mumbai, Bangalore, and Delhi for so long, I'd forgotten how it even looked like!
Anyway, it was just a passing storm and it got over as soon as it began. I resumed my hike and started to get more clearer views of the valley and the river as I gained elevation. I noticed rhododendron trees but the flowers had dried up. However, there was no need to worry because wild roses and various other wild flowers had made up for the same. It was pleasantly colourful and the rain had made them look even fresher.
I hiked for at least 3 kms and was planning to go ahead as far as possible till it was dark. However, the clouds made it darker than usual and a it became hazy too. I came back, with plans to trek more the next day. But that one is a longer trek and will discuss it in another post. Till then, just enjoy these ones.