Over the next few weeks, thousands of revelers will head to Mardi Gras in New Orleans, the biggest and best carnival celebration in the United States. From Mardi Gras balls and parties to lively parades, it's a great way to immerse yourself in the Crescent City's colorful culture.
In the early '90s, I was introduced to this legendary party for the first time and it left an indelible mark on my future.
For the next ten years, I made an annual pilgrimage to Mardi Gras as a tourist. I finally decided to move to the Big Easy 16 years ago in order to enjoy the entire carnival season. Seriously, that's pretty much the main reason I moved to New Orleans!
Mardi Gras season is my favorite time of year. And now that I have children, I get to watch them grow up as part of this fantastical party every February.
Since I've experienced it 27 times now, as both a local and a tourist, I can say with some authority that these are the things that nobody should miss come Mardi Gras time…
READ MORE: 20 Best Festivals in the World (For Your Bucket List)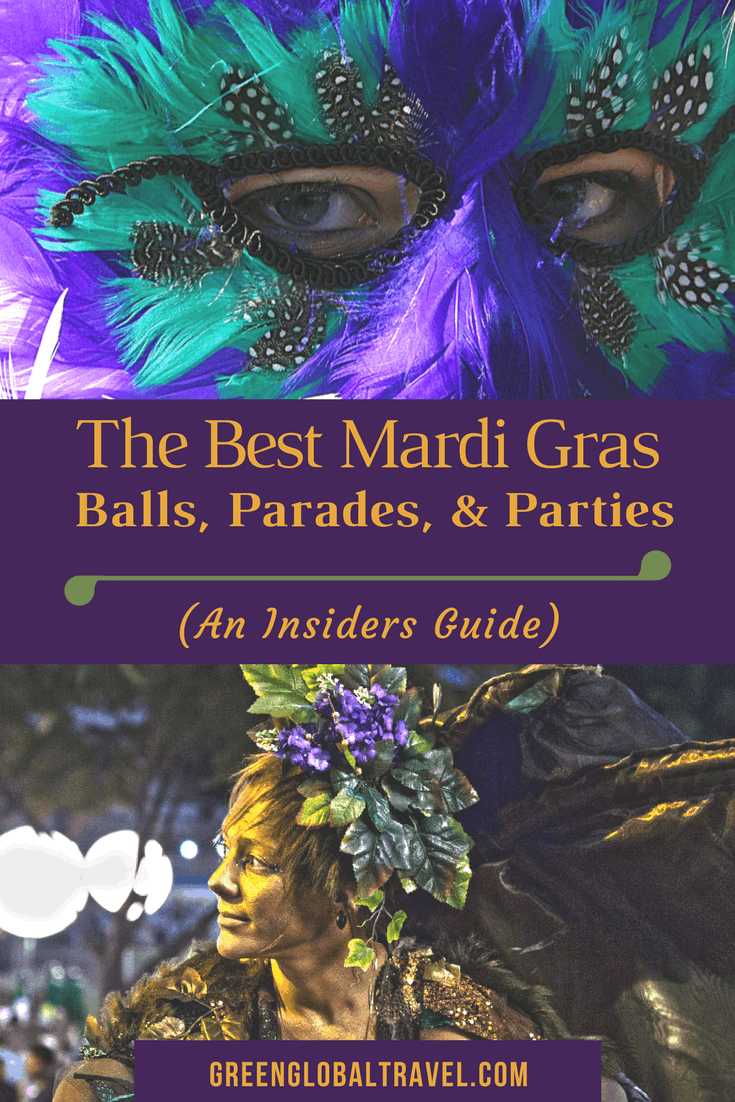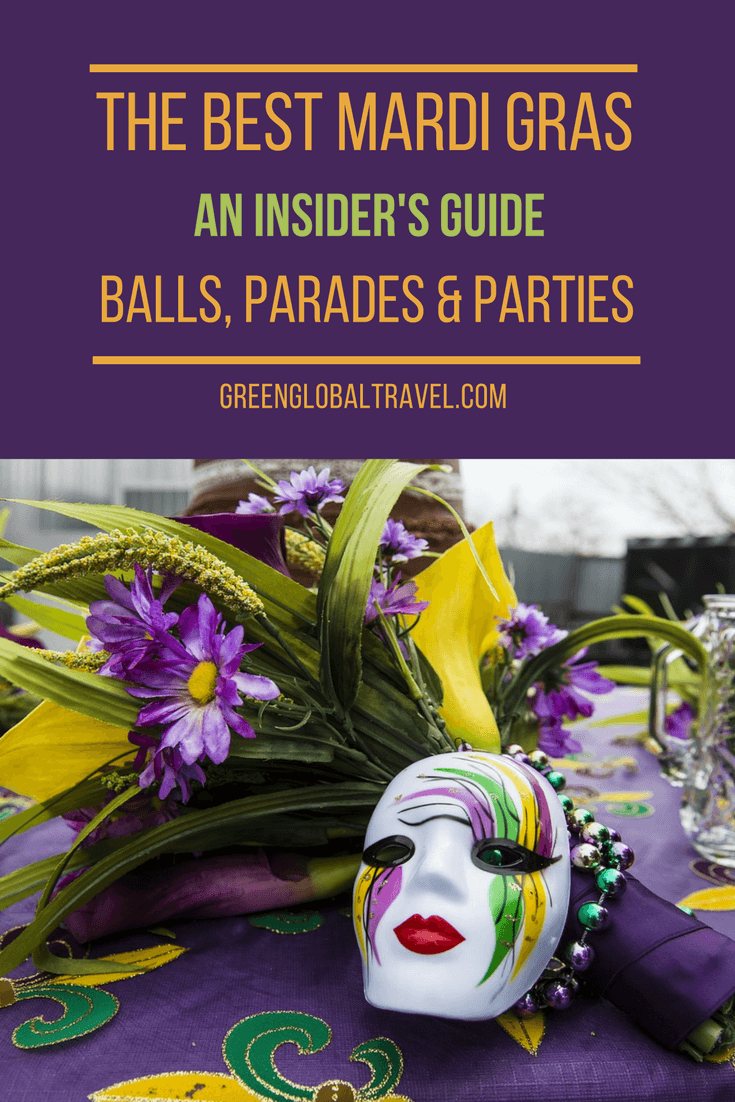 Best Mardi Gras Balls
Best Mardi Gras Parades
Best Mardi Gras Parties
Mardi Gras Traditions
Mardi Gras Tips
BEST MARDI GRAS BALLS
ENDMYION EXTRAVAGANZA
Most Mardi Gras balls are invitation-only. Tickets can be very difficult to come by unless you're a member of krewe or know someone who is. But this massive celebration, held at the Mercedes Benz Superdome, offers visitors a chance to get in on the action.
Founded in 1967, Endymion is one of NOLA's newer krewes. But, with 37 floats carrying 3,000+ riders (who toss out some 15 million beads), they're easily among the largest of the three "Super Krewes."
Their Mardi Gras parade rolls on the Mid City route, with massive floats winding up circling the floor of the dome around 8:30PM. More than 20,000 people typically turn out for the party, dressed to impress and ready to rock into the wee hours of morning (around 3:30 AM).
There's pyro, confetti, lasers, and big-name performers that, in 2018, will include Rod Stewart, Jason Derulo, and several local bands. Call 504-736-0160 for more info.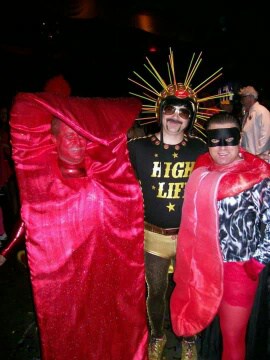 MOM'S BALL
There are secret balls all over New Orleans, but there's one society that has risen above the rest.
For 35+ years, the Krewe of Mystic Orphans and Misfits held a ball on the Saturday night of Mardi Gras with their own house band, The Radiators.
Though the band has technically broken up now, the party continues on. And while it may not be as decadent as when it was held at a VFW Hall in Arabi, it is still the place to be.
The ball is by invitation only. If you're dying to go, ask the doorman at your hotel, the bartender at Le Bons Temps Roule, or the crazy cats all decked out in costumes.
You never know if you'll be lucky enough to land an invite. My first MOM's Ball 20 years ago was a life-changing experience and, though the party has evolved, it's still my favorite night of Mardi Gras.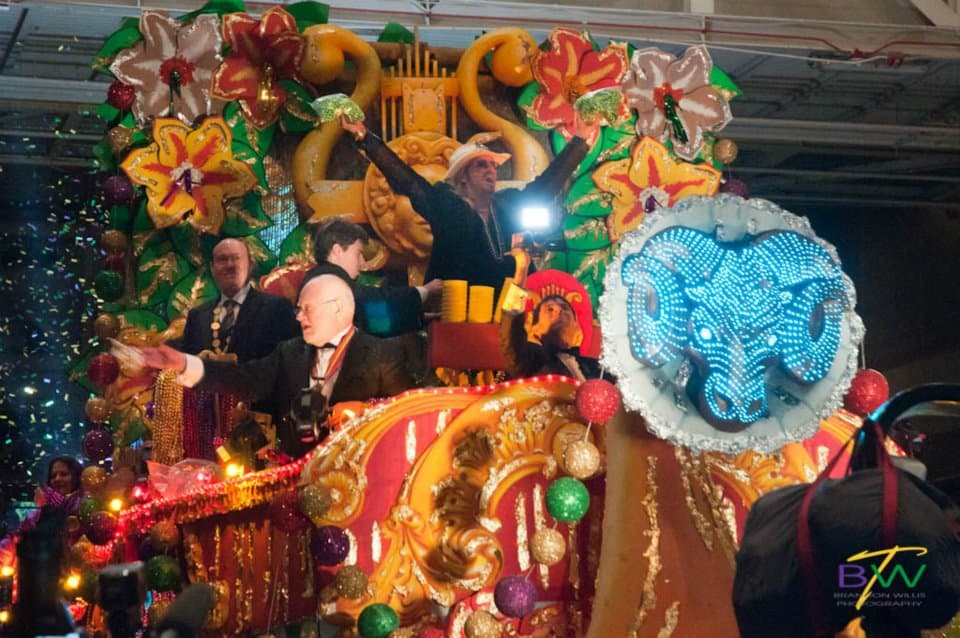 ORPHEUSCAPADE BALL
NOLA legend Harry Connick Jr. started a formidable Krewe that rolls down the Avenue on Lundi Gras and ends up at the Convention Center.
Their Ball is a black tie, BYOB affair that starts at 7pm and ends at 3am. Connick usually performs, along with the honorary captain.
The year I rode in Orpheus, we enjoyed a short set by Stevie Wonder. The following year it was country star Dierks Bentley.
Bacchus, Zulu, and Endymion may have bigger balls, but none are open to the public, with tickets available through the Krewe of Orpheus website.
Want to ride in a parade? You can do that, too, if you have a spare $2000 lying around. That's about what it costs for a membership and a modest throw package.
READ MORE: The Mobile Carnival Museum & America's First Mardi Gras
BEST MARDI GRAS PARADES
KREWE OF MUSES PARADE (Magazine Street)
Several years ago, the Mardi Gras gods decided to enlarge the routes for some of the parades, starting them further Uptown on Jefferson Avenue and Magazine Street before turning down Napoleon Avenue.
If you don't mind missing some of the earlier parades on the Thursday before Mardi Gras, you can find plenty of space to catch beads and enjoy the floats, bands, and marching groups in a family-friendly environment.
Bring your own chairs, ladders, and ice chests… or don't. Either way, you'll have a great time watching the women of Muses reign from atop their satirical floats.
There are dozens of krewes that have been around longer than Krewe of Muses, who exploded on the scene back in the early 2000s. But no one else throws hand-designed glittery shoes of all shapes and styles to the throngs of screaming fans.
Add to that the all-girl marching krewes– the Pussyfooters, the Cameltoe Lady Steppers, the Sirens, and many more– showing off their dance moves in full costume, and you have an estrogen-enhanced party the whole family can enjoy.
REX AND ZULU PARADES
If you say you've been to Mardi Gras and never stayed 'til Tuesday, then you have no idea what it's all about. This is the day the locals look forward to, and it's evident in the creative costumes and weary faces.
The day begins with the Zulu Social Aid & Pleasure Club's Zulu Parade, which winds its way through Central City before heading downtown on the traditional route.
What began as a satirical parade poking fun at the traditional white-only krewes has grown in popularity over the years, as parade-goers tussle for a prized decorated coconut thrown by a black rider dressed in black face.
Following the Zulu parade is Rex, the secretive king of Carnival, who reigns over the Rex Parade. Catch a glimpse of Rex and then head into the French Quarter toward Jackson Square, where you can people-watch the day away.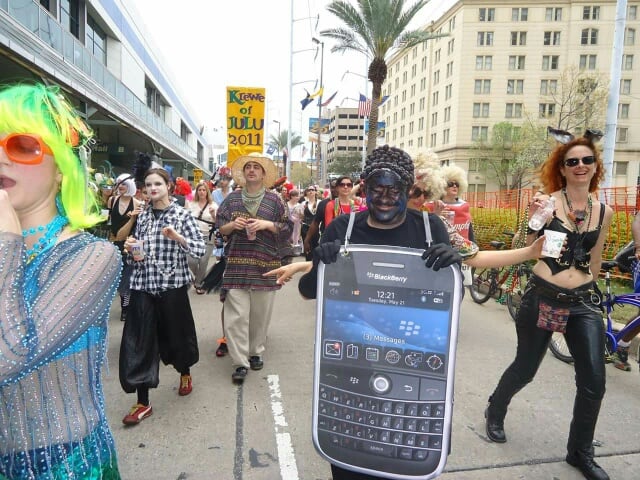 KREWE OF ST. ANNE & KREWE OF JULU PARADES
Whether you start in the Bywater or the Irish Channel, these two parades guarantee you'll see some funky, crazy, weird and wild characters dressed up in some of the most unusual costumes you've ever seen.
Brass bands gather at each starting point to lead the huge groups on a walking parade through their respective neighborhoods.
Though the walks may seem random, both krewes eventually make it downtown to see Rex, and then to pay their respects to the recently departed by sprinkling their ashes in the Mississippi River.
By mid-afternoon, the parades have trekked through the French Quarter, and those that are still standing usually end up on Frenchmen Street until the sun sets and the party dwindles down.
MARDI GRAS INDIAN PARADE
Uptown, Downtown, Ninth Ward, Sixth Ward… it don't matter where you from. Fat Tuesday is the day that all the Mardi Gras Indians gather in their new suits to show off their hard work and dedication.
Their parade attracts thousands of friends, family, and strangers who follow the different tribes through the streets of their respective neighborhoods. Eventually they all unite for a throwdown under the overpass.
The streets of the historic Treme neighborhood are awash in fabulously colorful beaded and feathered costumes from the different tribes, including the Wild Magnolias, The Yellow Pocahontas, and the Creole Wild West.
The 2016 parade included a special tribute to the Big Chief of the Wild Magnolias, Mr. Bo Dollis, who sadly departed this world that January.
Dollis was famous for uniting the traditional Indian chants with brass band funk and creating his own musical style. He is survived by his son, Lil Bo, who carries on the family tradition.
READ MORE: New Orleans' Mardi Gras Indians (A Photo Essay)
BEST MARDI GRAS PARTIES
ANNUAL BOURBON STREET AWARDS
It's nearly impossible to do everything there is to do on Fat Tuesday. But one thing definitely worth checking out is the Gay Mardi Gras.
For over 50 years now the lower French Quarter has been host to the most outlandish costume contest in the world. Prizes are awarded for best in show, best drag, best leather, and best group.
Though the booty is a pittance, the costumes are completely over-the-top in both size and style. From high noon until around two thirty, dozens of men strut their stuff from Bourbon and Dumaine down to the stage in front of Club Oz.
Bianca Del Rio is usually a safe bet to be the emcee, livening up the crowd as they gawk at plumed costumes that are sometimes so big, it is impossible for them to walk down the street without hitting a stop sign.
One drawback, though: It's usually packed so tight down there that once you're in, there's no turning back!
GALACTIC AT TIPITINA'S (Lundi Gras)
Black tie affairs not your thing? Head over to the world-famous music club Tipitina's for their annual Lundi Gras show featuring Galactic, which starts around midnight and doesn't end before the sun rises.
The local jazz-funk band hasn't really had an official lead singer. But, over the last few years, Corey Glover (of Living Colour fame) has added some strong vocals to this brass 'n' beats mass.
The upcoming New Orleans Jazz Fest features Galactic fronted by the amazing vocals of Macy Gray, so you never know who will take the stage and what guests might pop up at this funky show.
No place to stay? No problem. You can party all night, walk over to Mrs. Mae's for a refresher and start your Fat Tuesday with a bloody Mary and some spicy pickled beans.
READ MORE: Haunted New Orleans, America's Spookiest City
MARDI GRAS TRADITIONS
Mardi Gras Colors
The official colors of Mardi Gras in New Orleans are gold, green, and purple. The Krewe of Rex chose these colors in 1872 to honor Russian Grand Duke Alexei Alexandrovich Romanov, who visited New Orleans during that year's celebration. The colors represent power (gold), faith (green) and justice (purple).
Mardi Gras Krewes
Parades commemorating Mardi Gras officially began in 1838. By 1857, they'd attracted so much drunkenness and violence that city officials wanted to ban them. The Cowbellion de Rakin Society proposed forming a private club that would stage its own parade as an orderly alternative. Today, more than 70 krewes parade through New Orleans on Mardi Gras.
Rex, the King of Carnival
Founded by prominent New Orleans citizens in 1872, the Krewe of Rex named the Grand Duke Alexis Romanov Alexandrovitch as that year's King of Carnival (Rex is Latin for king). Every year since, the krewe has chosen a prominent person to be Rex, who is given a symbolic key to the city by the mayor.
Mardi Gras Beads
The Krewe of Rex was the first to throw out beads during their Mardi Gras parade. They chose the colors of the beads to match those of the Russian Duke's royal house. The idea was to toss the beads to those in the crowd who exhibited the traits of power, faith, and justice. The people who caught them were said to get good luck for the coming year.
King Cakes
Many NOLA residents start their Mardi Gras day with a café au lait and a slice of King Cake. They're often stuffed with filling such as cream cheese, with a plastic baby (said to represent Jesus) hidden inside. This tradition was brought to the area by Basque settlers in 1718, and the person who finds the baby (which was originally a bean) are believed to have good fortune.
READ MORE: Cajun Food Tours in Lafayette
MARDI GRAS TIPS
Reserve Hotels in Advance
Hotels are often booked for Mardi Gras by December, so reserve ahead of time. You can book in January, but keep calling and be prepared to spend a lot of time on the phone. And remember, the parades and parties start well before Fat Tuesday! This is a great time to visit New Orleans if you want to get a great Mardi Gras experience without all the crowds.
Arrive Early
The crowd size along parade routes can grow quickly in the hour or two before they start. So at least one person should plan to arrive around four hours ahead of time if you want a great spot. And whatever you do, DO NOT move unoccupied chairs or ladders. Some people reserve the same spots year after year, and stealing space is seriously uncool.
The Dos and Don'ts of Catching Beads
Do bring a big bag to hold the beads, stuffed animals, and other treasures you catch. Do bring a sign if you're from out of town, as float riders love to throw to visitors. Don't get into a tug-of-war over beads, even if someone gets excited and jumps in front of you. There's plenty to go around! Don't reach down to pick things up. Instead, put your foot on it and wait for the float to pass, or risk having fingers stepped on. And don't run into the street between floats.
Plan Meals Ahead of Time
Most restaurants will be booked solid on Mardi Gras and the nights of the popular parades. Make reservations in advance, or plan to wait a while to get a table. Alternatively, you can purchase food from a street vendor to take with you for the long day. You might also want to bring some wet wipes or tissues to clean up with after you eat. Public bathrooms are available, but they are very crowded and not usually very clean.
Do NOT Take Kids to the French Quarter
Booze and boobs are as much a part of Mardi Gras in New Orleans as masks and floats. The French Quarter is the heart of the hedonistic celebration, with risqué behavior not merely tolerated, but encouraged. Families will find of plenty of places outside the Quarter to celebrate Mardi Gras without all the flashing, scandalous costumes, etc.
Get a Bird's-Eye View on Bourbon Street
When you get tired of getting pushed, shoved, and spilled on, check out Mardi Gras from above. The hotel balconies are primarily reserved for corporate bigwigs, so don't even bother with those unless you have huge coconuts and can convince one of the fat cats to grab you a wristband. Most people will have better luck heading over to Tropical Isle, Lucky Pierre's, or the Cat's Meow and greasing the doorman's palm with a ten-spot.
Be Careful Out There
If you visit the French Quarter at night during Mardi Gras (or any other time, for that matter), make sure to hide your valuables well. Pickpockets are adept at stealing wallets, iPhones, and other items right out of your front pocket. Don't wear expensive jewelry, and don't carry a purse. Leaving that stuff in your hotel room is a simple way to ensure that petty thieves don't ruin your incredible Mardi Gras experience. –Shane Finkelstein & Bret Love
The Best Mardi Gras Balls, Parades & Parties (An Insider's Guide) originally appeared on Green Global Travel.