New Orleans' Mardi Gras Indians (A Photo Essay) originally appeared on Green Global Travel.
The iconic Mardi Gras Indians are as inexorably linked to the annual New Orleans carnival celebration as beads, boobs and booze.
But beyond their sensational suits laced with gorgeous gems, fabulous feathers, and impressively intricate beadwork lies a rich cultural history dating back nearly 300 years.
And, until fairly recently, this fascinating story was unknown to virtually everyone who lived outside NOLA's tightly-knit "Black Masking Indian" community.
I learned much of this history while spending time with Dow Edwards, in the workshop of his New Orleans home. Edwards, a former pro football player for the New England Patriots, is the spy boy (or scout) for the Mohawk Hunters, one of about three dozen Mardi Gras Indian "tribes."
We talked as Edwards, now a prominent lawyer, put the finishing touches on his suit, which he has worked on an average of five hours a day for the past nine months.
Though the materials cost thousands of dollars, he'll wear this outfit just three times in public: when parading with the Mohawk Hunters on Mardi Gras, the evening of St. Joseph's Day (celebrated on March 19), and on "Super Sunday," which falls closest to St. Joseph's Day.
READ MORE: Super Sunday in New Orleans
MARDI GRAS INDIAN HISTORY
The history of the Mardi Gras Indians' rich culture can be traced all the way back to the 1700s and the founding of the Crescent City.
When Jean-Baptise Le Moyne founded the port colony and river fort of Nouvelle Orle'ans in 1718, the French were widely using captive Native Americans as slaves.
But the indigenous people of the Americas prized their freedom, and often rebelled against their captors. Many would escape into the swampy bayous of Louisiana, where their captors were usually too afraid to follow.
By 1719, ships filled with enslaved Africans had begun to arrive in the famed French Quarter, where many of them were sold and trained to work on the local plantations.
In 1725, the first of many slaves escaped into the bayou, with help from the Choctaw, Seminoles and Chickasaws. They were taught to live off the land in what were known as "Maroon Camps," and many of them banded together with the Native Americans for the brutal Natchez Revolt of 1729.
READ MORE: Haunted New Orleans, America's Spookiest City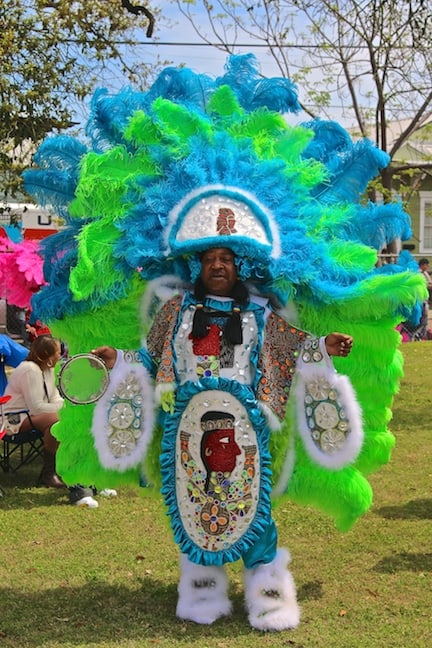 ROOTS OF NEW ORLEANS CULTURE
Meanwhile, back in New Orleans, traditional African culture was being kept alive in Congo Square (which now separates the famed French Quarter from Tremé, America's oldest community of free black people).
The French and Spanish who ran Louisiana at the time were Catholics, who believed it was sin to work on Sunday.
So on that day the enslaved Africans were allowed to gather in the public square, sing traditional folk songs, play drums and dance in a lively celebration that one observer described as "entire abandonment to the joyous existence to the present movement."
This was the only place in America where these Africans who had been stolen from their homeland were able to practice their traditional culture and preserve their heritage.
But before slavery was outlawed in the United States (of which New Orleans became a part in 1803) and for some time after, New Orleans' African-American residents were excluded from participating in official Mardi Gras celebrations.
READ MORE: Treme, New Orleans (Birthplace of American Culture)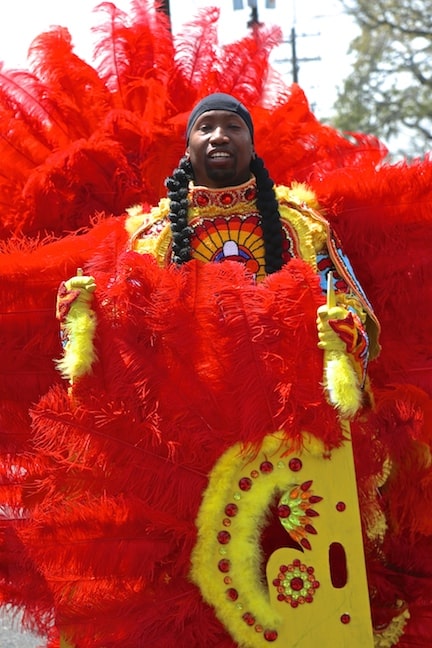 Big Chief Juan Pardo, of the Comanche Hunters
AFRICAN AMERICANS & MARDI GRAS
Historical records suggest that blacks were dressing up as Indians to celebrate Mardi Gras as early as 1746. Intermingling of the two races soon led to a boom in mulatto babies.
Some of these Creoles even used their costumes to sneak into the secret society Mardi Gras balls. This development ultimately prompted the Spanish government that ran New Orleans at the time to ban them from wearing masks.
So instead they stuck to the black neighborhoods around Congo Square. That is, until the 1811 slave revolt led to a complete ban on all gatherings by people of color, regardless of whether they were enslaved or free men.
In 1866, after the end of the Civil War, hundreds of former slaves joined the U.S. Army's 9th and 10th Cavalry Regiments and 24th and 25th Infantry Regiments. These were established by the United States Congress as the first all-black regiments to serve during times of peace.
Collectively known as the Buffalo Soldiers, these men fought the Plains Indians and helped propel America's westward expansion.
After finishing their tours of duty, some of the Buffalo Soldiers joined the "Wild West Shows" that were popular at that time time. The famous one headlined by Buffalo Bill wintered in New Orleans from 1884 to 1885, and featured at least one black cowboy and numerous black cowhands.
READ MORE: The Mobile Carnival Museum & America's First Mardi Gras
THE ORIGINAL MARDI GRAS INDIANS
Approximately 50 to 60 Plains Indians marched on the streets of New Orleans during Mardi Gras in 1885, all of them wearing traditional costumes.
Some historians suggest that the first Mardi Gras Indian gang– "Creole Wild West"– was formed later that year, but CWW members suggest their origins date back to the early 1800s.
Regardless, we know that the Mardi Gras Indian tradition remained largely underground for decades, dividing geographically into loosely organized gangs (now known as tribes).
They would secretly gather to sing and chant in the ancient tribal tradition. They worked all year long to create colorful suits bedecked with intricate hand beading, false gems and decorative feathers. They would also craft matching accessories such as staffs, shields, and tribal flags.
On Mardi Gras day, the police were often kept busy protecting the tourist-focused French Quarter. So the Mardi Gras Indians would take to the streets of their neighborhoods to strut their stuff and honor the Indians who had helped them obtain their freedom.
When they met with a rival tribe, some reports suggest that it often led to violence, with stabbings and shootings relatively common. But other Mardi Gras Indian historians (including Cherice Harrison-Nelson, founder of the Mardi Gras Indian Hall of Fame) argue that these reports of violence were greatly exaggerated.
READ MORE: An Insider's Guide to Mardi Gras in New Orleans
KILL 'EM DEAD WITH NEEDLE & THREAD
The Mardi Gras Indians first entered American pop culture consciousness in 1965. That's when New Orleans girl group The Dixie Cups had a hit with "Iko Iko" (a cover of 1953's "Jock-A-Mo," by Sugar Boy and His Cane Cutters).
The lyrics described a quintessential collision between two tribes, who exchange taunting chants: "My flag boy and your flag boy were sittin' by the fire. My flag boy told your flag boy, 'I'm gonna set your flag on fire.'"
But powerful Big Chiefs such as including Bo Dollis (Wild Magnolias), Donald Harrison Sr. (Guardians of the Flame), and Tootie Montana (Yellow Pocahontas) came together in the '70s and put an end to the violence. Together, they moved this iconic African-American tradition into the New Orleans mainstream.
Since then, tribal encounters have become a friendly form of competition based on dancing, singing, and who could make the prettiest suit.
Edwards suggests that they focus on "killing 'em dead with needle and thread," wearing the outfits just three times before donating them to local museums such as the Backstreet Cultural Museum or the House of Dance & Feathers.
READ MORE: 20 Best Festivals in the World (For Your Bucket List)
NEW ORLEANS' SUPER SUNDAY
To truly understand the significance of the Mardi Gras Indian tradition in New Orleans, you'll want to head to Central City's A.L. Davis Park on Super Sunday for the start of the most anticipated parade of the year.
Super Sunday is typically held on the third Sunday of March, in celebration of the Catholic holiday of St. Joseph's Day.
But because the Mardi Gras Indians put so much time and energy into their elaborate suits (and feathers do not look good when wet), they cancel the event anytime there's a threat of rain.
Luckily for us, Super Sunday was postponed until March 30 the first time we visited New Orleans as a family in 2015. We were delighted to be able to attend a cultural festival unlike anything we'd ever seen before.
As I walked around with my daughter, marveling at the Mardi Gras Indians' artful craftsmanship, what struck me the most was how much of a family affair Super Sunday was. Fathers and sons, mothers and daughters put on their matching outfits side by side.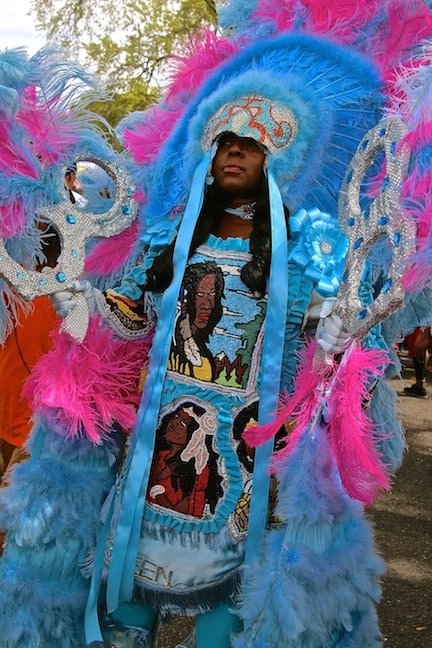 Nearly every Big Chief– the patriarchal leader of the tribe– was accompanied by his dancing Queen. Older sons occasionally served as Spy Boys, walking ahead of the tribe to clear a path through the thronged masses of people angling for a photo.
Costumed kids ranged in age from around 2 years old to older teens, gamely trudging along behind their parents, strutting their stuff, and proudly showing off their costumes for the crowd.
It was an invigorating introduction to the thriving Mardi Gras Indian culture, and easily the most invigorating community celebration we've ever attended.
It may not be as well-known as Mardi Gras, but Super Sunday was the main reason we made the 10-hour drive back to New Orleans once again the following year. If you've never been before, it's an incredible way to immerse yourself in this thrilling, but under-appreciated slice of African-American history. –Bret Love; photos by Bret Love & Alex Love
New Orleans' Mardi Gras Indians (A Photo Essay) originally appeared on Green Global Travel.