It is that time of year again when we see social media posts from friends and people around the world having a great time get covered in colored paints as part of the Holi festival, wishing you were there with them. These festivals really sneak up on us and it isn't until they are actually happening that you kick yourself for not having gone. It is then for this reason why we are going to give you the low down on where to go in India in 2021 for this festival, so that you can start planning now. You can also grab amazing discounts on your next Air India express booking which is an even bigger incentive to get ahead of the curve and organize your flights ASAP. Here then, are some of the best places to see this festival.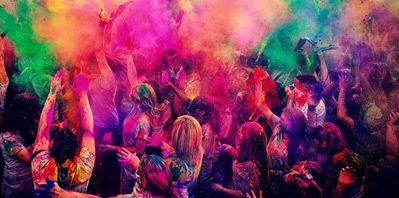 Banke Bihari Temple – Uttar Pradesh
Here in Uttar Pradesh you will find one of the wildest celebrations for this event, which is more than just a Holi celebration but a celebration of being alive. This is a small town but each year foreigners and Indians alike descend on the town to live it up and celebrate the gods who have given them life. What is usually a quiet temple which is used for prayer, lights up with music, singing, dancing and of course, plenty of colors.
Shantiniketan – West Bengal
This started off as a very small celebration amongst friends in the community here but has since grown into one of the most fun and vibrant celebrations anywhere in the country. The students here will all dress up in yellow and take to the streets with folk dancing prior to the colors being thrown, a truly special way to spend Holi in India.
Jaipur – Rajasthan
The largest festival in terms of numbers can be found in Jaipur where thousands of people take to the streets in front of the City Palace to celebrate the throwing of the colors. The Royal Family of Rajasthan even get involved with this festival and the entire festival period is packed with all manner of fun events and spiritual gatherings at various points in the city. For a tourist this may very well be the best place to enjoy Holi because there is so much to do in the area beyond the festival itself.
Hampi – Karnataka
Generally speaking the southern cities in India don't Celebrate Holi and the closest city to the south which does is Hampi, who decide that two days is needed for this epic party. This festival also coincides with some local festivals in India which is why there is such a buzz here in the run up to the main event. This is a fascinating part of India anyway, so to enjoy it under the carnival atmosphere of Holi is an even bigger reason for traveling here.
Which will be top of your list to go and see Holi in 2021? Make your decision and go get booked up before it rolls around again.
The post Best Places to Celebrate Holi in 2021 appeared first on Don't Fly Go!.