It is impossible to walk around the grounds at Middlethorpe Hall York and not take dozens of photos. While the front of the hotel is surprisingly close to the road, a quiet country lane just next to York racecourse, the rear of the hotel looks out over a beautiful lawn containing a stunning 180-year old cedar tree, a ha-ha and a sunken fence according to the detailed hotel map (I'm not sure what the difference is) and further beyond, a separate park, lake and walled garden. Every step seemed to yield another stunning view to be snapped and I could have spent hours just wandering around in the sunshine.
My stay at Middlethorpe Hall on the outskirt of the historic city of York was my third visit in the Historic House Hotels group, a collection of three historic house hotels owned by the National Trust. The others, Bodysgallen hotel near Llandudno in North Wales, and Hartwell House hotel, in Aylesbury, Buckinghamshire, had both been memorable stays and I was hoping that Middlethorpe Hall would be a similar experience of a classic English manor house hotel.
Thankfully I was not disappointed thanks to the beautiful setting, the interiors done in the style of traditional luxury, and above all the excellent welcome and hospitality shown by long-standing general manager Lionel Chatard (who moved to the UK from France for a few months and decades later, is still here and very much at home). His love for Middlethorpe Hall is apparent and it was delightful having a tour round the historic house with him, from the downstairs lounges to the portrait-lined oak staircases, the upstairs drawing room and the various suites with four-poster beds and rolltop baths.
Middlethorpe Hall history
Built at the end of the 17th century by country gentleman Thomas Barlow, Middlethorpe Hall spent the next several hundred years as a family home, a girl's boarding school, converted into flats and even, in the 1970s, a nightclub called Brummels. In 1980 the by then rather run-down Middlethorpe was bought by Historic House Hotels and lovingly restored to its former glories.
To book directly with the hotel, go to: Middlethorpe Hall
To compare prices for Middlethorpe Hall click on: Trivago – HotelsCombined – Booking.com
To read more reviews and get the latest prices click here to go to Middlethorpe Hall on TripAdvisor
Now a luxury hotel with 29 rooms and suites in the main house and adjacent courtyard, as well as a spa building across the road with a swimming pool and treatment rooms, Middlethorpe has reopened for business after the Covid shutdown and guests are delighted to be back.
Bedrooms at Middlethorpe Hall
Coronavirus regulations are strictly observed at Middlethorpe Hall, with an automated temperate check on arrival, one-way system, sanitised pens and all the staff wearing masks. Our room was in the courtyard, just a few paces from the main building, and our first-floor suite was like a cosy little country cottage, with a lounge full of traditional furniture and furnishings, plus a double bedroom, walk-in closet and the unexpected luxury of two bathrooms which made getting dressed for dinner far less of a scramble than usual.
The question of whether to pocket the room toiletries was answered by Lionel who said they were all ours thanks to Covid, and as well as putting them and the tea/coffee kit in little airport-style plastic bags, the hotel had thoughtfully provided a bag of masks and antibac gel and wipes as well. Even the TV remote control was wrapped in clingfilm which was a first for me in the 'new normal' but showed a great attention to detail. The towels in the bathrooms were some of the fluffiest I've ever encountered and were very smartly embroidered with group's initials HHH.
Middlethorpe Hall restaurant
We left our cosy rooms to explore the grounds – and take dozens of pictures – and enjoyed wandering through the well-kept kitchen garden which had been laid out with walkways, seats and pleasant views before heading to the terrace for a pre-dinner cocktail. We so enjoyed soaking up the views that it was only when the waiters arrived bearing the menus for dinner that we realised the time and dashed back to make ourselves presentable.
Dinner was in one of three high-ceiling'd but fairly small oak-panelled dining rooms and will appeal to guests who prefer a more formal dining experience. The rooms themselves are fairly austere, with little colour to brighten up the brown of the walls and the furniture, and due to the new restrictions all the tables were bare apart from the white tablecloth and a few small items so it felt as if you'd arrived after the main event when everything had been cleared away.
At both dinner and breakfast there was quite a wait before the cutlery, drinks and bread and so on arrived, and with the absence of any music and with the waiters wearing masks it felt a little unrelaxing. It's hard during Covid-19 but hopefully Middlethorpe will be able to add some of the charm we found throughout the rest of our stay to the meal times.
The menu at Middlethorpe Hall
Thankfully the food was very good – and formally presented with each course arriving under steel domes – and we began with an excellent English pea velouté with cheese scones and equally good salmon with dressed crab. My main of sea bream, prawn broccoli tasted as good as it looked and the aged fillet of Waterford farm beef was pronounced excellent. The desserts were very pretty and super-sweet – strawberry tart with elderflower and white chocolate, and an apricot delice with Champagne and chamomile – and on the way out we had a lovely chat with our table neighbours who were long-time regulars (always good sign) and delighted to be back at Middlethorpe.
Exploring the gardens
Next morning I was up and out early before breakfast to explore the grounds even further, finding the lake at the end of the estate, home to a family of ducks. The gardener had thoughtfully cut a path through the long grass so you can wander at will and I managed to get happily lost in the woodland trying to get back to the hotel. Unfortunately the grounds back straight onto the busy A64 which means there is a constant sound of traffic, but closer to the hotel the noise is more of a distant hum. For nature lovers there is an informative leaflet from the National Trust detailing the gardens and trees of interest at Middlethorpe Hall with the main deodar cedar tree, planted 180 years ago, the fruit trees in the walled garden and birches, oaks and a variety of others all listed.
Breakfast was a complicated affair; our waiter told us we couldn't order coffee when we sat down as he would be only taking one order for the whole meal which seemed rather inflexible (we managed to persuade him to relent and bring us hot drinks and juice while we decided what to order for our cooked breakfast) and several items were missing or had to be asked for twice, but I think that can be put down to Covid and staff only just coming back from furlough and having to cope with a lot of new ways of doing things. The full English breakfast with Swaledale sausage was full of flavour though.
After breakfast we had a lovely tour round the rest of the hotel with the charming Lionel, from the Lady Mary Suite to the upstairs parlour, including possibly the smallest lift I've ever seen (it only fits one person) and enjoyed a good gossip about the various celebrities who have stayed at Middlethorpe Hall over the years, including many famous jockeys and trainers when Ascot was moved to York Racecourse – the Queen's carriage passed the hotel on the way to the course each day.
The spa at Middlethorpe Hall
Thanks to Covid regulations the spa was yet to reopen when I was staying at Middlethorpe Hall, but Lionel kindly showed me around the cute little cottage across the road where the spa is situated. For such a small building on the outside, it's like a Tardis on the inside, with a good-sized swimming pool and various treatments rooms on two floors. Due to these changing times it's always good to phone in advance to check what is available and Lionel said one of the hardest things to manage these days is knowing exactly what is allowed and what it the safest way to proceed.
However Middlethorpe Hall is doing a great job under his expert eye to maintain the relaxed atmosphere of a country house hotel while providing a safe environment for guests and it was pleasure to finally complete my hat-trick of Historic House Hotels.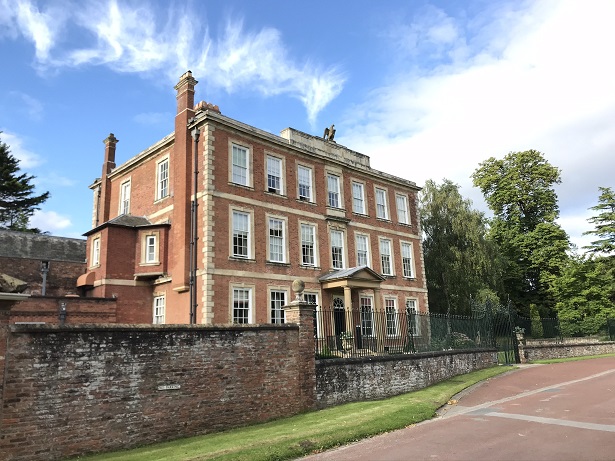 Middlethorpe Hall hotel and spa, Bishopthorpe Rd, York YO23 2GB
Main building rooms start at £159 per night for a single, deluxe double/twin £299, four poster bedroom £429, The Lady Mary Suite £439 and The Duke of York Suite £539
Courtyard rooms start at £149 per night for a single, standard double/twin £219, superior double/twin £259 and Junior Suite £319
To book directly with the hotel, go to: Middlethorpe Hall
To compare prices for Middlethorpe Hall click on: Trivago – HotelsCombined – Booking.com
To read more reviews and get the latest prices click here to go to Middlethorpe Hall on TripAdvisor
Middlethorpe Hall is a member of Pride of Britain Hotels, a group of 50 of the some of the best luxury hotels in the UK, and Historic House Hotels, three hotels owned by the National Trust. To read my reviews of other HHH hotels, go to:
Hartwell House hotel and spa, Aylesbury, Buckinghamshire
Bodysgallen Hotel and spa, Llandudno, North Wales
If you liked my review of Middlethorpe Hall York then why not Pin It?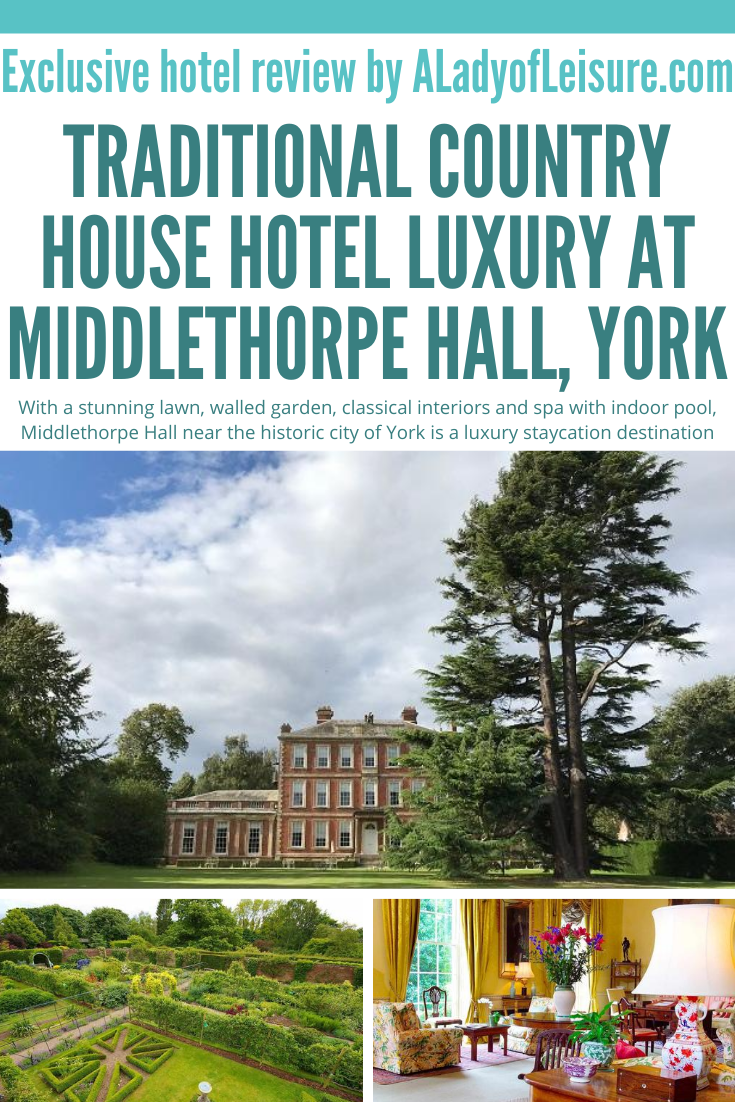 The post An Historic House Hotels hat-trick with my stay at Middlethorpe Hall York appeared first on ALadyofLeisure.