Exploring Herceg Novi and indeed moving to Montenegro for five weeks was done on a whim. I wanted to live somewhere in mainland Europe for November as a) I hadn't got much planned either home or away for the month and b) I love Christmas but want to avoid the inevitable build-up until it's actually December and c) while I travel a lot for work, it's usually just for a few days or a week at the most. I love living somewhere for longer if it's possible, and feeling like a local (which it's easy to do quickly, if you live somewhere which has a kitchen – there's nothing like going shopping and then coming back to cook what you've bought to make you feel like you really live somewhere).
I first thought of Norway, as I've travelled along the Norwegian coast with shipping line Hurtigruten and love the coastal towns such as Trondheim, Svolvar and the Lofoten Islands and could easily imagine myself living there… but it is November after all and I didn't want to live in almost constant darkness. So southern Europe it was. By chance I saw a Facebook post from travel bloggers and friends Kach and Jon Howe aka Two Monkeys Travel (who co-incidentally I'd met on a Hurtigruten trip, but to Antarctica) which said they were moving to Herceg Novi in Montenegro. I'd never heard of Herceg Novi before but having travelled to over 100 countries and countless places around the world, I thought it was a vote of confidence in Herceg Novi that they'd decided to put their roots down here. I was sold. A few minutes on Airbnb and a surprisingly cheap (£49) one-way ticket on British Airways and I was practically there.
So it's been a week now and what have I discovered here so far? Here are a few highlights of my week in Herceg Novi:
That Bay. Those views.
This was my first coffee in Montenegro and – well, the view speaks for itself. This is taken from the balcony at the stunning Verige 95 cafe which is located right at the narrowest spot in the Bay of Kotor. The coffee was almost as good as the views by the way – I really have to go back here and soak it both the view and the coffee over over again.
Talking of the bay – Herceg Novi, my new home for the next five weeks – is right at the entrance of the Bay of Kotor (also called Boka Bay) and has a 7km-long promenade running through it (the promenade actually goes between the coastal towns of Igalo and Meljine and Herceg Novi is in the middle). This means it's great for running along in good weather, and great for a bracing walk avoiding the waves crashing over the sea wall in less good weather. In terrible weather I'm staying at home!
Sailing around the Bay of Kotor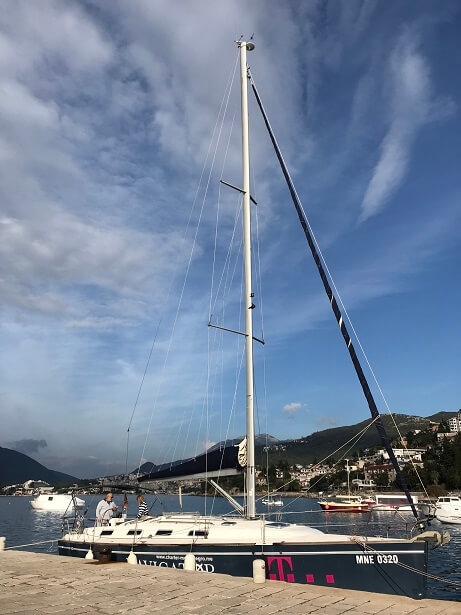 A boat trip in the Bay of Kotor is not to be missed and it was a real treat when I got to go out all day on a sailing boat.
The boat crewed by a very pleasant and relaxed husband and wife team picked me and Dalibor (from the tourist board) up from the marina and took us out for the whole day.
We first cruised along the coast past Portonovi (of which more later) to the UNESCO-listed town of Perast and then onto Kotor, the beautiful walled city at the further point of the bay.
Perast is a tiny village tucked away on the innermost part of Kotor Bay and I expect during summer time and peak tourist season it's absolutely rammed with tourists. There's just one main street but lots of lovely cafes, museums and churches to visit. There are two tiny islands in the bay just by Perast: St George's Island, which contains a monastery and cemetery and which isn't open for visitors, and Our Lady of the Rock Island, which is little more than a church and surrounding walkway and which is hugely popular with tourists popping over by boat from Perast.
Once back on board we headed further into the bay towards Kotor. It was the first of November but I just couldn't resist having a swim in the water which was so clear and still. It was fresh but not cold and it felt as if I had the whole bay to myself (which I probably did). I could have spent hours swimming around our ship and dried off in the sun afterwards feeling extremely invigorated.
We sailed (although strictly speaking we were using motor rather than wind power) on through the bay to the beautiful walled town of Kotor which is right at the far end.
Popular with cruise ships (we arrived at the same time as the vast Costa Deliziosa) the historic town was crowded with tour groups but its maze of streets still had enough room for us to wander around it, checking out its churches, piazzas and walking along its walled which surround the old town.
It's believed that Kotor was originally part of the Roman province of Dalmatia, but its Italian look and feel owes much to 400 years of Venetian rule, when it was known as Cattaro.
If we'd had more time it would have been nice to make the hour-long hike up 1350 to St John's Fortress at the top of the nearby hill which rewards travellers with spectacular views, but there was no time on this particular trip for a lengthy trek. However I'll certainly be back and in the meantime here's a rather fabulous picture which Dalibor took on a previous trip instead.
We then got back on board for a massive pasta lunch while pottering back through the bay to arrive at Tivat and Porto Montenegro, a modern marina development with shops, restaurants, hotels and apartments. We arrived back at 4pm in the cool afternoon sun with some great memories and several hundred pictures.
Eating and drinking in Herceg Novi
So far here I've eaten cuttlefish ink risotto, a lot of pasta, salads and prosciutto, but the food and wine with the best view has to have been at the Savina Winery, high above Herceg Novi. Owned by the Obradovic family who divide their time between Herceg Novi, Belgrade and London, the grapes grow on vines on the hills behind the winery and in the neighbouring monastery and are used to make a range of excellent wines, from Chardonnay and Grenache (for rose wine) to Merlot and Cabernet Sauvignon and the strong local spirit varities Travarica and Loza.
I spent a incredibly pleasant few hours drinking my way through the wine range and eating olives, freshly-baked bread, anchovy and sour cream dip and smoked cheese – tours and tastings can be booked here by appointment throughout the year.
Some perfect prosciutto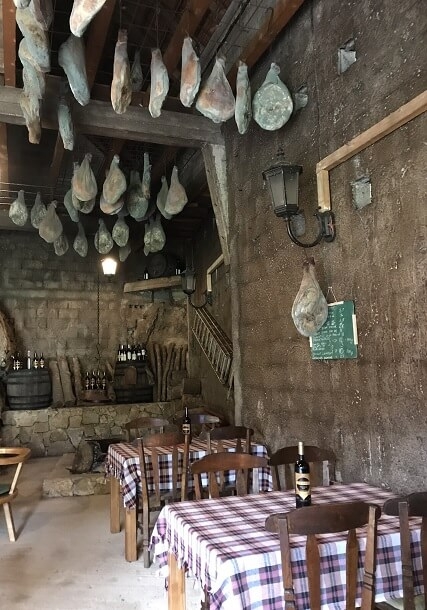 Talking of prosciutto… this barn (right) belongs to Bane Palikuca (pictured below) and he makes his own prosciutto by hand, with no mechanical presses or artificial drying or additives or anything. Just meat, pressure and time.
The pork, which comes from his own free-range pigs, is salted, then salted again, then pressed for a week and then smoked in the barn for between 45-60 days. It's then a matter of waiting – for two years!
The barn is built to have a natural air flow going through it which dries the meat out and produces some amazing prosciutto. Simple.
There's a massive rock in the barn which helps keep it cool and which handily helps keep his home-made wine cool too (the wine is aptly called Stone…)
Bane doesn't sell his prosciutto commercially as it's so labour-intensive the price wouldn't be able to compete with the mass-produced stuff you get in supermarkets (and it's everywhere – Montenegrins are prosciutto-crazy) but people can try it for themselves by arranging a trip out to Bane's 'Domestic Tavern'.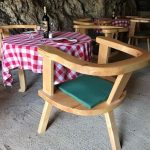 We visited Bane in his barn – handily it's just next to the adventure park – to try the products of all his hard work. (He used to be an electrical engineer but is having a career break to pursue his passion for prosciutto). We sat on hand-made three-legged stools (which are more stable on uneven ground) and sampled the excellent home-cured prosciutto, plus some equally good pancetta, as well as lots of tomatoes, olives, cheese, potatoes, red wine, rakija, more red wine… it was quite an afternoon as you can probably tell.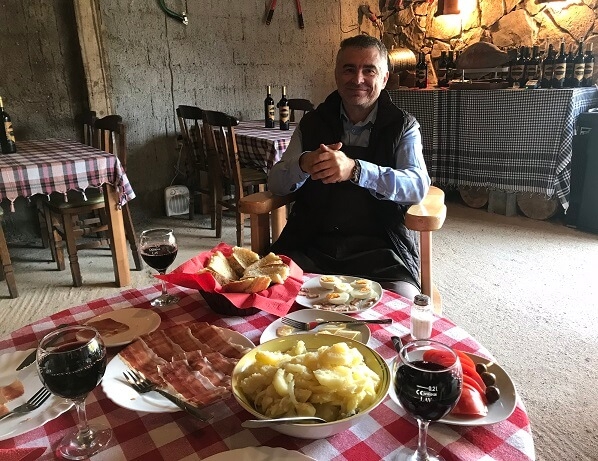 To get to Bane's tavern, you need to head out of Herceg Novi towards Mount Orjen in the range of mountains called the Dinaric Alps, which stretch from Italy in the northwest through Slovenia, Croatia, Bosnia and Herzegovina, Serbia, Montenegro and Kosovo to Albania. Just a few minutes' out of town you will be heading up some winding roads which make for some spectacular views.
It's becoming an increasing popular place for hiking and cycling – some new cycling trails were launched just last week between Herzegovina and Montenegro under the name 'Cycling Rural' – and routes are well sign-posted with little shelters along the trails.
About 40 minutes drive up into the mountains from Herceg Novi, close to the Bosnian border, is the newly-opened Vrbanj adventure park.
Open all year round, the park contains several routes of varying degrees of difficulty and includes all sorts of fun including climbing, balancing and zip-lining. I tried out one of the course after a shot of Rakija – not quite sure that's recommended! But I certainly felt like I deserved one afterwards…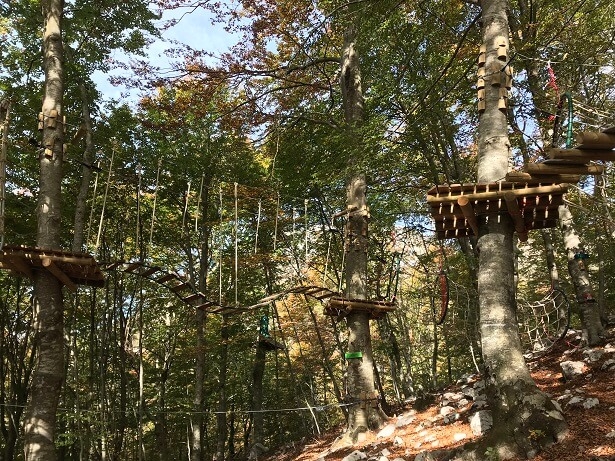 The stone village of Zlijebi
There was quite a gathering at the stone village of Zlijebi when I went there – and I'm not talking about the several cute cats which were wandering around (there are lots of cute cats wandering about Herceg Novi and quite possibly elsewhere in Montenegro; they've all seemed happy and well-fed so far). Last week's launch of the local cycling routes was held in Zlijebi, is a preserved Herzegovinian village where everything, including roofs, walls and terraces was made out of the local stone from the local quarries – and everything built, carved and extracted by hand. You can wander freely around the houses, which are furnished in a traditional style, and we were even served food made in the traditional way: huge vats of lamb and beef covered in hot ash and slow-cooked – delicious.
Hotels in Herceg Novi
I couldn't resist checking out a few hotels while I was here and visited a couple of very different propositions. By far my favourite was the gorgeous boutique hotel Lazure located in an 18th century former monastery, with immaculate rooms, a thoroughly modern spa with indoor pool, hot tubs, steam rooms and saunas, and its own marina.
Just along the coast next to the new Portonovi development (of which more later) is the vast 230-room four-star Kumbor hotel, which has just closed for the winter season but will open next year as a five-star hotel under its new brand Iberostar, the Spanish hotel company which recently acquired three hotels including the Kumbor in Herceg Novi.
With outdoor pools, a private beach and stunning views of the bay, the hotel looks like a popular destination for the 2020 season.
Portonovi
And talking of Portonovi… I got a chance to look around this €700 million, 26-hectare development which has only recently opened and which currently has an almost empty marina just waiting for the super-yachts of the super-rich.