Last updated on July 4th, 2021
Have you ever wondered what makes Italy such a unique country? Here are a few fun facts about Italy you may not know. Starting from its nickname, Bel Paese, meaning "beautiful country".
If you're traveling to Italy for the first time, or are just curious about the country, there are interesting fun facts you may not know.
Where does the name "Italy" come from?
The name "Italia" derives from the Greek "Italos", which means calf. It was originally given to the region of Calabria by Greek colonists in the 8th century BC. and was extended to the whole peninsula under the Roman emperor Augustus.
As a nation, Italy is very young
Italy did not become a fully unified country until 1870.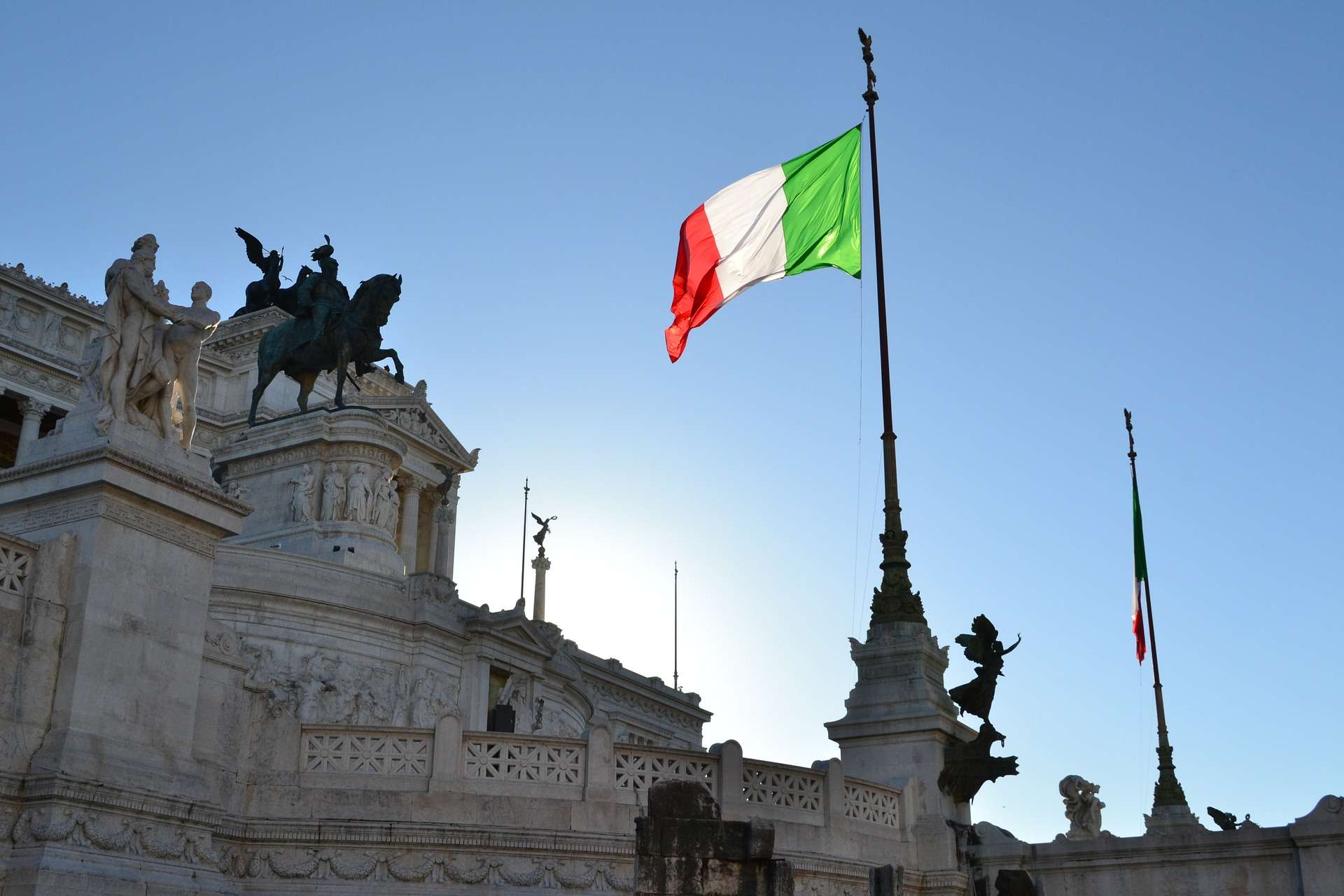 That's likely the reason why Italians maintained a strong attachment to their native region or province, and most still struggle to identify with Italy as a single nation. Frictions between north and south are not uncommon, and there's an incredible number of local dialects, sometimes quite alien to the official Italian language.
The country with the most UNESCO World Heritage Sites in the world.
With 55 sites inscribed, Italy is the country with the most UNESCO World Heritage sites in the world. Since I'm Italian – although I consider myself a citizen of the world – I may be partial. Still, I honestly believe that Italy is a blessed country. Life is not easy nowadays, but Italy's historical heritage is genuinely unique.
I confess that although Italy is my native country, I haven't visited all of Italy's UNESCO World Heritage sites yet. However, I had the privilege to discover a few of them, and the others are on my Italy bucket list. Every place is unique in its own way, but if you wonder which ones are my favorite so far, here are some clues:
The breathtaking Ravenna mosaics
Beautiful Modena, and its romanesque Piazza Grande.
Elegant Ferrara, and its Renaissance architecture
Magnificent Mantua, a jewel of the Renaissance
The Trulli of Alberobello, drywall constructions with the unique conical roofs
Venice and its lagoon, which doesn't need any introduction. Except for the tip to visit Venice in winter, if possible
The Dolomites mountain range, one of the most beautiful alpine landscapes in the world.
Three of the most active volcanoes in Europe are in Italy
There are only a few active volcanoes in Europe and three of them are located in Italy. I'm talking about Mount Etna, Stromboli, and Mount Vesuvius, all of them located in Southern Italy. Mount Etna is also one of the most active volcanoes in the world. It has been erupting almost continuously for the past 3,500 years and has been spewing lava on a daily basis since 1999. Mount Etna became a UNESCO World Heritage Site in 2013.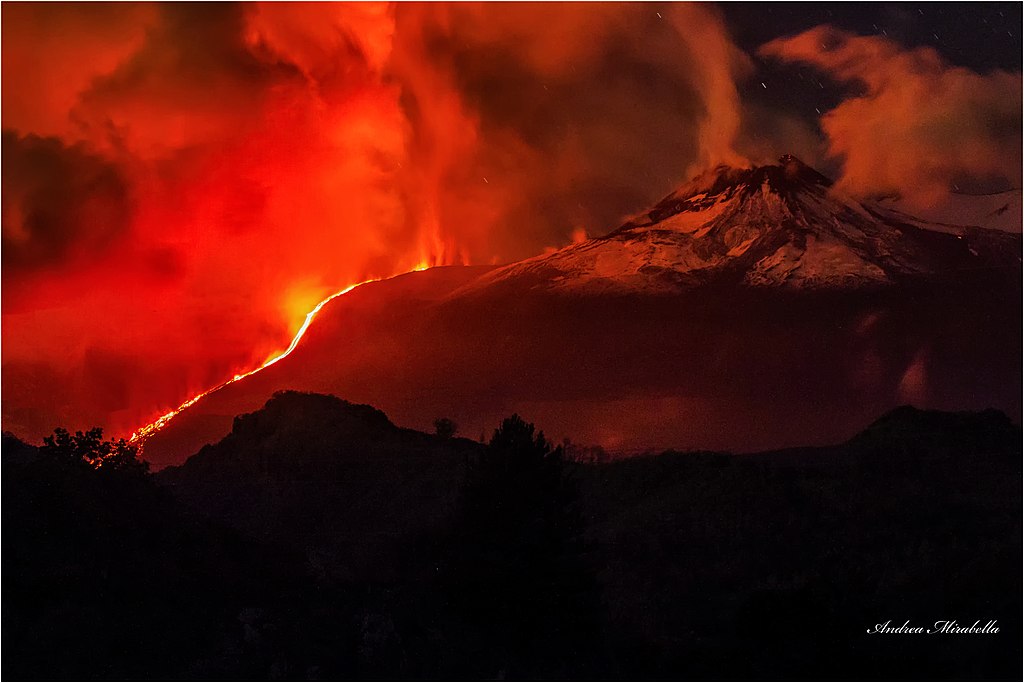 The Republic of Venice was the longest in history
The Republic of Venice was founded in 697 and was dissolved by Napoleon in 1797, exactly 1,100 years later.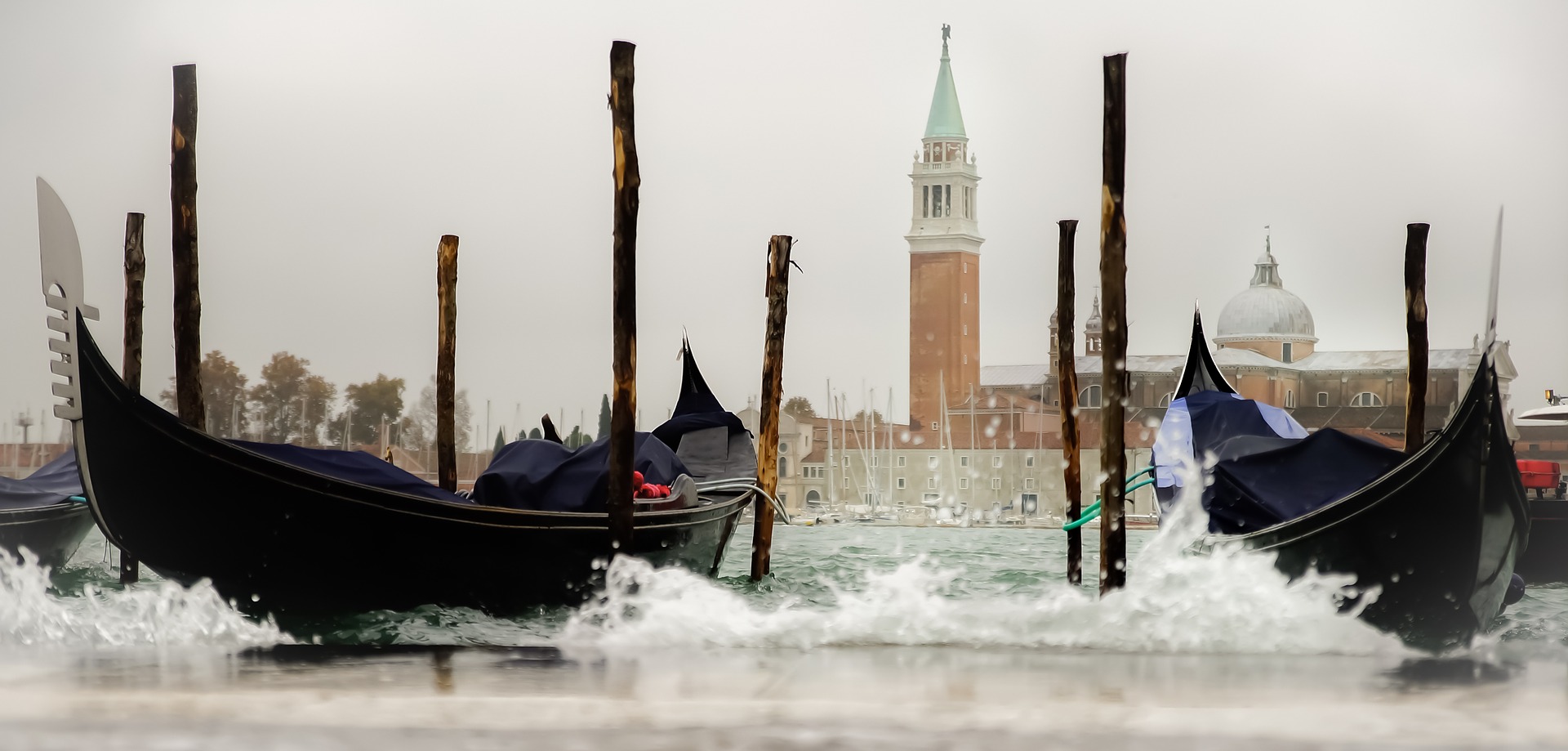 This makes it the most long-lasting republic in human history, as well as the longest and most uninterrupted form of government that has ever existed. By comparison, the Roman Republic lasted just under 500 years.
There are about 300 types of pasta in Italy
Italian pasta is known all over the world, but not everyone is aware that there are about 300 different types, possibly even more. The main distinction is between dried pasta, of which spaghetti is likely the most renowned, and fresh, often home-made pasta, like tagliatelle or lasagne. After that, come factors like the type of wheat, the ones using also eggs, shapes, lengths, and so on.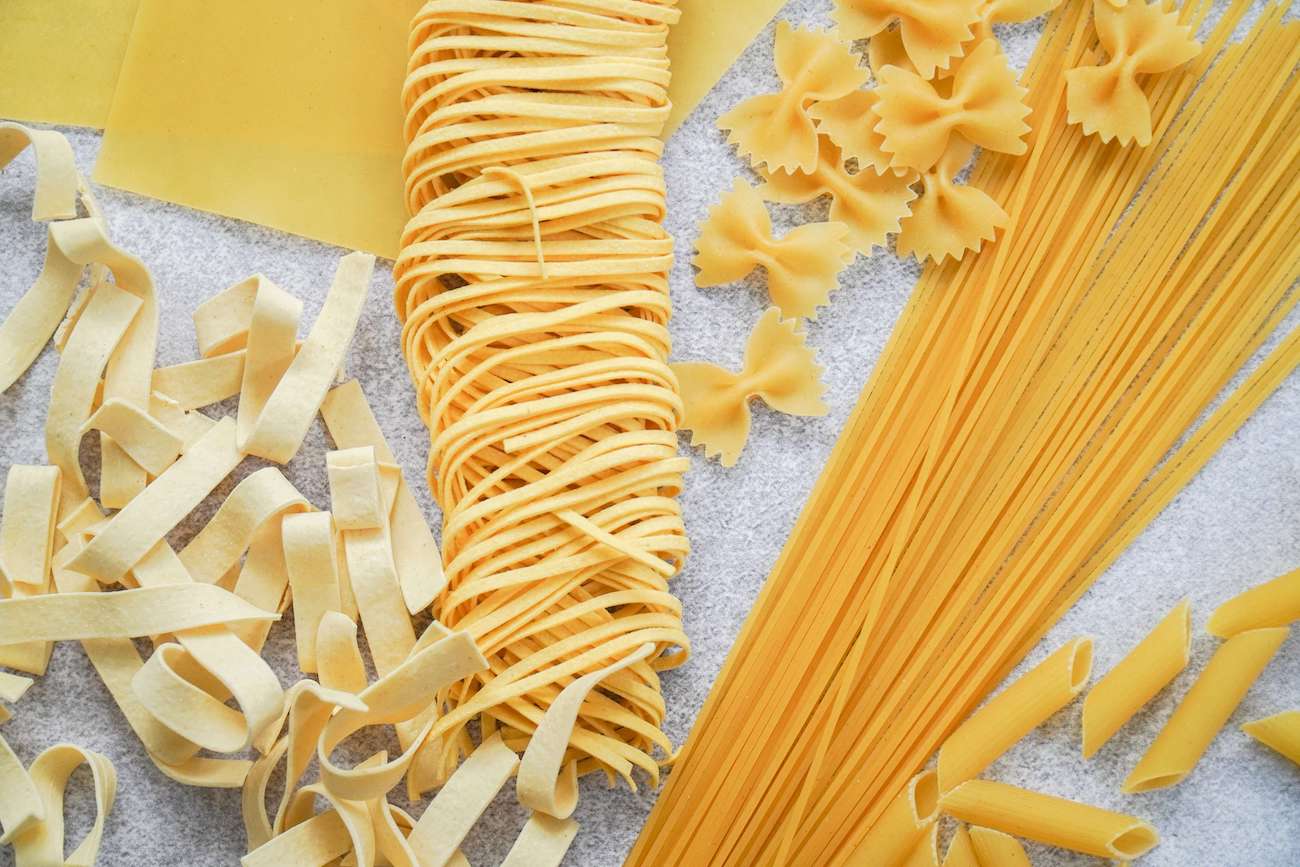 Some kinds of industrial dried pasta are widespread throughout the country: think of spaghetti, maccheroni, linguine, penne, to mention a few. However, the are many types of pasta that are mostly regional, although some can be found in other parts of Italy. A few examples? Trofie, from the Liguria region, usually prepared with pesto, or orecchiette (meaning small ears due to their shape), one of the most famous dishes from Puglia.
The art of winding up spaghetti
Many people wonder how to eat spaghetti like an Italian. Twirling spaghetti against a spoon? Cutting spaghetti in small pieces?
Forget the spoon, and never, ever cut pasta in Italy. That feels like a sacrilege. The only way to eat spaghetti like an Italian (and any other type of long and thin pasta) is by learning to master the art of winding them up the fork. To wind spaghetti around the fork, you need to catch a few strands near the edge of the plate. Then gently twirl the fork, give it a quick lift, and porch it to your mouth. With a little practice at home, you'll become a champion at eating spaghetti as Italians do.
Mountains and hills cover about 4/5 of Italy
I'll never forget the day when an American friend asked me: "Oh, there are mountains in Italy?".
Thing is that a lot of people (the majority?) think of Italy mostly as limited to Venice, Florence, Rome, and maybe the Cinqueterre. Those are undoubtedly unique cities and areas, but there's much more to Italy. Indeed, Italy is overall nothing but flat, except for a few areas.
Mountains and hills in Italy account for about four-fifths of the country's surface.
If you're a mountain lover, you can't miss visiting and hiking the fantastic Dolomites. And if you're more inclined to enjoy hills and lower altitudes, I suggest you head to the Apennines, the mountain range crossing Italy from north to south of the boot.
I recently hiked the Way of St. Francis, from Rimini to La Verna, and loved it. Furthermore, there are countless little-known charming towns perched atop a hill, like enchanting Brisighella, a good option for a day trip if you have holidays in Rimini or near-by.
There's so much beauty in Italy. And even as a local, I know there are many places I still have to discover. From what I explored so far, I can certainly recommend you to visit some enchanting towns in Emilia-Romagna. Or in case you're in the area, to have a day trip to San Marino, one of the smallest countries in the world.
Italy New Year's Eve Traditions
No country in the world, as far as I know, is totally immune to globalization, but luckily in Italy, many traditions are still alive. Italian New Year's Eve tradition is to wear red underwear, for good luck, and to eat lentils, as a symbol of abundance and money.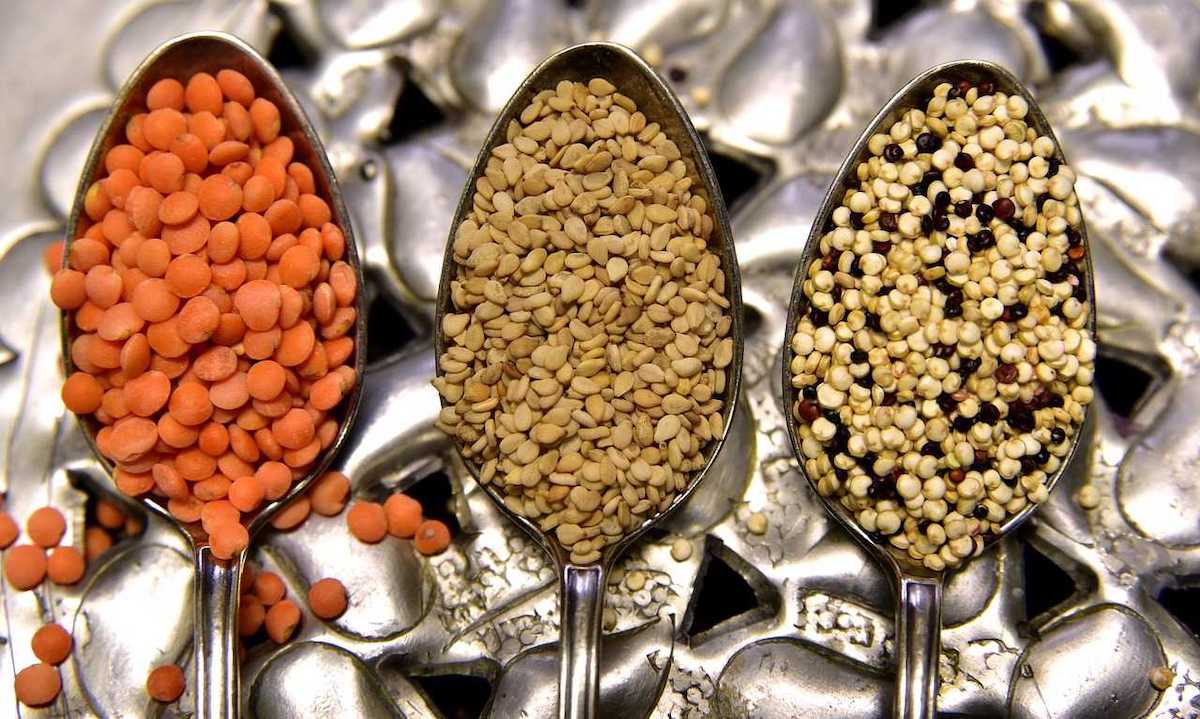 Vatican City is not Italy
Yes, you got that right. Although a tiny enclave inside the Italian peninsula, Vatican City is not Italy. Indeed, the Vatican is the smallest state in the world. Therefore, if you're visiting the Vatican Museums and the Sixtine Chapel and wish to send a postcard, you'll have to buy a stamp from Vatican City. Italian stamps won't do it.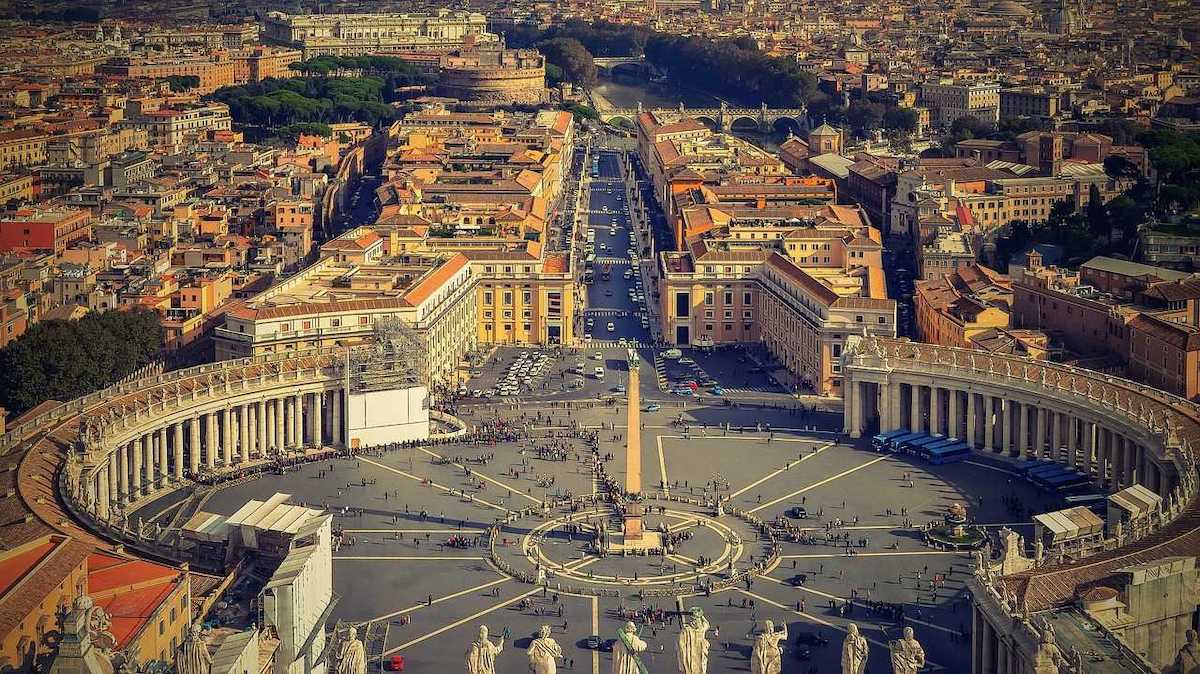 Why is Rome called the "Eternal City"?
According to mythology, the founding of Rome dates back to 753 B.C. However, the settlement is much older and makes Rome one of Europe's oldest occupied sites. It was the Roman Poet Tibullus who first called Rome the "Eternal City" in the 1st century B.C.
Since then, the city's nickname survived to mention one of the oldest metropolis in the world. And one of the most developed civilizations of the time in the Mediterranean area.
Italy is home to Europe's oldest university
The first university in Europe was created in 1088 in Bologna. In the beginning, Bologna university was focused on the study of Law. Over time, it grew and encompassed a vast number of disciplines.
To date, Bologna university is one of the best in Italy, attracting young people from all over the country. Thanks to the presence of many students, Bologna is not only a beautiful city, but it's also lively and has a unique vibe.
Many of the fastest and most luxurious cars are produced in the Italian Motor Valley
Ferrari, Lamborghini, and Maserati are all produced in a small area of the Emilia Romagna region, roughly between Milan and Florence. This is also the district of Ducati, the famous motorbike brand. Hence the name Motor Valley.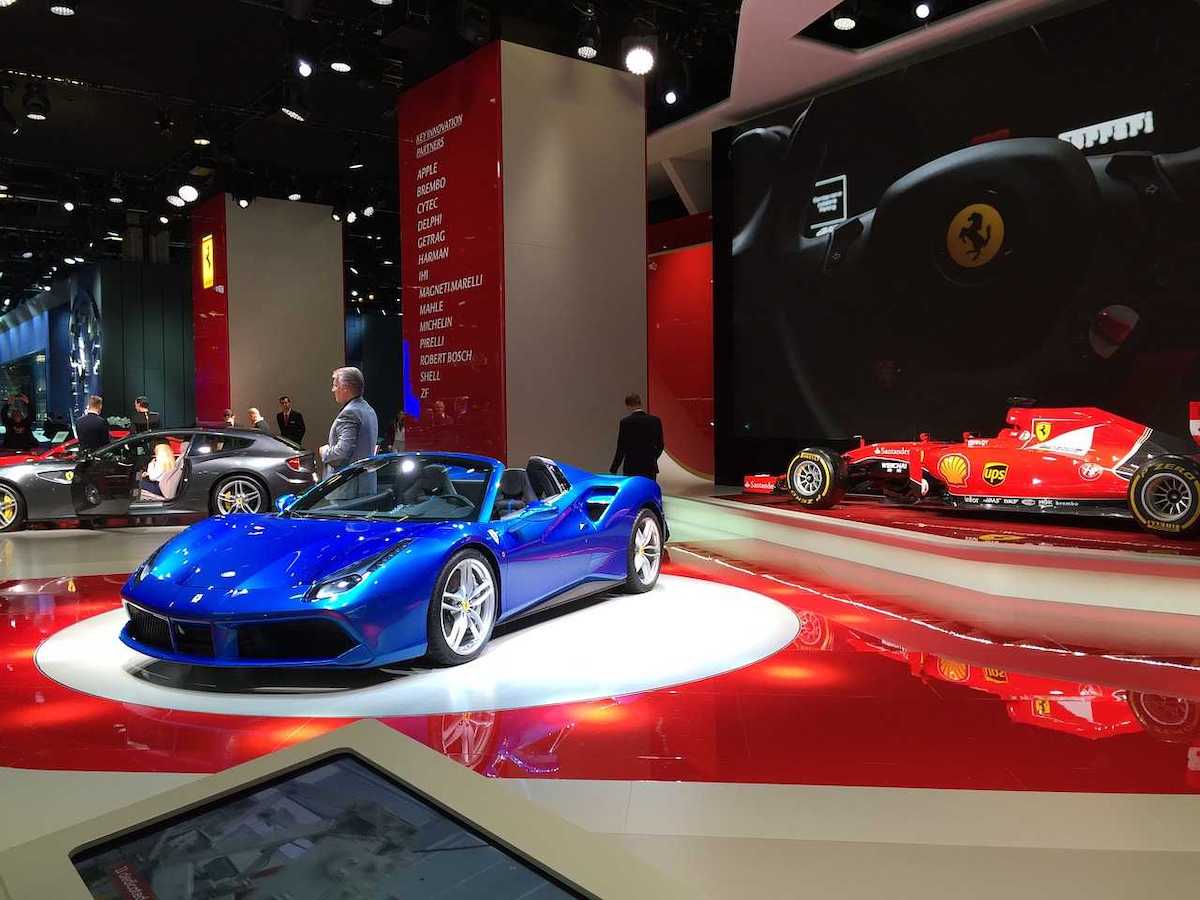 If you happen to visit this beautiful region in northern Italy, don't miss to discover one of the Museums dedicated to these iconic cars. Check out the tour Land of Motors Ferrari-Pagani-Lamborghini, or experience a full-day food and Ferrari tour.
The Uffizi Gallery in Florence is one of the oldest museums in the world
Cosimo I de Medici, one of the most important patrons of the arts during the Renaissance commissioned Architect Giorgio Vasari the project of The Uffizi Gallery. The building's construction started in 1560, and the initial purpose was to create new offices for the magistrates. That's why it's called Uffizi, meaning offices.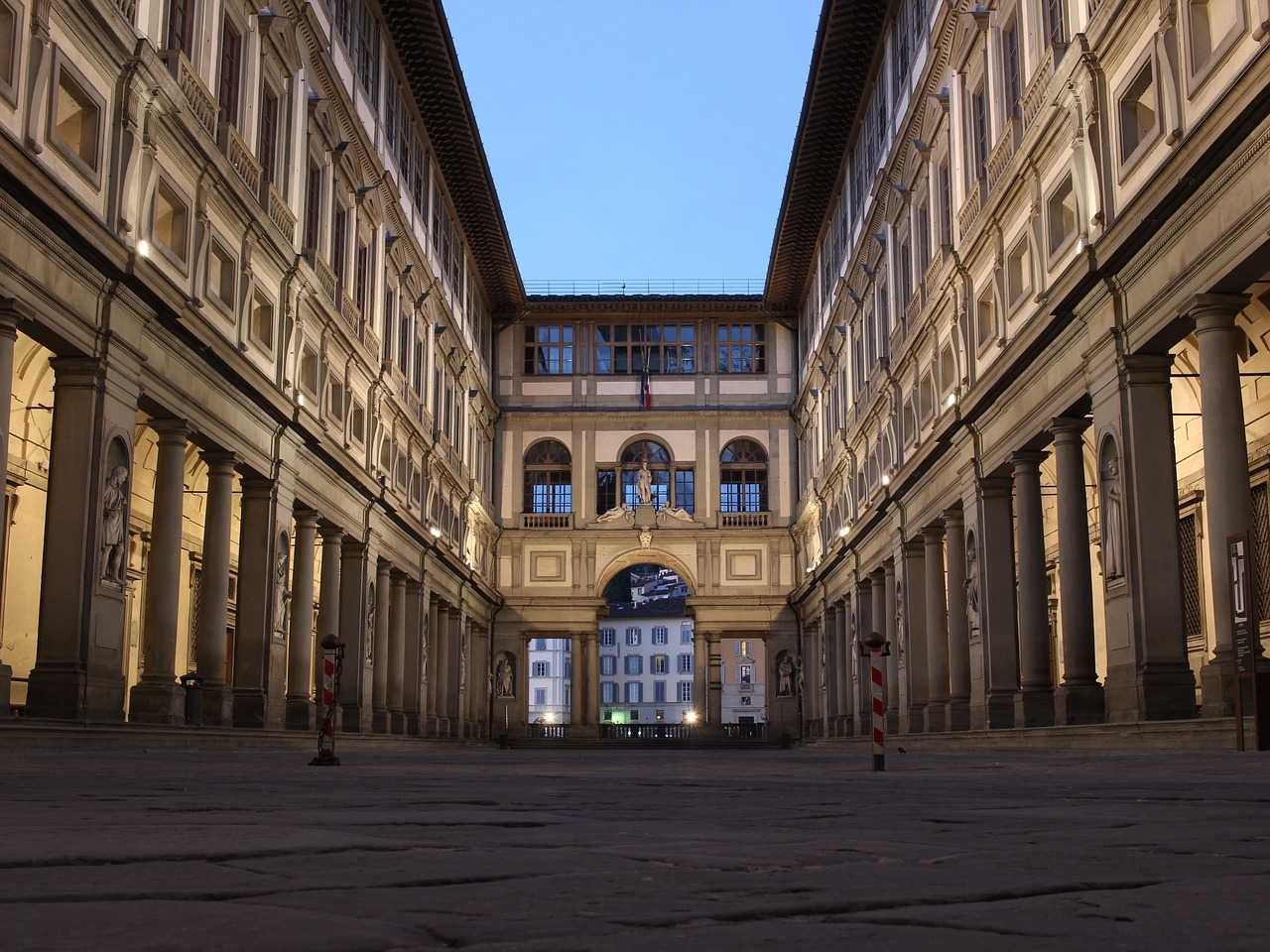 Over the years, the Uffizi hosted more and more works of art, to become one of the largest and richest museums in the world. More than two million people visit the Uffizi Gallery every year.
For that reason, buying skip-the-line tickets is a must if you want to avoid the queues. Furthermore, since there are so many masterpieces, I strongly recommend a guided tour to make the best of your visit to one of the most beautiful art galleries in the world.
Did you know that Rome is the only European city to have a pyramid?
Piramide Cestia is 36 meters high and was built around 12 BC to be the tomb of an unknown wealthy Roman.
_____
This post contains affiliate links to carefully selected products or services, This means that if you make a purchase, I earn a small commission at no extra cost for you.
Pin for later!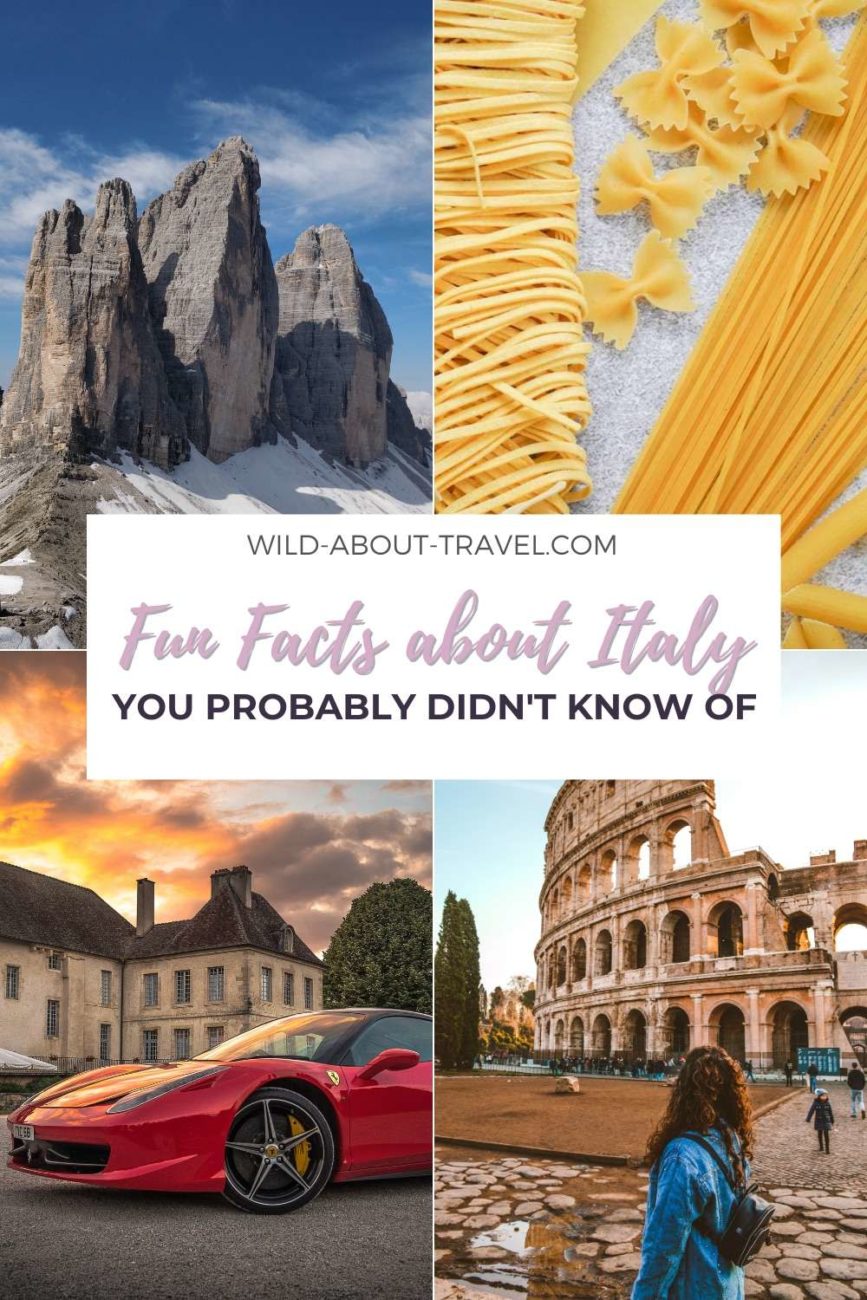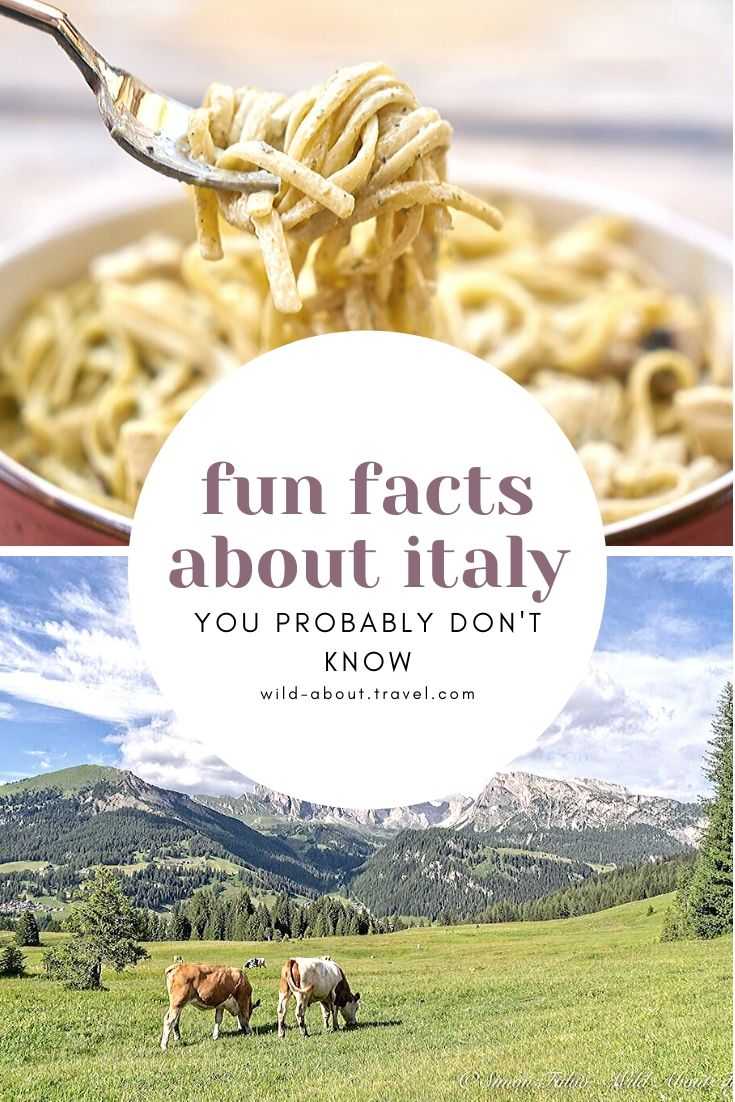 Original article: Fun Facts About Italy: Interesting Things You May Not Know
©2021 Wild About Travel. All Rights Reserved.
This post Fun Facts About Italy: Interesting Things You May Not Know was first published at
Wild About Travel.