Do you want to visit Florence but don't have much time? Don't worry. It's possible to see Florence in one day, at least the main sights, although of course, the city is worth staying longer. We'll focus on a walking itinerary so that you won't miss the most beautiful Florence landmarks.
Whoever travels to Italy for the first time has three cities on their bucket list: Rome, Venice, and Florence. Usually, they're followed by the Cinque Terre and the Amalfi Coast. However, some people prefer to discover hidden gems in Italy after seeing the top attractions.
By all means, Florence is one of the most beautiful cities in the world and a real open-air museum. There's a surprise at every corner. Just let your eyes wander up and around while walking through the alleys of the center; every few steps, you'll discover some splendid palace, a sculpture, a fountain, or a fantastic staircase.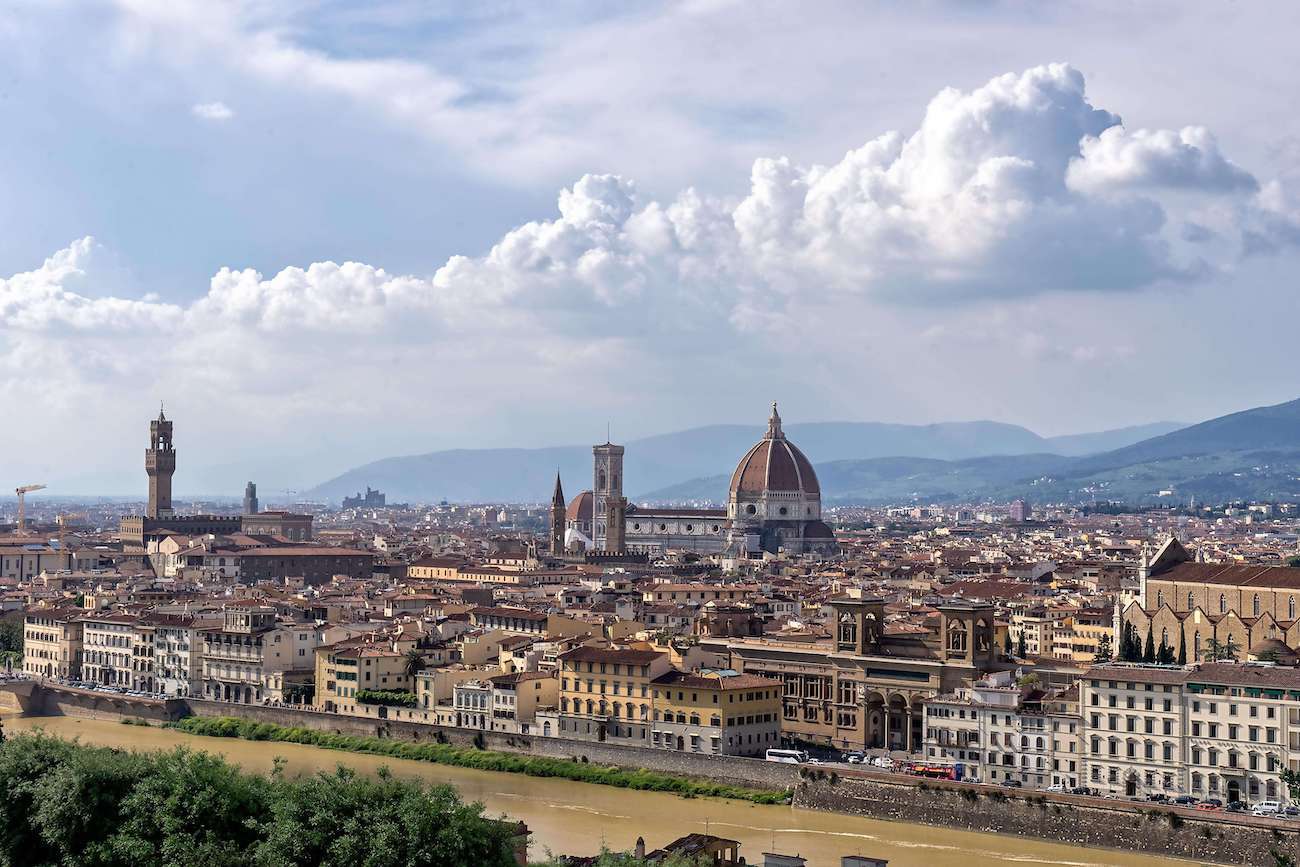 Florence Panorama
Florence is truly spectacular and unique. The city that's the cradle of the Renaissance is also undoubtedly a top Unesco World Heritage Site in Europe and the world. To first-time visitors, Florence is enthralling. But it's one of those cities which will always fascinate you, no matter how many times you've been there. Since my brother lives in Florence, which is less than two hours away by high-speed train, I'm lucky because I can quickly go there time and again. Believe me, there are so many things to see in Florence that time is never enough. And every time I go, I discover something new.
How to get the most out of 24 hours in Florence?
Florence's historical center is small enough, and you can walk everywhere. Actually, walking is the best way to discover the city. However, get ready to cover a lot of distance and wear comfortable shoes!
My advice is to take advantage of the daylight to explore the city and see the most beautiful Florence landmarks. One day in Florence is really a short time, and you'll be able to visit only a few monuments and maybe one museum. Which ones are up to you, depending on your interests. There are, however, a few places in Florence that are must-see, but more on that later.
Late in the afternoon, you can head to a couple of spots from where you'll get the best views of Florence, especially at sunset.
If possible, try to stay overnight because Florence bathed in night light offers yet more magic views. And it's incredibly romantic! Also, try to leave early in the morning and buy online Florence skip-the-line tickets for the attractions you don't want to miss. Mornings are generally less crowded, and although you may still have to queue a little at the top spots, you'll avoid wasting.
Overall, as exploring Florence in one day is undoubtedly a challenge, it may be worth one or two guided visits to some of the main Florence landmarks. Here are a few tours that are worth looking at:
Florence Cathedral and The Opera del Duomo Museum: Tour with Brunelleschi's Dome
Brunelleschi's Dome: Tour
Florence Cathedral: Tour with Cathedral Terraces and Brunelleschi's Dome
Uffizi Gallery: Tour
Florence in one day: Itinerary
One day in Florence is a very short time, and you won't be able to discover all this unique city has to offer. That's why I created a route largely focused on the historical center, that will allow you to see some of the most beautiful Florence landmarks.
Follow the map, and let's start going through your Florence one-day itinerary!
Walking map of Florence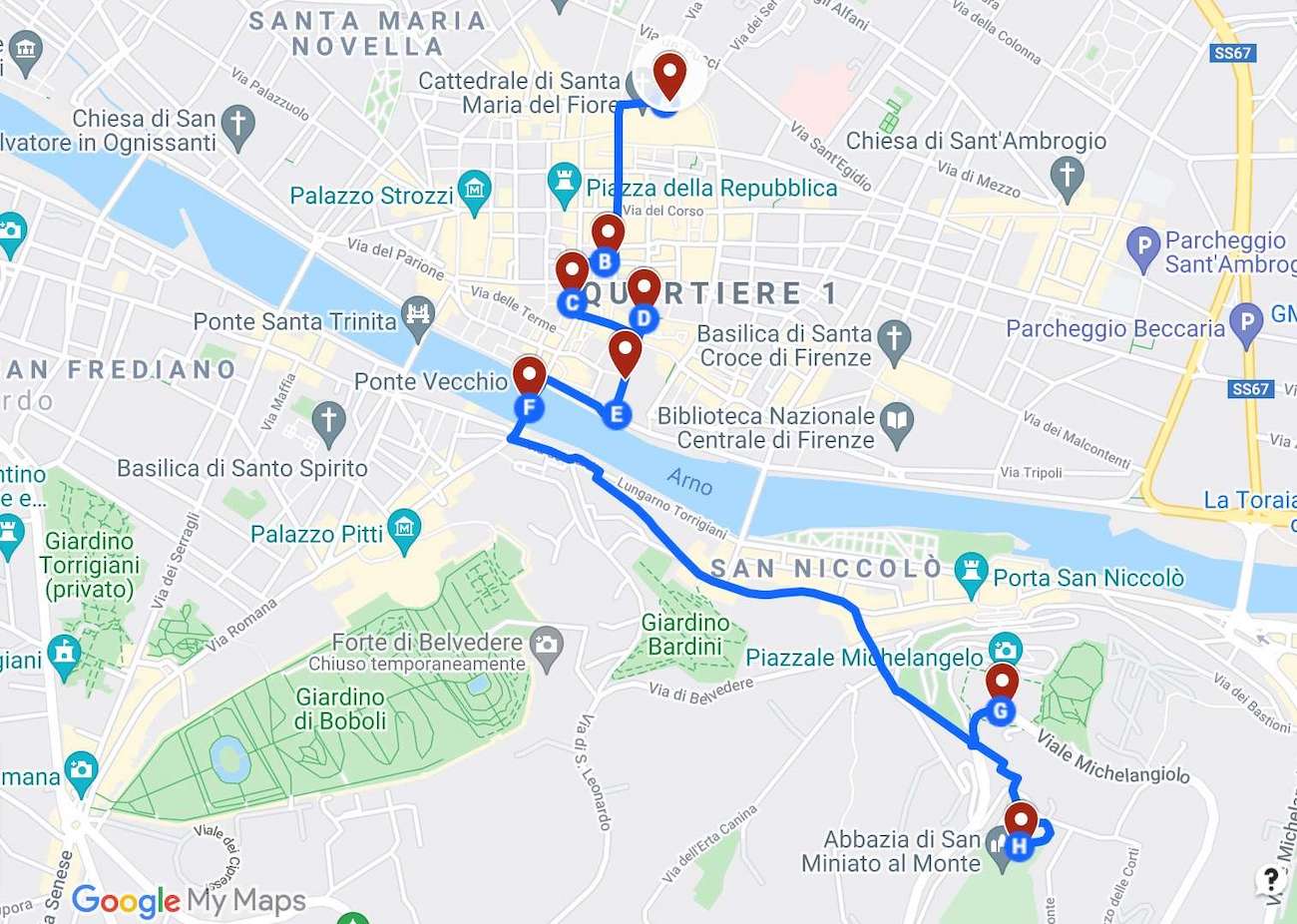 Florence in one day: Morning
1. Cathedral Square (Piazza del Duomo)
Several landmarks in Florence are unmissable, but the most iconic one is likely Florence cathedral square. This tiny area encompasses magnificent buildings whose beauty will leave you speechless. As you can expect, people from all over the world travel to Florence to admire this unique square, and that's why I suggest you go there first, as early as possible.
The three main buildings, close to one another, are the cathedral, the bell tower, and the baptistry. Each of them is well worth visiting inside, as the exterior alone won't let you grasp their splendor.
2. Cathedral of Santa Maria del Fiore (or Florence Cathedral)
I often say that if you have time to visit only one landmark in Milan, this has to be the cathedral and walking on the Duomo rooftop. Similarly (although one can't compare Milan to Florence), the cathedral of Santa Maria del Fiore is the most famous monument in Florence. You certainly have seen photos or postcards of the city from above, with the cathedral's dome standing out.
Florence's cathedral construction began in 1296 following the Gothic design created by Arnolfo di Cambio, one of the most important Italian architects and sculptors of the late medieval period. The building was completed in 1436 with the erection of the dome, designed and engineered by Renaissance architect Filippo Brunelleschi. While the structure is a remarkable example of Gothic and Renaissance architecture, the elaborated pink, green, and white marble facade was added in the 19th century in the neo-Gothic style.
The cathedral's interior is as impressive as its exterior. Overall, Santa Maria del Fiore interior is relatively simple and austere. However, there are a few frescoes which you shouldn't miss. The first one is the fresco portraying the poet Dante holding the Divine Comedy by Domenico di Michelino (1465). Two remarkable examples of Renaissance paintings representing the funerary monuments to Sir John Hawkwood and Niccolò da Tolentino, both condottieri during the Middle Ages. Also, look at the stunning decoration of the dome representing the Last Judgment, started by Giorgio Vasari in 1568 and completed by other painters.
TIP: Keep in mind that Santa Maria del Fiore cathedral is closed on Sundays. During weekdays, opening hours are 10:45 – 16:30. Remember to wear appropriate clothes (no shorts, miniskirts, and no bare shoulders).
3. Brunelleschi's Dome and Giotto's Bell Tower
Florence cathedral's dome is an extraordinary architectural work of priceless value. The skills with which Brunelleschi built a roof of such grandeur, with the means of the time (15th century), is astounding.
The architectural complex includes Giotto's Campanile, a building almost 85 meters high that stands out imposingly on the side of Santa Maria del Fiore. The construction of the bell tower started in 1334. After Giotto died in 1337, it continued under the direction of Andrea Pisano, who thoroughly followed Giotto's original design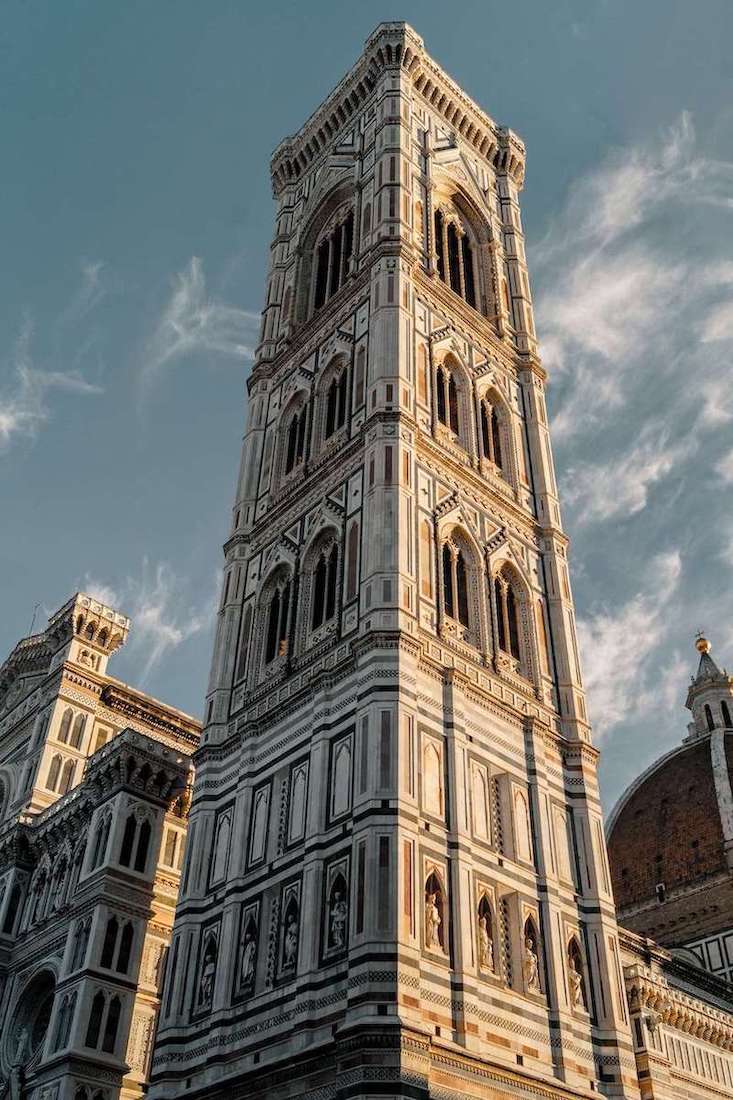 Florence – Giotto's Campanile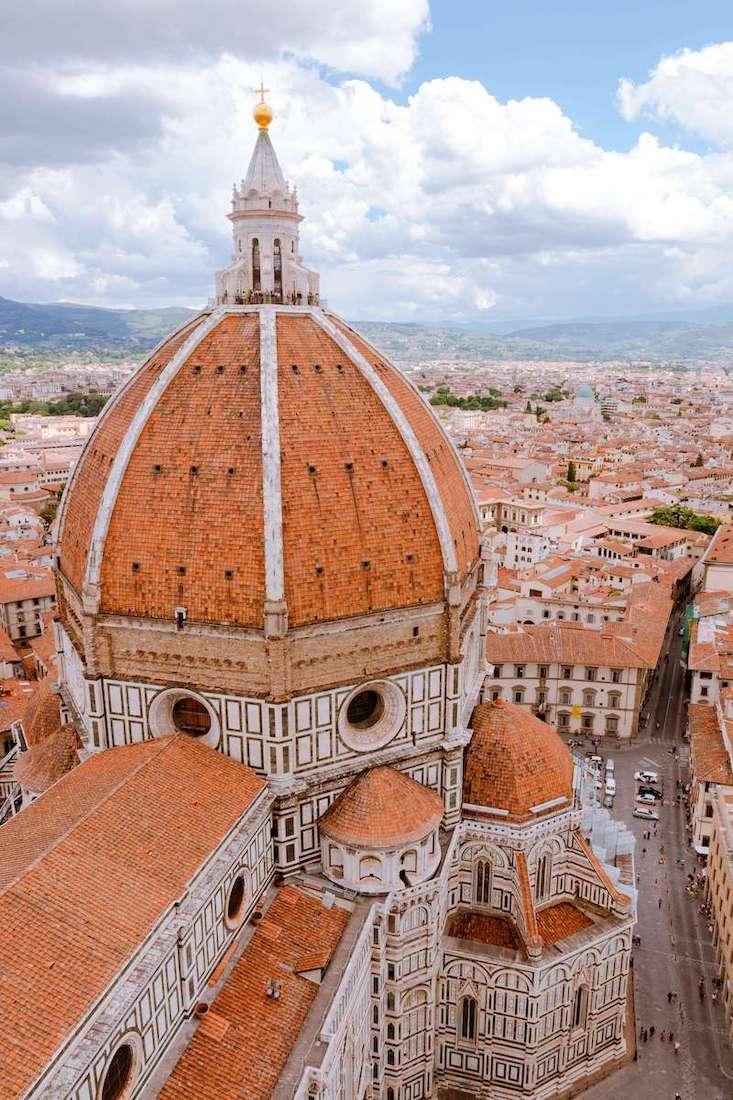 Florence – The Cathedral Dome
I strongly recommend climbing Brunelleschi's Dome, from where you'll get breathtaking views of Florence. Get ready to tackle the 463 steps, though!
4. The Baptistery of San Giovanni
The Baptistery completes the architectural complex of the cathedral of Florence. Also known as the Baptistery of Saint John, this octagonal building is one of the oldest in Florence. It was built between 1059 and 1128 and is a beautiful example of the Florentine Romanesque style.
The three magnificent sculpted bronze doors, the work of Andrea Pisano and Lorenzo Ghiberti, are one of the highlights of Florence Baptistery.
Inside, the decoration is inspired by ancient Rome architecture and, above all, the Pantheon. In addition, the white and green marble geometric designs create an exquisite chromatic harmony. Finally, don't miss to look up to admire the stunning mosaics decorating the dome, whose creation started in 1225 and finished in 1330. They may not be as unique as Ravenna mosaics, but they're definitely worth to be seen.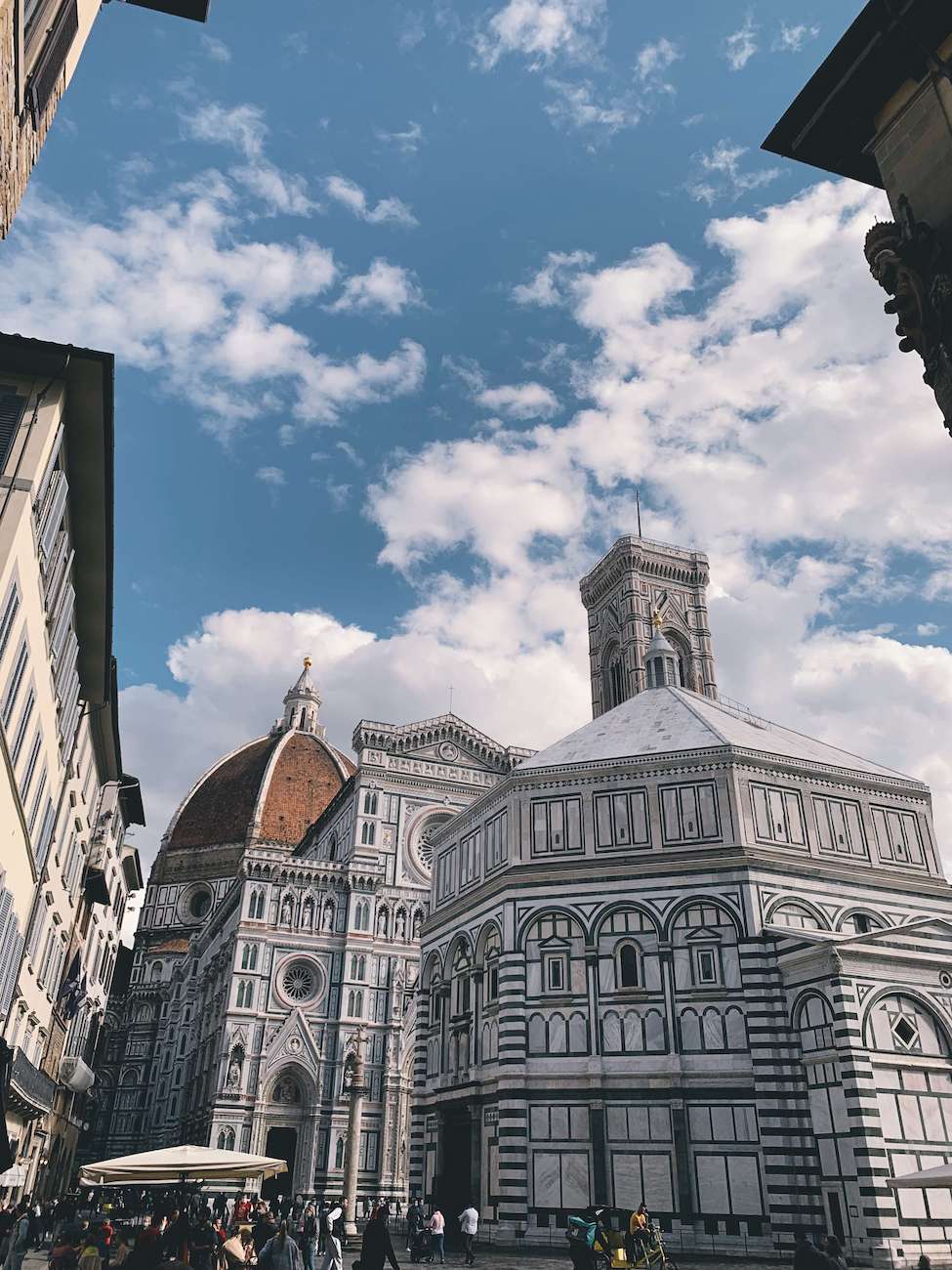 5. Orsanmichele
The lesser-known church of Orsanmichele happens to be one of my favorite Florence buildings. Originally, Orsanmichele was a grain market. However, not even 50 years later, between 1380 and 1404, it was converted into a church. The facade is embellished by 14 niches, with just as many statues. Although small, the interior is beautiful, especially Andrea Orcagna's gothic tabernacle (mid-14th century) and the frescoes.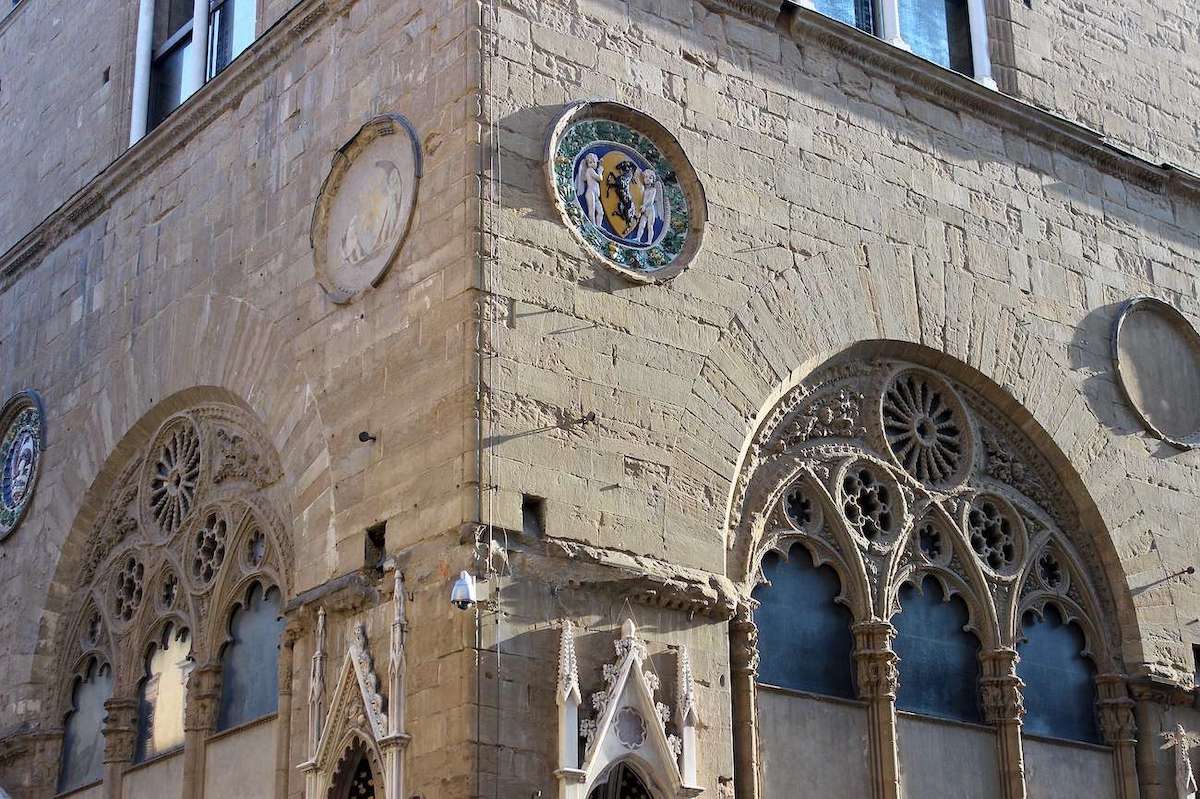 Florence – Orsanmichele [Photo courtesy: Miguel Hermoso Cuesta, CC BY-SA 4.0]
Florence in one day: Afternoon
6. The Porcellino fountain
Many Italian cities have a work of art shrouded in legends. For example, you may have heard (or seen) about the Mouth of Truth in Rome, where people are dared to stick their hands. Or the bull's balls on the floor of Milan's Galleria Vittorio Emanuele II. People step with their right heel on the testicles and turn three times counterclockwise, as the bull is said to bring good luck!
In Florence, the Porcellino (meaning piglet) is a bronze fountain representing a boar. Since it's close to Piazza della Signoria and Palazzo Vecchio, it's worth making a short detour to get a look. As you look at the Porcellino, you'll notice its shiny nose! That's because, according to a legend, you have to rub the pig's nose to get a good dose of luck! Nose rubbing is not enough, though. To complete the superstitious ritual, you have to insert a coin into the pig's mouth. If the coin falls into the grate and ends in the water, then luck is guaranteed!
7. Piazza della Signoria, Palazzo Vecchio and the Loggia dei Lanzi
One of the main attractions in Florence is Piazza della Signoria. The most famous square in Florence is home to the Loggia dei Lanzi and Palazzo Vecchio, the city's town hall.
Piazza della Signoria is rich in architecture and sculpture. Indeed, many statues are adorning the square, including a copy of Michelangelo's David.
The Loggia dei Lanzi is a cloister that houses several sculptures, a sort of open-air art gallery.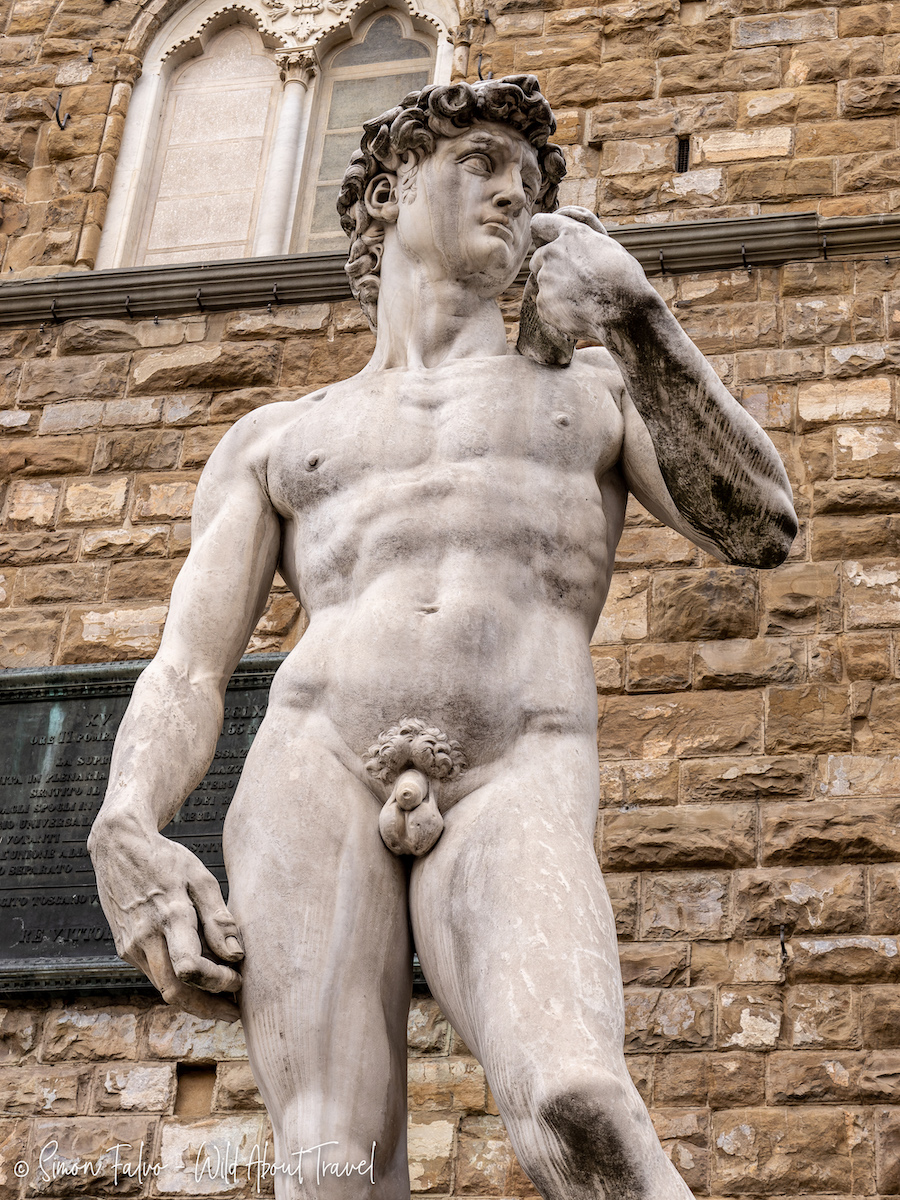 Michelangelo's David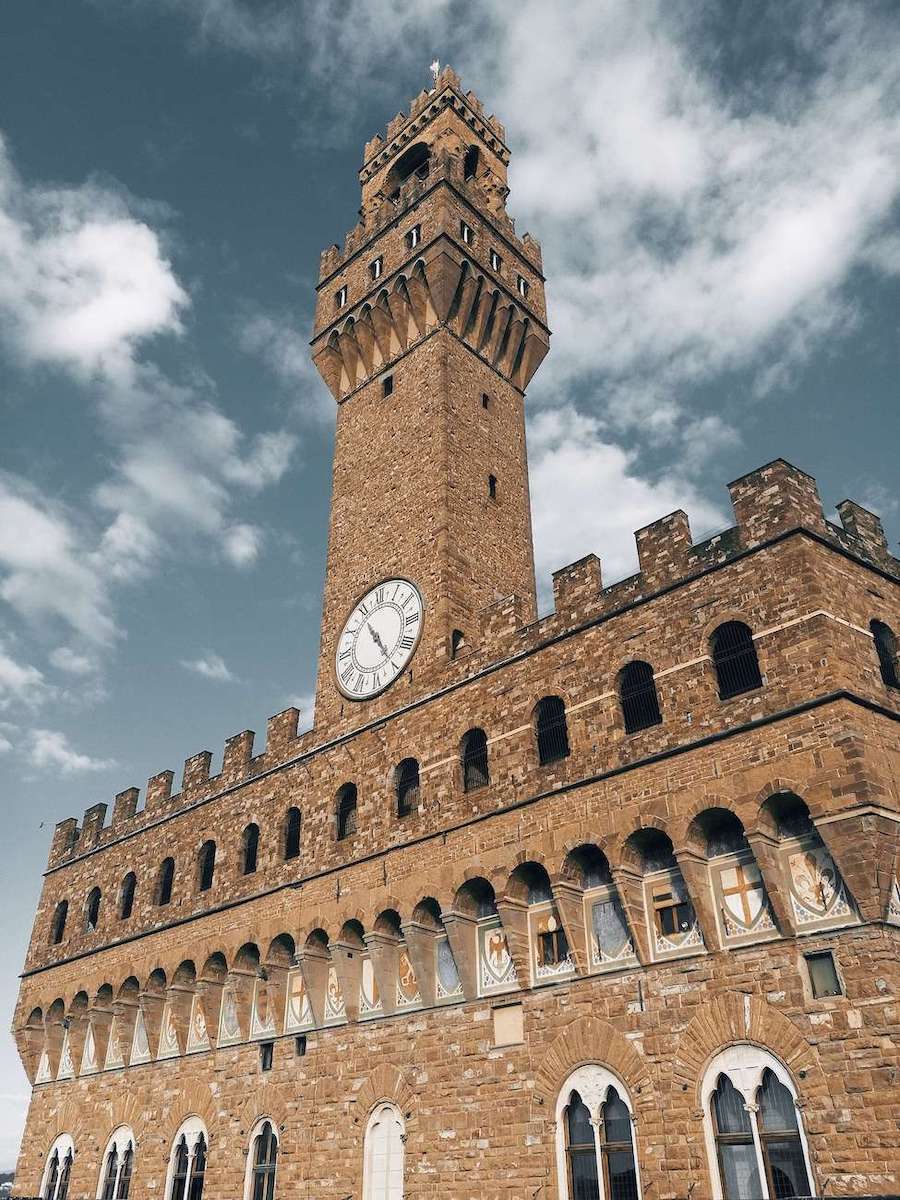 Florence – Palazzo Vecchio
The Palazzo Vecchio, whose construction dated back to the end of the 13th century, houses the museum and the Arnolfo Tower. Inside, you'll admire the beautiful courtyards and the splendid decorations culminating in the famous Salone dei Cinquecento, one of Italy's largest and most magnificent halls.
8. The Uffizi courtyard and Ponte Vecchio
A stone throw from Piazza della Signoria you'll come across the Uffizi courtyard, leading to the Arno river and the nearby Ponte Vecchio. Without a shade of doubt, the Uffizi Gallery is one of the most exceptional museums in Italy and Europe. It houses world-famous masterpieces like Botticelli's The Birth of Venus, Leonardo da Vinci's Annunciation, Michelangelo's Tondo Doni, and many more iconic works of art. But, of course, it's hard to squeeze in a visit to the Uffizi if you're visiting Florence in one day. So if you don't want to miss it, your best bet is a guided visit, with an expert guide leading you to the most important masterpieces.
Ponte Vecchio is another iconic monument defining Florence's panorama. The bridge, which spans the river Arno, is one of the city's symbols. The shops once housed farmers, tanners, butchers. But at the end of the 16th century, they were replaced by jewelers and goldsmiths. Time stood almost still for a few shops which, to date, still manufacture a large part of their jewels in the ancient workshops.
At the top runs a section of the famous Vasari Corridor, which initially allowed the Medici family to move from Palazzo Vecchio to Palazzo Pitti without going through the main streets.
9. Piazzale Michelangelo and San Miniato
By now, it'll likely be late afternoon. Time to move from the historical center and head uphill to Piazzale Michelangelo, from where you'll get one of the best views of Florence. Expect it to be crowded since this esplanade is the most popular spot to admire Florence sunset.
From farther away and above, the panorama of the city is mesmerizing. The cathedral dome and the tower of Palazzo Vecchio stand out in the sky as it turns orange and pink; the atmosphere is magical and utterly romantic. If you're not too tired, I recommend walking up to Piazzale Michelangelo, climbing the winding alleys where you'll feel like strolling in a town in the countryside. Alternatively, you can catch a bus or a taxi.
Time and energy permitting, before taking a break to catch the Florentine sunset at Piazzale Michelangelo, climb further up to the San Miniato al Monte Abbey. The basilica stands at the highest point, overlooking the city and offering stunning views. Construction started in 1013, and San Miniato is considered one of the finest examples of Romanesque style in Tuscany.
Florence in one day: Evening
The Tuscan capital offers so much to see and do that a day in Florence ends in a heartbeat. So unless you're leaving, treat yourself to a special dinner and taste the best Tuscan food specialties. These include Ribollita (a delicious vegetable soup traditionally prepared with the farmers' products and dry bread), Bistecca alla Fiorentina (an enormous T-bone steak), and many others. In addition, Tuscany is famous for its red wines, perfect to combine with the local dishes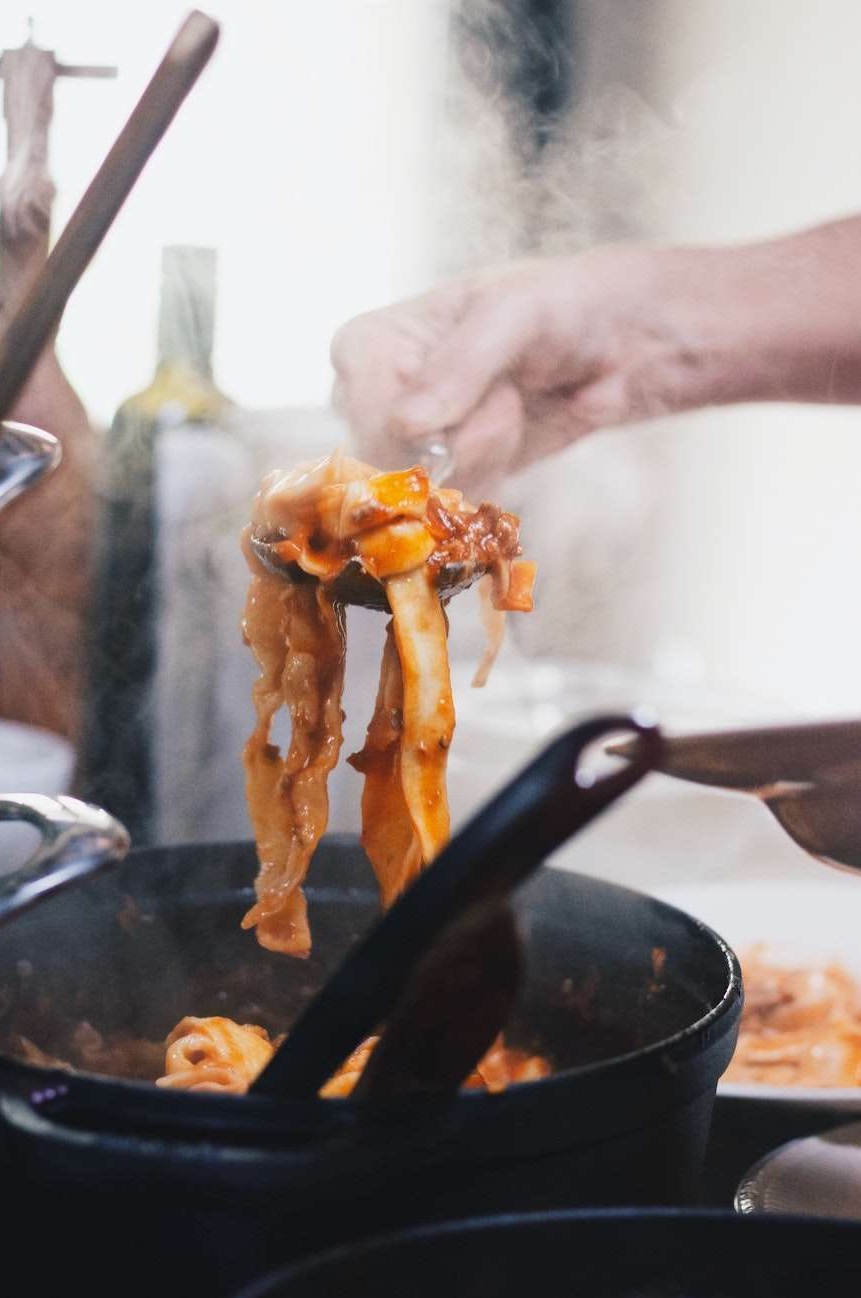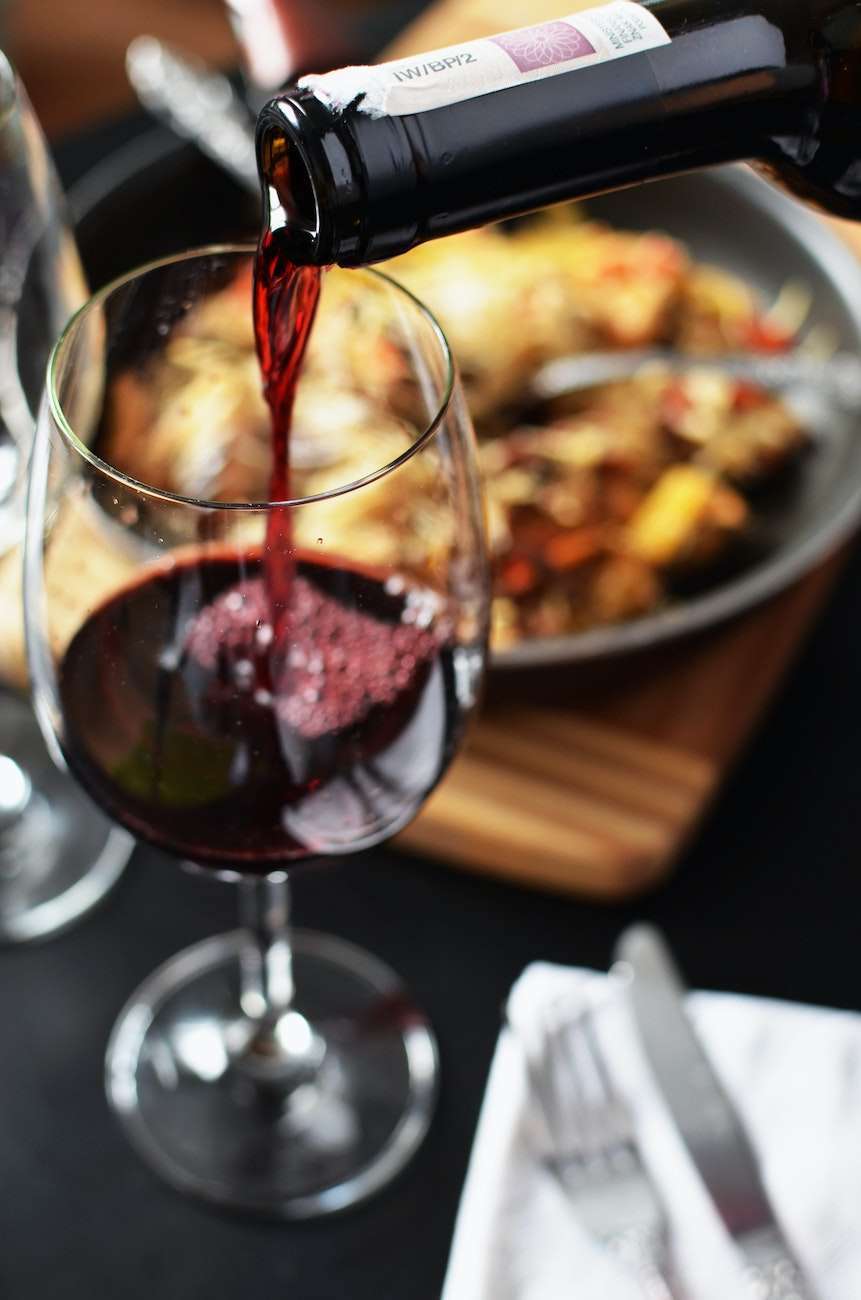 After dinner, if you still have some strength, go back to a few of the sites visited during the day. Bathed in the night lighting, they emanate a different charm.
---
Where to stay in Florence
Tornabuoni Suites Collection Residenza D'Epoca is located only a 5-minute walk from Santa Maria del Fiore cathedral and Piazza della Signoria. The hotel features rooms with an elegant contemporary style, standard rooms, and junior suites with a private terrace.
The elegant and stylish Arte' Boutique Hotel is very close to many Florence landmarks in the historical center. The rooms feature many amenities, and some of them also offer a view of the cathedral.
Hotel NH Collection Palazzo Gaddi is located in a building from the Renaissance in the heart of the historical center. A plus is the rooftop terrace boasting spectacular views of Florence.
Find out more accommodations in Florence.
---
Disclaimer: This post has links to a few selected products or services carefully selected. That means that if you make any purchase, I get a small commission at no extra cost to you.
Pin for later!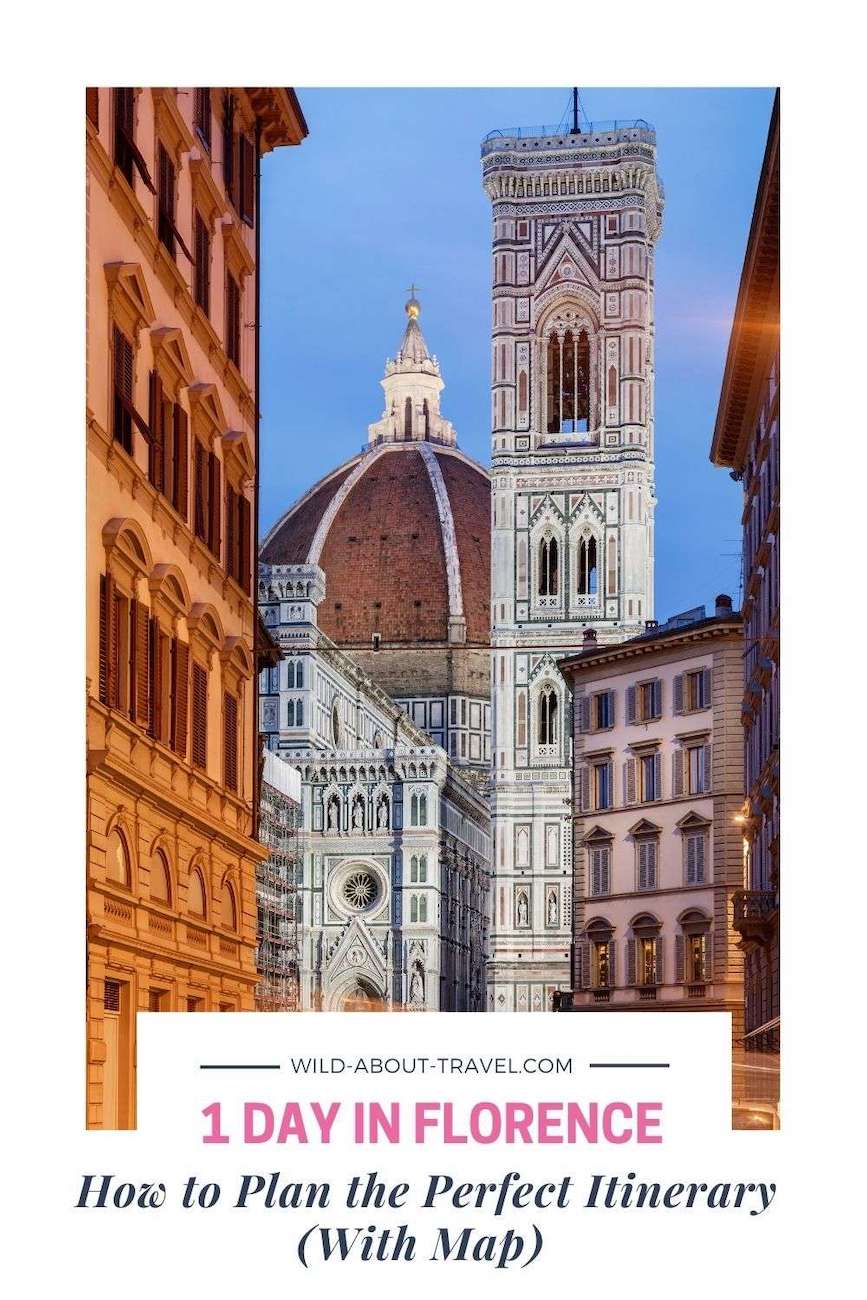 Original article: Florence in One Day: How to Plan the Perfect Itinerary
©2021 Wild About Travel. All Rights Reserved.
This post Florence in One Day: How to Plan the Perfect Itinerary was first published at
Wild About Travel.