Why is a day Hike packing list important? Over the years, I learned that while a day hike may seem nothing to think much about, especially if it's an easy one, you always have to be prepared. Here's my list of essential Hiking gear.
I've been hiking alone for a long time, and I had my share of one-day walks, some quite long. I learned a few valuable lessons, like never underestimate how quickly the weather can change, and being prepared (as much as possible) for the unexpected. That's how I found out that there's must-have hiking gear I always have with me, no matter where I go and for how long. And I created a day hike check list which helps me not to forget important items.
Day hike packing list and

must-have

hiking gear
Table of contents
Backpack
Hiking Shoes
Spare Clothes (especially when warm)
Hiking Poles
Water Bottle and Purifier
Tube Bandana and Quick Dry Towel
First Aid Kit and… Compeed Blister Cushions
Ultralight Dry Sack and Waterproof Phone Case
Sunscreen
Emergency Whistler and Power Bank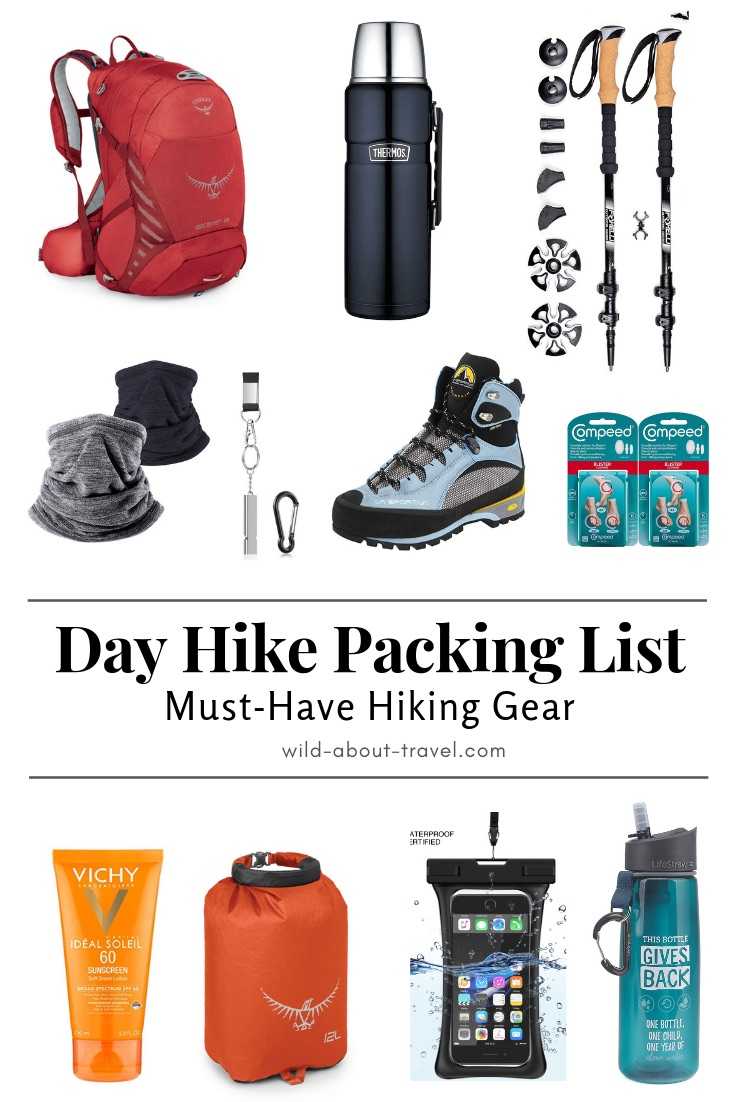 Hiking shoes
Technically speaking, you don't pack your hiking shoes but… This is the most essential hiking gear since hiking shoes have a huge impact on comfort AND safety. Therefore, if you have a limited budget, you can buy cheaper versions of any hiking essentials, but shoes and the backpack are the ones for which you should spend more.
What are the key features of hiking shoes?
Comfort: this is very personal because we all have feet shape differently. You can buy hiking shoes online, but first, go to a store and try them on.
Waterproof: few things are more unpleasant than wet feet. Even if the sun shines, you might have to cross a stream.
Proper dented soles to walk on rough terrain.
I'm very satisfied with my La Sportiva hiking boots. High and supporting my ankles, they were my faithful companion when hiking Los Glaciares in Patagonia, the Dolomites, and at many other places.
More recently, I bought a pair of mid-height La Sportiva hiking shoes, which are perfect for day hikes. Although I miss feeling my ankles steady, these shoes are lighter and practical when I go on trails I already know, which are not particularly challenging. They're also practical for a short break because I can wear them as well with a pair of jeans, and don't need to bring a second pair of shoes. I use mine quite a lot, and I bet you would too.


Spare clothes (especially when it's warm)
How you dress for your hike depends on the season, the location, and the weather. However, whatever your outfit, you must be prepared in case of a sudden change in the weather conditions. Something that can easily happen in the mountains.
Winter and cold temperatures make things easier. Layers are the way to go, and if it suddenly gets warmer, it's just a matter of taking a layer off. But Summer, as well as Spring and Autumn, can be treacherous. That's why I suggest to always add spare clothes in your backpack when you head for a day hike. Looking at the weather forecast before hiking is good practice, but remember that it's not an exact science. Forecasts can be wrong.
If you wonder what to bring on a day hike, here's my hiking checklist of spare clothes:
Lightweight gore-tex hardshell jacket with hood, to face rain and wind.
Fleece jacket or sweater
Rain cover pants
Quick-dry hiking pants (convertible pants are a good option )




Thermal underwear
Lightweight gloves, touchscreen compatible so that I don't have to take them off whenever I want to check my smartphone.


Merino wool hiking socks
Neck warmer
Fleece-lined hat.
As much as possible, I want to stay warm and dry, and I guess you want it too.



Hiking poles
Since I started using hiking poles, I always bring them with me. They make me feel more stable, and they help me reduce the impact on my knees when walking downhill.
Like everything, there's a variety of options to choose from, from cheap sticks to expensive ones. To be honest, unless you're off for a very challenging expedition, I don't think it's worth spending a lot of money. Mid-range priced hiking poles will do well enough.
However, when choosing, keep in mind a few hiking poles essential features.
Collapsible sticks are much more practical to carry along once your hike is over. You can choose between telescopic and folding hiking poles. I have a pair of telescopic sticks with twist locks, and recently bought folding sticks which are extremely practical.

Shock-absorbent

Light-weight

Natural cork grips: they're not essential, but they're useful to absorb sweat, and I find them more pleasant to the touch.
You won't get wrong with the collapsible, lightweight, shock-absorbent Foxelli Trekking Poles. If you'd instead buy foldable sticks, the Equipeak Collapsible Folding Hiking & Trekking Sticks are good value for money.


Water bottle

and purifier

Hydration when hiking is essential and my day hike packing list always includes at least 1 liter of water (33 Oz.), often two liters (66 Oz.). I usually prefer cold water; however, on a cold and windy day, a hot beverage is a sweet treat.

The Thermos Stainless King 68 Ounce keeps liquids hot or cold for about 24 hours, and I like the integrated cap allowing to drink hot beverages easily.

Since having enough water is my greatest concern when I go hiking, and I want to avoid carrying too much weight, I'm pleased with my LifeStraw Go Water Filter Bottles. I am able to refill them at a stream, filtering the water. And since I want to be sure about the water I drink, I use the Steripen Adventurer Opti Purifier. That way, I can hike with a lighter backpack and at the same time, I can safely drink liquids from creeks and fountains along the trail.



Tube Bandana

, Lightweight quick-dry towel

A tube bandana is a simple, light, and cheap accessory which is one of my favorite and should be included in any day hike packing list.

I like tube bandanas for their versatility. I use them as a neck warmer, headscarf, hair wrapper, and always bring one or two with me, wherever I go, and not only when off to the mountains.

Indeed, I felt glad to have one with me when I fell while hiking the West Highland Way in Scotland. I hurt my wrist short before reaching half of the last leg, a very long 30+ km walk. There was no other option than continue hiking, and my wrist was painful. To ease the pain, I regularly soaked the bandana in the cold water of the many streams, wrapping it around the wrist and finding relief. During the summer heat, I wear a wet bandana on my head and feel refreshed. And a tube bandana often adds a fashionable touch to my outfit.


Weather can be unpredictable, and I always have a lightweight, quick-dry, microfiber towel at hand in case of a sudden shower. I used it quite a lot when hiking in Scotland and when I traveled along the Causeway Coastal Route since showers in the UK are common. No one likes to feel wet all day long, right?
Additionally, I use the towel as a blanket to sit on the grass and enjoy a picnic during my hikes.
First Aid Kit and… Compeed Blister Cushions
I am an optimist by nature, and always think that everything will be fine. I learned my lesson when I hurt myself on a couple of occasions. Since then, I added a First Aid Kit to my day hike packing list.
There's nothing worse than sore feet, and blisters can seriously ruin a hike. That's why I never leave without a pack of Compeed blister cushions of mixed sizes, suitable for heels, toe and the side of the foot. I tried a couple of other brands, but none are as good and effective, so I stick to my precious Compeeds. I strongly recommend adding Compeeds to your hiking packing list. In case of need, you'll feel incredibly grateful to have them in your backpack.


Ultralight Dry Sack and Waterproof Phone Case
A backpack cover is only light protection, and if it pours down rain, it won't even nearly be enough. Hence, I bag the spare clothes and valuables in a dry sack. And my beloved Sony Alpha a7 II in another one.
The Earth Pak -Waterproof Dry Bag comes in different sizes and works perfectly to keep all my clothes and valuables safe. And I also use a waterproof phone case. a super handy tool also on the beach.


Sunscreen
Never forget to protect your skin with a good sunscreen. Also, remember that the sun rays filter as well through thin clouds. Apply sunscreen generously on your face (including ears), your neck (don't forget the back), and all the parts of your body exposed to the sun.
A few years ago I started suffering from allergic reactions to greasy products and found out that La Roche-Posay Anthelios Clear Skin Sunscreen is perfect for me.
Another excellent product is Vichy Laboratories Capital Soleil, which provides decent protection and doesn't give me any skin rash.