Are you looking for unique day trips from Munich but not sure where to start? Let me help you discover the most beautiful areas around the Bavarian capital. From fairytale castles to pristine lakes and idyllic mountain sceneries.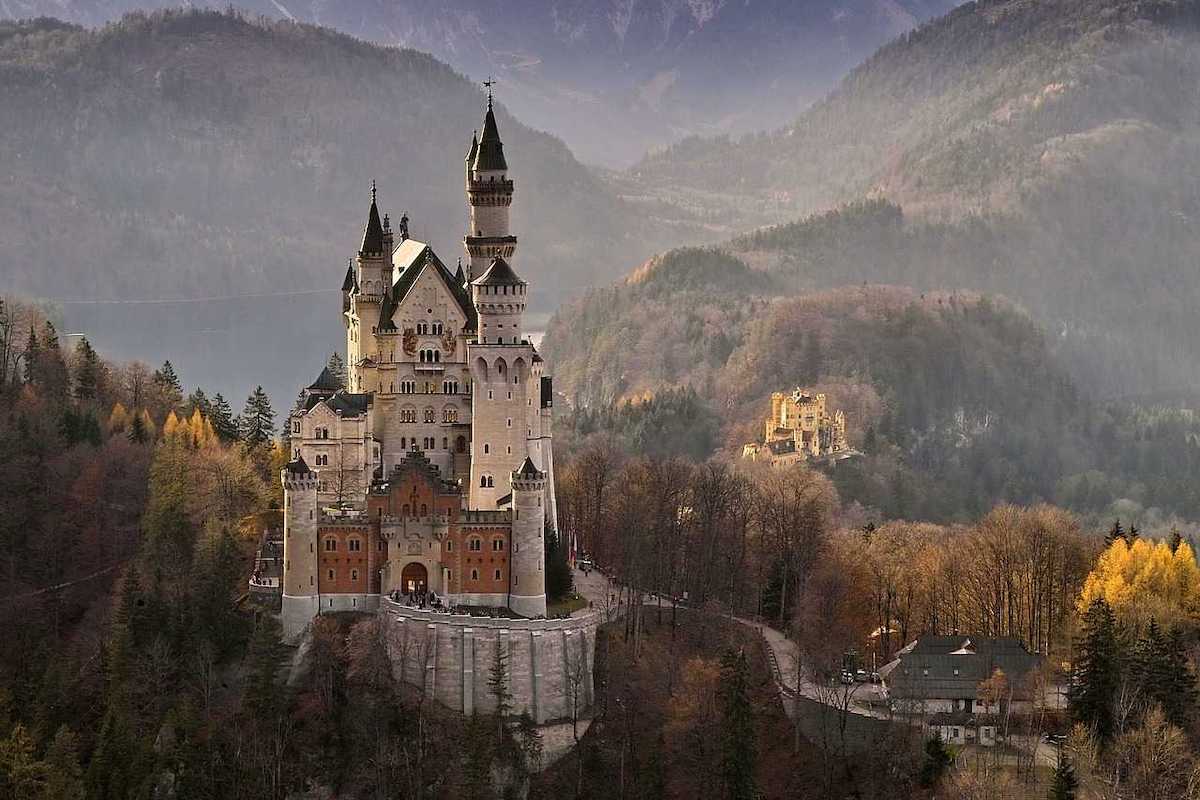 There are plenty of reasons to spend two days in Munich. The city is charming, Munich Christmas markets are lovely, not to speak about the famous Oktoberfest.
But there's more. Thanks to its privileged geographical position, you can enjoy a multitude of day trips from Munich, allowing you to explore the best of Bavaria. And even nearby Austria.
Castles of Bavaria
Few areas in Europe (except probably Italy and France), have such a concentration of castles like Bavaria. What's sure is that not far from Munich you can visit one of the world's most famous castle: Neuschwanstein. Indeed, Neuschwanstein inspired one of the most beloved Walt Disney's cartoons, Cinderella, and the fairytale castle of the Magic Kingdom.
Neuschwanstein castle tour from Munich
Perched atop a steep hill at an 800 m (2,620 ft) elevation, Neuschwanstein is the most popular day trip from Munich, and for a reason. From the beginning, Neuschwanstein castle epitomized the unique historical and cultural environment of Bavaria of the second half of the 19th century. It's a fascinating background combining a romantic interpretation of the Middle-Age, an eccentric – if not disturbed, king, Ludwig II of Bavaria, and German composer Richard Wagner.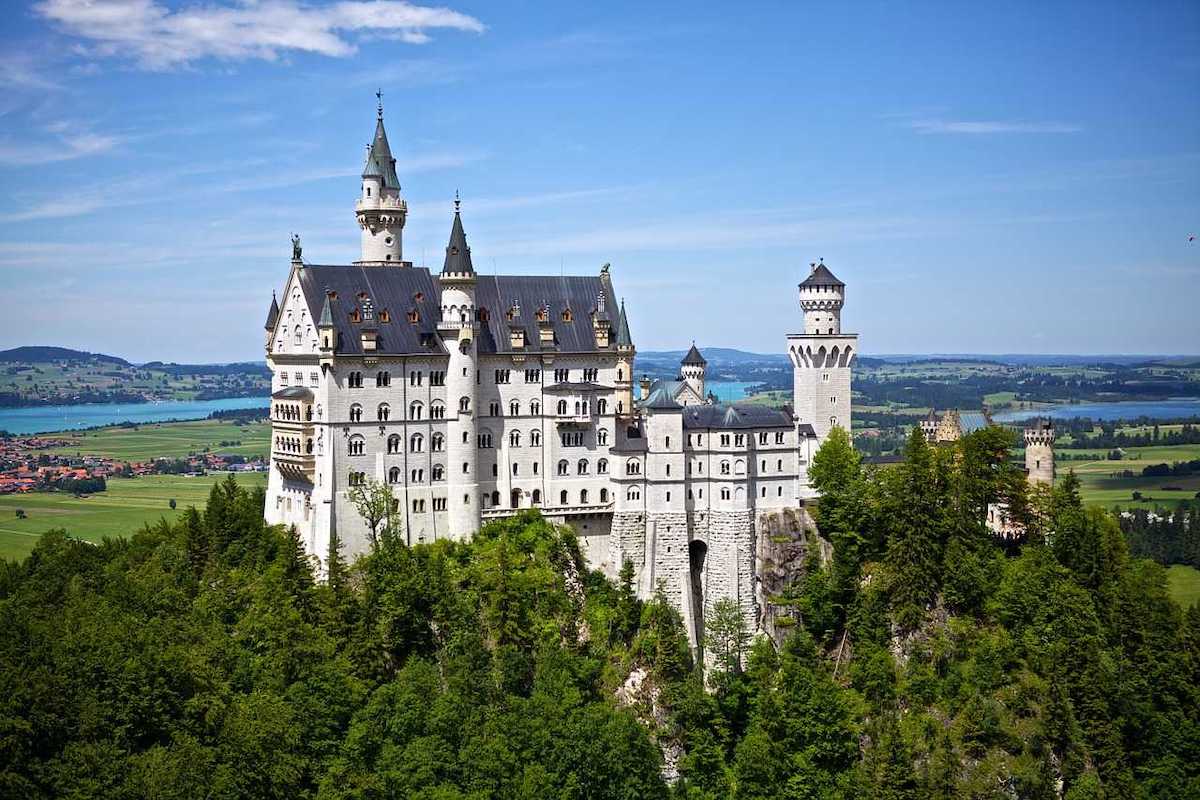 Ludwig II of Bavaria commissioned the building of Neuschwanstein castle in 1868. It was to become a retreat for the King and to honor Richard Wagner, although Wagner died before being able to visit the castle. The deposition of King Ludwig II of Bavaria in 1886 (before the castle completion) on the grounds of insanity, his arrest, and the mysterious death short made Neuschwanstein even more intriguing. As a result, Neuschwanstein castle has become one of the most visited tourist attractions in Europe.
That means you need to plan your visit, and there's no better way than booking a Neuschwanstein castle tour from Munich. These are the best day trips from Munich to Neuschwanstein. As you'll see, some day tours from Munich also include the visit to Linderhof castle.
Premium Tour to Neuschwanstein Castle & Linderhof
Neuschwanstein Castle from Munich Full-Day Tour
A tour to Neuschwanstein from Munich, including a visit to the 17th century Church of Wieskirch, a UNESCO World Heritage Site.
Private tour to Neuschwanstein Castle, Linderhof Palace, and the village of Oberammergau.
Castle of Herrenchiemsee and Fraueninsel
Another castle commissioned by Ludwig II of Bavaria, Herrenchiemsee, is entirely different from Neuschwanstein. Whereas Neuschwanstein is intimately related to Richard Wagner, Herrenchiemsee New Palace was strongly influenced by King Louis XIV of France.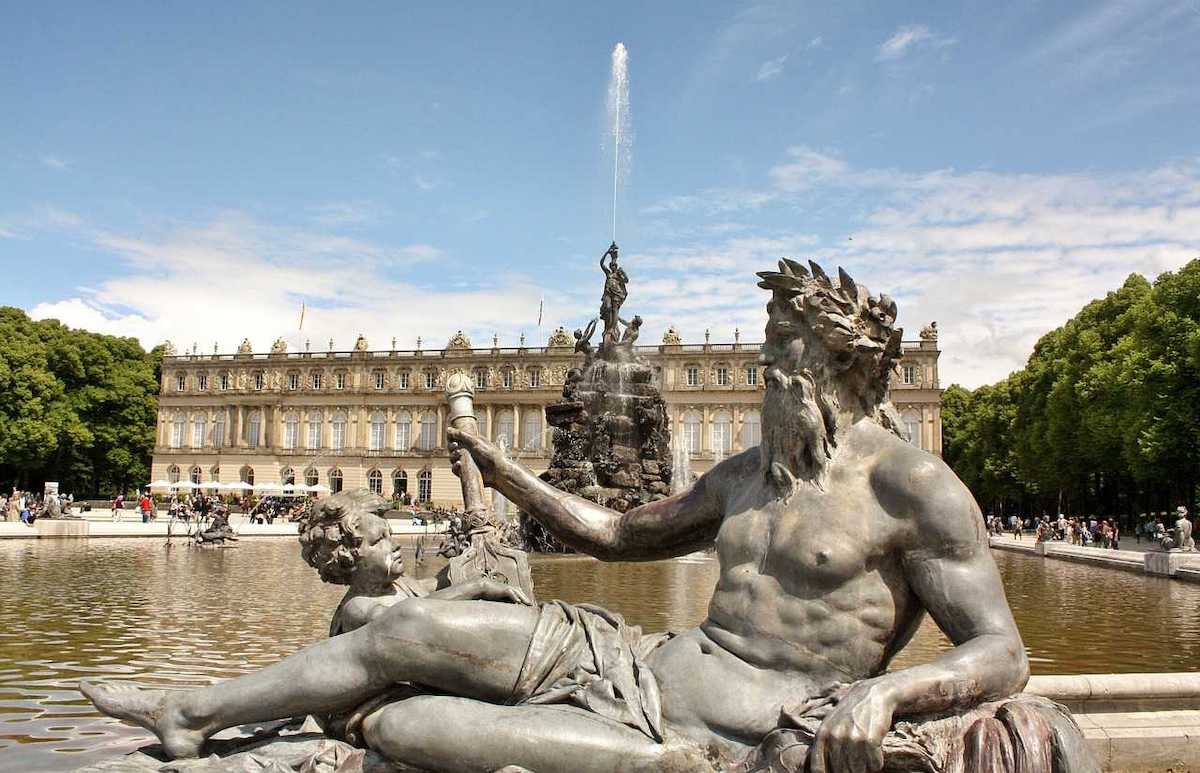 The castle, in Neo-Baroque style, was meant to become the Bavarian Versailles. The external and interior architecture is deeply influenced by Versailles, although Ludwig II didn't aim to build a perfect replica and provided the castle with amenities that its French model lacked.
The Palace was built on the largest island in the Chiemsee lake, amid idyllic scenery. Despite its magnificence, Herrenchiemsee is overshadowed by Neuschwanstein and far less visited. It may lack the "Cinderella's Castle" dramatic settings, but it certainly is more peaceful.
You can discover Herrenchiemsee Palace as a full-day tour from Munich. During the trip, you'll also visit the Benedictine monastery on one of the islands and enjoy a boat ride across the Chiemsee lake.
Read also – Where to stay in Munich: Best hotels by district
Charming cities and villages near Munich
Bavaria is home to some of the most beautiful towns in Germany, which also happen to be perfect for a romantic break. Aside from the Bavarian castles, some of the best day trips from Munich will let you explore quaint medieval towns. Get ready for colorful half-timbered houses, and an atmosphere which is typical of this area of Europe.
Rothenburg ob der Tauber
This is one of the most beautiful medieval towns near Munich, and also one of the best-preserved. Picturesque and romantic, it's easy to see how it became so popular and gathering tourists from all over the world. Impossible not to fall in love with the old ramparts, the fairytale houses, and the cobblestone alleys of the Altstadt (the old town).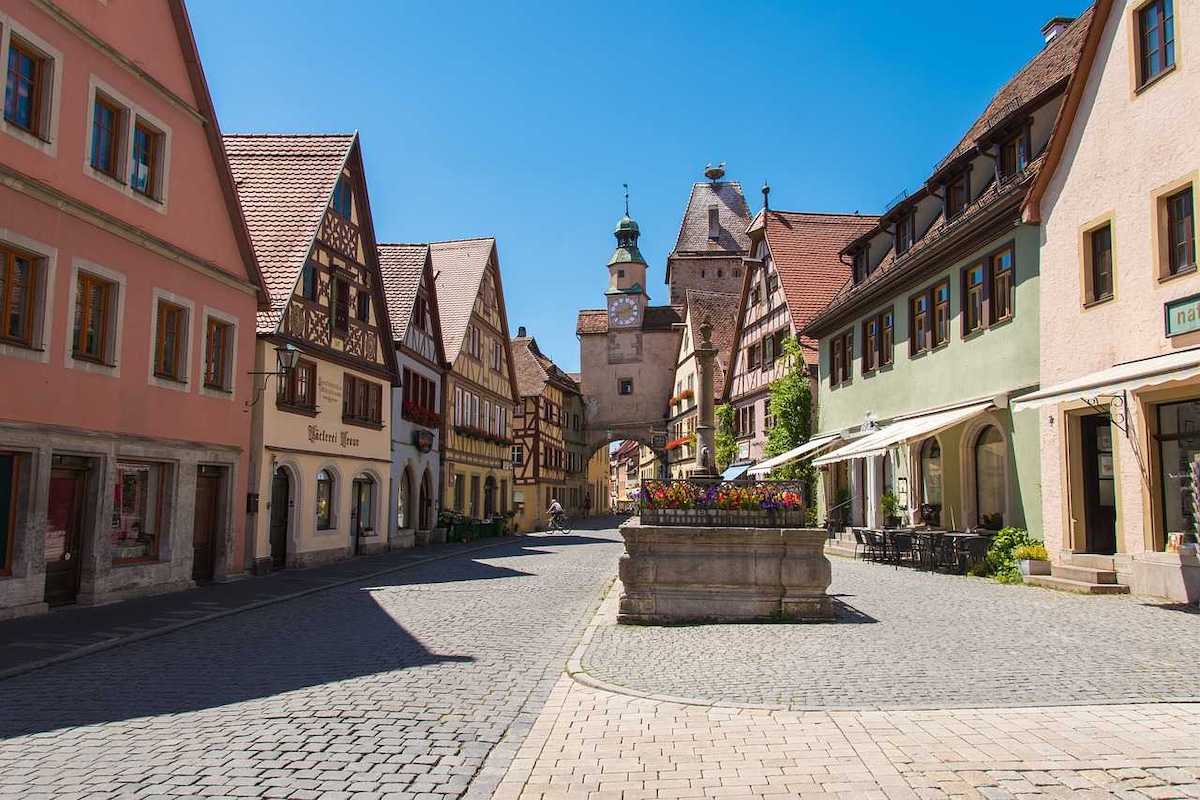 Not to miss in Rothenburg ob der Tauber: a stroll in the Marktplatz (Market Square) and along the town walls, and a visit to the Town Hall and the medieval Crime and Punishment Museum.
Like many other charming towns in Europe (think of Bellagio in Italy or Bruges in Flanders) that are popular one-day excursions, it would be better to overnight. That way, you can fully enjoy the atmosphere without the flocks of tourists. However, if you have limited time, it's worth taking a day tour from Munich to Rothenburg ob der Tauber. You'll drive along the Romantic Road, visit the medieval Harburg castle, and wander through quaint Rothenburg.
Regensburg
Founded by the Romans in the 2nd century B.C., Regensburg is one of the oldest towns in Germany. Furthermore, Regensburg is one of the few German cities which remained almost undamaged during World War II. Thus the medieval center of Regensburg is very well preserved and was inscribed as a UNESCO World Heritage Site back in 2006.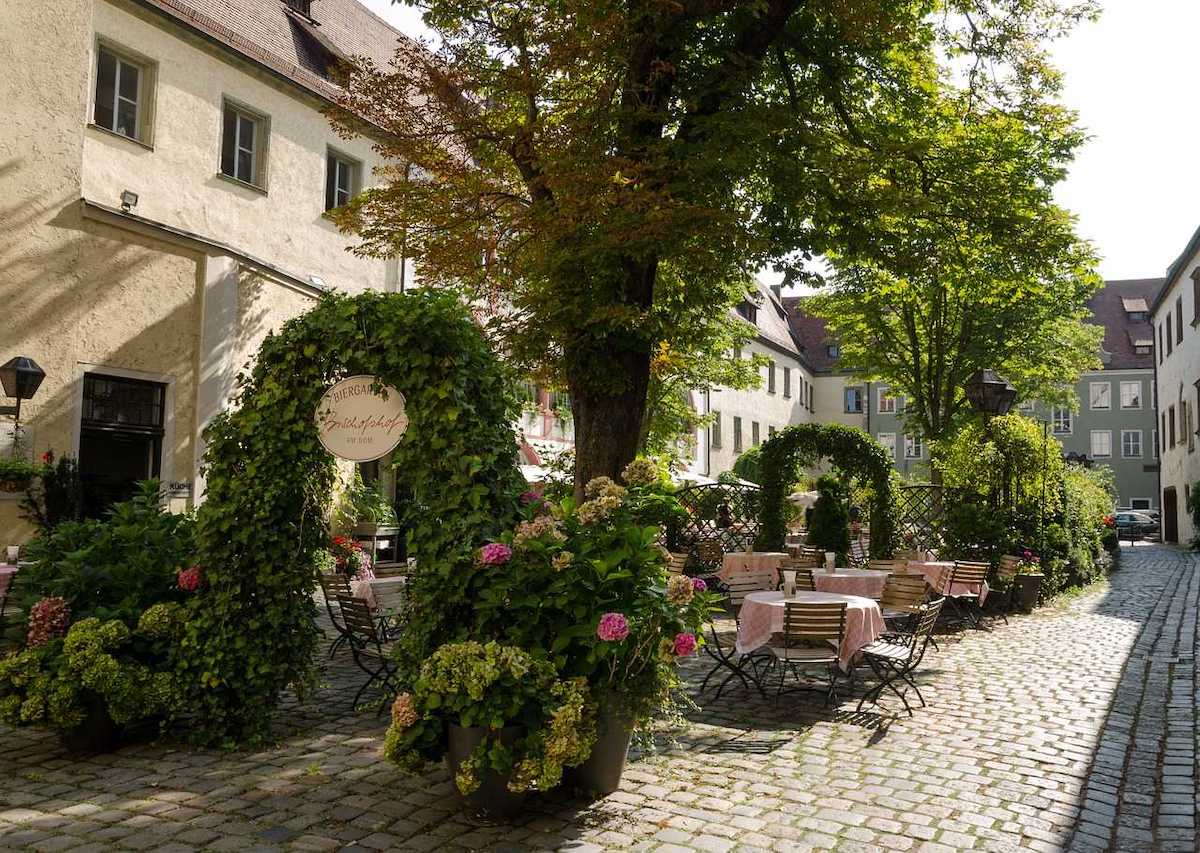 Must-see in Regensburg include the gothic St. Peter's Cathedral and the medieval stone bridge. Don't miss the Golden Turm (Golden Tower), a unique type of house with a tower, a symbol of wealth displayed by the merchant families during the Middle Ages. Pop in the Old Town Hall and visit the Thurn and Taxis Palace, built from a former Benedectine monastery.
If you're traveling to Munich in December, keep in mind that Regensburg Christmas Market is considered one of the most beautiful Christmas Markets in all of Germany. Don't miss the romantic Christmas market in the setting of the Thurn and Taxis Palace.
You can travel from Munich to Regensburg by train in about 90 minutes. You can either visit by yourself or book a day tour from Munich with a professional guide, to learn about Regensburg's history and heritage.
Nuremberg
After the extensive bombings during World War II, Nuremberg was rebuilt, and part of its former medieval appearance was restored. The city is known for the Nazi Rallies and the Nuremberg Trials, the military tribunals set up by the Allies to prosecute prominent members of the Nazi party for their war crimes. Today, Nuremberg is a more than a prettily rebuilt city. A trip to Nuremberg is a step back in time, revisiting a past at times glorious and also marking one of the darkest periods of the 20th century.

By train, it takes about 70 minutes to get to Nuremberg from Munich. Although you can easily arrange a day trip from Munich to Nuremberg on your own, there's a lot to learn about the city's history. That's why I recommend you take a full-day tour with an expert guide, who will tell you about Nuremberg's fascinating history.
Salzburg
Although in Austria, Salzburg is very close to the border with German Bavaria, and thus within easy reach from Munich. The city where Mozart was born and which was the setting for the uber-famous musical The Sound of Music is indeed one of the most beautiful towns in Europe.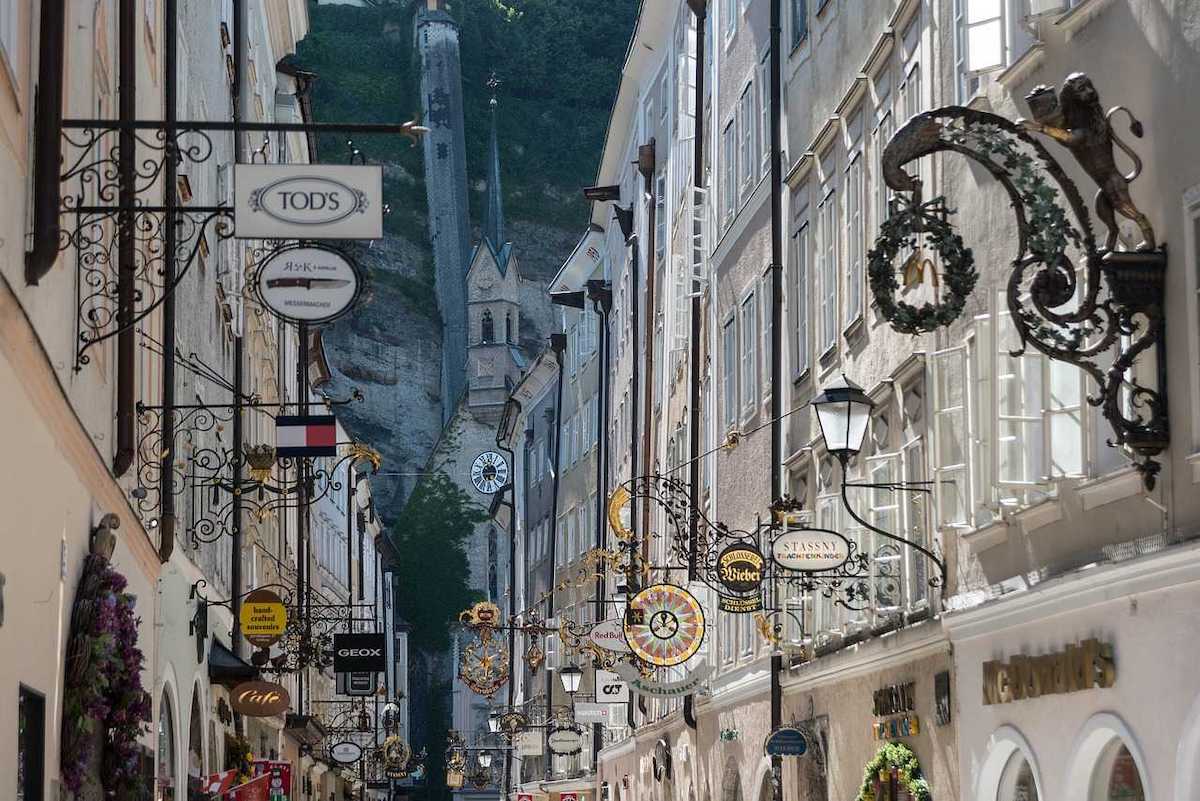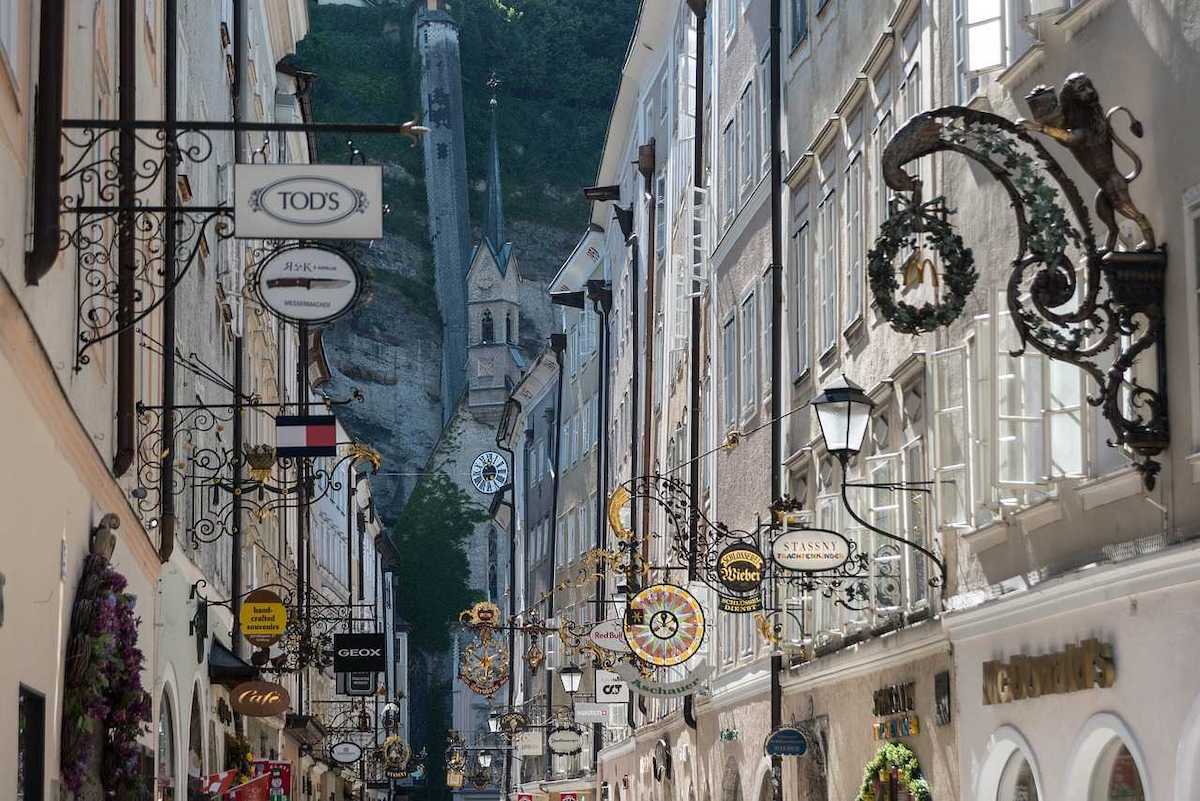 Salzburg is so charming that it's worth spending at least a couple of days to savor its charm and explore the idyllic surroundings. However, if you're visiting Munich and only have an extra day, a day trip to Salzburg will at least give you a taste of the city.
A UNESCO World Heritage site, Salzburg is unquestionably one of the most romantic cities in Europe, on par with Venice. Get lost in the delightful alleys of the historical center and admire the lovely architecture. Climb to the Hohensalzburg Fortress and enjoy the stunning views of the city and the surrounding mountains. Visit the Mirabell Palace (Schloss Mirabell) and its gardens, and follow Mozart footsteps.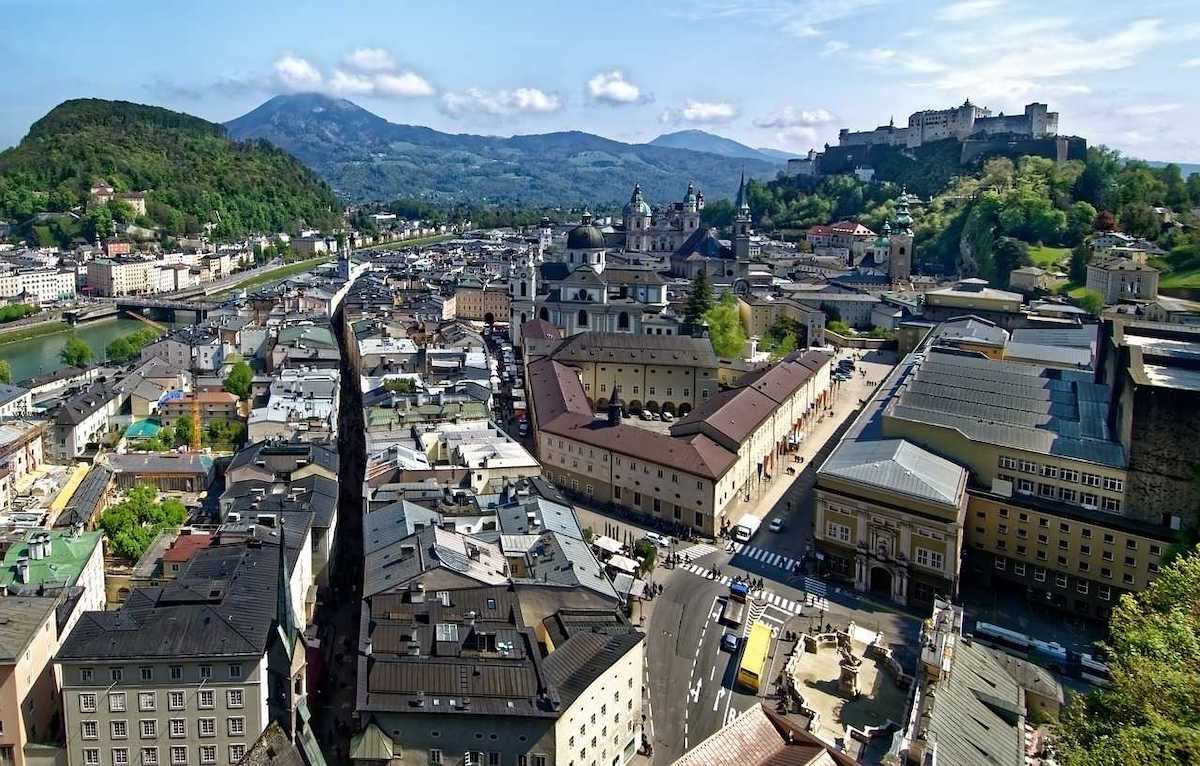 Check out this small-group day trip from Munich to Salzburg, combining a guided walking tour to discover the main highlights and free time to further explore on your own.
Discover more about Munich, Bavaria, and the Black Forest with the Lonely Planet Guide.
Lakes and mountains around Munich
If you're passionate about nature, you won't be disappointed, since Munich is ideally located for day trips to lovely lakes and beautiful mountainscapes.
Zugspitze and the German Alps
At an elevation of 2,962 m (9,718 ft), the Zugspitze is the highest mountain in Germany, and if you're lucky enough to get clear weather, the views are breathtaking.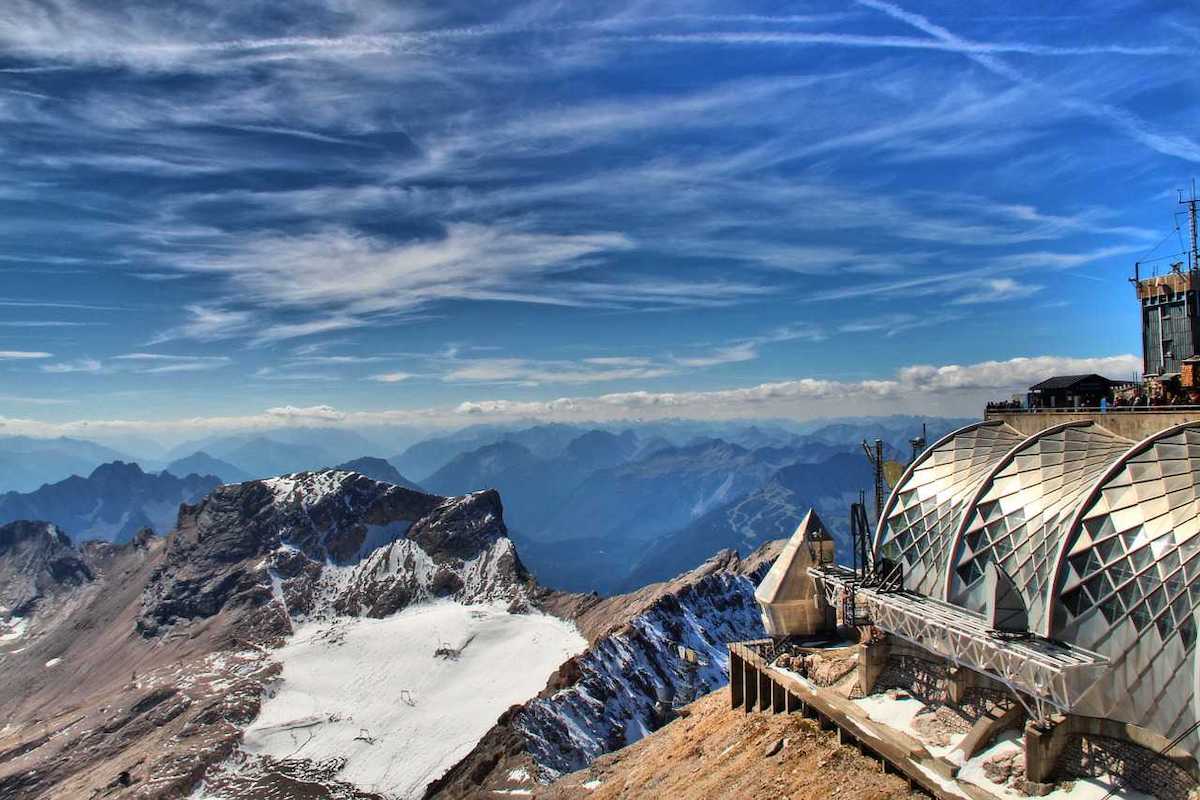 Unless you hire a car, getting from Munich to the Zugspitze by public transport is unpractical and long. To get the best of your excursion, I recommend a full-day tour. You'll ride the cable car to the top, have time to take in the stunning landscape, do some activity, and have lunch at one of the mountain huts. You'll ride the historic cogwheel train to get down to the Valley, before heading back to Munich.
Berchtesgaden Town and Mountains
The tiny, picturesque town of Berchtesgaden is a stone-throw from the Austrian border. Surrounded by superb mountain scenery, Berchtesgaden is one of the most beautiful villages in Bavaria.
The area was famous for its salt mines, which you can visit. During World War II, Berchtesgaden became an outpost of the Nazi Imperial Chancellery. Adolf Hitler, who vacationed the area since the 1920s, bought and renovated a house which he frequently visited during WWII. British bombs heavily damaged Hitler's residence in 1945, and the remains of the buildings were destroyed in 1952.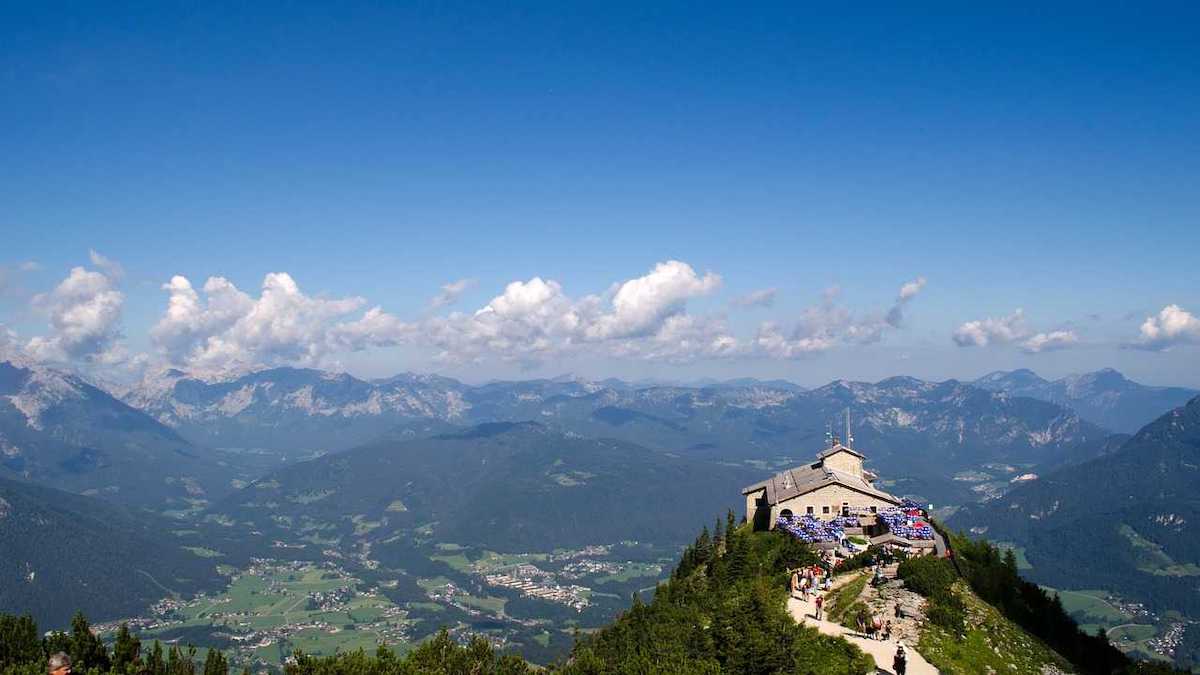 Today, aside from the stunning scenery, one of Berchtesgaden's main attractions is the town and Eagle's Nest. Built atop a steep rock during the Third Reich, Eagle's Nest was a political and social meeting place for high-ranking members of the Nazi party. It's a popular tourist attraction for its historical relevance and for its difficult access, up a dangerous road.
Traveling from Munich to Berchtesgaden by public transportation is a long and somewhat complicated journey. Unless you have a road trip in Bavaria, the best and most comfortable option to visit Berchtesgaden is by joining a day tour from Munich.
Königssee
This is one of the most idyllic spots of Bavaria, where you'll discover picture-perfect landscapes. Arguably the most charming place of the Berchtesgaden Alps, it's a perfect day trip from Munich if you love nature and pristine alpine sceneries.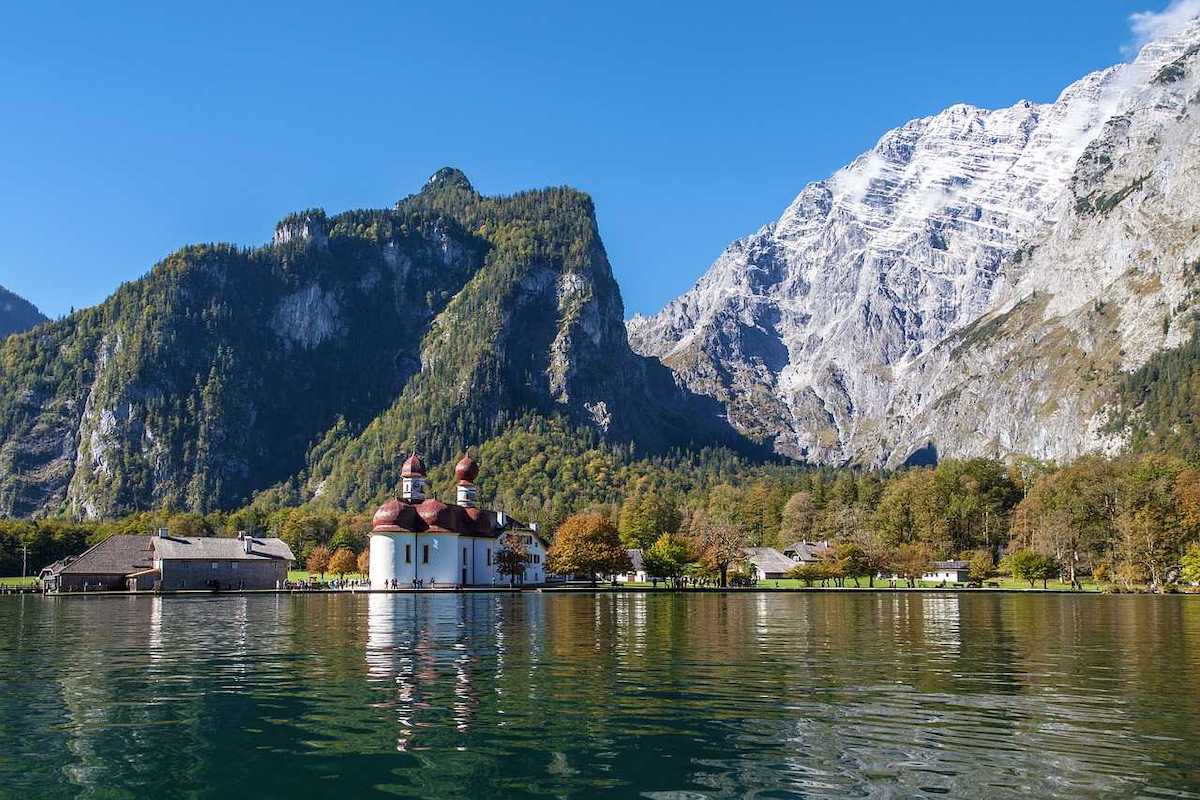 If you wish to explore Königssee on your own, you'll have to rent a car. Alternatively, you can book a day tour to explore one of the most beautiful areas of Bavaria.
Historical tours
Dachau concentration camp
A visit to Dachau concentration camp can be hardly considered a leisurely excursion. However, I do find it a must to pay respect to the victims of one of the darkest periods in history and to learn about atrocities committed by the Nazis. We shall never forget the past to hopefully never again commit such cruelty. That's the reason why I visited Dachau, Hiroshima, and the Holocaust Memorial in Berlin.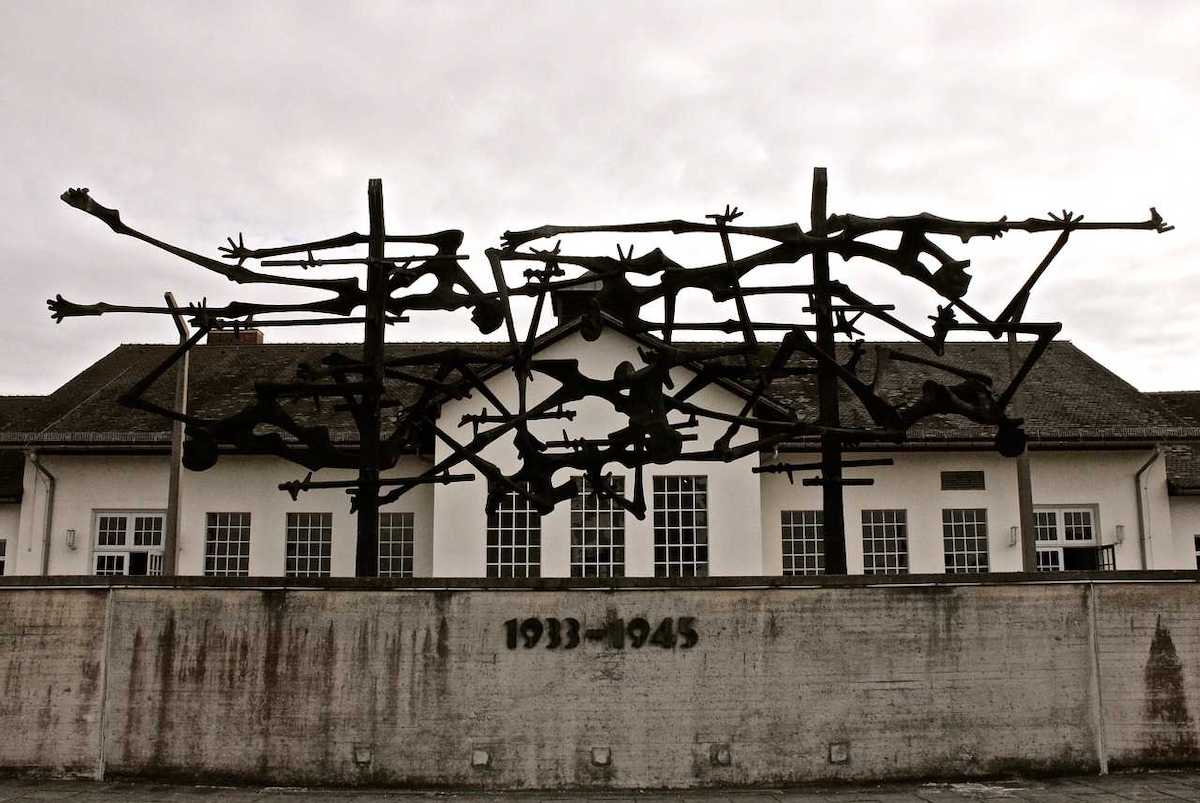 You can undoubtedly get by yourself from Munich to Dachau Memorial Site by pubic transportation (S2 train direction Dachau/Petershausen. From Dachau station, bus 726 direction "Saubachsiedlung" to KZ-Gedenkstätte, the entrance of the memorial site). However, the historical and human significance of Dachau is so strong that I firmly believe a guided tour with a knowledgeable guide makes a huge difference. If you decide to get to Dachau, it's not only about visiting but much more about understanding.
Whether you like castles, are a nature lover, or passionate about romantic old towns, there's a multitude of fantastic day trips from Munich. The only thing you need to do is to choose the one(s) most appealing to you. Enjoy beautiful Bavaria!
_____
This post contains carefully selected affiliate links. This means that if you buy any service, I get a small commission at no extra cost for you.
Pin for later!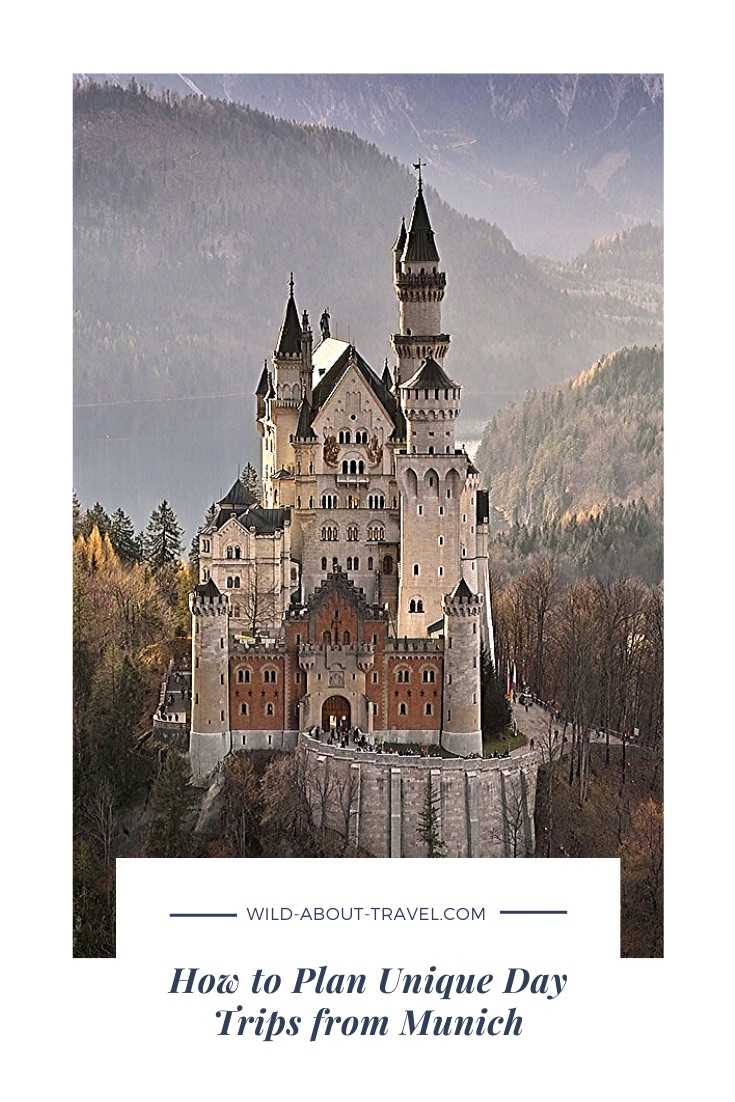 Original article: How to Plan Unique Day Trips from Munich
©2019 Wild About Travel. All Rights Reserved.
This post How to Plan Unique Day Trips from Munich was first published at
Wild About Travel.