Diving in the Maldives in 2021
Diving in the Maldives is one of the truly unforgettable impressions that you can enjoy on these Paradise Islands.
The Maldives is a unique place where everyone can find the best conditions for diving according to his abilities. The beginners may try to dive in special sites with gently sloping hills inhabited by colorful corals, tropical fish, manta rays, sea turtles, and Sharks.
Geography of Maldives
The Republic of Maldives is a coral archipelago located in the hub of the Indian Ocean to the South-West of India and Sri Lanka. It consists of 26 individual atolls and stretches for about 900 kilometers from north to south. The equator divides Maldives near the Addu Atoll.
The Maldives is a chain of almost 1200 islands most of which are uninhabited. Approximately 200 islands are inhabited by the local people and another 150 islands are fashionable resorts.
Check: Budget diving packages
The Maldives capital Malé stretches 2 km in length and is 1,2 km in width. It is one of the most densely populated cities in the world.
General Information about diving in the Maldives
Visibility varies from 15 to 50+ meters. The turbid waters attract manta rays, big shoals of fish, and in some cases whale sharks.
The water temperature is 26-30°C all year round.
The climate is tropical and hot with plenty of sunny days with an average temperature of 25-33 around the year. You can dive at any season of the year but from April to October the monsoon brings a large amount of precipitation. (from April till June it rains the most) However heavy storms are unusual here.
Marine life. The Maldives is home to about 1100 fish species, 400 muscles, and 83 varieties of echinoderms including manta rays, grey reef sharks, snipers, parrotfish and etc.
The average diving depth is 15-30 m.
The required level of certification is Advanced Open Water.
Dive types in the Maldives
The underwater relief of Maldives varied. It offers many types of diving and different regions of the archipelago offer different experiences. So let's see the relief in detail.
Channels (Kandu)
The famous Maldivian channels are effectively natural canals connecting the ocean and the interior waterways of the atolls. The width of such channels usually varies from 100 to 400 meters and they're 30-40 meters in depth. The currents generated by the water entering and exiting the atolls are known to be very strong and to attract sharks and eagle rays. It should be better to hang with a diving hook on the bottom of Kandu. It happens that a very strong current can even pull out the regulator from your mouth. One of the best channels is Fotteo and Golden Wall, Vaavu Atoll. You can read more here – Azalea Cruise diving trip.
Faru
Faru is a reef that surrounds the atolls. It is often just below the surface or can reach a few meters deep. It often sticks out during the low tide. Faru diving is often a drift-dive. One of the most interesting sites is Madivaru Corner, near the local island Rasdhoo.
Giri and Thila
Giri is separate from the island reef the top of which can be seen from the surface. Thila generally has a submerged top between 15 and 30 m. Giri pinnacles are accessible to all divers whereas thilas are often more suitable for experienced divers. The best example of giri is Kuda Giri Wreck, Maafushi (as you can see on the map above).
Best time for diving in the Maldives
Many divers ask "What is the best diving season in the Maldives?" First of all, you must understand that the Maldives has only two seasons: the north-east monsoon and the south-west monsoon. The word monsoon in this context does not mean everyday rain, quite the opposite in fact!
Maldives Reopening Guideline
During the north-east monsoon (known as the dry season which occurs between the end of December till the end of April) trade winds originating in the Indian subcontinent carry rich ocean waters towards the archipelago's coast. It's mostly sunny these days. The ocean is calm and there's no wind almost. The visibility is 50+ meters in the eastern part and 25m in the western. The water is very clear to the east and a phenomenon called the 'upwelling' carries with it a significant quantity of plankton. This plankton is the foundation of the food chain that in-turn feeds all manner of marine life from the smallest of creatures to the most majestic of manta rays.
That's why you may find plenty of different marine creatures in the eastern part especially at the entry of kandu channels: gray sharks, whitetip sharks, eagle rays, napoleon fish, etc. During this time manta rays return from the west to the so-called clearing stations. It's a unique opportunity to see the underwater dances of these sea giants.
The south-west monsoon starts at the end of May and ends at the beginning of November. As you may already have guessed it brings lots of rain. During this time the marine life is more active in the west part of Maldives. The visibility is great during May-July and later the water starts to get turbid due to the plankton brought by the current.
So from August to November is the best time to see manta rays. The most impressive is Hanifaru Bay marine reserve during this time, you can see up to 200 manta rays!
It should be mentioned that it's allowed only to snorkel there because diving is prohibited since 2012. Raining season is the best time to go to the south and deep south by liveaboard as it's a shark season.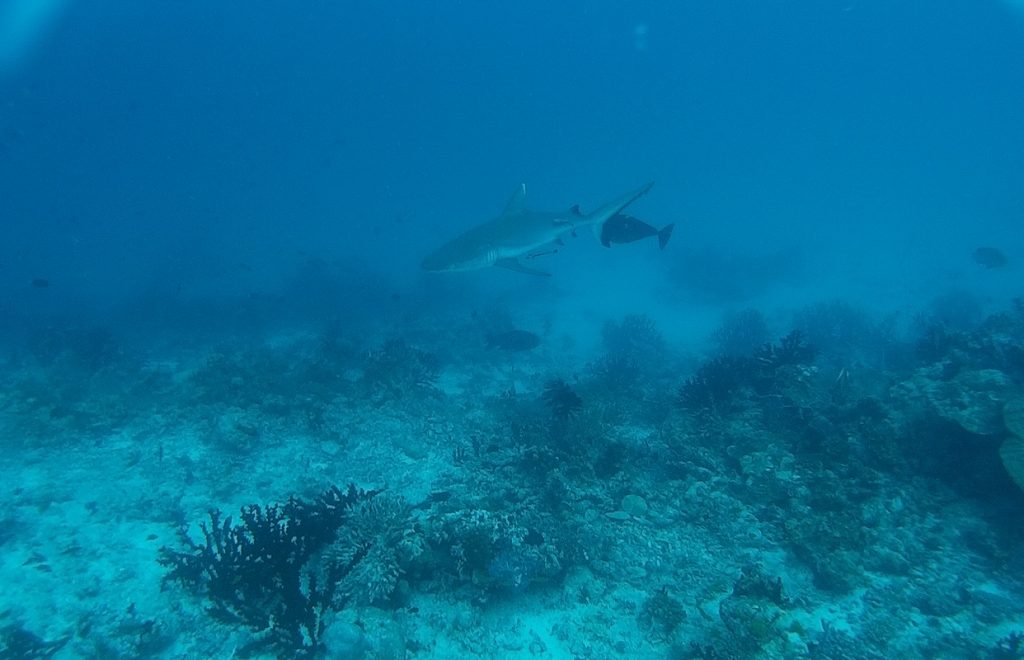 The north-east monsoon from December to April is for many reasons the best time for diving in the Maldives. Certainly, the risks of a quick downpour are less but still. The prices at this time of the year are significantly higher. However you should expect a greater rainfall during the rainy season but despite this, the diving experience is not at all compromised, far from it.
During the past years, a seasonal climate shift is observed not only in the Maldives but all around the world. That's why you cannot state that January will not have rain at all. As well as you may not be sure about the number of sunny days in June. The sea temperature varies little from season to season and is usually between 26°C and 30°C. (except the deep south where the temperature can go down to 24°C during the north-west monsoon).
Marine life in the Maldives
It is impossible to start this section in any other way than to dive straight into what every visitor to Maldives wants to see: manta rays and whale sharks.
Manta Rays
The Maldives is home to the largest population of manta rays (Manta alfredi) in the world with an estimated 5000 to 7000 species! It is equally possible to come across Manta alfredi and Manta birostris in exactly the same place. Anyway, they are slightly different.
You may see manta rays almost everywhere in any atoll. They even come almost every day (especially during the monsoon) to the clearing station which is just next to the capital Malé, near Paradise Island Resort.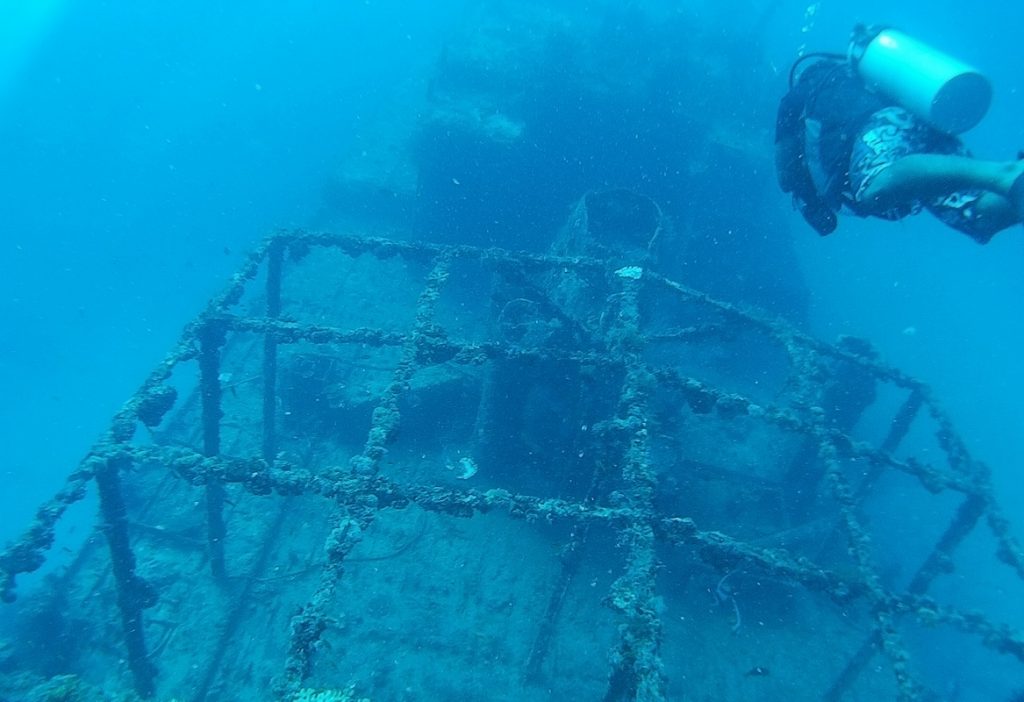 Sharks
Besides manta rays, it is possible to see the biggest fish in the world – whale sharks (Rhincodon typus). In Maldives, the average size is 6-8 m. So far more than 200 whale sharks have been identified and are regularly seen according to the data provided by Maldives Whale Shark Research Programme.
They will generally be observed to the south of the Ari Atoll ( the islands of Sun Island Resort and Spa, Holiday Island Resort and Spa) and Addu City Atoll. Till 2013 it was possible to see these sharks in Hanifaru Bay but since then it's quite a rare thing (1-2 times a season). But for sure you'll witness these sharks only in South Ari Atoll. And it is possible to go snorkeling and diving there.
Apart from seeing whale sharks and manta rays diving on the Maldives is a veritable feast of many different species such as gray reef, whitetip, nurse, thresher, hammerhead, and even tiger sharks. Though the former is the second largest predator after the white sharks, nobody is reported to be hurt in the Maldives. Mostly sharks appear in the kandu channels. But you may see baby sharks even from the shore.
But let's talk about hammerhead sharks. They're hard to meet as you need to dive 5-10 minutes before the sunrise in the deepest part of the ocean. If you're quite lucky you'll see from 1 to 3 of them. The most popular site to see these sharks is near Rasdhoo. But it probably depends on the season because people tell quite controversial things about this site.
Here's a list of the sites where hammerhead sharks were seen lately:
Fotteyo, Vaavu Atoll;
Dhiyamingili, Thaa Atoll
Rasdhoo, North Ari Atoll
Miyaru kandu, Vaavu Atoll
Gemanafushi Beyru, Gaafu Alif
Huvadhoo Atoll
Fuvahmulah
Most of these sites are available from liveaboards only.
Night diving with sharks. The most popular site for this is Alimatha Jetty, Vaavu Atoll. It's located near Alimatha Aquatic Resort. Here you may meet a lot of nurse sharks that swim so close that you can even touch them! But the biggest disadvantage of this place is that it is too popular and attracts a lot of divers. So there could be up to 50 divers at a time!
Fishes
Among more than 600 species of exotic fishes, you may spot barracuda which is usually coming up in shoals, tuna, napoleon fish, parrotfish, the variety of moray eels, lionfish, and many others.
There is also no lack of smaller marine life and those who delight in the smaller species will find many creatures that you would normally expect to find elsewhere in the world. Ghost pipefish, harlequin rasbora, and halimeda hide discretely amongst the corral waiting for divers to discover them; the same goes for leaf fish and frogfish.
Besides manta rays, you may also see Mobula rays, eagle rays, stingrays, etc. Stingrays are usually fed near resorts and even on the local islands sometimes (for example near Thinadhoo). You may dive with a great number of stingrays at a site between Hulhumale (the airport island) and Sheraton Full Moon. Although it's obvious that they come to be fed, but still it's a very impressive experience!
Diving from liveaboard, island-resort, or local island?
If you would like to dive in the Maldives, there are several options available for you: the liveaboard, from a resort, or the cheapest option is from a local island (stay in a guest house and dive from a local dive center). Let's take a look at the advantages and disadvantages of each of them.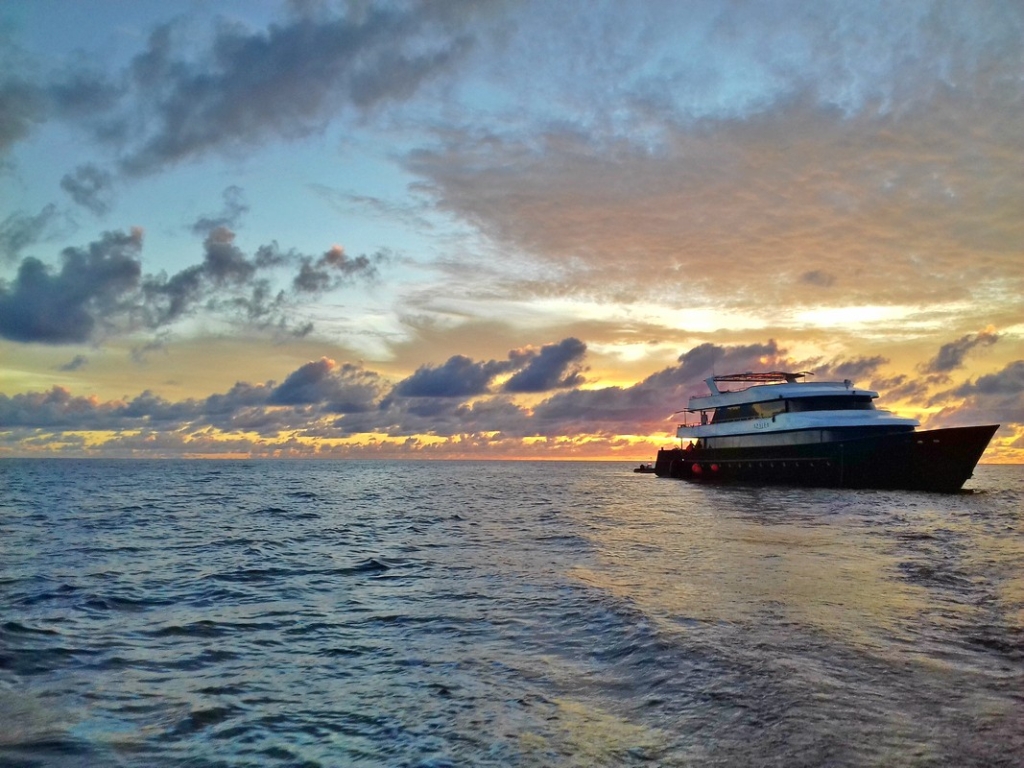 Diving Liveaboard
If diving is the main reason for your trip to the Maldives then liveabord is your perfect choice.
Today liveaboards are very comfortable and some of them, like Scubaspa, positioning themselves as a floating resort with all facilities.
You will be able to visit the perfect dive site at the ideal time for the given sea conditions and seasonal variation. Each dive will be different and you will be able to dive up to three or four times a day (for example Carpe Vita provides 4 dives every day) and you'll be able to admire all the beauty of the marine life being left to yourself. All the dives will take place in different sites so definitely they're going to be varied.
You may choose out of 20 different routes which go mostly through the central part: North Malé, South Malé, Vaavu, Ari Atoll. But several routes lie to the south (Thaa Atoll, Gaafu atoll and further) and to the north (usually Baa и Raa Atolls).
Usually liveaboard lasts for 7 nights, but also you may do a longer trip for 10 days (Carpe Diem has 10 days cruises) and the longest one is up to 14 days. The longest trip starts in в Hanimaadhoo (north) and finishes in Addu City (deep south).
Besides diving experience, you will also get to visit some of the resort islands and dine on a sandbank or an uninhabited island somewhere in the middle of the ocean.
If you choose liveaboard diving, it's better to have at least 30 logged dives and have a certificate not lower than PADI AOW before you come. That is because many of the dives will take place in currents and in 25-30 m deep.
As for the disadvantages, this experience can end up quite pricey. It costs about 1800-2200$ per person for a 7-day trip on a nice boat. The cheapest possible is around 1200$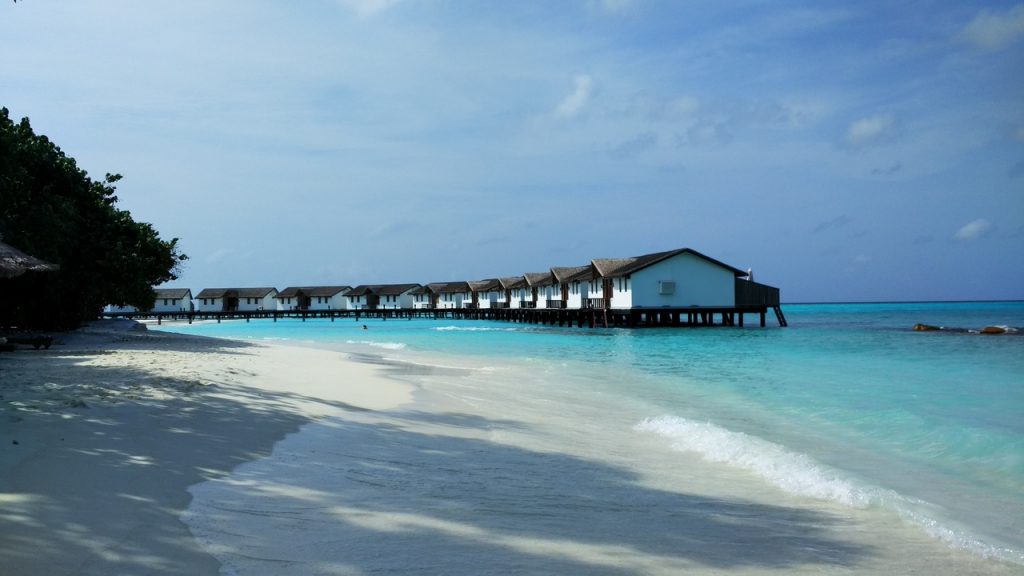 Diving from Island Resorts
If diving is not the main purpose of your holiday in the Maldives then you will probably be better placed at an island resort where a large variety of activities will be on offer such as water sports activities, fishing, visiting of local and uninhabited islands, etc.
The dive guides in the hotels will be very knowledgeable about the local dive sites. In terms of safety, these island hotels also have very high safety standards, with onsite medical services and effective medical evacuation plans. The staff is trained to provide first aid if any incident happens during diving (even decompression chambers are installed on some of the resorts).
The obvious disadvantage of diving from these hotels is the limited number of dive sites that you will be able to dive to. And moreover, you will be not able to dive when the conditions at these sites are far from optimal.
The second disadvantage is the price. If you compare it with the price for diving at a local island or a liveaboard it will be 1,5-2 times higher while you also may visit the same site staying at the local island or from a liveaboard.
Diving from local islands
Diving from a local island in the Maldives is the cheapest option. Over the past few years, a new market has developed offering visitors an alternative low-budget holiday. Guesthouses and small local hotels with modern dive centers started to appear.
Now diving is much more affordable. Guesthouses offer the activities and infrastructure that a luxury resort provides and at more considerable prices. So it's important to plan your trip beforehand if you're eager to save plenty a lot.
The obvious advantage of local island diving is that it's cheap and affordable.
What is more, you are given the opportunity to see the life of the local people? Of course, you should be ready to respect their laws and traditions. The Maldivian people are very open-minded and friendly with tourists, they're eager to help and tell their guests about their island.
You'll be limited with the choice of diving sites while visiting a local island as well as staying at a resort. However, you may choose from a variety of different dive centers where usually international instructors are working.
Every local island has its tourist infrastructure and a hospital where you can receive first aid. When more serious accidents happen the patient is sent to Malé.
TOP 10 Dive Sites in the Maldives
The Maldives abound with a variety of diving sites suitable for any level of experience, either you're a beginner or an experienced diver. Considering that the Maldives is a region of about 1200 islands, imagine how many places for diving you can choose from. So what is the way to find out the best site where you can meet all the sea creatures inhabiting these islands? Here a list of selected dive sites around the Maldives that you should visit.
Fotteyo
Location: Vaavu Atoll
Current: might be strong
Marine life: great variety
First that you should know is the size of Fotteyo. To explore it properly you need to have at least 3 dives! It is on my list of the top three best sites in the Maldives. The site is located in the eastern part of the atoll and mostly you can reach it only from a liveaboard boat because it's rather remote. The great variety of the marine means you can see here shoals of various fish, sharks, corals, turtles, and even hammerhead sharks. In the morning or the evening, you can also see a flock of dolphins crossing the canal. Diving is recommended in the morning. This site is only good for experienced divers.
Kuda Rah Thila
Location: South Ari Atoll
Current: Can be strong
Marine life: Rich diversity
It's a marine protected reef since 1995 and is one of the most famous reefs in the Maldives. Only 10 mins from Dhigurah and a very exciting dive with thousands of blue stripe snappers often being hunted by sharks, tunas, giant trevallies, and jacks. Some very beautiful soft corals with a large swim thru at one end. Kudarah Thila is made of the main reef that has shallower tops on each side, and a tunnel crossing the deeper coral ridge on its western side. As the site is very famous, there might already be divers here when you arrive.
Rasdhoo Channel
Location: North Ari Atoll
Current: Medium to Strong – can be very strong
Marine life: Rich diversity
Another great dive site for the experienced divers with Deep Dive Training or Advanced level because of the negative entry and the depth! All thilas are already well-colonized on the atoll drop-off edge at a depth between 20 to 25 meters between Kuramathi and Rasdhoo island. On the sandy bottom between the thilas, look for stingrays or white-tip reef sharks. While crossing the channel, almost anything is possible like grey reef sharks, eagle rays, napoleon, dog-tooth tunas, and many more. On some very lucky days, you may see silver-tip reef sharks! However, this dive can be done only when the current runs into the Atoll!
Alimatha Pier
Location: Vaavu Atoll
Current: Might be strong
Marine life: Nurse sharks
It is a truly unforgettable night diving with a great number of nurse sharks near Alimatha resort. There're actually plenty of good sites near this island. Sometimes you can meet up to 50-60 sharks here! But where do they come from? It is not a big deal but they are being fed here. That's why stingrays, blacktip sharks, and jacks come to the site. As a result, this site is very popular with divers. But for the strong current, you should be very careful on the bottom.
Madivaru Corner
Location: North Ari Atoll
Current: Medium to Strong – can be very strong
Marine life: Rich diversity
A highlight in the Rasdhoo for many reasons. This reef is located just in front of the island Madivaru and has some superb overhangs between 26 to 30 meters before a breathtaking drop-off. The real beauty of the dive will be when the current runs along the reef on the right shoulder and into the Atoll. Because with this current you don't have to swim much because most of the time on your dive you just hold onto some dead coral on the drop-off around 18 meters where the breathtaking show begins. Everybody can find here almost anything they are looking for, from macro to big pelagic species like grey reef sharks, white-tip reef sharks, eagle rays, napoleon wrasse, shoals of barracuda, jackfish and even giant travelers and dog-tooth tunas chasing baitfish etc. Always worth a dive. Anything is possible, however, the current can be medium to very strong.
Hammerhead Shark Point
Location: North Ari Atoll
Current: Medium to Strong – can be very strong
Marine life: Hammerhead sharks
Another highlight, an early morning diving to meet the famous Scalloped Hammerhead shark which can only be seen in a few places in the Maldives. A blue-water dive with no reference. In other words, no reef or bottom where the blue plankton let you think you are flying among the stars. Even without sharks an unforgettable experience. Only for experienced divers with Deep Dive Training or Advanced level, of course, good buoyancy control required! NITROX highly recommended.
Kuredhdhoo Kandu
Location: Lhaviany Atoll
Current: Might be strong
Marine life: Rich diversity
Kuredhdhoo Kandu or Kuredu Express is one of the most popular places to dive in this atoll. It is located to the east of Kuredu Resort. You can see a great variety of sharks at a depth of 30 meters. It is also recommended to use a hook to enjoy marine life near you.
Banana reef
Location: North Male Atoll
Current: Not very strong
Marine life: Rich diversity
This one is probably the most popular site in the Maldives. It is located between Hulhumale and Sheraton Full moon resort. It is characterized by a great number of caves, big shoals of fish, soft and hard corals. The shoals of bannerfish which can include up to 1000 fish are really impressive! Apart from this, you can meet groupers, snappers, barracuda sharks, gigantic squirrelfish, oriental sweetlips, soldierfish, and grubfish. The site is available anytime and is best for beginners.
Tiger Shark Point
Location: Fuvahmulah Atoll
Current: Can be very strong
Marine life: Tiger sharks
One one the main feature which makes Fuvahmulah incredibly attractive for the world diving community are Tiger Sharks. Tiger Sharks have surrounded the island cleaning the waste daily produced by the fish market. Sharks are not aggressive, no case of a shark attack was registered. Diving with the tiger sharks is available every day and doesn't depend on the current, seasons, time, and weather conditions. Experienced dive guides lead this dive following all necessary safety rules requirements. One of the best destinations for Tiger Sharks. 100% guarantee every day.
Kandooma Thila
Location: South Male Atoll
Current: Can be strong
Marine life: Rich diversity
This thila is located to the north of Holiday Inn Kandooma resort. It's at the depth of 12 m on the bottom of the canal. The eastern and northern parts are the most interesting for divers. You can meet schools of fish, mantas, and sharks. The latter are mostly seen during the incoming current in the north part. At this time is it recommended to stay with a hook near the Corner watching grey sharks. This site is available anytime but is only recommended to experienced divers.
Contact us to get a personal tour to the Maldives!
Read also:
Top 16 things to do in Maldives 2021
Scuba diving in Rasdhoo 2021
Travel guide to Dhigurah
Travel guide to Dharavandhoo
The post Diving in the Maldives in 2021 appeared first on Islandii.