So you're transiting through Narita International Airport in Japan and have an 8-hour layover; this makes you instantly roll your eyes, let out a hefty sigh and start to wonder what to do with all that time deemed wasted. But fret not, Tokyo is one of the best cities to fill up those hours! On our way back from Vietnam, we had an 8-hour layover with just enough time to experience a small taste of Tokyo.
Naturally, we decided to put this time to good use by catching the next random train from Narita International Airport. After a swift and trouble-free check at customs, we headed straight to the information counter to find out the quickest way to get to Tokyo. Japan has an impressive public transit system but the most efficient way to get to Tokyo was via the super fast and super modern Skyliner train. The price of about ¥5000 (two-way) per ticket was quite expensive but we wanted to assure a quick return back to the airport. We hopped on the squeaky clean train and in well under an hour we arrived in Ueno – a district in Tokyo's Taitō Ward.
Most nationals don't require a transit visa when visiting Japan for a short period of time making it very easy to exit the airport for a few hours. If you have luggage, there are a few baggage storage counters at Terminals 1 and 2 (prices vary according to baggage size).
Without the added pressure of running around checking things off a must-see list in just a few hours, Ueno was a perfect place (close enough to the airport) to take in the urban vibe and to explore the city without feeling overwhelmed or rushed. Following are a few (free) things to do during your layover in this mega-city!
At first sight, this area of Tokyo seemed much quieter than I had expected from the bustling metropolis but it was still very early in the morning. Slowly the day started to rise from its lazy slumber with businessmen smartly dressed in their black two-piece suits heading to work and students in their freshly-pressed uniforms going to school crowding the streets. Shop owners opened their screeching corrugated sliding doors and vendors hurriedly displayed their products.
01. BROWSE AROUND AMEYAYOKOCHO STREET (IT'S FREE!)
Like in many Japanese cities, Ueno has its very own pedestrian street named Ameyayokocho. The area is filled to the brim with shops and markets. Here you can find anything from expensive fresh produce to a variety of fish on display to deeply-discounted clothing and shoes. Prices were very reasonable for Japan but the quality of most of the products wasn't the best.
I did, however, notice that many of the higher-quality shops were geared towards men. If you're a male fashion fiend then you'll likely find the latest (and quirkiest) Japanese clothing trends in this area. As for women, I only came across two decent shops but the clothing resembled ones found in North America so nothing piqued my interest. Nonetheless, the energy was vibrant and the street scenes just begged to be photographed!
02. EAT IN AN IZAKAYA
An izakaya is a typical Japanese-style eatery. Ueno has its fair share of izakayas – just walk around and you're bound to find one. Make sure the place is filled with local patrons assuring good turn around and even better food. Soon the air was filled with all sorts of tantalizing smells coming from the many micro restaurants lining the narrow streets.
Despite the number of izakayas in Ueno, none of them accepted credit cards and, much to our dismay, the only ATM we found didn't accept foreign credit/debit cards either. We didn't have any cash on us but we finally did find a restaurant with a sympathetic host willing to accept our foreign credit card though with much hesitation. To avoid being stuck without any money, make sure to either withdraw or exchange money directly at the airport before stepping out.
With our stomachs demanding we feed them, we hastily browsed the glossy menu written in Japanese but accompanied by pictures making our selection much easier. We settled on some fried chicken, fresh fish, miso soup, rice and complimentary green tea. Both our growling stomachs and eager taste buds thanked us for the deliciously flavorful meal. The total bill for all that scrumptious food came out to about ¥2000 for both of us – much cheaper than I expected in Tokyo!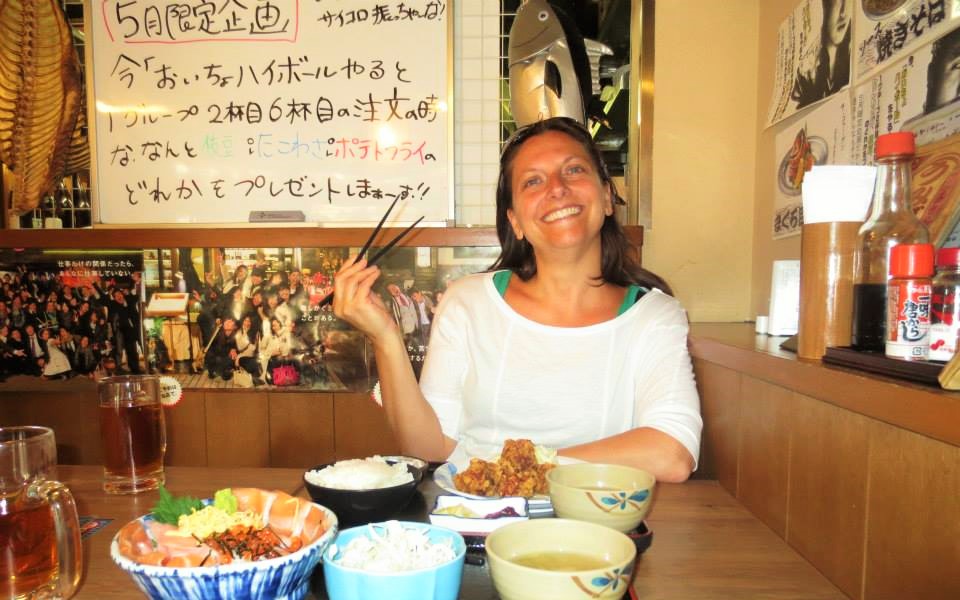 03. GO TO A LOCAL GROCERY STORE (IT'S FREE!)
When we travel, we always make sure to go to a local grocery store. This is where you can turn an otherwise mundane activity into a cultural experience. Strolling through the alleys allows you to discover the strange (and sometimes unidentifiable) array of local products and to exchange a few laughs (and grimaces) with fellow shoppers.
If you like taking home local food items then a grocery store is the best place to make your purchases. Prices are much cheaper than at the airport, you'll find a much better variety and the experience is guaranteed to be much more fun!
Fun tip: Save on eating out by buying a few items and having a picnic at the park (just make sure you have some cash)!
04. GO TO A BOOK SHOP (IT'S FREE!)
When I travel I enjoy browsing in book shops whenever I get the chance so I was happy to come across a small, lackluster shop in Ueno. There was a huge variety of books and magazines most of which were in Japanese but that didn't stop me from buying a few. Japan is widely known for its innovative designs ranging from quirky fashion to weird technological inventions; flipping through a book or magazine offers you a window into the local pop culture and latest trends. Make sure to buy a uniquely designed book to dress up your coffee table – it'll make for a great conversation piece! Surprisingly, prices for locally-printed books and magazines were very reasonable.
Fun fact: Japanese literature is read from right to left and from back to front.
05. HANAMI IN UENO PARK (IT'S FREE!)
Hanami is the art of flower viewing – a yearly activity involving outdoor 'parties' and picnics cherished by millions of Japanese. If you're in Japan during Springtime then head to Ueno Park, one of the most popular places to participate in hanami when the sakura flowers are in full bloom. Unfortunately, the pretty flowers had long fallen and the trees were barren when we were there but hanami is an excellent way to spend an otherwise uneventful layover. In just a few hours you can soak in a truly Japanese tradition and, best of all, it's free! The Ueno Sakura Matsuri (Cherry Blossom Festival) usually takes place from late March to early April.
Tokyo is notoriously known for being excessively expensive but simply wandering around with no fixed agenda is absolutely free and can be just as rewarding as visiting tourist attractions. We only spent a few hours exploring a small speck of Tokyo but it was enough to leave us longing for more. We'll definitely go back one day to explore this fascinating city (and maybe even get the chance to ride on one of those funky buses)!
Enjoyed this post? Please pin it!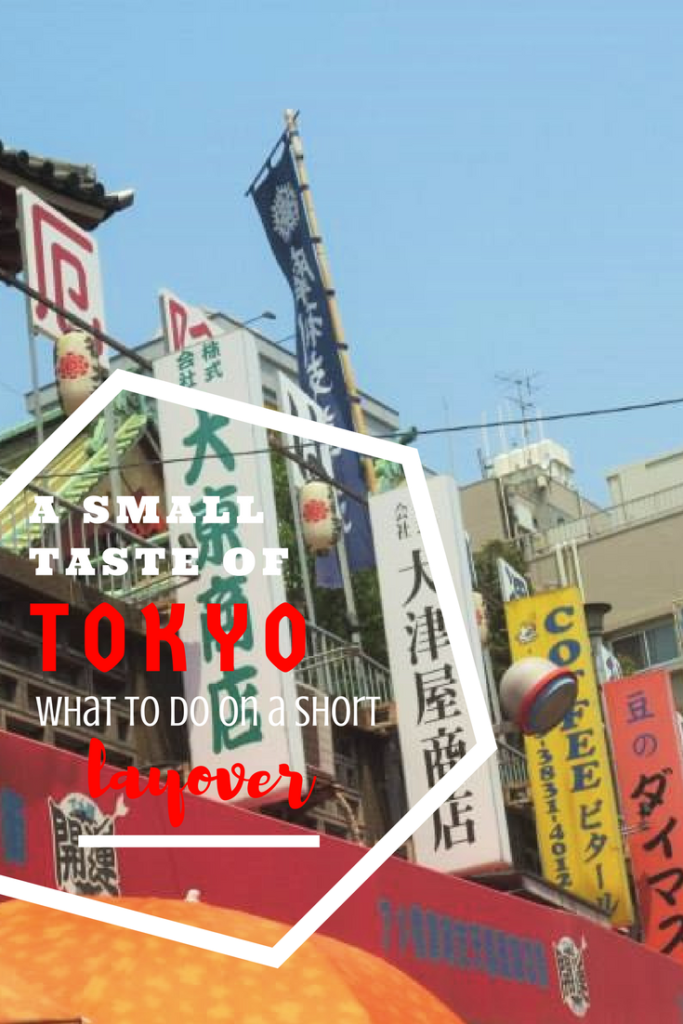 Have you been to Tokyo? Share your thoughts on this fascinating city in the comments below!
The post A Small Taste of Tokyo – What To Do On An 8-Hour Layover appeared first on life untraveled.