HR Management isn't necessarily as simple and streamlined as it seems. And it sure as hell isn't an 'enjoyable' task. It involves reading in between lines, living in between spreadsheets and naturally at several points of time it just gets too much to take in – the data overwhelms you and the formulae tend to seem confusing.
With technology nearly dominating each and every sector, HR too hasn't remained untouched. Hence, a number of softwares are out there to make data management easy, simple and time-saving.
One such HRM platform that stands out among the numerous softwares present in the market is sumHR. The web-based HR management and Payroll software has a very clear objective – to rid companies of all things inefficient, unscalable and "un-cool" in their organizations.
With its powerful communication and collaboration tools, Sumhr wants to help startups and SMEs streamline their HR and payroll processes.
They are on a mission to transform the way companies look at human resource management. Using the experience and knowledge of new-age HR practitioners, they have developed a modern cloud-based HR software that reduces paperwork, increases productivity and gives everyone time to focus on real work.
With its powerful communication and collaboration tools, sumHR wants to help startups and SMEs streamline their HR and payroll processes.
They have automated the processes and eliminated the need to work on highly unreliable and "error-prone" spreadsheets.
The HR data management software enables a firm to aggregate all employee data, monitor attendance, track leaves, automate payroll processes, organize information sharing – all on one single platform. It uses the latest cutting-edge web technologies, keeping up with the newest trends and user experience techniques. It has been created using Responsive Design techniques and lets every user access and view sumHR in the most device-optimum way. So, whatever you use, a tablet or a smartphone, the software adapts itself according to your device screen!
Nope, nothing technical about it.
The best part about the platform? It is designed with an easy-to-use interface, unlike the conventional ones. You do not require any kind of professional training to get started. If you know how to operate Facebook and LinkedIn, trust us – you are all set!
They have summed up their user philosophy in two words – DRY (Don't Repeat Yourself) and KISS (Keep It Simple, Silly). Stressing on minimalism and user centricity, the product imbibes modern day principles and is refreshing to the core.
Human-centric interface
Encouraging transparency in communication akin to the modern firms, sumHR with its clean design makes that happen. The interface reflects in the minimalist, icon-based layout that allows for better and efficient interaction.

Uniformity
sumHR addresses the fact that usability plays an important role since all the stakeholders of an organization actively use it. The interface has been designed to align with the tendency of human brains to identify patterns.

Quick response
The software serves its purpose quickly and efficiently. They want clients to work with the minimum number of steps and efforts.

Pay as you grow
Being firmly grounded in the 'Startup & Small Medium Business' mindset, they understand the value of money. So, they are keen on fulfilling the need of "low-cost high-value" product. This is why the pricing is simple, reasonable and transparent – per employee/month. They charge no setup charges, no license fees, and no lock-in periods. They offer a 7-day free trial and the cost begins from ₹ 49 per employee/ month.
Let Payroll not scare you anymore!
Payroll is complex, tedious and difficult. Scratch that, Payroll was complex, tedious and difficult, folks at sumHR are here to completely change your perspective. They have made payroll management dead easy with the one-click payroll management software.
With its features such as salary structure templates, pre-set statutory rules, up-to-date tax slabs, simplified workflow, integration with attendance and leaves management and what-not, the single dashboard for all the payroll activities is determined to change your feelings towards payroll management. The key features of the software are –
Bulk data management
You can simply upload the data at one go as well as export them in organized spreadsheets with the online payroll management software.

Full and final settlements
You can process all your FNFs with a single click of a button. Keep a track of all exited employee records and pending FNFs in one place. Can it get any easier than this? The answer is a straight no!

Manage salary structures
Create and manage multiple salary structures for various seniority levels with the payroll management system. Keep a record of all available salary structures and allot them with utmost ease. The software enables you to automatically calculate salary heads based on latest IT and Govt. compliance norms.

One-click payroll processing
Setup and automate the most complex payroll procedures with ease and run your entire payroll process with a single click using sumHR's payroll software. sumHR's systems will check and detect any errors to make it all sorted and awesome to work on!

Attendance monitoring made easy
sumHR's attendance management system lets you create decide and manage shifts. You can assign different shifts for employees of different departments, distinct office locations, and employee types. The attendance policies can be customized as per the organizational needs with the company's time tracking and attendance monitoring system.
Also, you can form individual configurations for each attendance shift and can further define attendance cycles, leave deductions, mark-in/out rules, and optional holiday. It enables you to get rid of the need of machinery for keeping track of attendance. All that employees need to do is, web clock-in and clock-out for each working day. Its IP-based security features make sure that no one from outside attempts to clock-in. The system can easily be connected with the existing biometric systems of the office if any.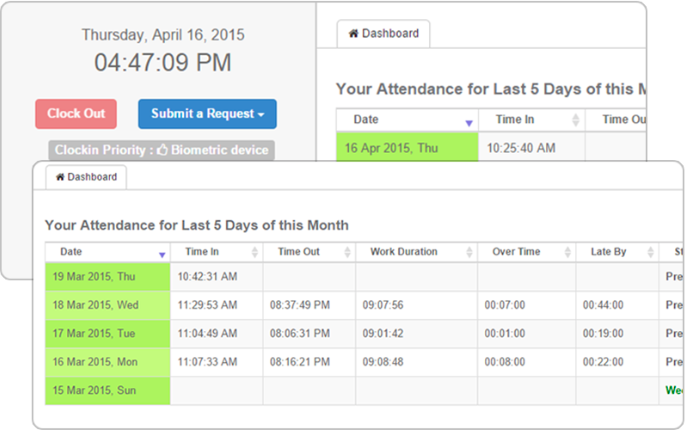 It lets people working from home and even from a different location, mark their attendance. The software lets you track attendance and time of signing of employees not present inside.
But, if still, you think a physical biometric device would be better for you, no worries. sumHR is soon rolling out its own devices. They can be integrated directly with their cloud-based servers, giving you real-time data about who's clocked in/out of your office.
Leave tracking gets simpler
An ideal Leave Management System has to offer complete, end-to-end solution when it's about employee leave management and policies. The system should let you set policies in place in addition to monitoring and tracking the leaves. But, certainly, taking and granting leaves via emails is a process you need to say bye to. You will willingly do this after seeing what all sumHR lets you do.
Customize leave policies
You can create and manage complex leave policies with the variety of extensive options. sumHR provides you flexibility to customize the policy rules regarding pro-rating balances, carrying over yearly unused leaves, applying for previous dates, clubbing of leaves, overutilization and more. It even prepares a detailed set of Frequently Asked Questions & Answers about every leave policy and displays them on each employee's leaves page.
Public holidays and bulk import leaves
sumHR gives you a pre-defined list of public holidays, you can simply click and choose the ones you wish to implement in your firm. Also, you need not worry about the data of the existing leaves, all the existing leaves data can be imported into sumHR using the .CSV files.
What for employees?
sumHR is not only beneficial for a company, but for the employees too. They can clock their attendance online or via a biometric device. On signing in, they can access and fill up their profile with all the important information. The dashboard provides a quick access to frequent HR tasks and notifications.
Streams, the sumHR's enterprise social network, lets them post whatever they wish to. They can enable meaningful conversations between employees from different teams and even the management.
The employees can initiate a private conversation with a small set of team members and hence need not resort to mail for all kind of professional discussions. Also, it has a poll feature to democratize decision-making which makes the process truly democratic and transparent.
Streams also lets you create and join different work groups, schedule events and tag the message with something contextual. The tags can then be modified by others who are part of the conversation. You can even search these tags in future, to bring up old conversations for reference.
So far, so good.
The company boasts over 500 clients from across India, Turkey, Malaysia, UAE, Jordan and are scaling at an exceptional rate. For Startups and Small Medium Businesses, growing with time is the only way ahead. But when it comes to HR management or Payroll process in growing companies, the quantity of data and volume of work often become a problem. sumHR will let you manage small or large volumes of data with ease and simplicity. Visit the website and know more about the platform's offerings.