The surprising and unexpected tales of workplace sexism and harassment have today made their way from the offices of Silicon Valley to India. On the heels of Uber's massive sexual harassment outburst, one of India's largest, new-age media and entertainment powerhouse — The Viral Fever (TVF) is now under fire for the same.
TVF's founder and CEO Arunabh Kumar has allegedly been accused of "abuse and molestation" by a former female employee via an anonymous blog post on Medium. Since this blog post has been penned under the ghost name "Indian Fowler", there is currently no way to confirm the authenticity of her allegations against the founder of this media powerhouse. But, another former TVF employee Aayushi Agarwal has stood in support of the anonymous ex-employee (who claims Arunabh knows who wrote this) in the comments section of the blog post.
In the blog post, the former employee (let's call her Gita, for the sake of simplicity) brings to light Arunabh's alleged lewd remarks and the instances of harassment — where he directly solicited her for sex. Gita begins her account by first highlighting the fact that she and Arunabh shared the native city i.e Muzaffarpur in Bihar, which she learned during her interview in 2014. She further adds that the CEO charmed her pants off (not literally!) by sharing his struggles and vision in setting up the uber cool startup TVF.
Gita then adds that while most of the TVF team was back home running the show and making things happen, Arunabh was out hiring talent to build his dream team. The same one, which Gita had now become a part of, only to later realize that she was just a mere pawn in the toyful game Arunabh was playing. The same has been described in the blog post as under,
The answer was, he is hiring talent. Yes. He was hiring. Talent or not i don't know. 3 years down the line I know what he was hiring. He was hiring his toys. Yes people this is my story of abuse and molestation.
And then, Gita relays to us an incident which took place just twenty-one days into her job at TVF — the hottest destination to be at. She says that Arunabh called her back to the office one day saying she had left without completing some part of her work. When she walked back into the office (which was rather empty), Arunabh instead of talking about work blatantly called her out of being brought in on a commercial deal — by which he refers to her a commercial sex worker (CSW) at the red light area.
Arunabh is sitting on a Chair in a casual manner. I walk up to him. He looks at me and asks me — " Chaturbhuj Sthan ka naam suni ho"? I am stunned. For Non Starters, Chaturbhuj Sthan is the Red Light District of Muzaffarpur. I didnt respond.

His second question- "Humko Chaturbhuj Sthan Bahut Pasand Hai. Udhar commercial deals hoti hain. Tum Bhi to commercial deal pe aayi ho". I was getting where he was leading the discussion to. I avoided an interaction.

I said "Arunabh, aap bade bhai hain. Meri tabiyat thodi theek nahi hai. Kya karna hai bataiye. Hum karke ghar jaayenge" He suddenly holds my hand. Says "Madam, thoda role play karein". I was stunned.

None of this was something i had ever asked for. I ran away. Locked myself in the toilet. And cried. He went away.
In addition, Gita has written about several other instances which even involves mention of some big brands and stars such as the Ola team, KRK and Naveen Kasturia. She adds that Arunabh would act drunk and slyly try to either lift her up or fall upon her. And this is not is. She even claims that during an Ola team meeting, he called her out for a quick discussion and solicited her for sex once again. She, tired of being dragged on at the workplace, decided to never visit TVF's offices even when the legal team kept troubling her for a breach of contract.
These anonymous claims haven't been verified but another TVF employee named 'Aayushi Agarwal', whose name appears in one of Screen Patti's videos has come out in support of Gita. Agarwal says that she had been plagues with similar experiences and decided to depart the media giant under bad circumstances.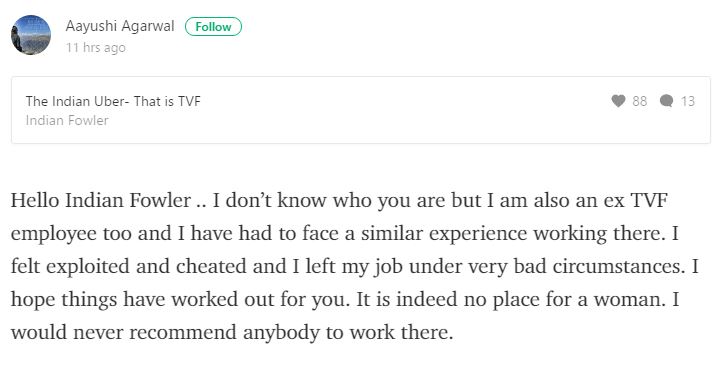 Further, if proven to be true, these allegations could have far-reaching effects on TVF's brand image. The said allegation could be more damaging for this fledging media brand as compared the $68 billion ride-hailing giant Uber. This is largely because molestation charges have been brought up against the founder of the company as opposed to an employee, which was the case at Uber. Moreover, considering that TVF i a new-age, for-the-youth media brand, this could hit its brand image, real hard.
In a statement from the company though, it says,
This is an official response from TVF on the anonymous article published on Medium by the Indian Fowler. The article is completely ludicrous and defamatory against TVF and its team. All the allegations made against TVF and its team in the article are categorically false, baseless and unverified. We take a lot of pride in our team and in making TVF a safe workplace that is equally comfortable for women and men. We will leave no stone unturned to find the author of the article and bring them to severe justice for making such false allegations. It is our humble request that you do not share an unsubstantiated, unverified and anonymous article such as this.
This article was updated to add the statements of TVF towards the end.