A little over four years and and another sequel later, Skyrim is still as popular as it's initial launch date. Considered one of the greatest games to be released on seventh generation home consoles, as well as one of the best games on PC, Skyrim is a game for longtime fans of ARPGs and newcomers alike. Whether you still roam the world or you have moved on to it's sequel, here are 15 games to play if you adore The Elder Scrolls V: Skyrim.
15. Age of Conan
Age of Conan tries to separate itself from other MMO experiences by marketing itself as a more mature gaming experience. Like many other MMORPGs before it, the game started out as a pay to play game and in recent years has swapped to a free to play game.
The game has four unique races available along with four different core archetypes (rogue, priest, mage and soldier) these archetypes can be broken down into three sub-class like options (some of which have race restrictions). With all of these options it's not hard to find a character that resonates with your preferred style of play. If that isn't enough to peak your interest, Age of Conan also offers a a real time combat system, with a heavy emphasis on combo attacks! While the game is very enjoyable it would have been higher on this list if the game did not require a high-powered PC hardware to play.
14. Far Cry 3
Far Cry 3 plays in first-person perspective, with the setting taking place on a tropical island. Players are encouraged to explore the island at there leisure, while trying to save their friends and get off the island, while also giving you the option to either stealth the entire game, or burst in guns blazing in each gun fight!
Don't let this game's FPS gameplay push you away, despite the initial impression you most likely will have; there is plenty of role playing features underneath the Far Cry 3 jungle that will keep you satisfied. The open world is also more reminiscent of something you'd see in a Grand Theft Auto game than in one of the typical first-person shooter games like Call of Duty or Killzone. In a way, you can think of this game as Grand Theft Skyrim!
13. Two Worlds II
Two Worlds II is an action RPG sequel to the 2007, mediocre at best, game. Players don't choose a class at the start of Two Worlds II and instead develop their character through the four main stat attributes as they level up (endurance, strength, accuracy and will power).
Two Worlds II is an open book, this can be sensed very early on as it allows players to approach the non-linear storyline anyway they want. While most of this early exploration takes place on foot, eventually you will have the option to ride horseback, sail the seas or teleport to places you have previously discovered. While it's a great game to play on the PC, there were several technical issues reported on the console versions of the game, so keep that in mind when you want to search for a copy to buy.
12. Dragon Age: Origins
Dragon Age: Origins is the first game in the Dragon Age series, released for Windows, Mac, PlayStation 3 and Xbox 360. Though the game is a multi-platform release, the console versions offer a different combat system. The game has players take control of their own mage, warrior or rogue and explore the kingdom of Ferelden; depending on your choice of race and class players will start their adventure with one of six available origin stories.
The significance of your choice in race/class choice isn't limited to the start of the game, as it will also permanently impacts how NPCs react to your player. So if you were a Mage for example you are feared by most of the game inhabitants while human warriors and rogues are well respected across the Ferlden. After passing your origin story players team up with Duncan and attempt to recruit enough men to battle against the approaching evil.
11. Star Wars: Knights of the Old Republic
Knights of the Old Republic certainly appeals to any and all fans of Star Wars with the game having plenty of lore and history. KOTOR takes place several thousand years prior to any of the Star Wars movies but there are still plenty of recognizable characters, factions and planets for both the hardcore or casual fan of Star Wars.
At the beginning of the game, players will choose one of the three classes; a soldier, scout or scoundrel. The players also will also be able to select one of the three Jedi subclasses. Combinations for players to create something that works for their preferred playstyle is limitless and provides plenty of ways to tackle the game; while also being able to customize your levels for stats, skills, feats and plenty of force powers. While there is two games in the series, the first installment is certainly the game you want to get your hands on.
10. Mass Effect 2
A sequel to the Bioware's Mass Effect, players resume the control of Commander Shepard and create their own team to venture across the galaxy in order to stop a galactic threat.With the ability to explore the galaxy through the Mass Relay stations left behind by the ancient race of Protheans while also dealing with the political matters of the Citadel Council.
Mass Effect 2 rewards players with great control of their character; choosing from six class options as well as the ability to import a save game from the original Mass Effect so you can literally continue your adventure. Player choice again returns as a core system and is enhanced further with Paragon and Renegade points which change the game significantly from dialogue options to the ultimate ending.
9. Gothic
Skyrim fans will find many similarities in terms of setting in Gothic; with a medieval game world filled with humans and various other races. The first installment in the franchise follows a war between humans and Orcs with the humans slowly losing. It is at this point in the war that the king decides to rely on the magical power of rare mineral and decides to send the convict population to mine this mineral from the ground.
8. Dark Messiah of Might and Magic
Dark Messiah of Might and Magic is set in a Lord of the Rings style universe with the game world being ravaged by war between men, elves, dwarves and demons. Thousands of years after the last great war players are placed in the world as a man named Sareth. After working under the watching eye of a powerful wizard Sareth has gained great knowledge of war, fighting and magic that he uses to travel across the land defeating pockets of evil that have appeared.
Dark Messiah of Might and Magic tries to separate itself from other games in the genre by adding some environmental aspects into the combat; including cutting ropes to drop items on enemies or knocking enemies off a cliff.
7. Fable II
Much like it's predecessor, Fable II is set in Albion set five centuries after the events of the original Fable. The in-game world has evolved much since that time and consistently has to grown with the player using its dynamic system. This creates a very vibrant and realistic experience as camps that you help early on in your journey may eventually evolve into towns or if you choose to destroy them will cease to exist entirely.
Although Fable II's main quest line is linear, players aren't forced to complete it as the game offers you the freedom to roam around the world at their own pace to interact with the inhabitants and complete side quests. Fable II introduces the option to choose your gender in the game series which opens up more visual options for fans of character customization. This gender choice is also important because it creates family and relationship options within the game, including marriage.
6. Fallout: New Vegas
While Fallout 4 has been on the shelves for several months now, many newcomers to the series should certainly take a look into New Vegas. Like previous games in the series, the game takes place in a post nuclear apocalyptic environment and in case the name hadn't given it away the game takes place in the areas around Las Vegas. Players assume the role of a Courier who is hired to deliver a mysterious package across the wasteland only to be shot in the head and left for dead. After your near death experience you swear to track down the assailant for revenge.
Just like in Fallout 3 players can increase their stats, skills and perks to create their own unique character with strengths and weaknesses that suit your desired style of gameplay allowing you to tackle the game in anyway you prefer. Players who have played the recent entry in the series that go back to prior installments will also find themselves using the V.A.T.S. system once again which allows players to pause combat to target specific body parts for maximum effect. New Vegas offers new game features as well including the ability to modify weapons, craft ammunition and even harvest plants for meals and medicines.
5. Middle-Earth: Shadow of Mordor
Shadow of Mordor is a fantasy game set within the same universe as The Lord of the Rings series. However, a vast majority of the characters from the franchise don't make an appearance, but the game makes up for lack of characters from the series by staying true to the what the universe has to offer, such as the One Ring and Sauron being central to the game's storyline.
Each player who has played this game starts off as Talion, plotting revenge on Sauron for murdering his family. In order to complete his quest, he must complete a series of objectives. The game also includes a unique hierarchy of enemies known as the Nemesis system; consisting of leader's of Sauron's army, and killing them off weakens the army bit by bit.
4. Divinity 2
Divinity II is an ARPG and the sequel to Divinity, the key feature in this installment is the ability to switch between aerial combat as a dragon, and more traditional third-person action-role playing gameplay as a human.
The main focus of the game is on traditional action-role playing gameplay, which includes completing quests, exploring the game world, and interacting with a variety of non-player characters. Divinity II utilizes some elements of games like World of Warcraft, such as a focus on upgrading equipment, randomized magical effects on equipment, unique item sets that offer greater benefits when used together, and some quest mechanics such as markers to show that an NPC will offer a quest to the player. However, it also uses elements from more traditional computer role playing games, such as branching conversation trees, choices which affect other events in the game, and non-combat segments, such as platforming or puzzle elements.
3. Red Dead Redemption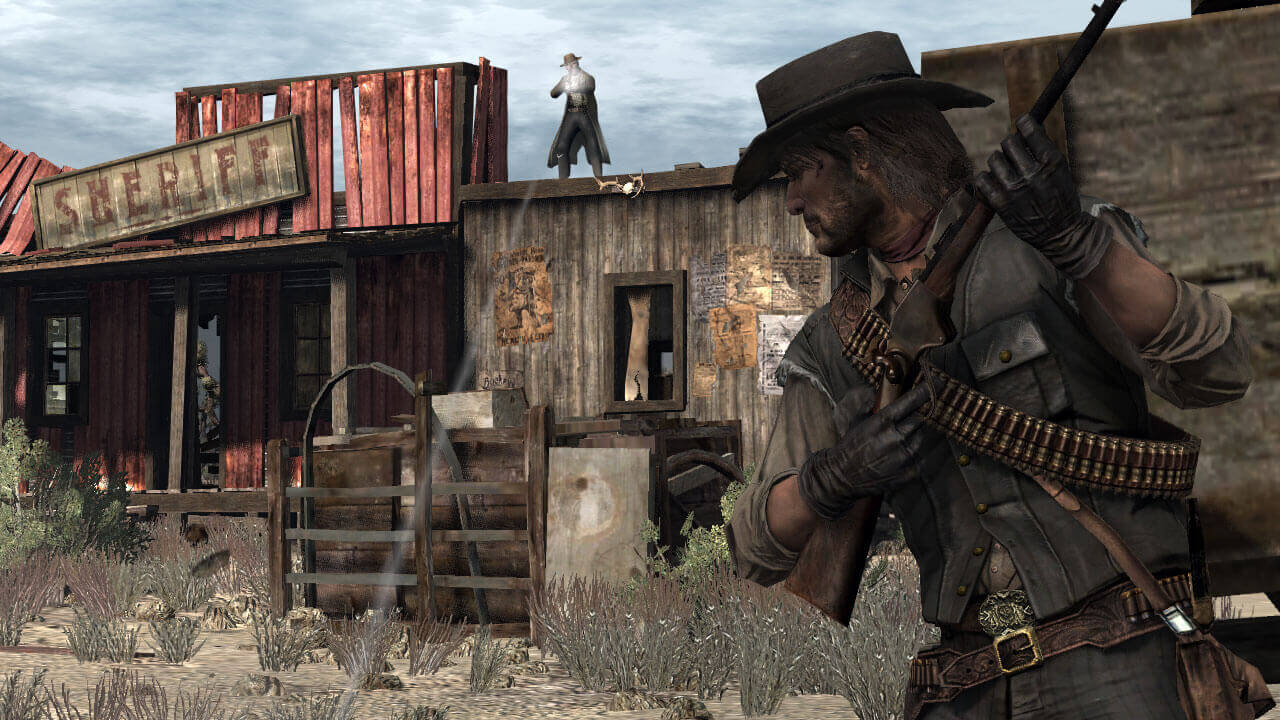 Red Dead Redemption is a free roam game that takes place in a western setting (the year 1911). In Red Dead Redemption players are a former outlaw, that is, until the government kidnaps your family and decides to hold them against you for your services. In the game you'll play as the government's puppet as you hunt down your former gang members in order to save your family.
Just like the popular Grand Theft Auto series also published by Rockstar Games players have access to a massive game world which they can roam freely. Players can either focus on the main storyline or take to the roads with the options of horseback or through a train, to explore the random events throughout the game world. These random events include ambushes, people in need of assistance, animal attacks, ride-by shootings and much more. On top of random events there are a number of activities that players can complete for money to spend on new horses, healing items and weapons.
2. Dark Souls 2
Dark Souls II is the next brutal installment in the popular and dark action role playing series. Building on the foundations from the original Demon's Souls and Dark Souls that came before it, players can be sure that a challenging adventure awaits.
While the world for this installment is the exact same as the original, Dark Souls players will find that there is no link between the two games in terms of storyline; allowing new and old players alike to get a taste for this dark adventure without any previous knowledge.
1. The Witcher II: Assassin's of the Kings
The Witcher II is loosely based on the book series of the same name by Andrzej Sapkowski. One of the few games to come out of a book has proven to be a very successful venture with countless reviews citing the mature and engaging storyline as one of the best features.
In The Witcher II players again take on the role of Geralt, one of the last Witchers in the universe. These Witchers are genetically modified humans trained to fight monsters and each have their own special powers. The Witcher II has multiple game paths for players to explore and even has a number of different endings based on choices made throughout a player's journey; making this the number one game fans of Skyrim must get their hands on.
The post 15 Best Games Like Skyrim appeared first on AptGadget.com.