Are you browsing for a list of office 365 integrations for Word, Excel, and Powerpoint? Then you are at the proper place. Check our blog to get details about developing Microsoft office Add-ins.
Introduction to Microsoft Office Add-ins
Microsoft's Office 365 comes with many functions, but you can customize your subscription with several add-ins that provide additional functionality. By streamlining specific procedures, keeping you focused, or facilitating quicker team communications, these apps can help you save time. Concetto Labs is one of the best Add-ins development companies that you can consider to develop such Add-ins. These are our Best Microsoft Office 365 add-ins, also known as add-ins, so you can quickly produce your finest work.
Best Microsoft Office integration gives you an increase in productivity for your regular job tasks. These are instruments that enhance productivity, communication, and the calibre of the work.
How to Create Microsoft Office 365?
You can access the most recent versions of Microsoft Office programs with a Microsoft Office 365 membership. Applications can be used on your computer or in the cloud. Office 365 is accessible on macOS and Microsoft Windows.
Visit Office.com/signin to log in.
On the Office Online app launcher, select OneDrive.
Select New, then select the file you want to create.
Instead, select a previously produced file.
Change and add new material.
Office Online instantly saves changes.
Top List of Microsoft Office 365 Add-Ins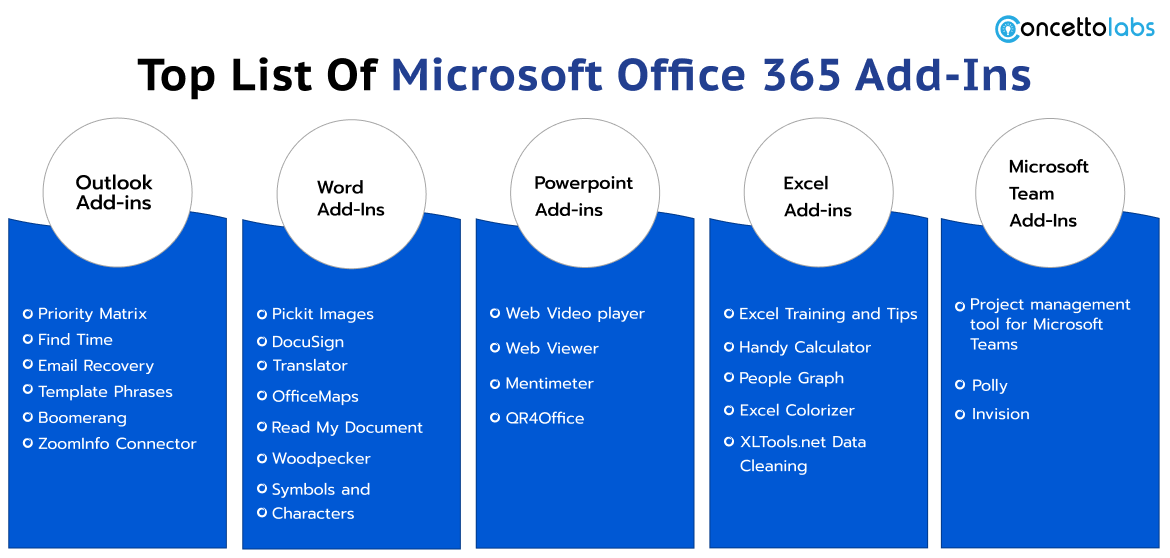 The following top Microsoft Office 365 Add-Ins will boost your productivity when using Microsoft Teams, Outlook, Excel, and other Microsoft programs:
1. Microsoft Outlook Add-ins Development
1. Priority Matrix
Using Microsoft Outlook's Priority Matrix, you can concentrate on the top priorities and tasks that matter the most. You can use it as an add-in to convert your emails into action items. With Priority Matrix, you can create a task in the Outlook web app that will convert to Priority Matrix rather than having to recall which emails you did not read by flagging them.
Features
One can directly create a task from Outlook into Priority Matrix; hence you no longer need to mark emails as unread to remember them for later.
Priority Matrix helps you prioritize important and urgent tasks and simplify email management. The result is increased productivity.
2. Find Time
One of the most annoying and time-consuming activities in an office is finding times for meetings that work for everyone. While FindTime can't fully automate the procedure, it will unquestionably spare you from a never-ending back and forth. It first finds available times in everyone's calendars, after which you can choose several times and submit them to a vote among the attendees. The meeting is automatically arranged after a certain time has received enough votes.
Features
You only need to enter your availability, and FindTime will display the ideal prospective meeting times that suit everyone.
This office add-in is useful since it allows everyone to vote for a time, and FindTime then automatically sends out invitations for the time that everyone can attend.
3. Email Recovery
Everyone has unintentionally deleted an email that they needed. With the Email Recovery tool, that's not a problem anymore. This add-on allows you to recover any deleted emails. The recovery procedure is easy: Choose the Recoverable Items or Purges folder, depending on which folder you want to retrieve emails from. This add-in is fantastic since it allows you to search emails for certain keywords and access details like the subject line, sender, attachments, and recipients.
Feature
The assurance that a critical email you delete won't be permanently lost.
4. Template Phrases
With the help of Template Phrases, you may make personalized templates to respond quickly to typical emails and inquiries. Yes, the time lost from repeatedly typing the same words has ended.
It also has a fantastic instant search feature. With the help of their technology, it enables you to search through a list of terms according to the subject of your work. For instance, if you need to confirm a meeting, it will provide several keywords you can include in your email template to confirm meetings, assisting you in very rapidly creating a professional email.
Features
The fast search option will produce words to make your emails sound expert.
The phrases and sample business letters included with the application can help you if you struggle to choose the right wording to use while emailing.
5. Boomerang
This email productivity add-on provides several features that significantly increase Outlook's functionality. You can schedule emails to be sent later using Boomerang. To follow up on emails that go unanswered, it also enables you to schedule reminders for them. Boomerang simplifies meeting scheduling by enabling you to set up the meeting and send out invitations in one email.
Features
With the send later feature, you can plan emails to be sent later.
You can plan automatic follow-ups when you don't hear back from someone after sending a message.
You can make a visual grid every week that shows your availability.
6. ZoomInfo Connector
How frequently do you get emails that have someone in the "cc" line that you don't know very well? When this occurs, you can immediately open a new tab and search LinkedIn to learn more about the mystery person before responding.
The ZoomInfo connector will provide details from the ZoomInfo database, such as the recipient's occupation, location, and more, about the person in the "to" or "cc" line.
Features
Before sending an email, ZoomInfo Connector provides information about the receiver so that you can more effectively customize the message.
ZoomInfo knows information about the recipients of your emails, enabling you to send more personalized and personable emails.
2. Microsoft WORD Add-Ins Development
1. Pickit Images
Making eye-catching presentations is possible without having graphic design experience. You have access to infinite images through Pickit, including clip art and licensed photos (all of which are completely legal and compliant). Using the conveniently located picture collection, you may import the required photos into Microsoft Word.
Features
The pictures are free.
There are no copyright concerns because the photographs are licensed and permissible.
Pickit Pictures is simple to use; you only have to search for the image you want and click to upload it to your document or slideshow.
It also divides revenues with the photographers who contribute.
2. DocuSign
of the most widely used e-signature products is DocuSign. You can securely sign a document with these add-ins or its Word equivalent or email it to someone else for their signature. Moreover, you can automatically save all signed papers to Microsoft OneDrive. You can test the service out for ten days without paying anything, and monthly subscriptions start at ten dollars.
Features
You can sign and send papers without ever leaving Microsoft Word.
You can move the signature line around to designate where recipients should sign their documents.
3. Translator
Even if you don't translate frequently, it is still great to mark text and have it instantly translated to or from almost 50 different languages. This is far easier than copying and pasting text into another app or web tool. The Translator add-on uses the strong online service Microsoft Translator to provide translations. When there are several possible interpretations of a passage, all of them will be displayed, and you may alter recommended translations before entering them into the document.
Features
Everything is in Microsoft Word, so you don't need to copy and paste portions of a document into an internet translation.
Select the language you want the words translated into, then highlight the terms you want to pay attention to.
4. OfficeMaps
Excel uses map charts to compare statistics and display categories across geographical regions. Utilize it when your data contains geographic regions like states, counties, countries/regions, or postal codes, advises Microsoft. As with PowerPoint Designer, visit the link above to download sample charts if you're unsure where to start. You may design your charts with various data, including zip codes, counties, cities, etc. Enter the date of your choice to produce the maps.
Features
Its ease of use is wonderful.
Enter the necessary location's address into your document by plugging it in.
5. Read My Document
When writing documents, it might be challenging to identify faults by mentally reading them aloud or reading them yourself. Occasionally, especially with significant documents, it is useful to have someone else read the text aloud so you can see any mistakes.
You can choose a voice and speaking speed (slow or fast) for Read My Document to read back selected text from your document. This allows you to hear what you have written from a different perspective and make any edits you may have missed.
Features
Everything is in one location, so you don't have to copy and paste everything into an external document reader.
It will assist you in finding any further mistakes that you might miss if they weren't read aloud.
6. Woodpecker
The Woodpecker links to your Office 365 add-ins inbox allow you to produce and quickly reuse the legal papers you use frequently. When producing legal documents, you can save time and avoid mistakes by standardizing and automating all the documents you frequently use. These documents are simple to collaborate with your team, and you can personalize key elements like name, address, and phone number. With a safe
Woodpecker account, you can keep track of your document settings. Step-by-step instructions are provided on the Woodpecker website for adding and using this add-on; setup should only take a few minutes.
Features
No need to rewrite comparable contracts, which saves a ton of time.
It avoids mistakes when reworking contracts.
Both free and premium plans with greater features are available on Woodpecker.
7. Symbols and Characters
There's no need to stress yourself out looking for the right emoji, an accent mark, a letter from a different language, or complicated math symbols. You can quickly find the sign or character with the Symbols and Characters add-in.
You can plug in the language you are typing in or search for a specific symbol. When you locate the right letters, click on them to make them appear in your document.
Features
If the symbol you're looking for isn't in your keyword, this add-in probably has it.
You will surely discover the symbol or character you need from the many available.
3. Microsoft Powerpoint Add-ins Development
1. Web Video player
You don't have to limit your presentation to only words and pictures; you can spice things up. You may add entertainment value to your PowerPoint slides using Web Video Player by including films from Vimeo or Youtube.
You no longer need to click a link in your PowerPoint to open a different Internet tab when delivering your presentation. Given that PowerPoint is used throughout, the movie will start playing immediately.
Features
PowerPoint plays the video without issue.
This keeps the audience interested while also making the slides more fascinating.
2. Web Viewer
Like Web Video Player, Web Viewer lets you insert web pages into your PowerPoint presentation rather than movies. This eliminates the need to have external displays open or clicks on links while giving your presentation.
Features
The link must only be copied and pasted into your presentation for it to appear.
Before including the link, preview it to ensure it appears nice in your presentation.
3. Mentimeter
You can use Mentimeter to add quizzes, questions, and polls to your PowerPoint presentation. Viewers can then vote or select an answer using their smartphones. The audience only needs to visit Mentimeter's website and enter the code provided by Mentimeter to access the question, poll, or quiz to cast their vote. The results will then be updated in real-time as people vote.
Features
There's no requirement for participants to download an app before the presentation.
Because Mentimeter has no cap on the number of participants participating in your presentation, you can utilize it in front of small and big audiences.
Presentations will be more engaging and entertaining.
4. Microsoft QR4Office Development
Have you ever given a presentation and wished that everyone could easily access a resource both during and after the presentation? Using QR4Office might be the answer. You can create QR codes with QR4Office and submit them for scanning into your PowerPoint presentation.
You can create A QR code for:
A website
A phone number
Your Business Card
A text file
An email
Features
A QR code that anyone can scan before or after your presentation is easy to design.
It works with Word and Excel as well.
4. Microsoft Excel Add-ins Development
1. Excel Training and Tips
Excel might be challenging since there are so many things you can accomplish with it, including formulae, spreadsheets, data analysis, and more. How frequently do you launch Internet Explorer to learn how to use a particular Excel function? When going from screen to screen, this can quickly lead to chaos.
You can obtain step-by-step instructions for performing particular activities on Excel with the add-in Excel Training and Tips. Basic information is free, but they also offer monthly packages if you wish to access their tutorial videos.
Features
No jumping between panels to look up Excel functions
The instructions are straightforward but comprehensive to aid you in finishing the task.
2. Handy Calculator
The Handy Calculator is very useful, so there's no need to open another tab or even your Calculator. It shows up directly in your Excel document (or Microsoft Word or PowerPoint) to make it simple to perform your computations.
Features
You can accurately copy your calculations directly into your text.
You don't need to constantly scan your document to enter conversions.
3. People Graph
Data need not be boring just because it is data. People Graph visualizes your data into simple, understandable images, bringing it to life. Even the image's forms and themes can be changed to give it your chosen appearance.
Features
Data isn't always easy to understand, but People Graph makes it more entertaining.
Logo for Excel colorizer
4. Excel Colorizer
To enhance your Excel spreadsheet, use colour. It can produce gradient effects and patterns that are uniform, symmetrical, or a matrix.
Features
Spreadsheets become more visually appealing as a result.
Fun to use
5. XLTools.net Data Cleaning
When you import or copy/paste a file into Excel and spend much time reformatting it, you know you're not being productive.
The Excel add-description in's on Microsoft states that it enables you to:
Eliminate all extra spaces from the beginning and end of the text.
Take out cell line breaks.
Eliminate any non-printing characters.
Alter the text's case to uppercase, lowercase, sentence case, or proper case.
Convert values recorded in the text to numerical format or text to numbers.
Transform values saved as numbers to text format by converting them to numbers.
Features
Eliminates the need for time-consuming Excel file preparation and editing.
Simple to use
5. Microsoft Team Add-Ins
1. Project management tool for Microsoft Teams
Without leaving Teams, you can manage whole projects, tasks, and priorities using Priority Matrix for Microsoft Teams.
Features
Meetings can be held one on one.
Within Teams, you have access to your Outlook emails.
The messaging extension can be used to discuss specific tasks.
2. Polly
Want your staff to respond to you quickly? Why not use Polly to construct a poll?
Features
You may quickly receive input and responses from your team.
Employees save time because they don't have to respond to emails to address these inquiries.
3. Invision
With an interactive whiteboard that updates in real-time, Invision is a tool that enables creative team collaboration. Users can write, doodle, sketch, and leave comments on the whiteboard.
Features
We at Concetto work remotely and are dispersed all around the globe. For remote teams that are unable to constantly meet and have discussions, this add-in is especially helpful.
You can design, brainstorm, and provide comments on anything made on the whiteboard using Freehand.
Final Thoughts
These are some of the top Microsoft Outlook add-ins that are currently on the market for improving email management. You can accomplish more in the same amount of time when it's a part of your routine, which boosts your productivity and efficiency at work. Several of these are intended to enhance the functions that are already present in the robust feature set that is included with Microsoft Outlook. Decide carefully so that you can utilize these instruments to their full potential.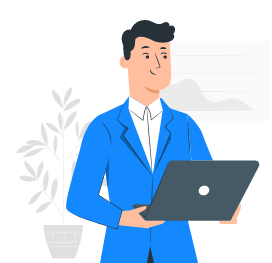 Are you also interested in getting Details of Microsoft Office 365 Add-ins?
Resolve your Query with us now!
The post List of Best Microsoft Office Add-ins to Enhance Business Productivity appeared first on Blog Concetto Labs.